We know it is not always easy to find good information about accommodation in Skaftafell and the Vatnajökull area, so we have provided you with a list of places and some information about them.
There are several options available to you, you can stay at a campsite, in a guesthouse or in a hotel. We would like also to remind you that it is highly advised to book your accommodation in Skaftafell as soon as you can since in the summer it can turn into an almost impossible mission.

Below is a list of campsites, guesthouses and hotels in Skaftafell vicinity:
(If you know of any other place, or own an accommodation that is not listed, please send us an email and we will gladly add you!)
---
Hotels & Guesthouses:
Hof 1 Adventure Hotel - Highly recommended
Centrally located in the Öræfi district this guesthouse is open all year.
This accommodation has 19 double rooms and 2 single rooms, also 8 rooms in 4 unit cottages, a reception with a large lounge and a spacious dining room. On the ground floor, there are new baths, a sauna,& a hot pot (jacuzzi) and new relaxation facilities available for guests in the guesthouse. Breakfast included. Book your room on www.hof1.is
Hof in Öræfi
Phone: +354.478-2260
Website: hof1.is
Email: hof@hof1.is
---
Litla-Hof Guesthouse
Litla Hof offers accommodation and breakfast for 20 persons all year around. It is located in Öræfi, about 15 km from Skaftafell.
Hof in Öræfi
Phone: +354.478.1670
Website: farmholidays.is
---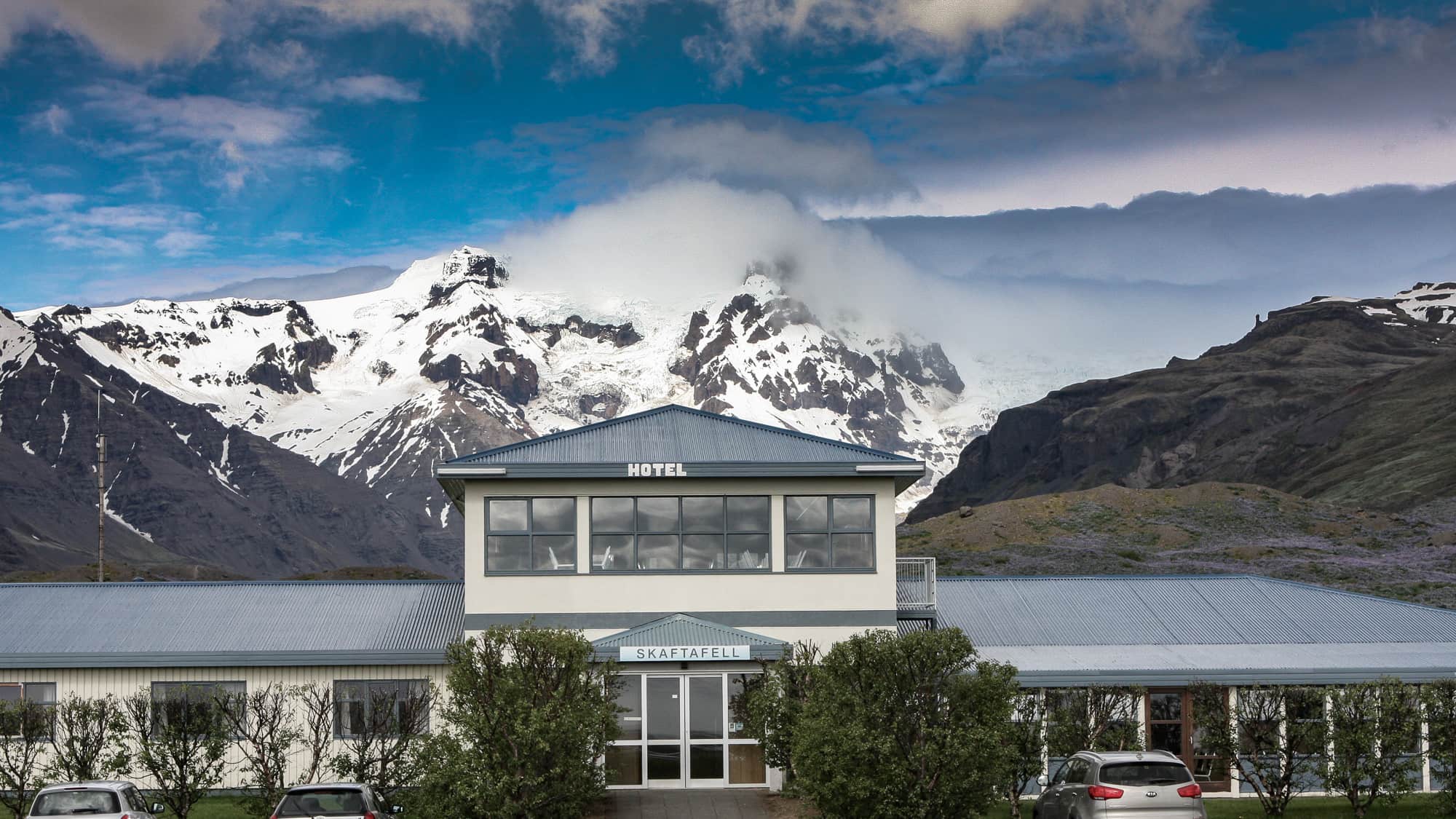 Hotel Skaftafell 
This 3* hotel is strategically located just about 2km from Skaftafell National Park, and with a view to the Vatnajökull Glacier from some of the rooms. The Hotel offers 63 rooms, with private bathroom, and a nice restaurant. Fuel station just across from the hotel.
Freysnes- 785 Öræfi
Phone: +354.478.1945
Website: hotelskaftafell.is
---
Vesturhús
Vesturhús offers sleeping-bag accommodation in Hof, also about 15 km from Skaftafell. The guesthouse has room from 2 to 4 people and good kitchen facilities, bathroom and showers.
Vesturhús
Hof
785 Öræfi
mobile: +354 854 5585
website: www.vesturhus.is
e-mail: info@vesturhus.is
---
Nónhamar
A new addition to accommodation in the Skaftafell area. Sleeping bag accommodations (bedding available on request) in three 18 square meter year-round cabins. Nónhamar is located at Hof in Öræfi ca. 15km from Skaftafell. Each cabin sleeps 4 persons in two bunk beds. There is a bathroom with a shower, basic kitchen tools in the kitchenette and the cabins have wireless internet access.

Nónhamar
Hof
785 Öræfi
Phone: +354 616 1247
Website: nonhamar.is
Email: info@nonhamar.is
---
Hörgsland
Not so far from Skaftafell, and only 5 km from Kirkjubæjarklaustur this little guesthouse huts are a little luxury! 13 newly built guesthouses with panels and parquet floor, each house has it's own balcony with a beautiful view and a charcoal grill. Located in a beautiful and peaceful place. There are two hot tubs, for anyone who want to relax, each one can accommodate up to seven people. The living room is cozy,the kitchen and the dining room have everything you need, including microwave and a refrigerator.The shower and the toilet are provided with soap, toilet paper and towels.
Skaftárhreppur
880 Kirkjubærklaustur
Phone: +354.487.6655
Fax: +354.487.6655
Website: horgsland.is
Email: postur@horgsland.is
---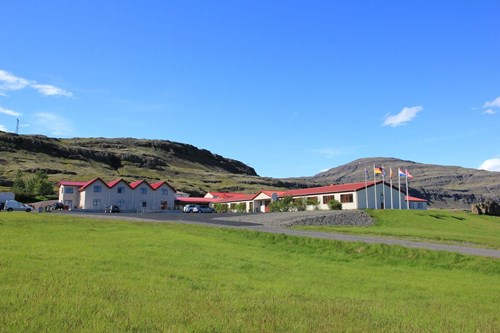 Smyrlabjörg Hótel
Smyrlabjörg is a family owned country hotel, specializing in homemade cooking from local products. Well situated for sightseeing in the Southeast. The hotel is by road no 1, 45 km West of Höfn and 30 km East of Jökulsárlón (90km East of Skaftafell). 52 Rooms and 90 beds. Wi-fi access. Open:  05.01-21.12.

Suðursveit
781 Höfn
Phone: +354.478.1074
Fax: +354.478.2043
Website: smyrlabjorg.is
E-mail: smyrlabjorg@smyrlabjorg.is
---
Fosshótel Núpar
Núpar, IS-880 Kirkjubæjarklaustur
Phone: +354. 562.4000 Fax: +354.562.4001
Website: fosshotel.is
E-mail: nupar@fosshotel.is
---
Camping & Sleeping Bag accommodation
Svínafell Campsite & Huts
Each cabin contains a basin with running water, cutlery and crockery for up to four people. Basic cooking facilities, showers and toilets are available. In Svínafell you also have a campground for 100 to 150 people and laundry services.
785 Öræfum
tel: 354-478-1765
Website: svinafell.com
---
Skaftafell Campground in Vatnajökull National Park 
Open from May 1 - September 30
The campsite is large with places for approximately 750 tents. No booking or reservation is necessary for the campsite although it is recommended for groups of 40 people or more.
Equipped with facilities such as toilets, showers, laundry, barbecues, internet and electricity for campers. No proper kitchen facilities are at the campsite.Please note that the National Park offers no equipment rental.
Check-in for the campsite is at Skaftafell Visitor Center. Opening hours can be found here.