Glacier Guides offers various glacier tours from Reykjavik, on Solheimajokull Glacier and Vatnajokull Glacier as well as multi-day tours including accommodation. Browse through our selection of glacier hiking, ice caving and ice climbing tours as well as multiday adventures with either a glacier hike or a visit to a natural ice cave.
Browse our selection of glacier tours in Iceland
Glacier Hikes
Ice Cave Tours
Glacier Ice Climbing Tours
Looking for an adventure? Try climbing a wall of ice! This will most definitely get your adrenaline pumping. Join us on one of our ice climbing tours on Solheimajokull or Vatnajokull glaciers, an unforgettable experience to last you a lifetime.
Super Jeep Glacier Tours
Multiday Adventures with Glacier Tours
The Comprehensive Guide To Glacier Activities In Iceland
Have you ever thought about standing on an astonishing ice cap and cruising in the mind-blowing landscape in a super jeep? Glaciers are the ultimate resource and treasure of the Icelandic nature. Needless to say, when you look for the most authentic, incredible experience in the raw nature of Iceland, you will find nothing but glacier activities. It's the incomparable adventure you wouldn't want to miss.
For those who are new to the idea of traveling on an ice cap, glacier activities may sound challenging. They seem like some extreme actions only professional outdoorsmen can manage. Meanwhile, you may be wondering what glacier activities are there and how you can prepare yourself for one of those exciting visits to the magnificent, ancient glaciers. In this guide, we are going to tackle these topics in detail and all your questions about Iceland's glacier activities will be answered.
The Glaciers In Iceland

What Is A Glacier?
 As a persistent mass of dense ice, a glacier is the accumulation of snow over the course of many years, often centuries even millennia. Over time, it slowly deforms because of the stress caused by their own weight. During this process, it creates crevasses, seracs, moulins, and other distinguishing features. Glacier ice is the largest reservoir of freshwater on Earth. If you get a chance to walk on a glacier, you will see some tiny streams flow through the veins of its surface. The clear, ice-cold freshwater is one of the dynamic factors carving the distinct glacial appearance.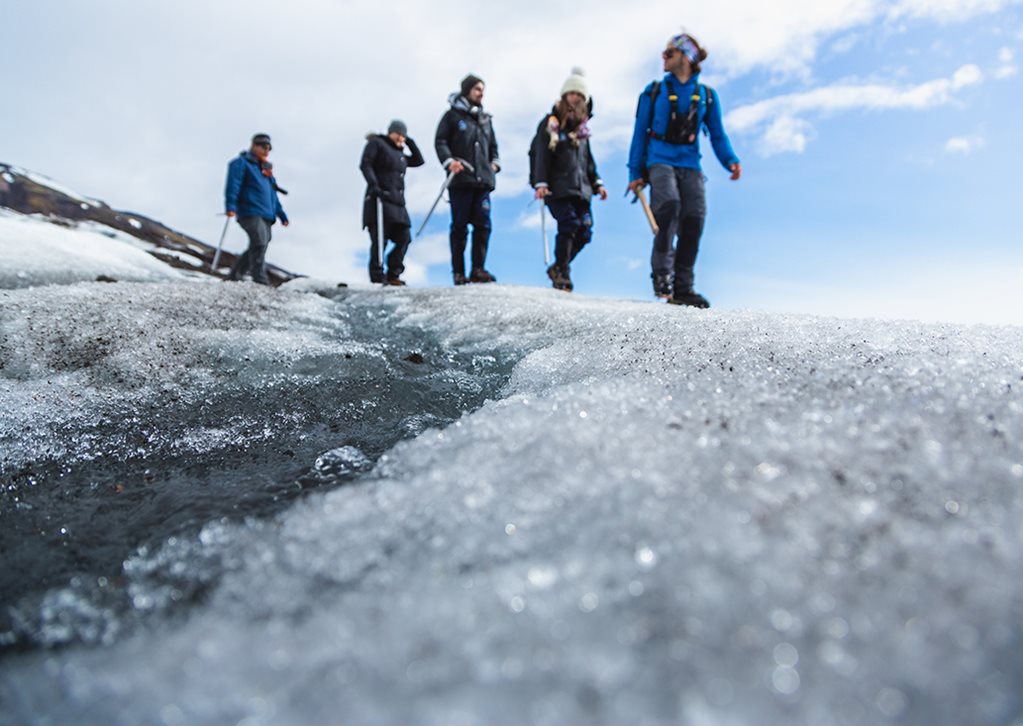 In Iceland, 11% of land area is covered by glaciers and that's basically 11,400 square kilometers out of a total area of 103,125 square kilometers. In South Iceland, especially, you can see their massive presence along the shore. Traveling from west to east via Ring Road, you will pass Eyjafjallajokull glacier, Myrdalsjokull glacier, and the mighty Vatnajokull glacier, which is the most voluminous and one of the largest glaciers in Europe.

About 150 kilometers northeast from Reykjavik, Iceland's second largest glacier Langjokull lies quietly not far from the nation's heart Thingvellir National Park, which is one of the three attractions in the popular Golden Circle. Between the largest and the second largest glaciers, Hofsjokull glacier is located on the west of the Highlands as the third largest glaciers in Iceland.
The distribution of the glaciers tells a lot about Iceland's temperatures, precipitation, and topography. The cold weather, abundant precipitation, and large central highland areas create the perfect condition for glaciers to form. Glacier forms in a place where the mean annual temperatures are below 0°C and the amount of winter snow precipitation surpasses its summer melt in the same area. This well describes the weather condition in Iceland's central highlands where the altitude is more than 500 meters above sea level. This is also why Iceland's glaciers are located in the mountainous areas.
The magnificent Vatnajokull glacier is situated right on the highest precipitation belt. This belt also covers Myrdalsjokull glacier and its vicinity allowing the South Coast the suitable condition to form glaciers. On each glacier, there are multiple outlet glaciers stretching out through the sub-glacial valleys and channels. Vatnajokull, for example, has many outlet glaciers (glacier tongues) in all directions.

There are two features you can't miss about Iceland's glaciers - the blue ice coloration and the volcanic ash layers.
Walking on an outlet glacier, you will easily notice the shades of blue from glacier ice. This unique feature has to do with ice deformation under immense pressure. It causes glacier ice to become so dense that there aren't any air bubbles left inside. When ice contains air, such as snow, the human eye will perceive it as the color of "white." When there's hardly any air left in the crystallized ice, light can travel inside without any disturbance, meanwhile, it loses the long-wave red spectrum. That's when we see the ice as "blue." The denser the glacier ice is, the bluer it looks. This phenomenon adds an amazing level of purity and attractiveness to the scenes and sights.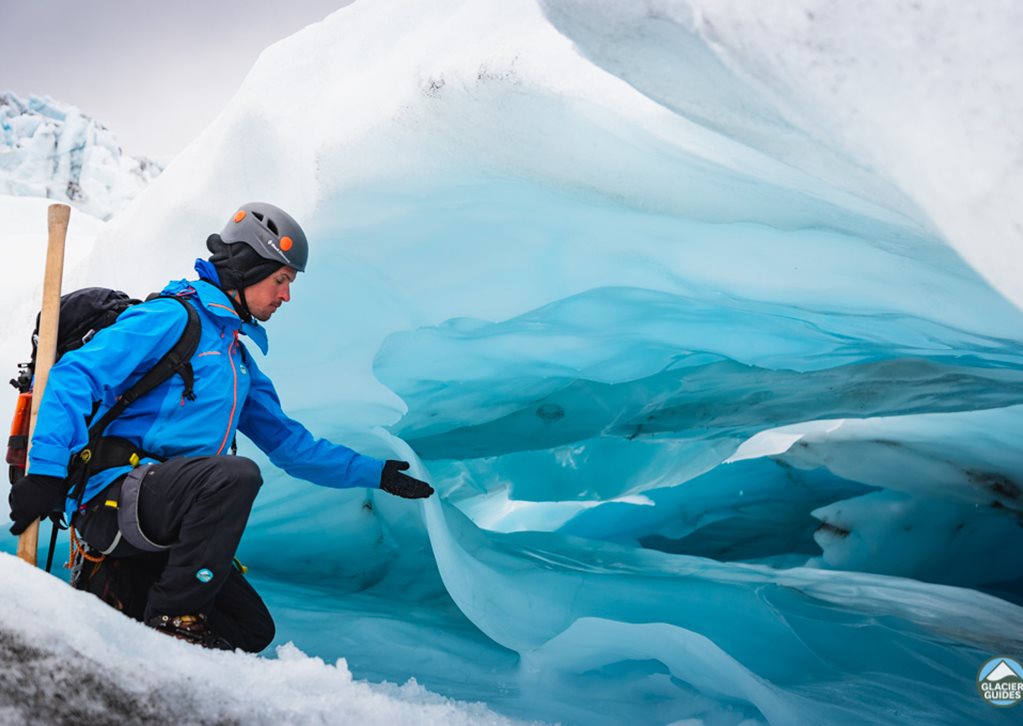 In some glaciers, such as Myrdalsjokull that covers the active, "monster volcano" Katla, the volcanic ash got caught in between the glacier ice layers composing a stunning view in a surreal landscape.
The story behind the volcanic veins is similar to the theory of the growth rings of trees. When a volcanic eruption happens, a layer of volcanic ash will eventually fall on the pre-existing glacier ice; or, a strong wind storm takes place in the area, the black volcanic sands will be taken by force to coat the exposed ice before it's covered by snowfall again. The cycle goes on like this, recording the history of how glacier ice was formed in the midst of the Iceland geology over the course of time.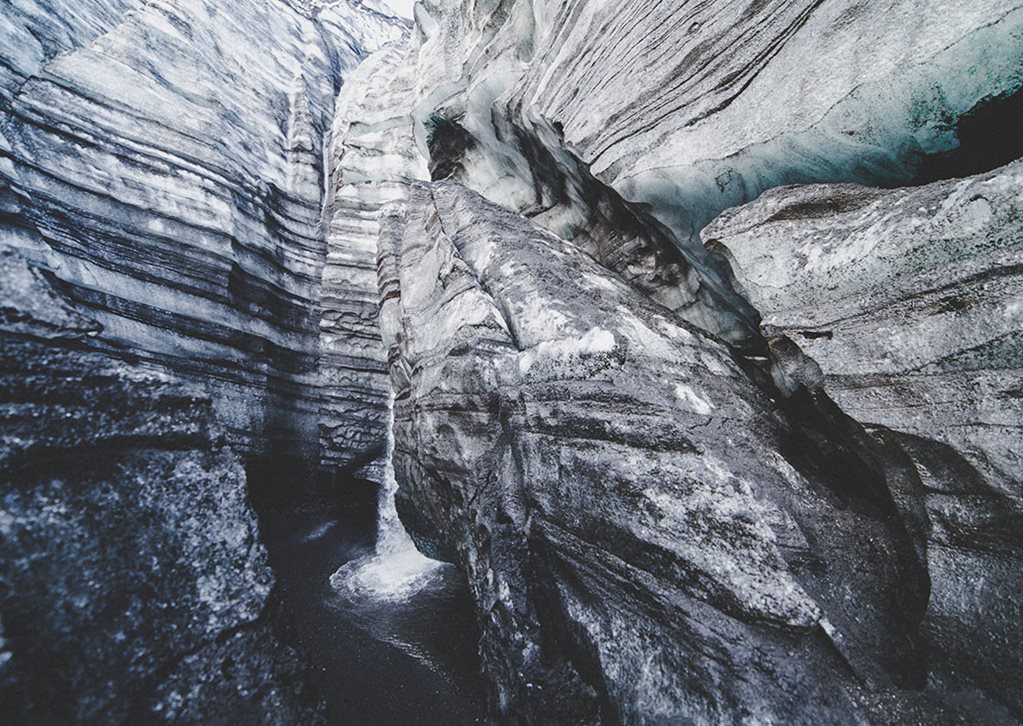 It's possible to visit the awe-inspiring glaciers without contributing too much negative, damaging tension to them. Because glaciers are constantly moving due to the force of gravity and the internal deformation caused by their enormous weight, the movements resulted in some of the most peculiar formations including deep crevasses, blue ice caves and ethereal glacier lagoons where many huge icebergs float in the water. The diverse, otherworldly glacial formations make Iceland the best place to learn about how glaciers interact with the local weather and volcanism. Most people will say Vatnajokull Crystal Ice Cave is the most beautiful, natural glacier attraction in Iceland; for those who hold a different opinion, their praises might go to Jokulsarlon Glacier Lagoon.

The awesome glacial features have been essential to Icelandic people's life since the beginning. Now with the enhanced accessibility and the increased tourist facilities, Iceland welcomes every international traveler to come and see the awesomeness. You can go on ice cave tours, sign up for a boat trip cursing in Jokulsarlon Glacier Lagoon, go for an exhilarating super jeep ride on the spectacular glacier, and join a fascinating glacier hike that many say is a must-try.
Types Of Glacier Activities In Iceland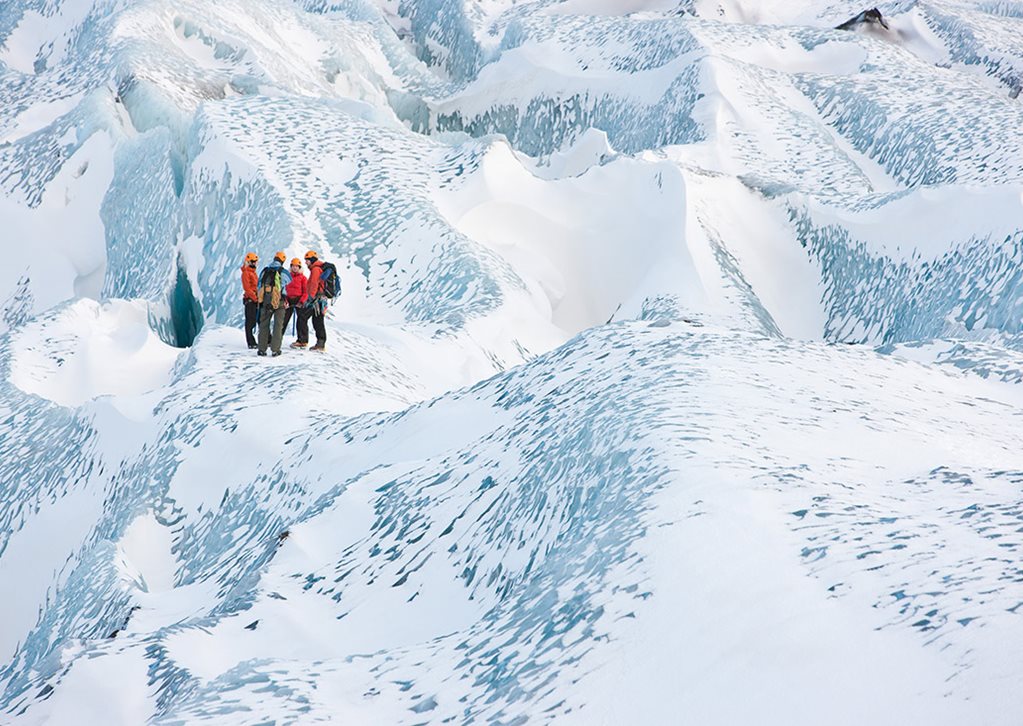 In order to explore and discover the multifaceted Icelandic glaciers, we are going into detail about the different types of glacier activities. We'll cover the personal, intimate ice caving experience and talk about many hiker's dream adventure - walking on a glacier. You'll also learn that the excitement you have from a super jeep ride on the endless ice cap is hardly the same from on board of a glacier lagoon boat. Climbing glacier ice wakes up your muscles in a different way than the speed and exhilaration during snowmobiling. Most of the international visitors chose to participate in several of  them to engage with Iceland's epic magnificence.
Glacier Ice Caving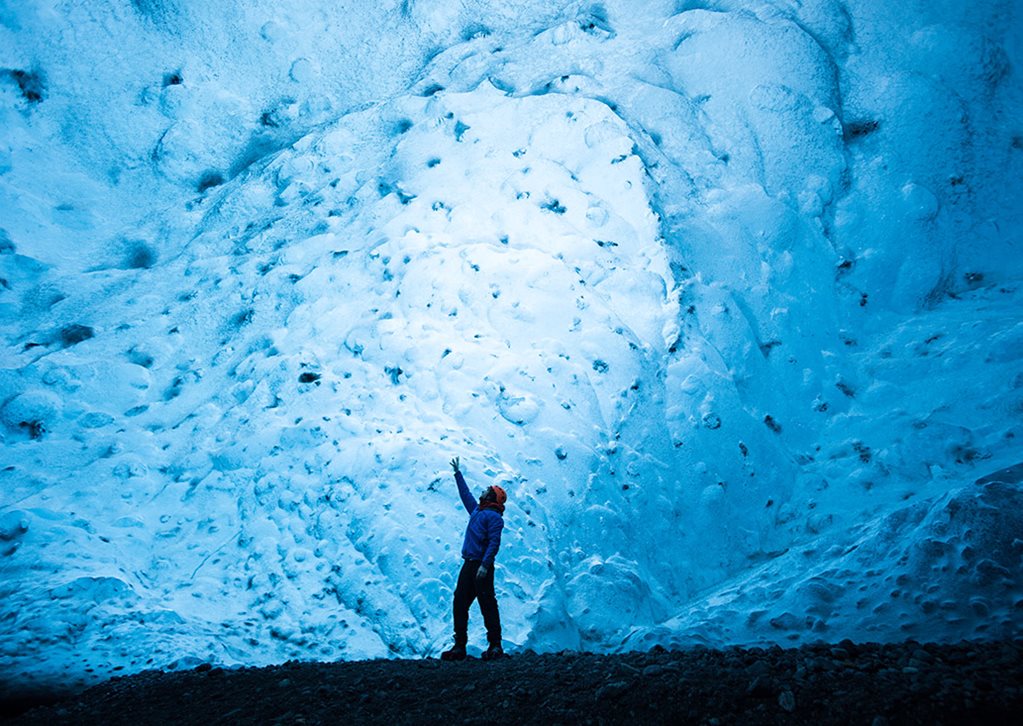 Ice caving is a very personal, intimate glacier experience in which you can get up close to the essence of something so grand on the outside. Ice caving means you literally go inside a glacier and touch the pure glacier ice that glistens in mesmerizing shades of blue. This types of crystal blue ice caves are usually found within the mighty Vatnajokull glacier and they are only accessible during the wintertime, usually from November to March.
The only natural ice cave that is accessible all year round is the ice cave under Katla Volcano within Myrdalsjokull glacier. This ice cave is notable for the volcanic ash layers swirling in the ancient glacier ice. Those shades and textures form an incredible appearance telling you a lot about the dynamic Icelandic geology.
The ice caves are ever-changing natural phenomena. Some of them are smaller and isolated in the middle of a vast area, trips to these caves would include going through tunnels and doing short glacier hikes. Some ice cave can have a shallower entrance which enables more light to shine through and illuminate the blue crystal ice.
Glacier Hiking and Ice Climbing in Iceland
Iceland is considered a hiker's paradise. Among many hiking trails and different intensity levels, glacier hiking is the most exciting one that takes you to a span of highlights in the awe-inspiring nature of Iceland, the unparalleled panorama view, and a thrilling trek on the unusual landscape.
Glacier hiking in Iceland is open to all levels of outdoor goers, meaning no prior outdoor experience is required. Among the collection of glacier hiking tours of different lengths and trails, you can locate the suitable one for your itinerary and fitness level. An easy glacier hike on Solheimajokull glacier is usually a three-hour experience on one of the most well-known glacier tongues in Iceland. For advanced hikers, the seven-to-twelve-hour expedition on Snaefellsjokull is the best option as the brilliant mountain-top vista is breathtaking on the tip of the amazing Snaefellsnes Peninsula. Several moderate glacier hikes are operated on Vatnajokull, including the thrilling glacier hike and ice climbing combination. Before you set your steps on the ice cap, the glacier guide will deliver thorough safety instructions to make sure you have fun on a safe, guided tour.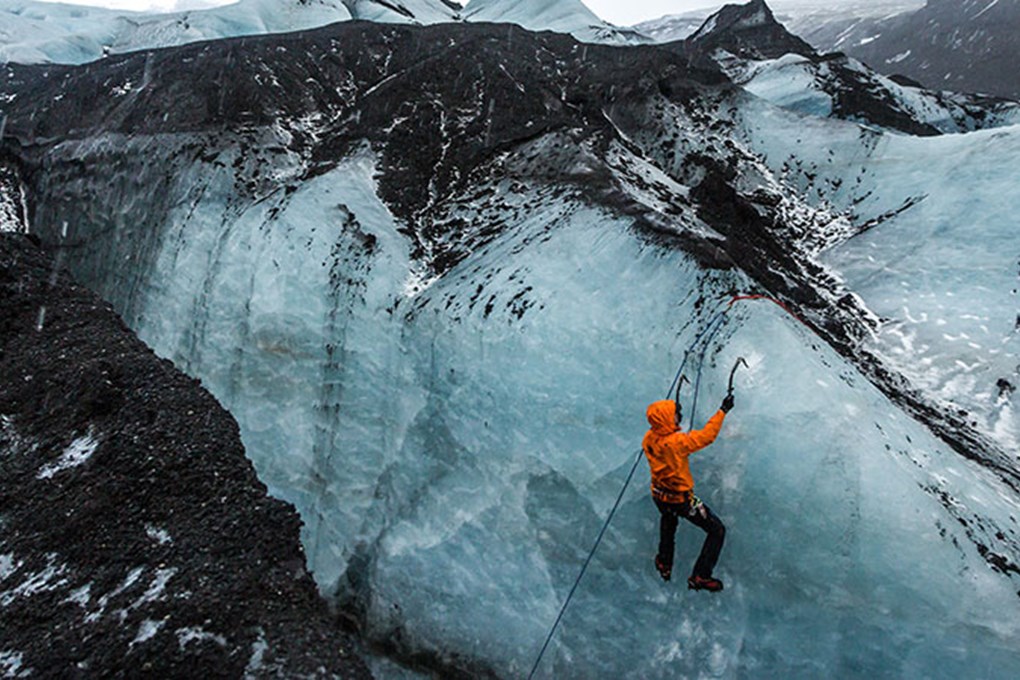 Climbing a wall of ice while being surrounded by gigantic glacier mountains is truly an extraordinary experience that you will never forget!
A perfect adventure where the breathtaking Icelandic nature mixes with physical challenges. Our step-by-step approach ensures professional instructions for beginners as well as experienced climbers. We will provide you with all the necessary gear needed to climb the blue ice successfully and safely, including crampons, harness, helmet and ice axes.
Glacier Lagoon Boat Tours

At the bottom of the mighty Vatnajokull, a glacier lagoon has formed since the beginning of the 20th century due to the glacier calving on the south side of Vatnajokull and now it's the deepest lake in Iceland. Named Jokulsarlon, this glacier lagoon is praised as the crown jewel among all the natural attractions in Iceland. There are boat tours operating in the summer months taking you to cruise between the huge, floating, blue icebergs. The stunning view is usually accompanied by wildlife sighting and the natural background sounds from the seabirds nesting in the area.

It's a popular choice to add a lagoon boat tour to other glacier adventures, then you will set foot on a glacier tongue from Vatnajokull for an easy glacier walk. During your transition, the stunning glacier view continues to reveal itself from a far away vision seen on the boat to the limitless wonderland under each of your solid footsteps.
Super Jeep Adventures

To tackle the challenging terrain in Iceland, super jeeps become one of the popular means of transportation to convey people from urban areas to nature via the offbeat roads. Especially, when it comes to traversing an ice cap, a four-wheel drive super jeep plays a major role in terms of guaranteeing a safe, enjoyable journey. It's worth to note that in Iceland off-road driving is illegal and is subjected to a heavy fine due to the fragile sub-arctic ecosystem - always go on a tour or hire a professional guide who knows the permitted wild tracks to explore.
Among many alluring tracks that pass the fields of the raw Icelandic nature, a super jeep ride on top of the largest ice cap in Iceland definitely sounds super fascinating. It first takes you through a number of film sets including Batman Begins, Tomb Riders and the Secret Life of Walter Mitty before you stop at one of the filming locations for Game of Thrones. Then you will have the privilege to witness the splendid view of the vast Vatnajokull glacier when the super jeep takes you close to the summit of Brokartindur. This super jeep glacier trip is billed as one of the most spectacular and sensational experiences in Iceland.    

Glacier Snowmobiling
For those who are new to Iceland, snowmobile looks like a line of transportation that's used mainly in tourism. In fact, snowmobiles go a long way in the Icelandic lifestyle and many households own snowmobiles for their weekend leisure and adventures.
Most of the snowmobile tours are operated on Langjokull glacier and Vatnajokull ice cap. The former one is very convenient for the travelers who are sightseeing in the famous Golden Circle. The later one suits better for the visitors at Jokulsarlon Glacier Lagoon. To feel the wind passing by while you are steering a dashing automobile on an ice cap -  there can't be other adventures more thrilling than this one!
The Best Places For Glacier Activities In Iceland
Glacier Activities on Skaftafell and From Vatnajokull
If you are self-driving in Iceland, the South Coast offers many meet-on-location glacier adventures. As we have mentioned above, Vatnajokull is the largest glacier in Europe, and its national park has taken in a wider neighboring area including Skaftafell Nature Reserve. Now, this area has evolved to be one of the major glacier activity locations. A glacier hike on the jagged ice cap of Falljokull within the national park is an absolutely stellar glacier experience for the outdoor lovers.
Besides the stunning Crystal Ice Cave, Vatnajokull has also formed several natural ice caves in other locations such as Skaftafell. The blue ice cave found there was proven to be a no-less wonderful ice cave exploration.
Glacier Activities on Solheimajokull
If you are based in Reykjavik, the trip to Solheimajokull is a convenient ride. There are many glacier day tours offering free pick-ups at many hotels and hostels in the capital area. On Solheimajokull glacier, the most popular glacier activity is the fun and exciting glacier walk. If you look for a more extensive glacier walk in this area, Solheimajokull surely won't disappoint you because this blue ice glacier hiking trail has been tested by many experienced hikers and outdoor photographers. The feedback from them was fabulous.

Solheimajokull is also a must-stop location when you are on the South Coast sightseeing tour. It's essential that you have a full experience after you are amazed by the stunning views from the waterfalls and Reynisfjara black sand beach. By adding a glacier activity, you will gain an unusual perspective to experience Iceland in actions.
Glacier Tours on Snaefellsjokull

Snaefellsjokull glacier is located on the tip of the mesmerizing Snaefellsnes Peninsula that's nicknamed "Little Iceland" as it has a diverse range of landscapes representing the best of Iceland. In a day of good visibility, you can see the ice-capped mountain from the west coast of Reykjavik. On the grand ice cap, many glacier hikers have proudly climbed on top of the 1440-meter (4744 ft) summit making it a glorious trail among all the Icelandic glacier hiking routes.  
The Best time to participate in glacier activities in Iceland
Iceland has long, mild winters and short, cool summers crafting quite different seasonal glacier views. Summer's landscapes distinct from winter's vista, and each visit will present you with something unique.
Summer Glacier Activities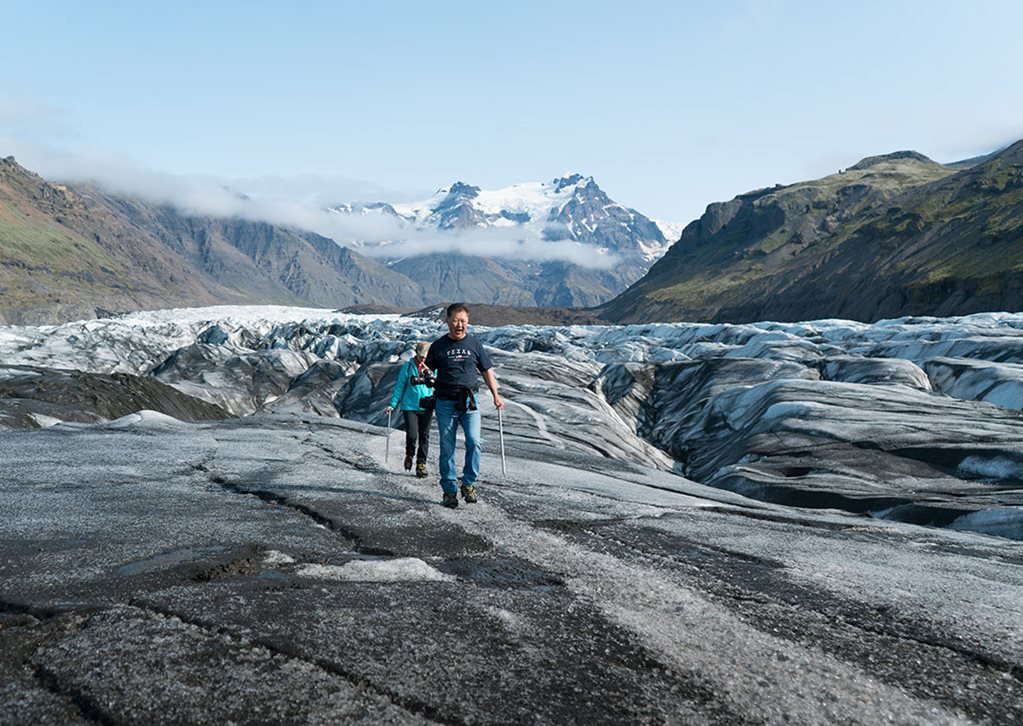 The best things about summer in Iceland are: the climate is usually drier than in the winter; you have more daylight to travel, let along of seeing the amazing midnight sun at one of the attractions - awesome photo opportunities! Glacier tours in the summertime have more options such as Jokulsarlon Boat Tours and ice caving under the active volcano Katla. The downside of visiting glaciers in summer is that this is the peak tourism season and the tours are more likely to be booked when you look for a last minute deal. So if you book your seat ahead of arrival, and with the summer weather in your favor, you will have a lifetime experience exploring the glaciers in Iceland.
Winter Glacier Activities

What can be more wonderful than seeing the Northern Lights dancing above in the starry sky! It's why a lot of people choose to travel to Iceland in the wintertime. The supreme visual treat is combined with the South Coast highlights and a glacier walk, and in the evening you will follow the guide to search for the ethereal aurora borealis in the wilderness away from the urban light pollution.
Winter is also the best time to visit the crystal ice cave in Vatnajokull glacier. Every summer when glacial river drills and flows through the glacier ice, ice caves start to form before they get frozen and stabilized in winter's cold temperatures. That's why most ice caves are only safe to visit in winter.
The winter landscapes are absolutely stunning and surreal as well. With so much to see and to do, you can't really capture everything unless you plan a multi-day tour.
Good To Know Before Your Glacier Activities
Good To Know
In numerous adventure/action movies, you have probably seen the heroes and the antagonists racing on the extreme environment like glaciers and ice lagoon - they chased, fell, and were in danger. These scenes make the idea of traveling on glaciers quite daunting for anyone who has no special training.
While those dramatic plots are true at some level, with the right equipment, the adequate knowledge, a professional glacier guide, and a suitable weather condition, glacier tours in Iceland are completely safe. So you don't need to worry about your level of outdoor expertise. The only thing you need to keep in mind is that these four factors are crucial so you should never go on an ice cap without any one of the four elements.
Then, there are also age limits for certain glacier activities. For some ice caving tours, the participants need to be at least six years old, some require at least eight years old. An easy glacier hiking tour needs the participants to be at least eight years old; the challenging ones require at least 14 years and older. For ice climbing tours, you need to be at least 14 years old. And you need to hold a valid driver's license to steer the snowmobile, or you must sit in the back while a guide drives it. The super jeep excursions require the riders to be at least five years old.
Next, we are going to see how you should prepare yourself for an exciting glacier adventure.
Equipment list: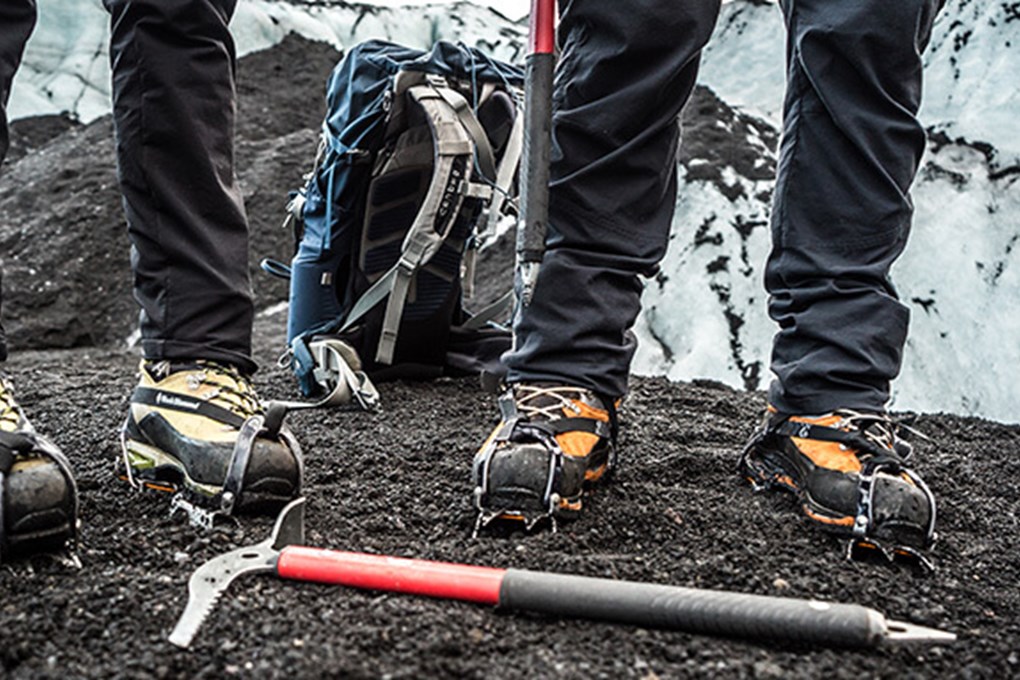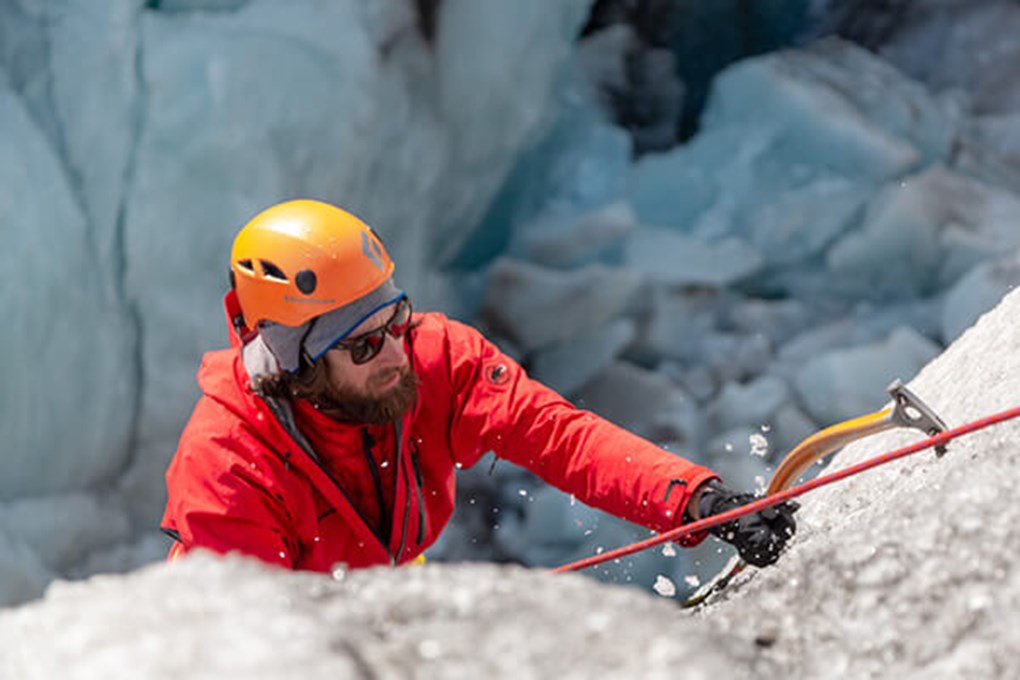 Crampons
Crampons are the spiked devices that you wear around the hiking boots. Their main purpose is to secure your footing on snow, ice, and slippery, muddy places on an ice cap. They also help you climb ice walls. 
Helmet
For glacier hiking, ice caving and ice climbing activities, wearing helmets is a standard, safety procedure. You can put on a hat underneath the helmet in the windy, cold weather,. The helmet protects against the potential risk of falling, and they also protect against the falling ice from above.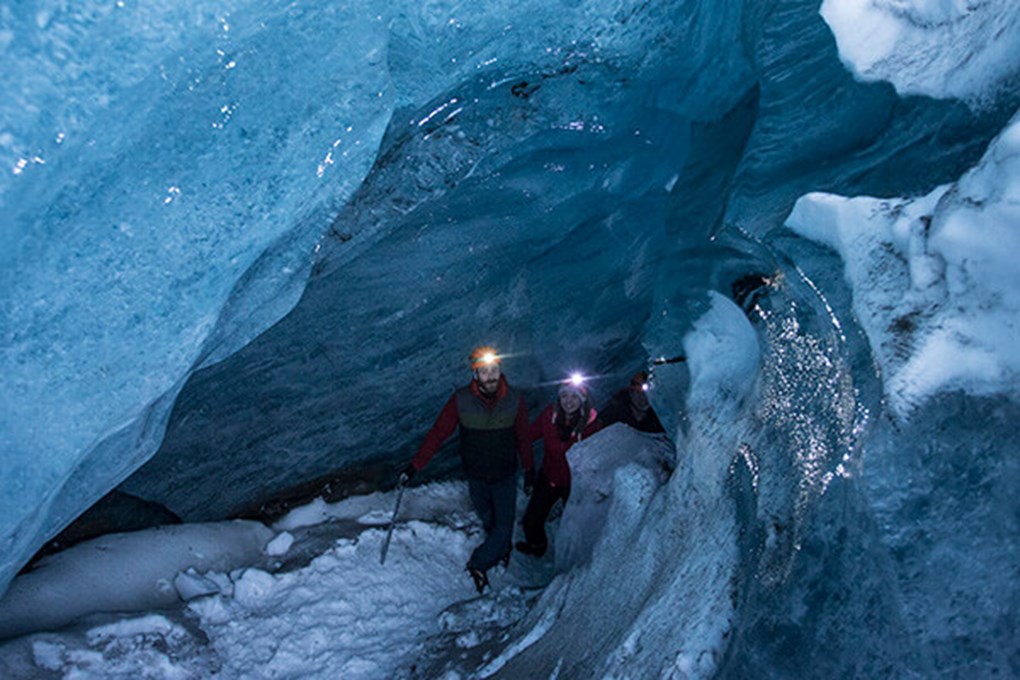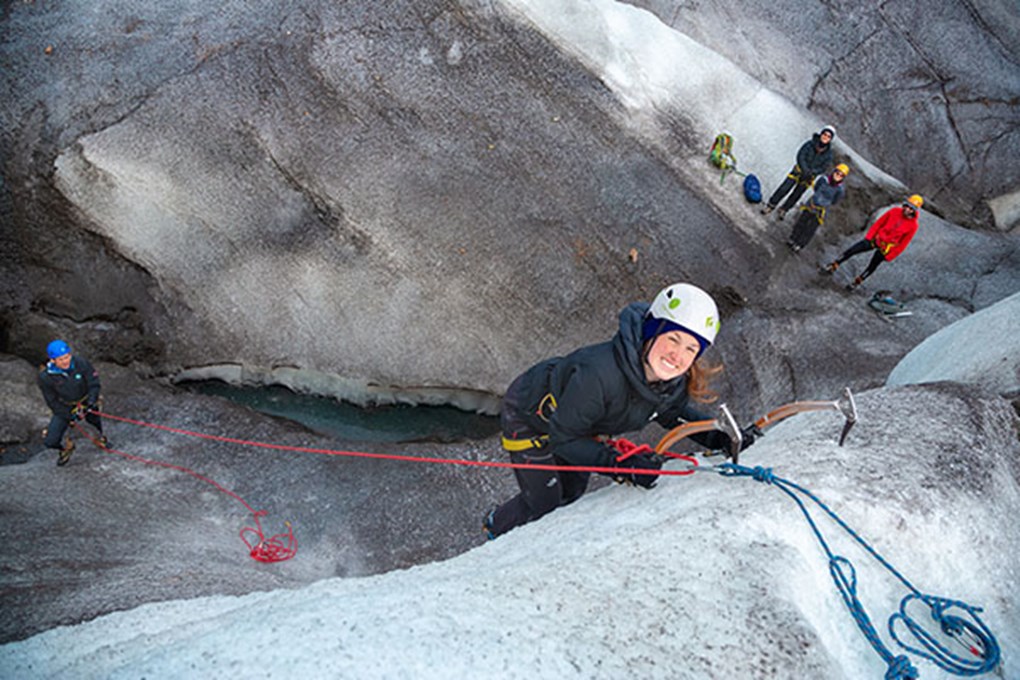 Headlight or Torchlight
Headlight is usually used during the natural ice cave tours. There are some parts in an ice cave that are darker and some lighting is needed. Beside the practical function, it also adds a fascinating factor when you see the blue ice glisters under your torchlight.
Ice Axes
Ice axes give the extra support to hikers and ice climbers when they go up steep slopes and ice walls. They are one of the essential safety tools to support and boost your steadiness on a hill and to prevent from sliding down if you lost your footing.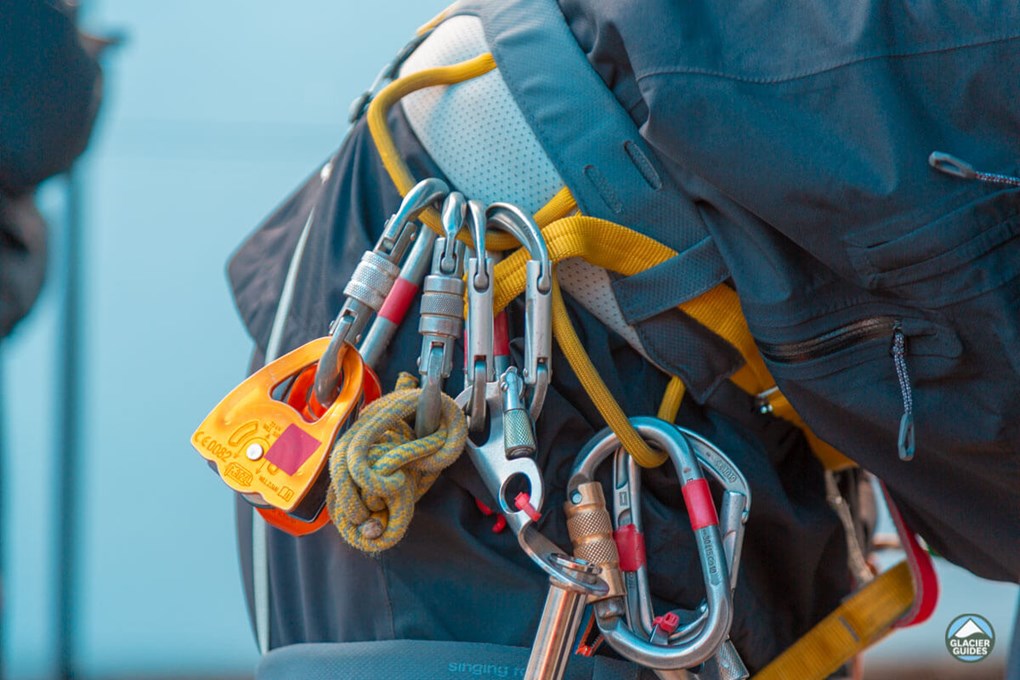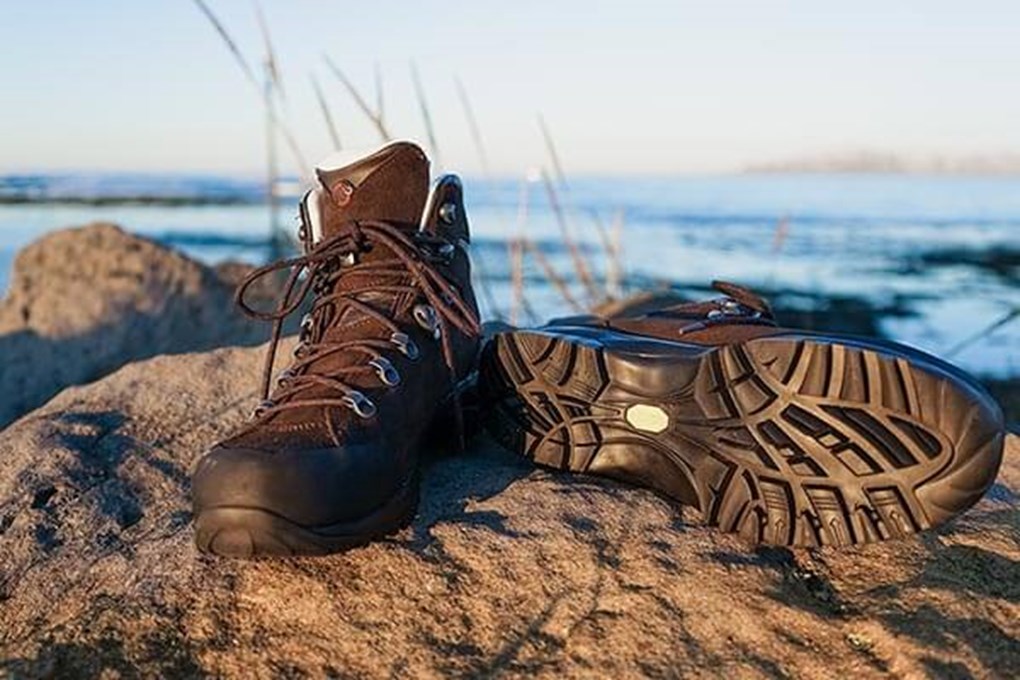 Harness, Ropes, and Carabiners
These types of equipment are normally used for ice climbing or any glacier hikes that include ice climbing actions. When you sign up an ice climbing or a glacier hiking tour, your glacier guides will do all the rope work and they will also talk about what to be aware of during your activity.
Mid-cut Hiking Boots*
As you may already know that the mid-cut hiking boots provide extra ankle support during your actions, there are also other benefits of wearing these sturdy hiking shoes. An ice cap is essentially a wet environment, a pair of mid-cut hiking boots can keep your feet dry if you are walking on a trail that's muddy, slushy, or in this case, icy. Also, this type of hiking shoes can prevent your ankles from cuts, grazes and bruises, which are very common when you hike off the beaten road or on top of a glacier tongue. A pair of low cut hiking shoes certainly provide more flexibility on the ankle area and they are lighter than the mid-cut ones, but glacier is an extreme environment and a well-protected foot area is essential to hiking in the glacier environment.
*Please note that you can rent hiking boots upon signing up the glacier tours with a small fee. Other types of equipment are provided and will be handed out at the beginning of each tour by your glacier guide.
Outfit Tips:
Wearing the right outfits is as important as gearing up with the right equipment. We have a detailed guide to dressing for glacier activities for you to prepare for the exhilarating actions in the raw Icelandic nature. In short, you can take a look at the list below.
Iceland is, in all its glory, a true miracle of nature. With its unique landscape and breathtaking scenery, it is sure not to disappoint, and the Icelandic glaciers are no exception to this, being among the most impressive phenomena to see during your stay. Glacier Guides offer you the opportunity to experience glacier exploration at its best, where you can choose between walking, hiking and/or climbing some of Iceland's most magnificent glaciers as well as exploring the inside of the glacier on ice cave explorations.

Our tours take part on the following glaciers:
Solheimajokull glacier: located just off the Ring Road by the South Coast of Iceland, around 160 km. from Reykjavik and 30 km. from Vík. Tours to Solheimajokull are available from Reykjavik.
Vatnajokull glacier: located just off the Ring Road in South East Iceland. These tours depart from Skaftafell and from Jokulsarlon glacier lagoon. Multi-day tours that go to Vatnajokull are available from Reykjavik.