On a snowmobile tour in Iceland, you'll soar past sprawling glaciers, gorgeous mountains, and incredible natural scenery. Our snowmobile tours let you explore Iceland's mighty glaciers up close! All ages and experience levels can snowmobile in Iceland. From simple half-day snowmobile adventures to full-day combination tours — you name it, we got it! 
Browse our selection of snowmobiling tours
Day Tours
Iceland's Glaciers
Iceland's glaciers are among the largest in Europe. In fact, Europe's biggest ice cap, Vatnajökull, is located in Iceland. Vatnajökull covers a remarkable 8% of the country. One of its 30 outlet glaciers, Breiðamerkurjökull, created the famous Jökulsárlón Glacier Lagoon. 
Another famous glacier in Iceland is Langjökull ("the long glacier"). The glacier's meltwater created some of Iceland's most amazing sights, including Gullfoss Waterfall, the Silfra Fissure, and Eyjafjallajökull Volcano. 
At Glacier Guides, we want to help you see the fleeting beauty of these spectacular natural wonders. Our Iceland glacier tours include ice caving tours, glacier walking tours, ice climbing, and thrilling guided snowmobile tours. Read on to learn more about our snowmobile adventures!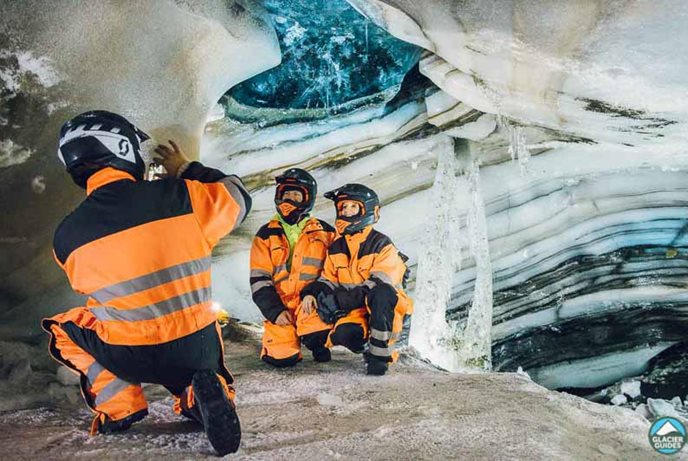 Snowmobile Tours in Iceland
Iceland's snowmobile trails are among the best in the world! The most popular glacier for snowmobiling is Langjökull. Winter athletes love Langjokull's smooth ice crevasses and natural beauty.
Many snowmobile tours are combined with another activity, like ice caves or ice climbing. When snowmobiling on Vatnajökull Glacier, you can add a visit to Skaftafell National Park or Jökulsárlón Glacier Lagoon. 
Take to the slopes of Solheimajokull Glacier if you're looking to snowmobile closer to Reykjavik.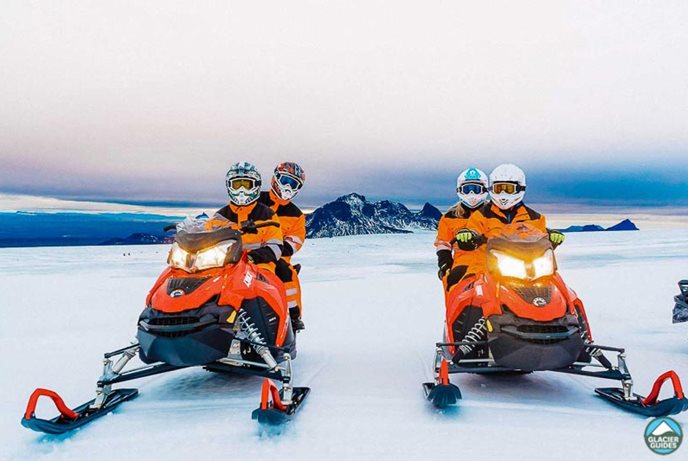 A Typical Snowmobiling Adventure Tour
The start of your snowmobile tour depends on your method of transportation. To meet on location, you can meet us at our basecamps near Langjökull or Vatnajökull. You can also do a pickup tour from Reykjavik or the surrounding area. Look at the details of your chosen tour for specific information. 
At the base camp, the guide will give you your safety equipment and show you how to operate the snowmobile. Then your adventure begins! Ride out into a sea of fluffy white snow and see the incredible scenery around the glaciers. Most trips last around an hour.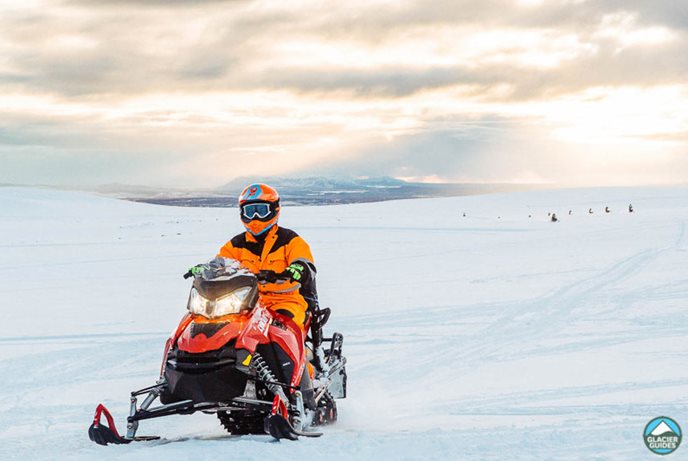 Snowmobiling Safety
Our local snowmobile guides are highly experienced. They'll make sure you have a safe and exciting time on your snowmobile guided tour, no matter your experience level. 
To operate a snowmobile, you need to be over the age of 17 and have a valid driver's license. The snowmobiles are easy to operate, so even absolute beginners will be totally fine. Our expert guides will be with you at all times, showing you how to operate the vehicle and keeping you safe. 
We provide all necessary safety equipment, including overalls, gloves, helmets and protective eyewear. We also recommend bringing your own hiking boots. Finally, it's important to dress very warmly. We recommend layers that can easily be put on and taken off. 
Don't forget to bring something to eat and your camera!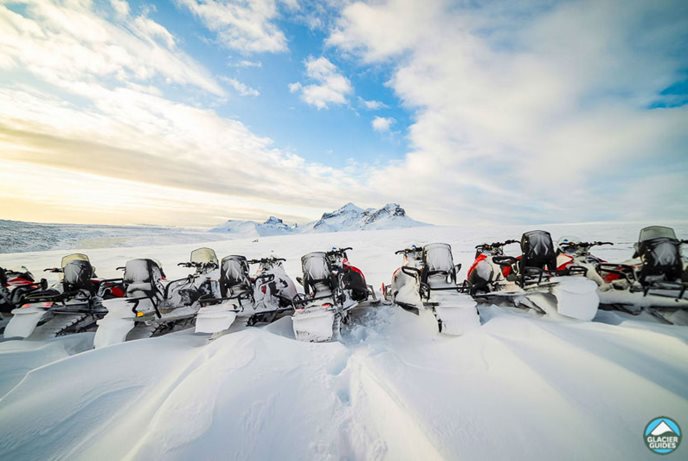 The History of Snowmobiling
The snowmobile was invented by Canadian innovator Joseph-Armand Bombardier in the mid-20th century.  Bombardier wanted to a mechanized way to travel across Canada's remote Arctic Tundra. He based his design on trains and the traditional sleds used by the Inuit people.
His first attempt looked more like a steam train than the sleek snowmobiles we know today. However, his designs continued to evolve. He took inspiration from the sled dogs that had been used by the Inuit for centuries. 
In modern times, snowmobiles have become popular with adventurers who want to feel the rush of gliding across untouched snow. In Iceland, they're a popular way to explore the incredible glaciers.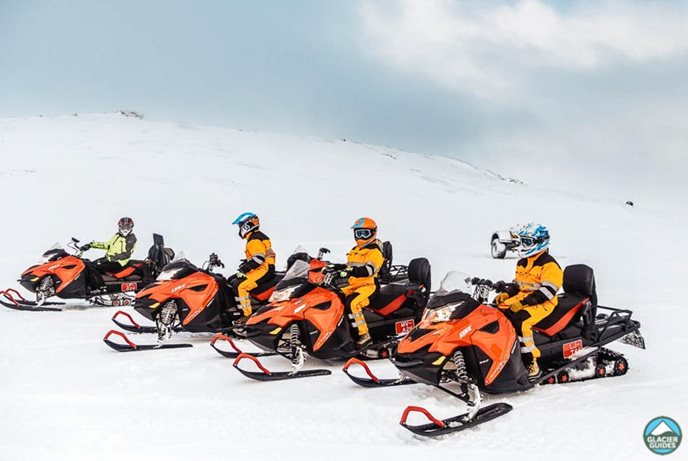 Vatnajökull Glacier
Vatnajökull is the largest glacier in Europe. It covers 8,100 sq km (3,127 sq mi) and 8% of Iceland's total landmass. Vatnajökull has more than 30 glacial tongues that are equally interesting. You can explore these outlet glaciers on our tours. 
Vatnajokull Glacier is part of Vatnajökull National Park, a UNESCO World Heritage and the largest national park in Europe. The park offers excellent glacier hiking, ice-caving, glacier lagoon boat tours, and snowmobiling.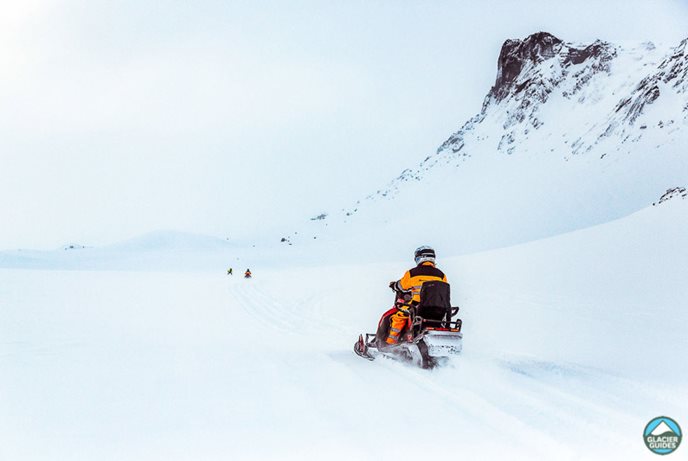 Langjökull Glacier
Langjökull Glacier, the second-largest glacier in Iceland, literally translates to "the long glacier." Langjökull's meltwater flows through many popular Golden Circle attractions, including Gullfoss Waterfall and Silfra Fissure. At Langjökull, you'll see several ancient volcanic craters, as well as neighboring Eiríksjökull Glacier and massive Table Mountain.
Ice Caves
Many of our snowmobiling trips are combined with a journey through Iceland's exquisite crystal ice caves.  Ice caves form when water melts deep inside a glacier. The ice crystals create mesmerizing patterns and vivid colors!
Once warm weather returns, they often melt and disappear. As a result, from year to year, each ice cave is unique. Most ice caves can only be visited in winter due to safety concerns. 
If you're visiting in summer, we offer combo tours into the beautiful, manmade Langjökull Ice Tunnel.