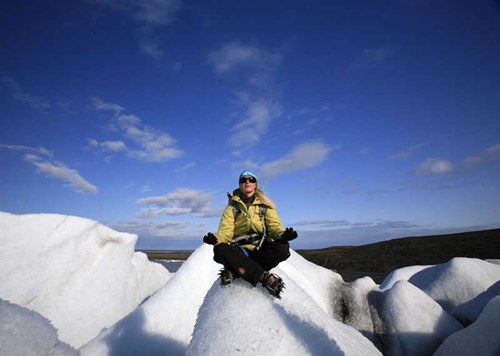 It does not matter how much you travel in Iceland, you simply cannot have enough of it. There are innumerable wonders to take in and a plethora of remarkable summits to climb – everything an adventure-seeking hiker can ask for,
If you are one of such adventurers, then the Skaftafell national park is for you, with its marvelous landscapes, glaciers, ravines, black-sand beaches and much more. Located on the South East Coast of Iceland, hiking through the Skaftafell will give you a lifetime experience in every way.
So, let us dive deeper into the natural wonders of this rare geographic region on earth whose beauty surely surpasses most of natural wonders.
The Svartifoss waterfall
One of the most stunning sites in Skaftafell, the Svartifoss waterfall is a unique sight as you witness the 20m tall waterfall carve its way down, flanked by the majestic black hexagonal basalt columns that surely give you the rarest of landscapes.
The trail to the waterfall is rather short stretching out to 1.5 km from the visitor center. It is a good starting point and will prepare you for the more demanding and awe-inspiring journey that lies beyond this.
Sjonarnipa
Continuing the hike from the Svartifoss waterfall, you will head back to the crossroads and as you step further, a sign indicating Sjonarnipa will appear. And as you enter the site, you will be left nothing but breathless.
The view is astonishingly stunning and genuinely exquisite, seeming as if you have entered a world that that is different from the one you live in.
With mountains lying far ahead and clear water from the Skaftafell glacier, you step into a surreal atmosphere where there is nothing but serenity and a cool fresh air.
Ingólfshöfði
Your journey is not complete unless you have visited the one-of-a-kind Ingólfshöfði cape, which allows you to view the remarkable sceneries filled with rivers where some of the most beautiful birds reside.
The land is covered with black sand that results in a sharp contrast with the clear blue waters. Some of the creatures that you may find include puffins, skuas and other kinds of seabirds.
You will need to pay a little amount to the families living nearby to get to the top of the cape as they will take you in a tractor so that you can easily go up the cliff.
And as you make your way to the top, you will come across picturesque streams, marshes and much more that will make your experience ever more enthralling.
Traversing the breathtaking glaciers
You may be amazed by the remarkable cliff views, expansive rivers and long waterfalls, but nothing may come close to the experience of trekking on ominous glaciers only to end up at the top and relish the breathtaking views that comes with it.
Skaftafell national park has a number of beautiful and circuitous glaciers that daring hikers can climb. However, it is highly recommended that one goes for it with a tour guide and not do so alone.
The glaciers have quite extreme conditions and it is not uncommon for people to meet fatal incidents. A guide, on the other hand, can make sure that you have the right gear to take on this extremely fulfilling challenge.
The highest peaks
Hvannadalshnúkur is the highest peak in Iceland and climbing it will be nothing less than one of the best feats that you will ever come across. With a sheer height of 2.110 meters, hikers have to demonstrate exceptional will power and determination to reach the end goal.
As you cross your way, you will meet extreme climatic conditions, hazardous turns and bumpy paths; however, once you reach the top, I can assure you, it will all be the most fruitful effort in your lifetime.
If you ever had dreamt of seeing the world from atop, then this will be your chance to do so in full glory. An experience that will be truly unforgettable.
Lómagnúpur Mountain
One of Iceland's most prominent structures, the Lómagnúpur is an imposing 688 m tall mountain under whose presence, one is certainly overwhelmed. The mountain is marked by some stunning views as you walk past this dominant wonder.
There are a number of small lakes that add to the scenic beauty of the place. You will be amazed at the convergence of various natural features that include rocks, greenery and long landslides that leave a long-lasting impression on your mind.
The mountain, given its grandeur, has a long-standing folklore in which the place was home to a giant. The story goes with Flosi wanting to burn Njala's farm. Later in a dream, Njala sees a giant walk out of the mountain and name 25 people to burn his farm.
But this is just one of the many stories that are associated with the mountain. The giant is also believed to have had protected Iceland by preventing foreigners to invade the land.
Jökulsárlón glacier lagoon
Yet another one of Iceland's majestic geographic features, the Jökulsárlón glacier lagoon, is indeed a sight to behold.
The lagoon is filled with glacial ice and it is without a doubt, the most wonderful of experiences to cruise through the waters watching ice bergs float by and around many icy mountains.
Nevertheless, it is recommended that travelers do not step onto the ice as it tends to regularly break off and can prove to be a bit dangerous.
The breathtaking views offer unique experiences and is definitely one of the reasons to visit Iceland.
Ending at the Diamond Beach
As exotic as the name, the diamond beach is nothing less than glorious. Situated right next to the Jökulsárlón glacier lagoon, the beach is covered with black sand with ice-filled water ebbing at the edges only to give you pristine ice rocks shaped like diamonds.
However, if you want to see the beach in its full glory, then the best time to visit is during the sunset hour when the golden rays pass through the pure ice cubes that lie against the clear ocean whose waves provide you a serene and calming environment.
Other activities to do in Skaftafell
Skaftafell National Park is not just about taking in the natural beauties. It has a great deal of fun activities that you can do along the way as you watch the stunning views unfold in front of your eyes.
Some of the activities have already been mentioned which include hiking, climbing tall mountains and glaciers or just resting on a peak and enjoying the views down below.
You may however, also bicycle your way across various tracks. You can easily rent a mountain bike and traverse the many paths along the bumpy riverbeds that end at ever more amazing landscapes with glamorous ravines.