Hiking on a glacier sounds a like a chilly activity but, as surprising as it might be, it can be sweatier than you'd think. Dressing according to the weather is crucial and choosing the right fabric is key. But what do we mean by all this? Let us help you to prepare for your adventure!
Preparing for Iceland's climate
First of all, you may notice that Iceland's climate is friendlier than you would expected for its latitude. Thanks to some warm ocean currents around the island, temperatures in winter, from mid-October to mid-April, are milder than in Central and Northern Europe.
When choosing the right pieces of clothing, the first thing you should do is check the average weather conditions for the time of year that you're planning to visit Iceland. Of course, no one can tell you weeks or months ahead of time exactly what the weather is going to be like, but each season has some characteristic attributions that you can prepare for.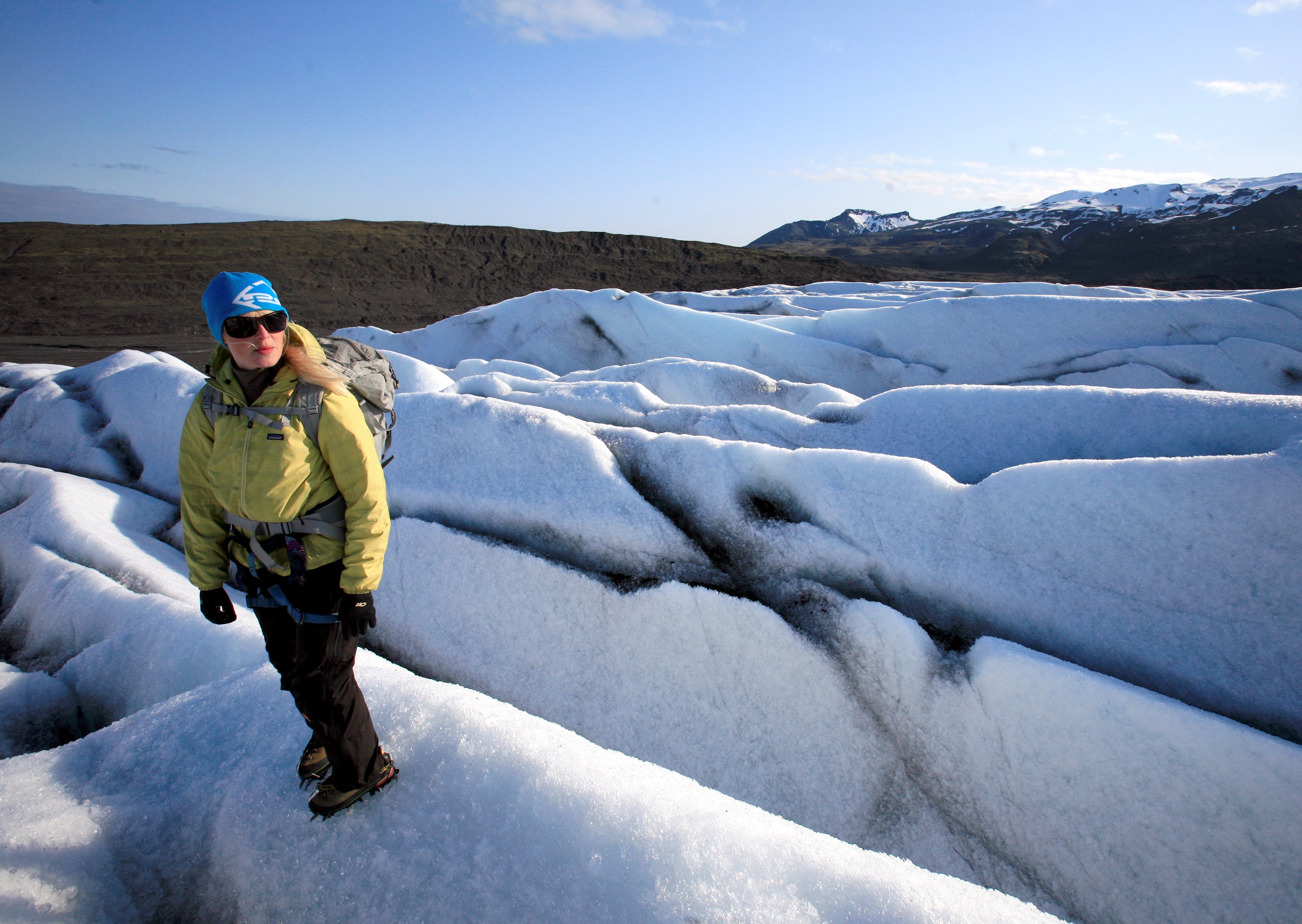 Average temperatures in Iceland
Thanks to its describing name, most people think of Iceland as one of the coldest countries in the world but in fact, winters are much warmer than most visitors expect. Temperatures go usually between -5°C to +5°C (23 to 41 °F) in winter and 7 to 18°C (44-65 °F) in summer (June-August). The average wind speed on a normal day is 5 to 20 m/s (8 to 72km/h). Precipitation peaks in winter but the most determinant weather factor is variability.
Even in summer, you can expect blowing wind, blue skies with burning sun, short but intense showers or snow on the very same day.  So the key to appropriate clothing is not to dress warm, but to dress smart.
Weather conditions on the top of a glacier don't differ too much from the rest of the areas - at least on the outlet glaciers where the hiking tours are operated.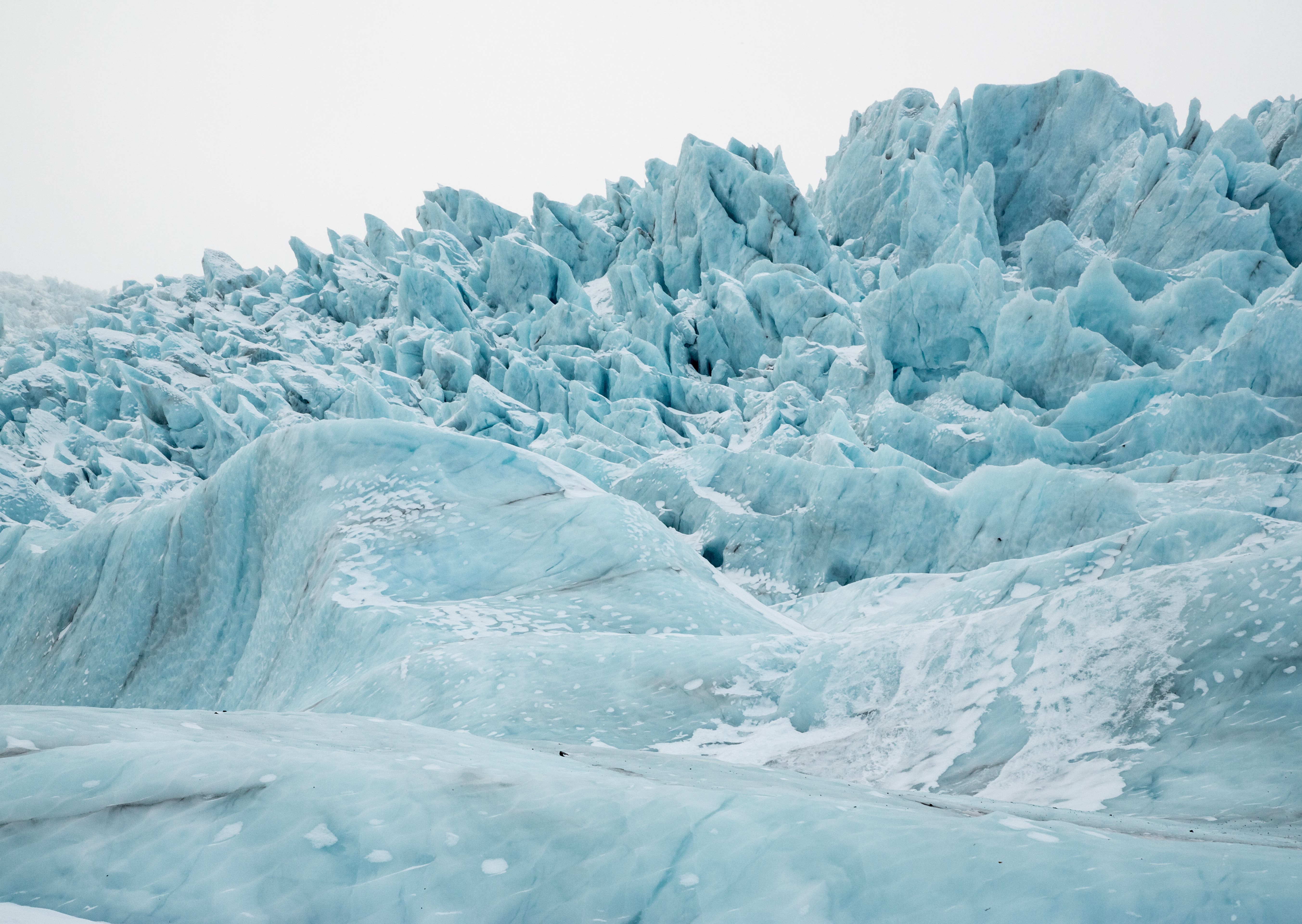 What to wear on a glacier tour in Iceland?
Dress in layers! Regardless of the season you visit Iceland, you should always dress in three (or more) layers of clothing. Each has its own particular function that shouldn't be ignored.
Base layer
The layer next to your skin is the base layer. Your underwear set should include a long-sleeved shirt and long johns, made from excellent quality, fast drying, breathable fabric. The main function of this layer is to move away moisture from your skin, keeping you dry in order to insulate well.
Mistake to avoid: do not wear cotton
Cotton absorbs moisture and doesn't dry fast enough. It stays wet and cools your body. Be sure to choose fine wool or synthetic fabric that was specifically designed to be worn as a base layer for outdoor activities.

Insulating layer
The main function is of the middle layer is insulation. This layer should reflect your own body heat effectively in order to keep you warm and comfortable. The required thickness depends on the season. You might need a proper duck down jacket in winter, but a long-sleeved fleece sweater can be enough in summer. For bottom options, wear insulated hiking pants in winter and simple soft shell pants in summer.
Mistake to avoid: do not wear overly heavy clothing
Wearing heavy, rough pieces will make you sweat and feel uncomfortable. The perfect middle layer is lightweight and breathable. Fleece, fine wool and duck down are the best materials for this purpose.

Shell layer
The outer layer protects you from wind and rain. Keep this in mind - your insulating layer is worthless if it gets wet and fleece or down fabric cannot shield you against the wind either. Your shell coat and trousers should provide water and wind protection. Glacier tours don't stop operating in rain, since it is very common in Iceland. So you should be always prepared for it.
Mistake to avoid: do not wear a plastic raincoat
Make sure you choose breathable fabric. A plastic raincoat may protect you from the rain but it retains inner body moisture as well, resulting in the first two layers becoming moist.

Footwear and accessories you need on a glacier hike
Crampons are provided by the tour operator but steady, broken-in, waterproof hiking boots are necessary to have with you. If you don't have it, don't worry. In many cases, rental of hiking boots is offered during the booking process. This is an option here at Glacier Guides.
In winter you will need a cap or ski balaclava and a buff, neck gaiter or a scarf. Again, choose a warm but lightweight fleece or wool piece that insulates well while keeping you dry.
Gloves are extremely important. You will carry an ice axe during the glacier hiking tour therefore, gloves are absolutely essential even in summer.
Walking on the bright, white ice field, you will probably need sunglasses, especially in summer. Sunshine can be especially sharp at this altitude.
It is a good idea to have a small, light daypack with you, packed with some high energy snacks and water and to have some space to put your outer layer in warm, mild weather and of course a camera!

Ultimate dressing checklist for a glacier hike in Iceland
Waterproof hiking boots and wool hiking socks

Long wool or synthetic underwear

Wool or fleece sweater in summer or down jacket in winter

Water-and windproof hiking pants, insulated pants in winter

Water-and windproof jacket

Gloves

Hat or balaclava

Scarf, buff or neck gaiter

Sunglasses

Own water bottle

Daypack