Distance from the capital: 450 km
Closest glaciers:
Hoffellsjökull - 20 km
Fláajökull - 30 km

 




Heinabergsjökull

- 40 km

 




Breiðdamerkurjökull - 80

km
Number of inhabitants: ~ 2200
Pronunciation: 

hupn
After driving through the desolate south coast, or the barely populated areas in the East Fjords, arriving in Höfn truly feels like entering a metropolis. Therefore Höfn, also known as Höfn í Hornafirði, is quite an important center for tourists who travel around Iceland's ring road. However, the tiny town has scarcely more than 2200 citizens.
What to know about the area
Irish monks are believed to have lived in this area before the Vikings arrived in around 870 AD/CE. Later on, a farm belonging to one of the first Vikings to settle in Iceland was established, situated a little to the east of where the town stands today, in the area called Horn, "horn" has exactly the same meaning in English.
People actually started settling at Höfn less than two centuries ago, they came to work in the fishing industry, Höfn officially became a town in 1988. The high-value Norwegian lobster and the Icelandic lobster catch is now landed and processed in Höfn, making it the Lobster Capital of Iceland. Today, thanks to the growing number of fisheries and tourism, the town is blooming.
The land is dominated by stunning mountains, wide rivers and giant glaciers, the scenery of this place is mind-blowing.
Höfn - literally translates to Harbor. Sitting on the shores of the totally breathtaking Hornafjörður, in the shadows of the largest ice cap in Europe, the majestic Vatnajökull, is magical. Hornafjörður, however, is technically not a fjord, but a large freshwater lagoon, formed by the sediment left by powerful glacial rivers.
What to see in Höfn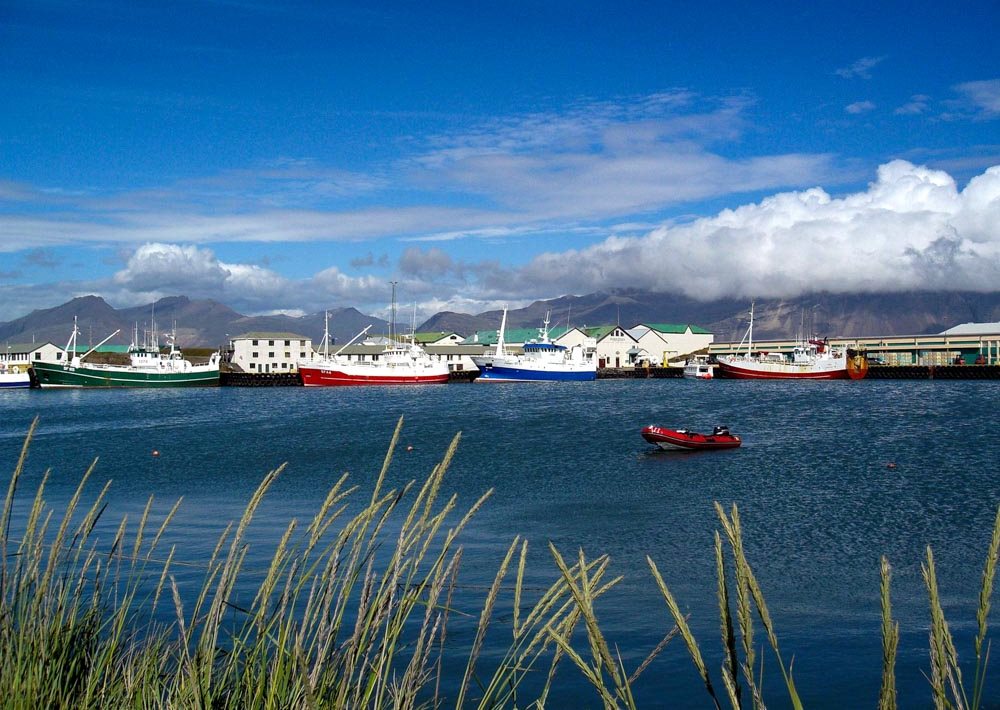 ➤ The adorable harbor with its colorful boats. There is a walking path that leads to a bird reserve south of the harbor.
➤ Gamlabúð  'Old Shop' is a Folk Museum situated in one of the oldest houses in Höfn. This popular museum focuses on the history of one of the most isolated parts of Iceland. It displays a collection related to the lives of local people in old Icelandic farming communities, covering the period between 1850-1950.
➤ Hornafjörður Art Museum is a small gallery which hosts exhibitions of the Municipal Art Collection and contemporary local artists, focusing mainly on the work of Svavar Gudnason.
➤ Huldusteinn stone museum.  A private collection of Iceland's diverse of rocks and stones is exhibited at Höfn's old swimming pool. This is absolutely recommended for geology enthusiasts.
What to see in the area
Hvalnes Nature Reserve with a beautiful yellow lighthouse and the picturesque Eystrahorn mountain, located nearby, is an absolute must-see. The black sandy beach stretches over a few kilometres, images of the surrounding mountains are mirrored in the water on calm days.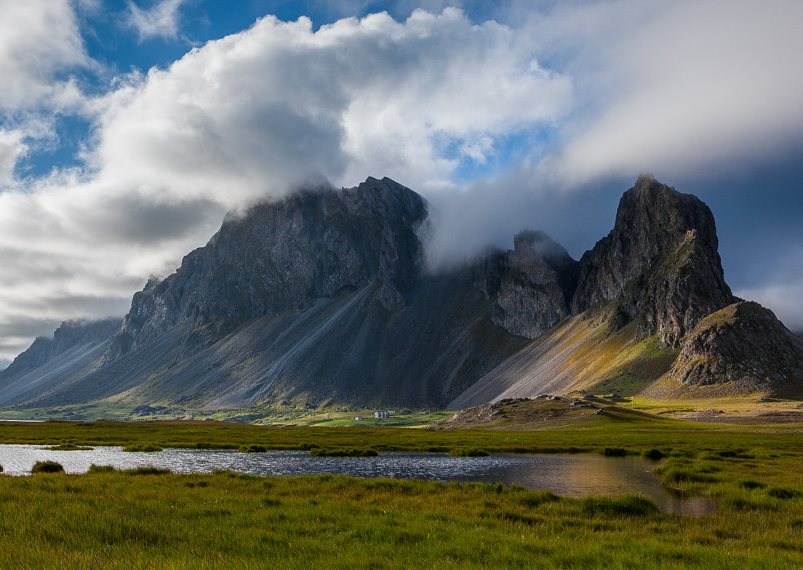 Stokksnes and the Vestrahorn mountain, just the other side of the bay, have a beauty which is equally breathtaking. Surrounded by grassy black sand dunes, this place is also the perfect playground for both amateur and professional photographers.
Hoffellsjökull is one of the closest glacier tongues to Höfn, located approximately 25 km from the town. There are some nice, short walks and longer hiking trails in the area, with excellent panoramic views over this glacier tongue, which calves into a small lake.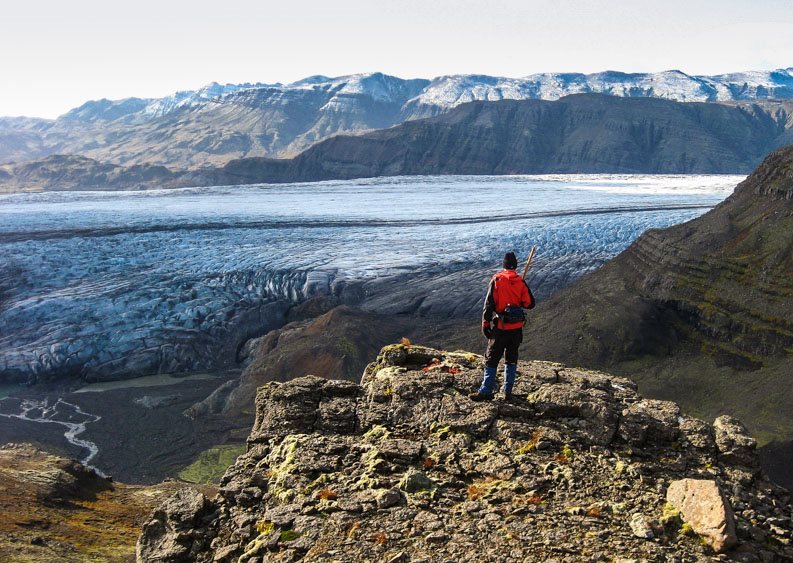 Fláajökull is another nearby glacier tongue, around 30 km from Höfn. A great walking trail leads from the parking area to this glacial tongue.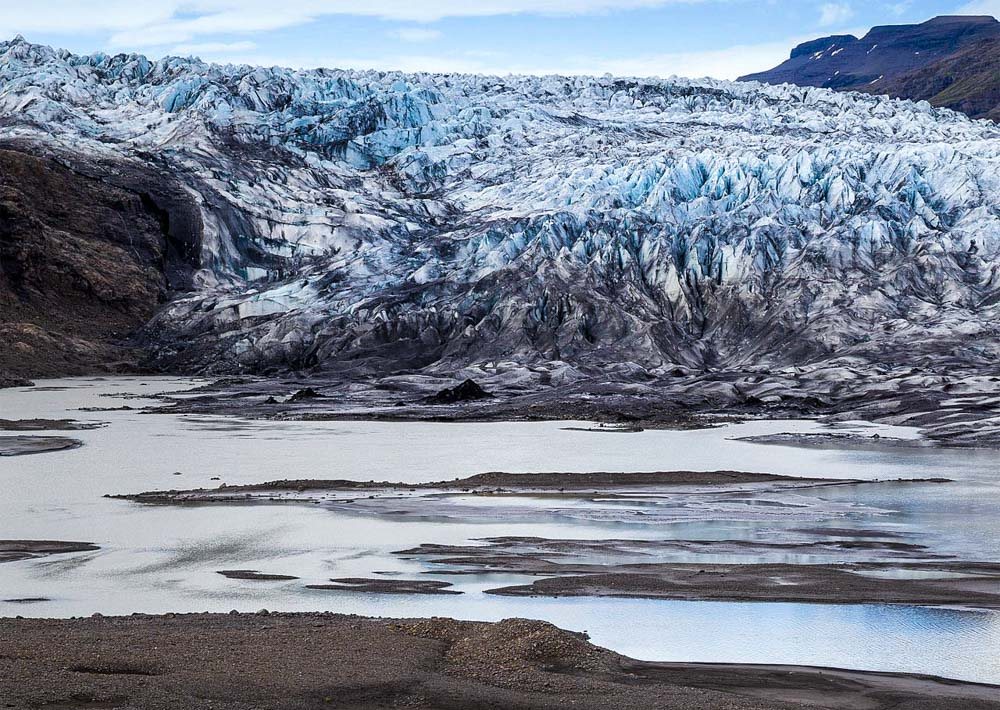 Heinabergsjökull glacier tongue is just next to Fláajökull. Its glacier lagoon is a fabulous hidden treasure.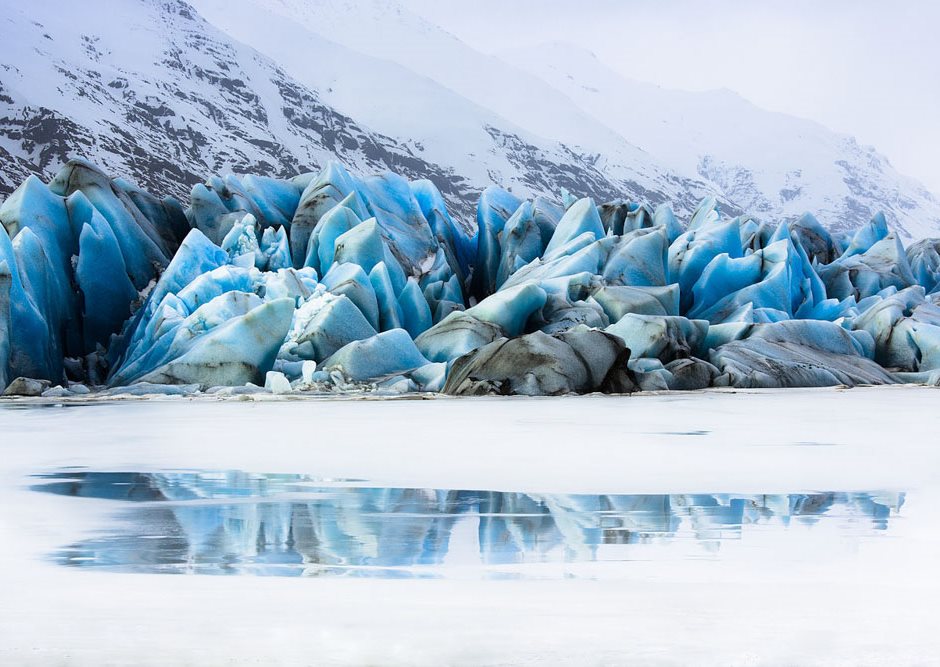 Diamond beach, Jökulsárlón and Breiðamerkurjökull glacier are located about 80 km from Jökulsárlón. Höfn is the closest town to Iceland's most admired natural wonder, this epic glacier lagoon with giant floating icebergs, seals and ice diamonds on the black sea shore.
The source of these monumental ice chunks, a glacier tongue called  Breiðamerkurjökull, is an even more unique treasure, a Crystal Ice Cave, is hidden within its depths. This cave can be visited from November to March but the glacier lagoon and the Diamond beach are accessible all year round.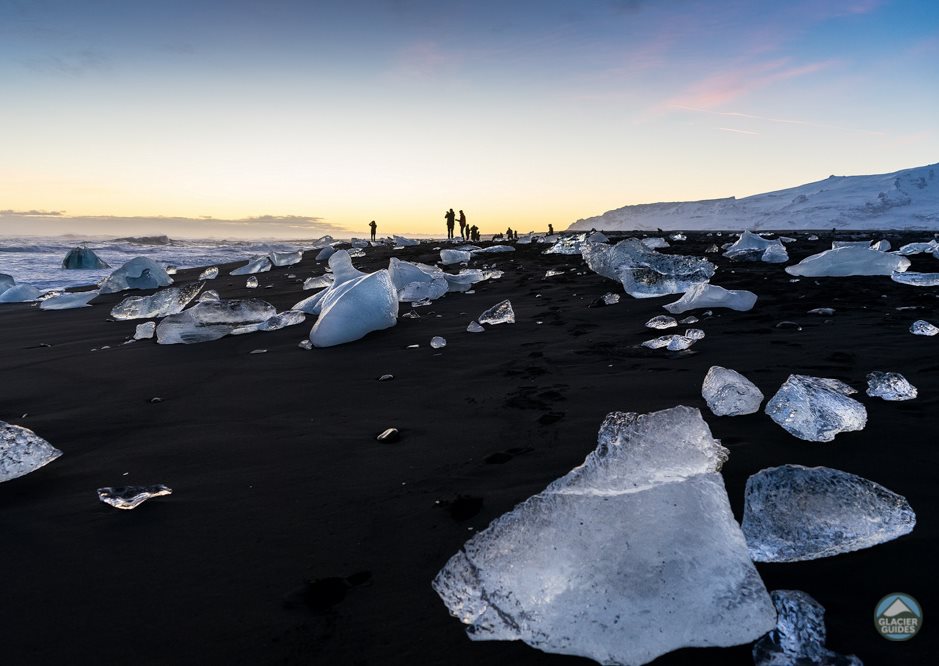 Festivals in the area
➤ Þorrablót is a midwinter festival. The name refers to the old month of Þorri, from the middle of January to the middle of February in the old Icelandic calendar. The festival is usually held between the 19th and 26th of January. This is one of the most popular events in the Höfn area.
➤ The Sailors Day on the first Sunday of June, this was when the fishing vessels first went out after the winter break in the olden days. It is a big festival in Höfn with concerts and exciting events.

➤ Humarhátíð, Lobster Festival - this usually consists of numerous events and concerts. It is usually held in June.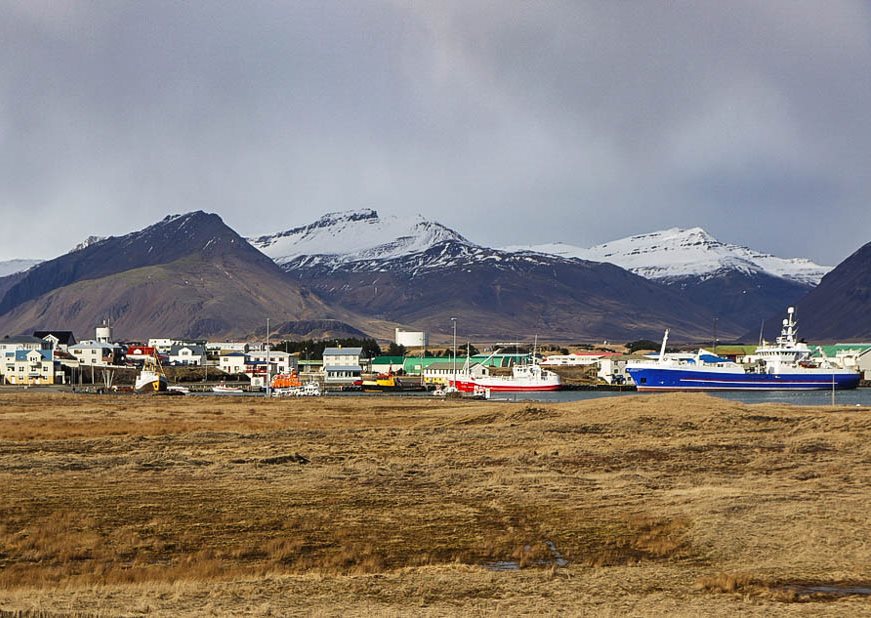 Hotels and services in Höfn
➤ Hotel Jökull 'Hotel Glacier' used to be a public school. It is located 8 km from Höfn, at the foot of Vatnajökull. The Vatnajökull area has really spectacular natural scenery.
➤ Fosshotel Vatnajökull is located on the countryside 15 km from Höfn, with magnificent views over Vatnajökull glacier
➤ Hotel Edda has eleven summer hotels all around Iceland, one of them is located by the harbor in Höfn. It offers modern rooms with private bathroom facilities.
➤ Hotel Höfn is a charming hotel with a friendly atmosphere and beautiful views of Vatnajökull glacier.
➤ Höfn Guesthouse offers rooms with a shared kitchenette. Mountain views can be enjoyed from some rooms.
➤ Höfn Campsite also has cottages where sleeping bag accommodation is offered. Beautiful views over the glaciers.
➤ Höfn HI Hostel is a friendly hostel that offers simple rooms with a shared kitchen and laundry facilities.
More accommodation options in Vatnajökull region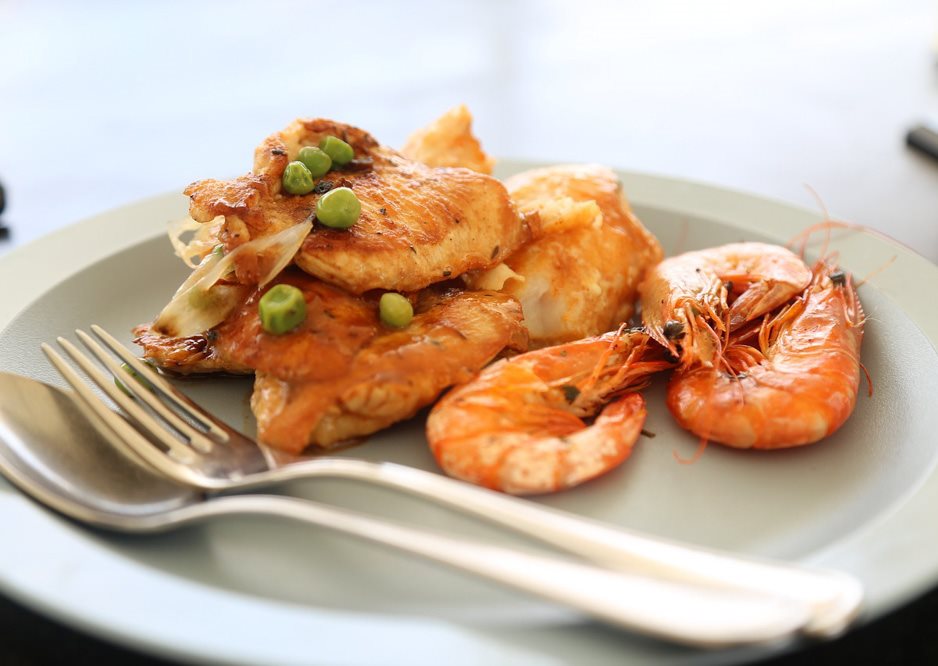 Where to eat in Höfn
➤ Jón Ríki is a farmhouse restaurant at Hólmur, next to the ring road, 32 km from Höfn. It is well known for its small in-house brewery, and beautifully presented, high-quality dishes, made from local products. You are advised to make a booking so the owners will know you are coming.
➤ Pakkhús is a restaurant, café and bar, located just beside the information center in town with harbor views. The menu places emphasis on the use of local ingredients from the area around the Vatnajökull Region: langoustine, lamb, salted cod, duck & pork.
➤ Humarhöfnin, 'The Lobster Harbor' this restaurant also has a beautiful view over the harbor. A cheerful interior and good atmosphere, freshly caught, first class langoustine and arctic char.
➤ Z-Bistro is fairly new, their main focus is on langoustine but they are also dedicated to keeping their prices reasonable. This bistro offers a large and diverse selection of lobster and other local dishes.
➤ Nýhöfn 'New Harbor', as the name indicates, is also located by the harbor! The building was the first family house to be built in Höfn in 1897.  A small and intimate restaurant with a classic Scandinavian interior. They offer local seafood, langoustine, lamb and vegetarian options.
More restaurants in Vatnajökull region