Glaciers are one of the most mysterious natural wonders in the world. Some of them are even visible from space. With 11% of the total land area covered by ice caps, Iceland is a glacier paradise. Here are the five most amazing glaciers that you must see when visiting Iceland!

But what on earth is a glacier?
Glaciers, simply put, are huge rivers of ice. They form only in places where fresh snow never fully melts. Building up on mountain tops or highlands, it compresses and transforms into dense ice under its own weight.
This process can take decades or even centuries and the thickness of the glacier can reach hundreds or thousands of meters. As newly fallen snow is constantly accumulating, the ice keeps growing and, being very heavy, it moves toward the edges like an extremely slow river.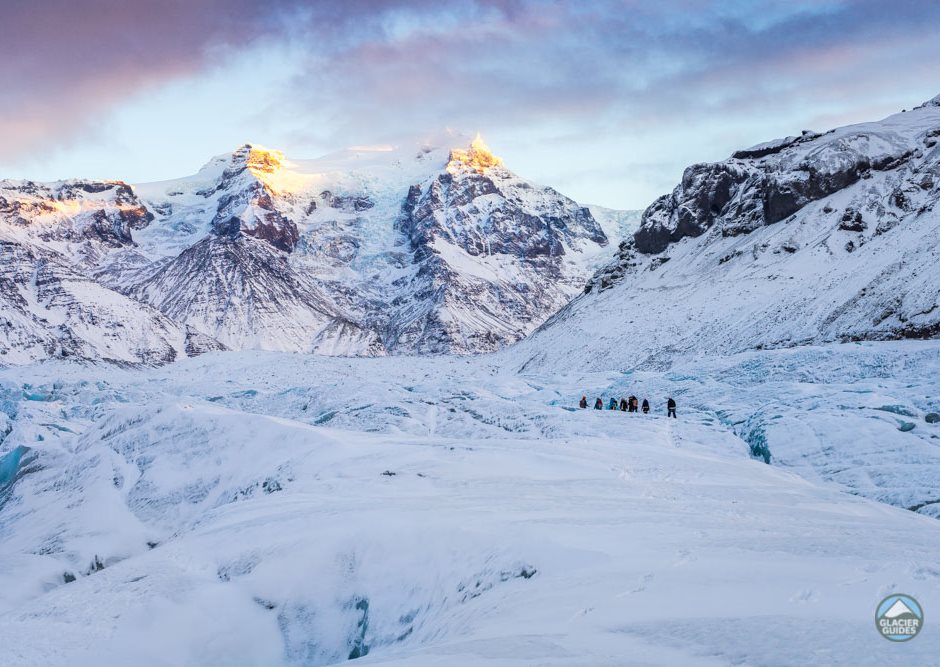 The largest glacier in Iceland: Vatnajökull
Home to Iceland's highest peak, Hvannadalshjukur, and hiding some potential volcanoes under its ice cap, the enormous Vatnajökull is known as 'the water glacier' and deserves first place on your bucket list!
With an area of 8,100 km2 (3,100 sq mi), Vatnajökull, Europe's largest icecap, covers 8% of Iceland's total land. As a comparison, this is close to the size of the islands of Corsica or Cyprus. The average thickness of Vatnajökull's ice is 400 m (1,300 ft), with a maximum thickness of 1,000 m (3,300 ft).
Vatnajökull has around 30 outlet glaciers that form a mindblowing landscape along the southern part of the ring road. Most of the glacier tours are operating on these glacier tongues because they are the most easily accessible and look the most spectacular.
High on the top of the main glacier, the landscape is just endlessly white, where conditions are extremely challenging and can even be dangerous. It is forbidden to hike on a glacier without a guide but with a certified glacier guide and the right equipment, hiking on these incredibly picturesque glacier tongues is safe and surely brings you an unforgettable experience. Try it out yourself, view the variety of tours from Skaftafell on Vatnajokull Glacier.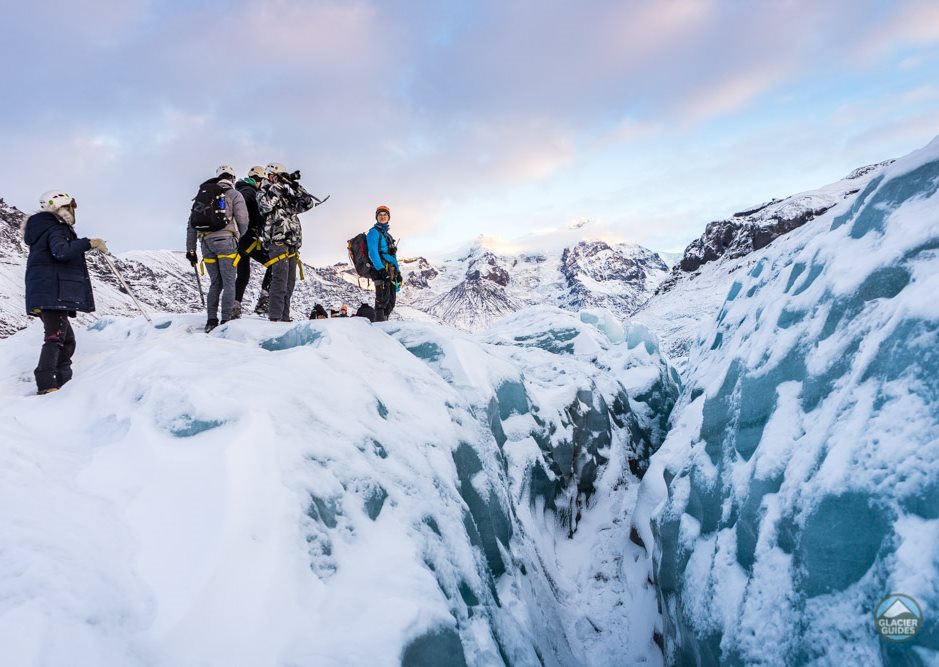 The most popular glacier tours on Vatnajökull
About four hours driving distance from Reykjavik, Svínafellsjökull and Falljökull are both located in the Skaftafell National Park, which is an absolute must-visit place by itself.
Svínafellsjökull, the 'pig mountain glacier' is approx. is 1,000 years old. It is known as one of the bluest glaciers in Iceland. Sitting in a dreamy landscape, with its deep, impressive crevasses and otherworldly formations Svínafellsjökull has been a shooting location for many world famous Hollywood movies and TV shows like Batman begins, Interstellar and The Game of Thrones. 
Here are some samples of tours: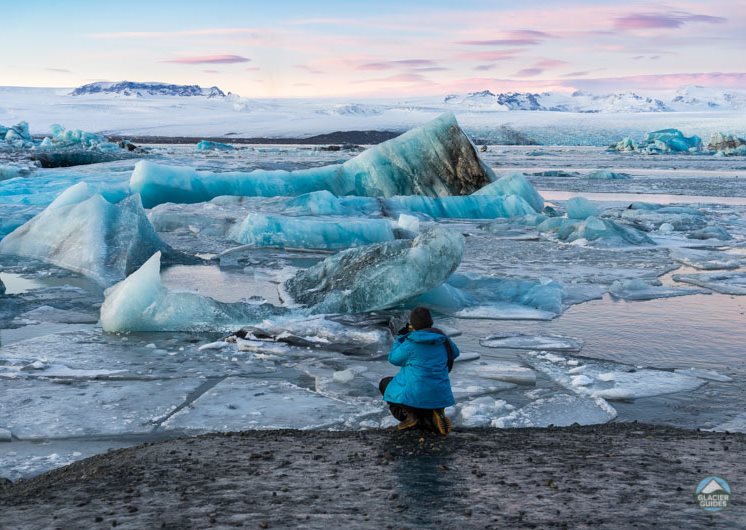 Falljökull the 'falling glacier' is situated just next to Svínafellsjökull. Its name describes it pretty well as Falljökull is a giant, massive icefall dropping down the mountains, crashing its way towards the ocean. It is one of the most impressive and easily accessible glaciers in Iceland and therefore an exceptionally great location for glacier hiking tours.
Here are some samples of tours:
Breiðamerkurjökull lies a little further east, about five hours driving from Reykjavik. This may be the most beloved glacier by anyone who has visited the famous glacier lagoon. Its ice tongue ends in a small lagoon where huge chunks of ice break down and drift through the lagoon, towards the ocean. This spectacularly dreamy place is called Jökulsarlón.
Breiðamerkurjökull is also home to beautiful ice caves, the most famous one being the stunning blue Crystal Ice Cave. This unique natural phenomenon is only accessible in winter. Spending a day in the area and going on a glacier hike and exploring the aquamarine blue ice cave can be the most amazing thing that you will ever do!
Here are some samples of tours:
2.) Mýrdalsjökull glacier covers one of Iceland's most active volcanoes
Significantly smaller but no less picturesque is the beautiful Mýrdalsjökull, the glacier of the 'mire valley'. Covering one of Iceland's largest active volcano called Katla. Mýrdalsjökull is very likely to get much more famous in the near future.
Katla is the name of the volcano constantly murmuring under the ice of Mýrdalsjökull. This giant has had large eruptions every 40 to 80 years since 930 a.d.. The last great eruption took place exactly 100 years ago, so Katla seems to be well overdue for an eruption. But no need to worry. Scientists are monitoring the volcano 24/7. Visiting Mýrdalsjökull is absolutely safe and there are plenty of tours operated in the area, including the Myrdalsjokull Glacier Cave by Katla Volcano.
The best known and most spectacular tongue of Mýrdalsjökull ice cap is the 10-km-long and almost 2-km-wide Sólheimajökull and the incredible forces of the ice flow have formed breathtaking landscapes and rugged rock formations.
Falling from a height of about 1,300 meters (4265 ft) down to 100 meters (328 ft), Sólheimajökull is a highly panoramic glacier with exciting formations and glistening blue ice caves that offer endless opportunities for an exciting glacier hiking tour.
About two hours driving from Reykjavik, visiting the Sólheimajökull is a perfect day trip. Tours operate both with pickup from Reykjavík or meeting at location.
Here are some samples of tours:
3.) Iceland's second largest glacier: Langjökull
Langjökull 'the long glacier' is the nearest large glacier to Reykjavík with approx. 1,5 hours driving distance from the capital. With its size of 953 km2 it is the second largest icecap in Iceland. Just like Vatnajökull, the Long Glacier hides some volcanic systems under its 580 m thick ice shield. It's calderas can be seen from the air so look out for it if you ever get a chance to fly over it.
This glacier is mostly covered by snow, therefore it is best known for being a perfect snowmobiling playground even in summer.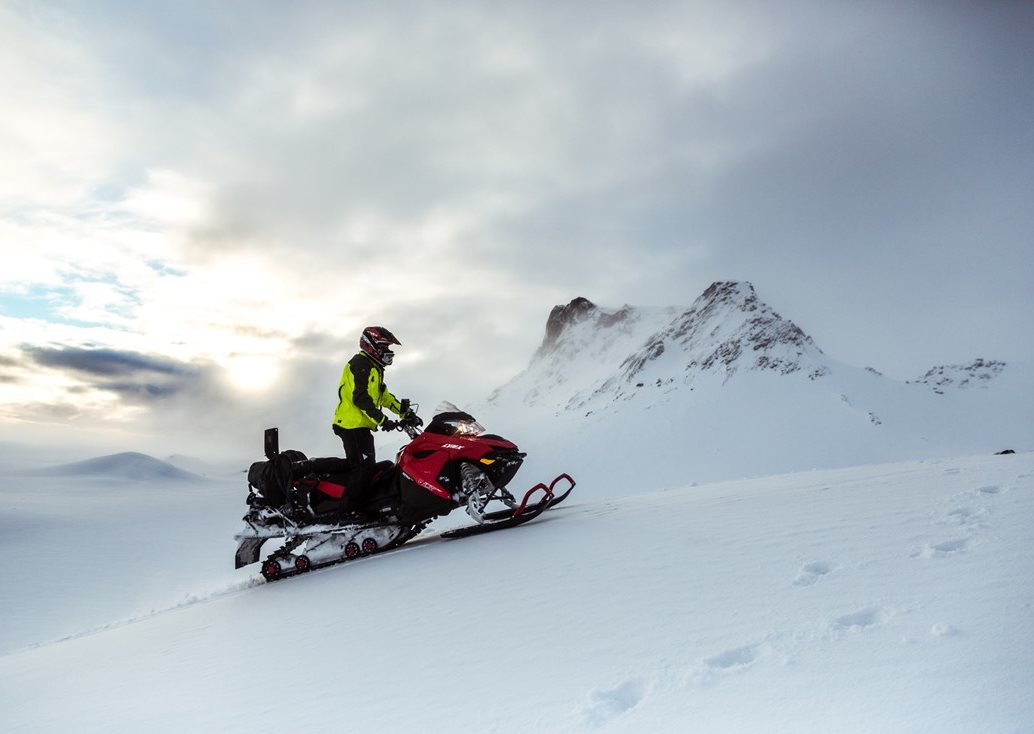 Langjökull is famous for being the home to the largest man-made Ice cave in the world but in recent years natural ice caves have been found on Langjökull, some extremely blue and beautiful. These natural caves can be visited on snowmobiling tours on the glacier.
Located in the western part of the Highlands close to Gullfoss, the golden waterfall, it is a very popular add on to the infamous Golden Circle tour.
Tours to Lagjökull operate with pickup in Reykjavik, Gullfoss and Húsafell.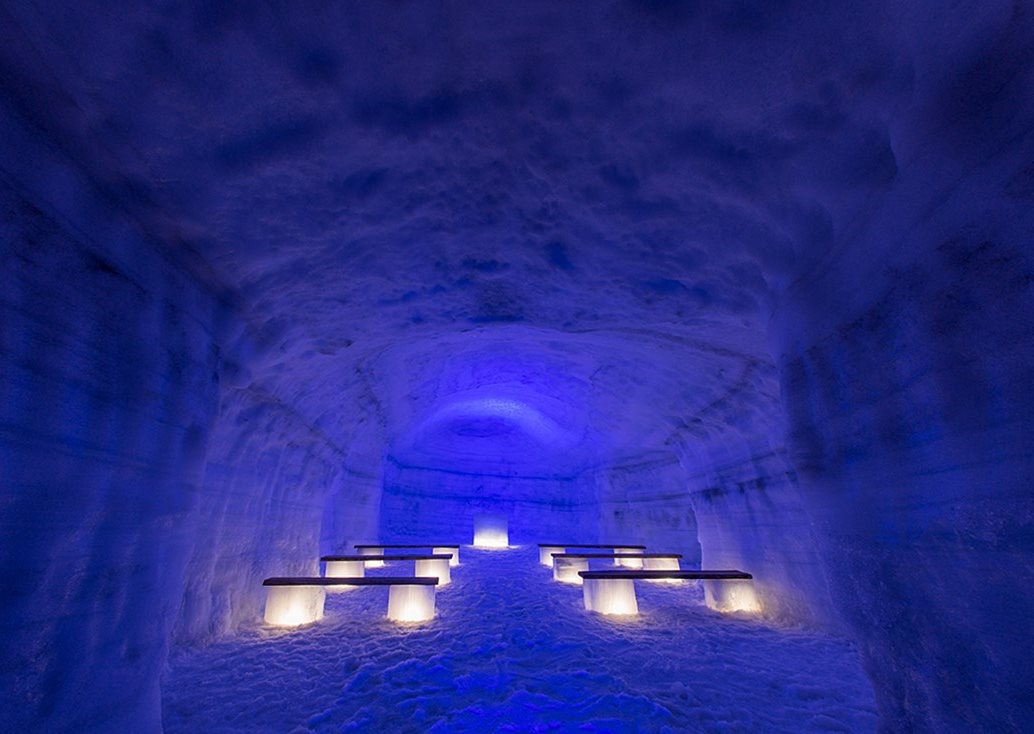 4.) The entrance to the center of the earth: Sn
æ

fellsjökull

In the famous novel by Jules Verne, Journey to the Center of the Earth, protagonists find the entrance to a passage that leads to the center of the earth located on the Snæfellsjökull glacier. So if you're a fan of Verne or adventures, you simply must visit it.

This unique place is also believed to be one of the seven main energy centres of the earth and its mysterious energy is sensed by many spiritually minded people. Although it's difficult to explain, many Icelanders will recount stories of the mystic energy of this ancient glacier and any doubt cast on this is frowned upon. They say that one simply has to experience it to understand it.
Snæfellsjökull, the 'snowfall glacier', is situated on the tip of the Snæfellsnes Peninsula in West Iceland, about 2 and a half hours away from Reykjavík. The glacier ice covers a very impressive, cone shaped volcano that can be seen even from Reykjavík in clear weather. The volcano is still active - however, the latest eruption occurred some 1700 years ago.
Snaæfellsjökull was the first national park established in Iceland, with plenty of breathtaking attractions: dramatic sea cliffs, historic fishing villages, black beaches and thrilling volcanic landscapes.
To reach the 1446-meter (4744 ft) summit is an exciting challenge and can be done on one day for the brave-hearted. You should not try to conquer this one without a professional guide but you can find guided tours to Summit Snaefellsjokull safely.
5.) The notorious Eyjafjallajökull
Eyjafjallajökull became incredibly famous when the volcano under its ice cap erupted most recently in 2010, causing massive disruption to air travel, affecting 20 countries and 10 million travellers over a period of six days.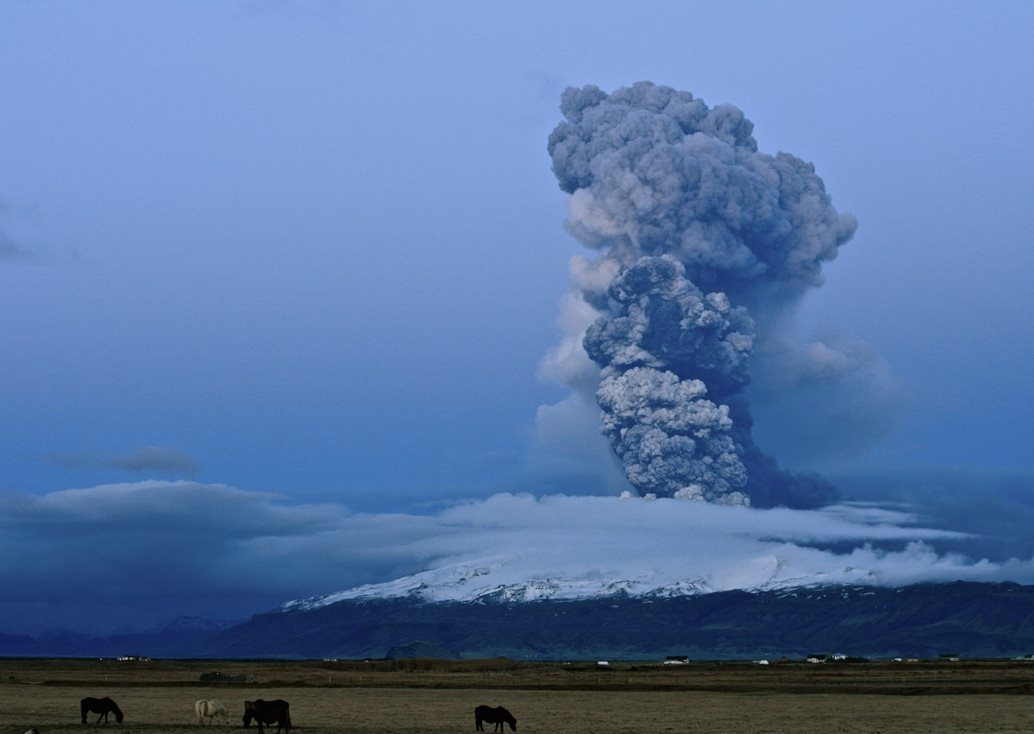 The hardly pronounceable Eyjafjallajökull, 'island mountain glacier', is a small, 100km-wide ice cap in south Iceland, west of the larger Myrdalsjokull glacier. Driving along the ring road it is visible in clear weather and worth a stopover. Some hiking companies offer tours over the paths of the eruptions and others offer Super Jeep tours to the site. If you wish to visit the glacier closest to it your choice would have to be Sólheimajökull.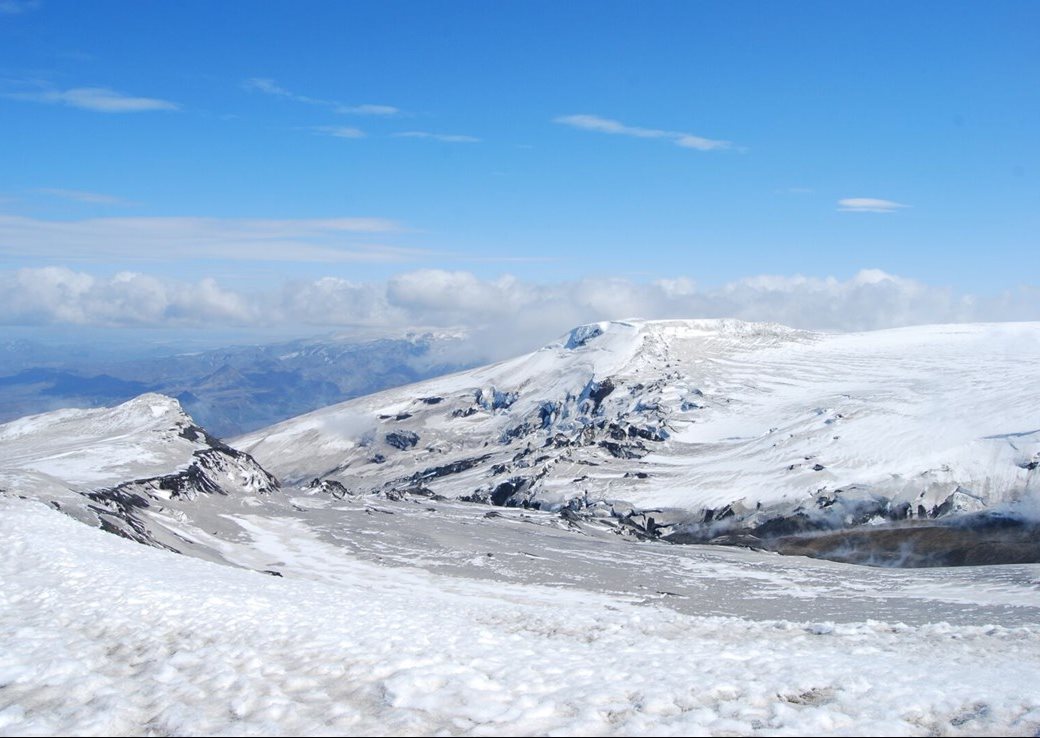 Visiting at least one of Iceland's thrilling glaciers is highly recommended! For anyone daring and vibrant enough to want to actively experience these wonders of nature by taking a walk on its surface - never do it by yourself and have a trained guide with you.