Snæfellsjökull Glacier is a unique three-in-one natural wonder: a volcano, a mountain, and a glacier. This rare formation is a treasure from 700,000 years ago and consists of geological remains from each era of Iceland's geological history. For example, the Bárðarkista Cliffs on the northern part of the glacier were formed by sea eruptions following the last ice age, as were the Svalþúfa Hills on the eastern part of the glacier.
About Snæfellsjökull Glacier and National Park
Back in the 13th century, the area was the fishing hub of Iceland because of its easy access to the fertile waters of Breiðafjörður Bay. Hellissandur, Rif and Ólafsvík Villages were mostly populated by fishermen until modern times, when fishing techniques changed drastically and the bay became no longer profitable.
These days the area is loved by glacier hikers and cross-country skiers. Snaefellsjokull Mountain (4,744 ft (1,446 m)) is relatively easy to climb, yet its high altitude provides great slopes for skiers. The glacier itself is easy to reach via the underwater tunnel under Hvalfjörður Fjord, which cuts travel by 28 mi (45 km).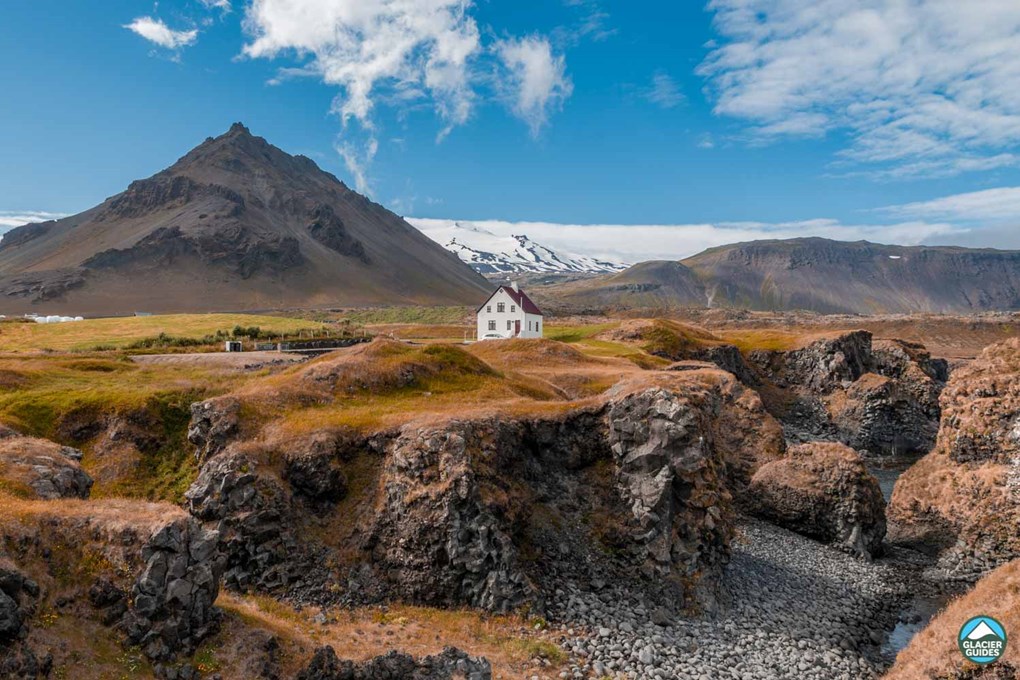 Operations and services
The park is open all year round, but the opening hours vary depending on the season. From June 1 until Sept. 30 the park is open from 10 a.m. to 5 p.m. From Oct. 1 until May 31 the opening hours are 11 a.m. - 4 p.m. and the park is closed on weekends due to the shorter daylight hours.
Operation
Admission to the park is free. The best time to visit the area is in summer when the park rangers tend the area around the glacier and closely monitor conditions.
Services
The park is equipped with fully functioning restrooms. The villages throughout the area have all the necessary facilities, including gift shops, cafes, restaurants, hotels, and camping grounds. The best villages to visit are Arnarstapi and Hellnar, both rich in history and surrounded by breathtaking landscapes.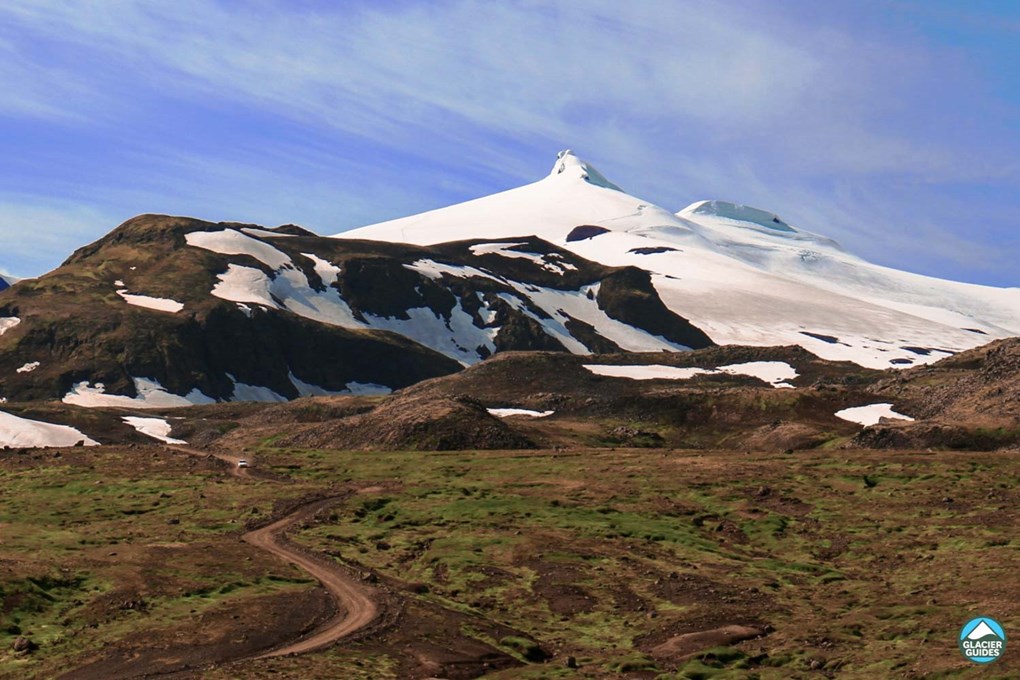 Map of Snæfellsjökull Glacier and National Park
How to get to Snæfellsjökull Glacier
Snaefellsjokull Glacier is easy to get to in both winter and summer. It is technically possible to access the park without 4WD. However, this is not advisable, especially in winter when some of the dirt roads leading to the glacier might be closed. 
Reykjavik to Snaefellsjokull Glacier. Snaefellsjokull is located around 118 mi (190 km) from Reykjavik. To get to Snaefellsnes Peninsula just take Road 1 north along the east coast. Drive around 47 mi (76 km) until you reach Borgarnes, a good place to stop and grab lunch or fill up your gas tank. Then take Road 54 northeast until you reach Arnarstapi. The visitor center in Arnarstapi can provide you with further directions on how to get to Snaefellsjokull.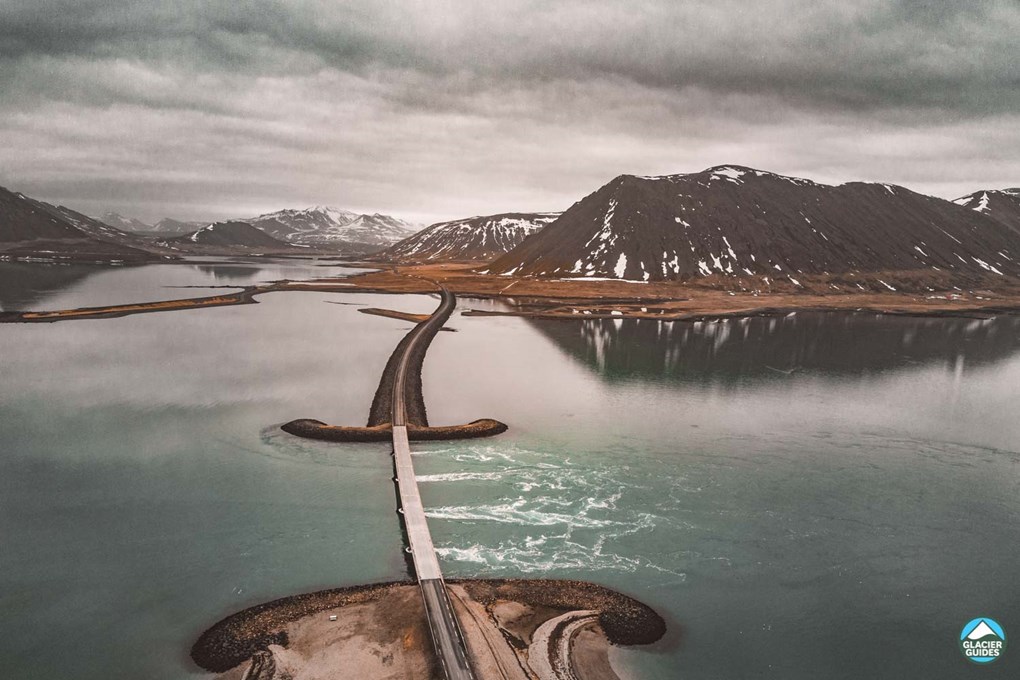 Weather at Snæfellsjökull Glacier
Like most glaciers in Iceland, Snaefellsjokull has a temper. Due to the high altitude, the weather in Snaefellsjokull National Park is hard to predict, so you should be prepared for everything. The warmest months are June, July, and August with average highs of 56.3°F (13.5°C) and lows of 46.1°F (7.8°C). The winter temperatures vary from  24.8°F (-4°C) to 38°F (3°C).
Top Attractions near Snæfellsjökull Glacier
Snaefellsjokull Glacier is located on Snaefellsnes Peninsula and is home to many natural wonders and is thus referred to as "Iceland in miniature" by the locals. Here are a few popular attractions on the peninsula that you simply must see:
Snaefellsjokull National Park
Snaefellsjokull National Park is the crown jewel of the peninsula with Snaefellsjokull Glacier at its heart. Snaefellsjokull National Park was opened in 2011 and is the only Icelandic national park that stretches right into the ocean. The main showpiece of the park is obviously the glacier, but it also hosts vast lava fields that the glacier, rare golden beaches, and the majestic Lóndrangar basalt cliffs.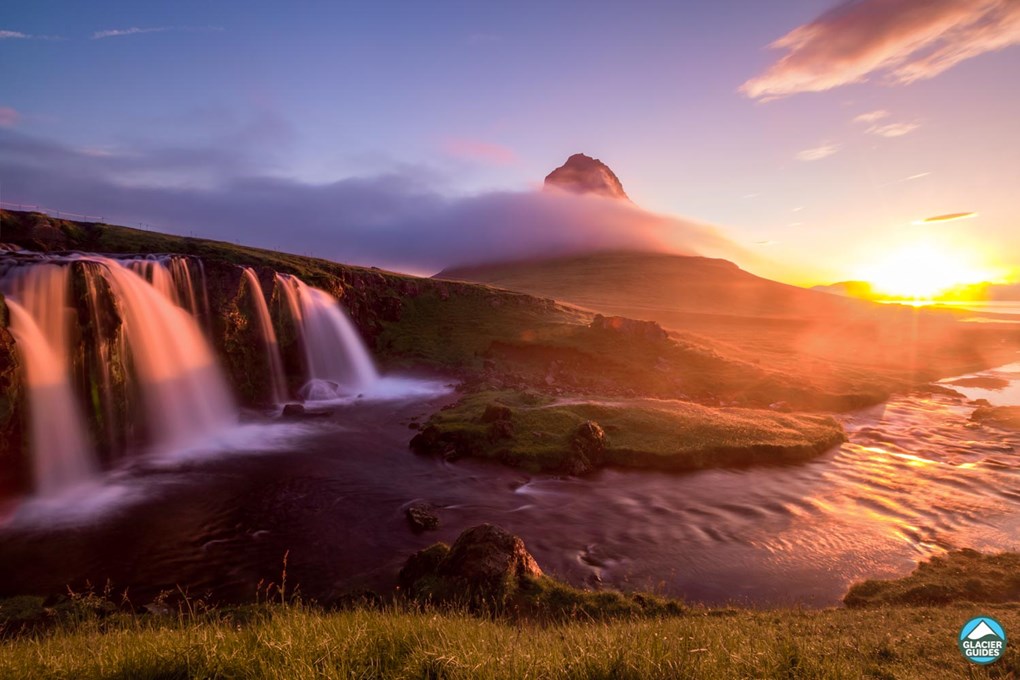 Vatnshellir Lava Cave
Vatnshellir Lava Cave was formed during a volcanic eruption 8000 years ago and is one of the oldest of its kind in Iceland. As you enter the cave, you're greeted by unique lava formations that hang right over your head. A narrow staircase then leads into the depths of the earth where no light or sound ever reaches. Under the dim lighting of your headlamp, the lava formations look even more dramatic than they did aboveground. Completely muted from all sound, you'll feel as if you're in another world.
Please note that Vatnshellir Lava Cave is only open in summer.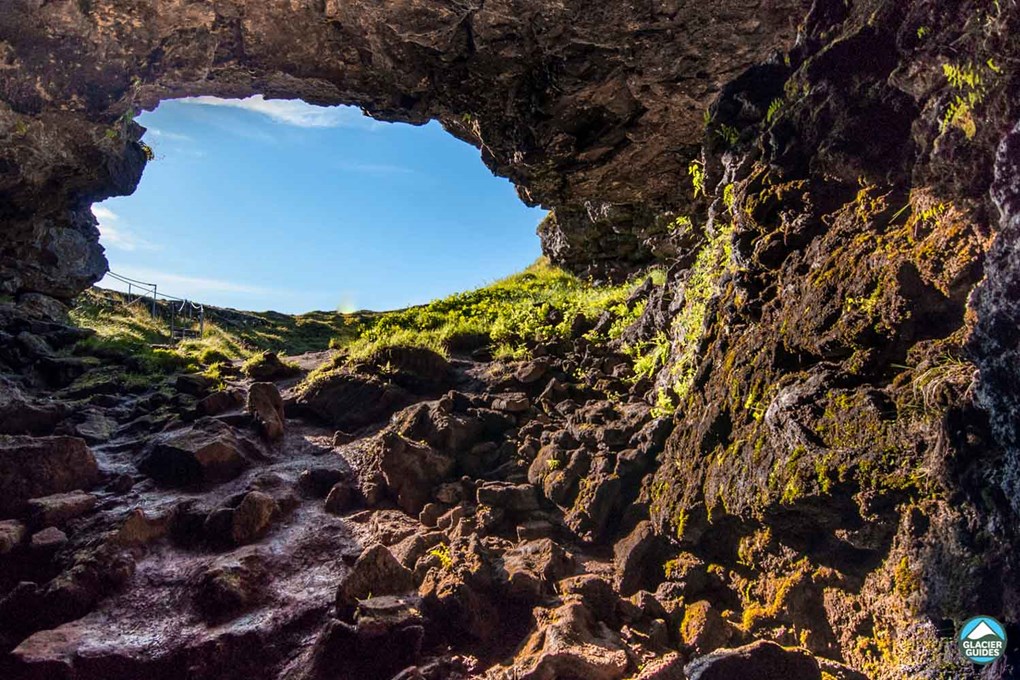 Lóndrangar Basalt Cliffs
The Londrangar cliffs are two pinnacles of basalt rock located south of Snaefellsjokull Glacier. Wrapped in a bunch of folk tales and stories, these rocks are remnants of an eroded volcanic crater. Throughout history, farmers have avoided planting on the hills because they believed elves lived there. Head down to the Londrangar Basalt Cliffs and see for yourself. Just don't forget your camera!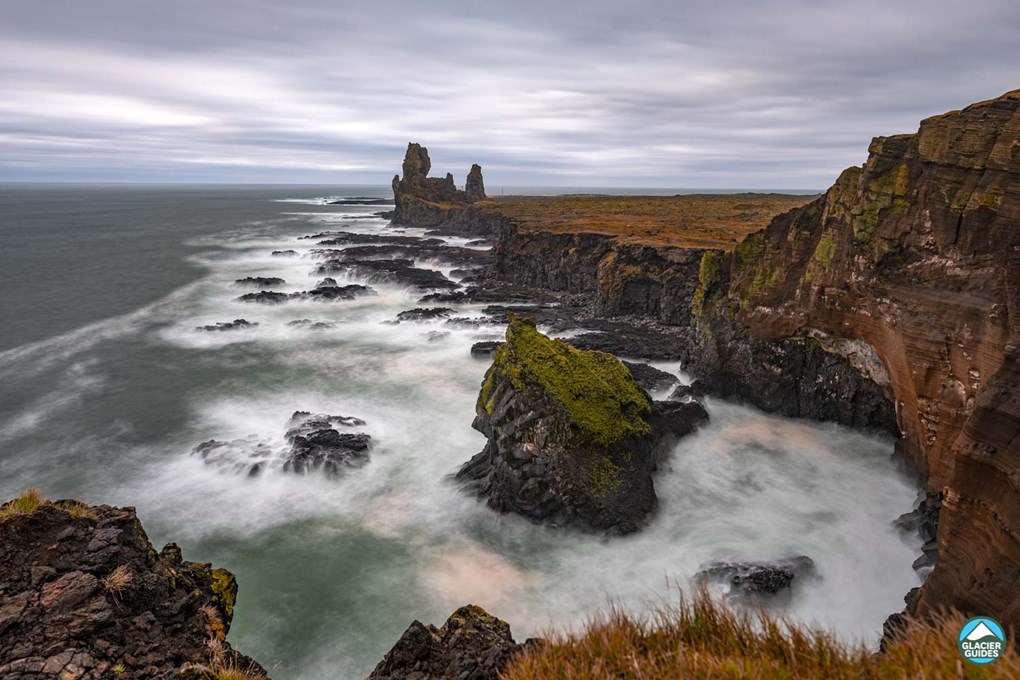 Djúpalón Beach
Djupalon Beach is a stunning black pebble beach southeast of Snaefellsjokull Glacier. The path from the car park leads you through vast lava fields and volcanic formations. Eventually you'll end up on the beach, where you'll be able to test your strength with four lifting stones. Back in the day, the lifting stones were used to test the strength of the fishermen and see if they were fit to lead a life at sea. Are you fit enough to survive on the ocean?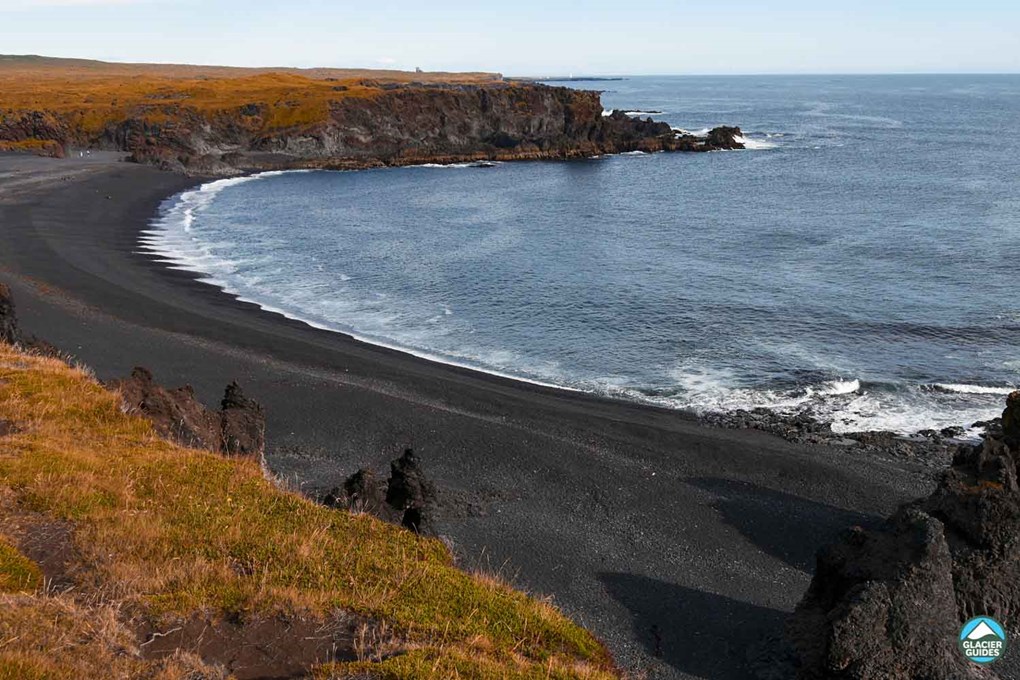 What to do on Snæfellsjökull Glacier
Hiking Snaefellsjokull
Snaefellsnes Peninsula offers many hiking options for nature lovers. The most popular is the hike to the summit of Snaefellsjokull Glacier — the views of the peninsula from the top are simply breathtaking. The hike takes all day and requires safety equipment like ice axes, ropes, and harnesses. While you can try to summit on your own, it is not recommended as the glacier has a lot of deep crevasses and some glacier hiking experience is needed.
Avoid all the fuss of planning and save money on renting the equipment by joining us on a glacier hiking day tour. Our experienced and certified guides will make sure you reach the top safe and sound and have an experience of a lifetime. Take a camera with you as plenty of breathtaking photo opportunities await you at the top!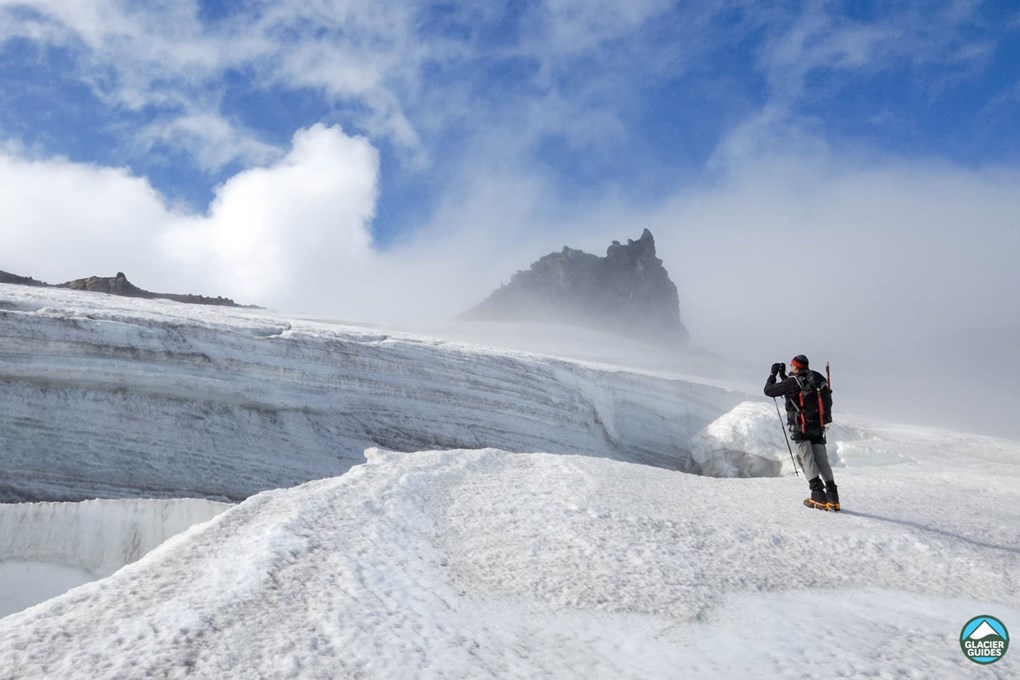 Snaefellsjokull Cave Tour
Vatnshellir Lava Cave at the foot of the glacier is one of the oldest caves in the country and definitely worth a visit. The cave is 656 ft (200 m) long and leads you into the depths of the earth and into multiple caverns. Volcanic lava formations, lit only by your headlamp, transport you  into another world. You'll feel as though you're at the center of the Earth.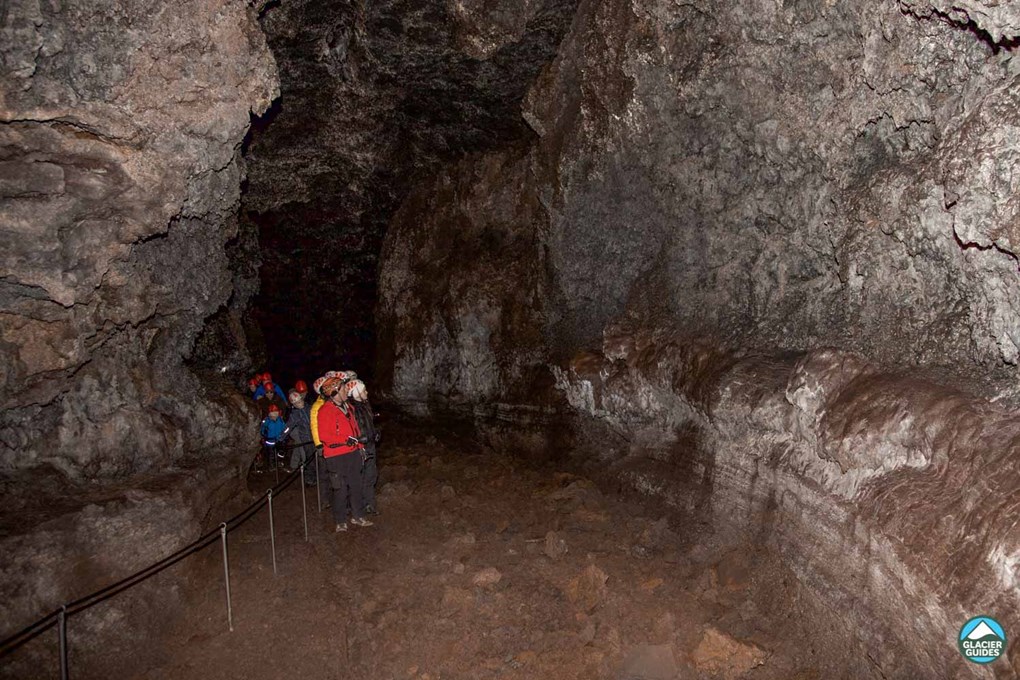 Snowmobile and Snowcat
From May to August, enjoy a chilly ride to the top of the Snaefellsjokull Glacier on a snowmobile or snowcat. Those who look for adrenaline-filled adventures on their vacation in Iceland should try this at least once. Each ride is filled with memorable moments and you're sure to come back with a bunch of stunning photos!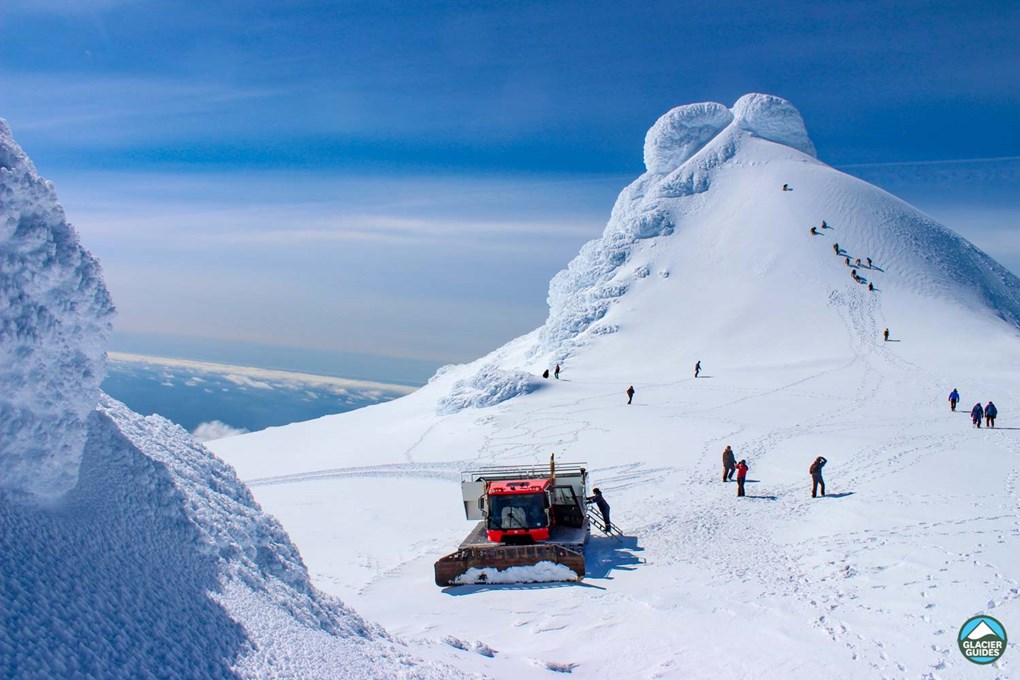 Where to stay near Snæfellsjökull Glacier
Hotels
Fosshotel Hellnar

. Located in one of the peninsula's more popular villages, Hellnar, this hotel is a 3-star countryside retreat. Enjoy free Wi-Fi and breakfast.

Guesthouse Snjofell.

A cozy guesthouse in the village of Arnarstapi. It has a restaurant and bar as well as free parking and Wi-Fi.
Camping
Wild camping is not permitted in Snaefellsjokull National Park, just like in the rest of Iceland. If you decide to camp while you're visiting Snaefellsnes Glacier, you can pitch your tent at Arnarstrapi Campground. The campsite has all the facilities that a weary traveler needs.
Related Tours