This is a winter tour only! Tour the beautiful south coast of Iceland on this fun and scenic 3 day tour including the popular Golden Circle, all of the major highlights of the south coast, and a visit to a natural Ice Cave. If the forecast looks good you may even get the opportunity to spot the Northern Lights.
Duration: 3 days/2 nights
Pick-up: 8 a.m. from Reykjavik
Available: October to March
Tour Highlights:
Crystal Ice Cave
Vatnajokull National Park
Jökulsárlón Glacier Lagoon
Skaftafell Nature Reserve
Diamond Beach
Golden Circle
South Coast Attractions
Reykjavik pickup Pick up in Reykjavik starts at 8 a.m.
Included: Three day guided tour of the South Coast including pick up & drop off in Reykjavik, glacier hike with a certified glacier guide, glacier gear, two nights in a hotel room with a private bathroom and breakfast at the hotel.
Not included: Meals, other than breakfast on day two, are not included in the tour price. Participants can purchase meals at restaurants and shops/cafés on the way.
Bring with you: Warm outdoor clothing, waterproof jacket and pants, sturdy hiking boots, headwear and gloves. 
Note that you can rent sturdy hiking boots, waterproof jacket and waterproof pants in the booking process.
Tour Description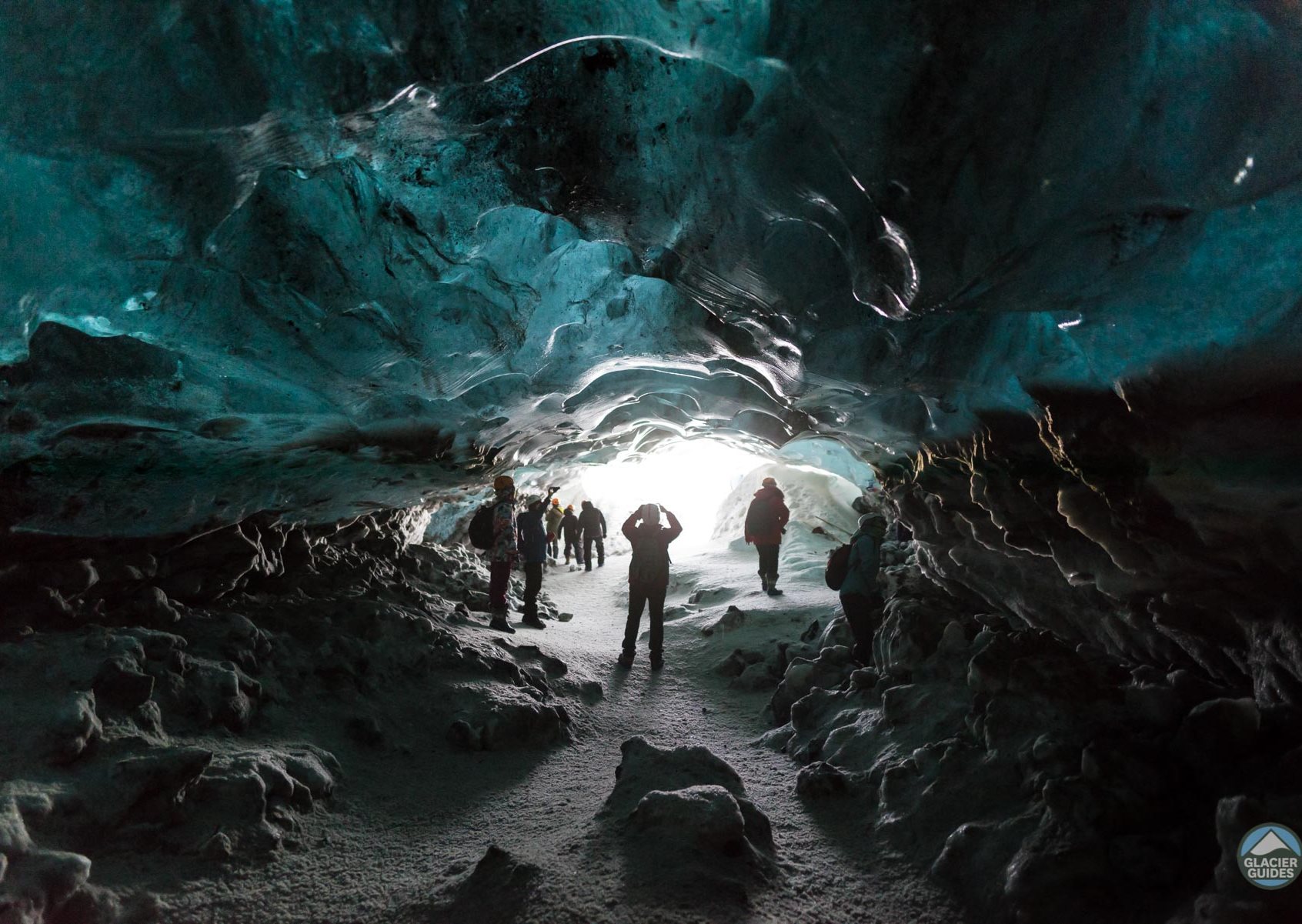 Make the most of your time in Iceland! You will see all the key sights beginning with the three must-see Golden Circle attractions: Thingvellir National Park (Þingvellir), a UNESCO World Heritage Site of great historical, geological and cultural importance; Gullfoss, the most popular waterfall in Iceland; and see Strokkur erupt at Geysir geothermal area. We will take you to Seljalandsfoss and Skógafoss waterfalls, the black beach and amazing cliff formations at Reynisfjara before we arrive at our ultimate destination, Vatnajökull Glacier, to experience all kinds of wonders including Jökulsárlón Glacier Lagoon, Diamond Beach, magical glacier hiking and ice caving.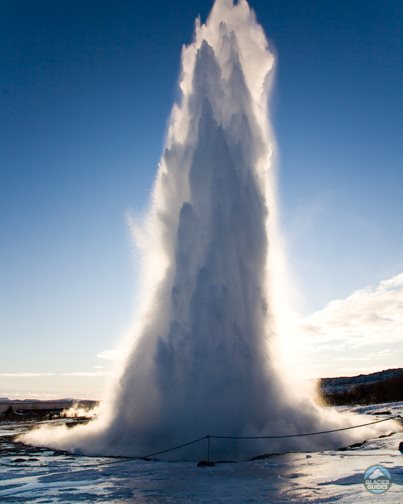 Day 1: The Golden Circle, Seljalandsfoss and Skógafoss
We pick you up in Reykjavík at 08:00 and head straight to the three Golden Circle must-sees. The historic Icelandic Parliament was established at Þingvellir in the year 930 CE/AD, making it the oldest continuously existing national parliament in the world. Right where this ancient parliament met you will walk beside the incredible cliff of the Almannagjá gorge, formed by the Eurasian and North American tectonic plates moving apart, which continues to happen. You will be walking a pathway between two continents - how special is that? We take you to visit the Geysir hot spring area to witness Strokkur erupting every 5 to 10 minutes. Feel the excitement build as you await the stunning superheated watery blast, sometimes this scalding jet can soar to over 30 m. Your final Golden Circle attraction is Gullfoss waterfall, the name means 'the Golden Falls', on a bright day glorious golden-hued spray can be seen around the thundering torrent as it tumbles through drops of 11 m and 21 m.
Read more about day 1...
We are not done with day 1 yet! Before we deliver you to your country hotel we will take you to two 60 m high stunning waterfalls, Seljalandsfoss, the waterfall you can walk behind and Skógafoss waterfall, according to legend a chest of treasure is hidden in a cave behind these very elegant falls. If the forecast is good there is the opportunity to watch for the northern lights in the evening - the area around your country hotel is perfect for this.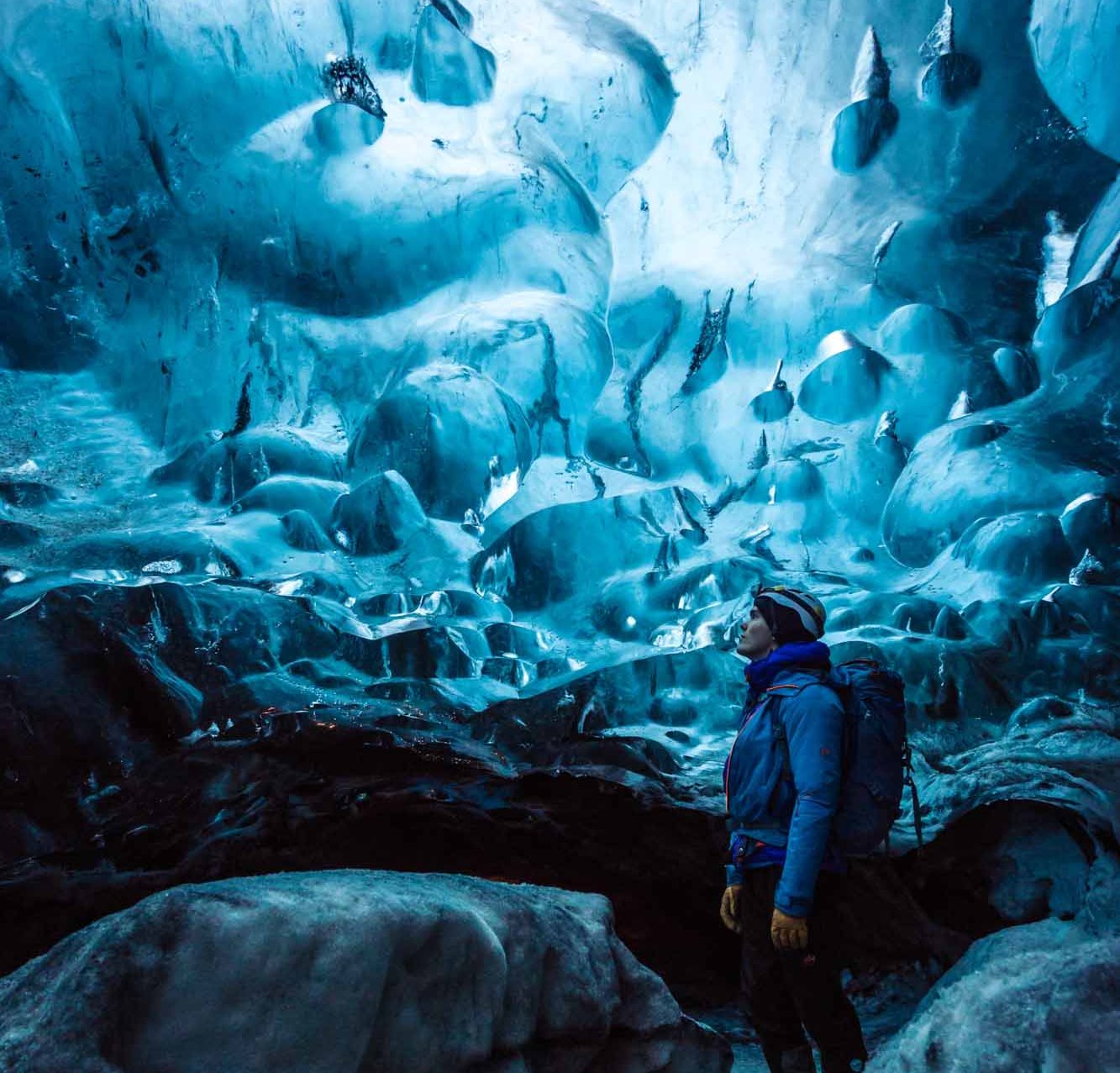 Day 2: South Coast highlights including Reynisfjara black sand beach, Jokulsarlon glacier lagoon and a natural ice cave
We take you to Iceland´s most famous black beach, Reynisfjara, then it is all about the glaciers! First, off to Reynisfjara to see the incredible basalt column cave and basalt peaks rising from the ocean just off the coast. Traveling to Breiðamerkurjökull, an outlet glacier of Vatnajökull, the largest glacier in Europe, you will pass vast lava fields and rough glacial desert sands. Arriving at Jökulsárlón Glacier Lagoon you will see the surreal and often giant-sized icebergs filling the lagoon. These icebergs are all traveling towards the ocean at the Diamond Beach, where they are washed ashore glittering on the black sand like enormous crystal gems.
Read more about day 2...
Next up is a different Vatnajökull experience - ice caving! Our qualified glacier guide will lead you into an amazing ice cave. Your guide will give you some fun facts and make sure you are always safe in this magical glacial world.  The night will be spent in the Skaftafell area where you might spot the magical northern lights if the conditions are right.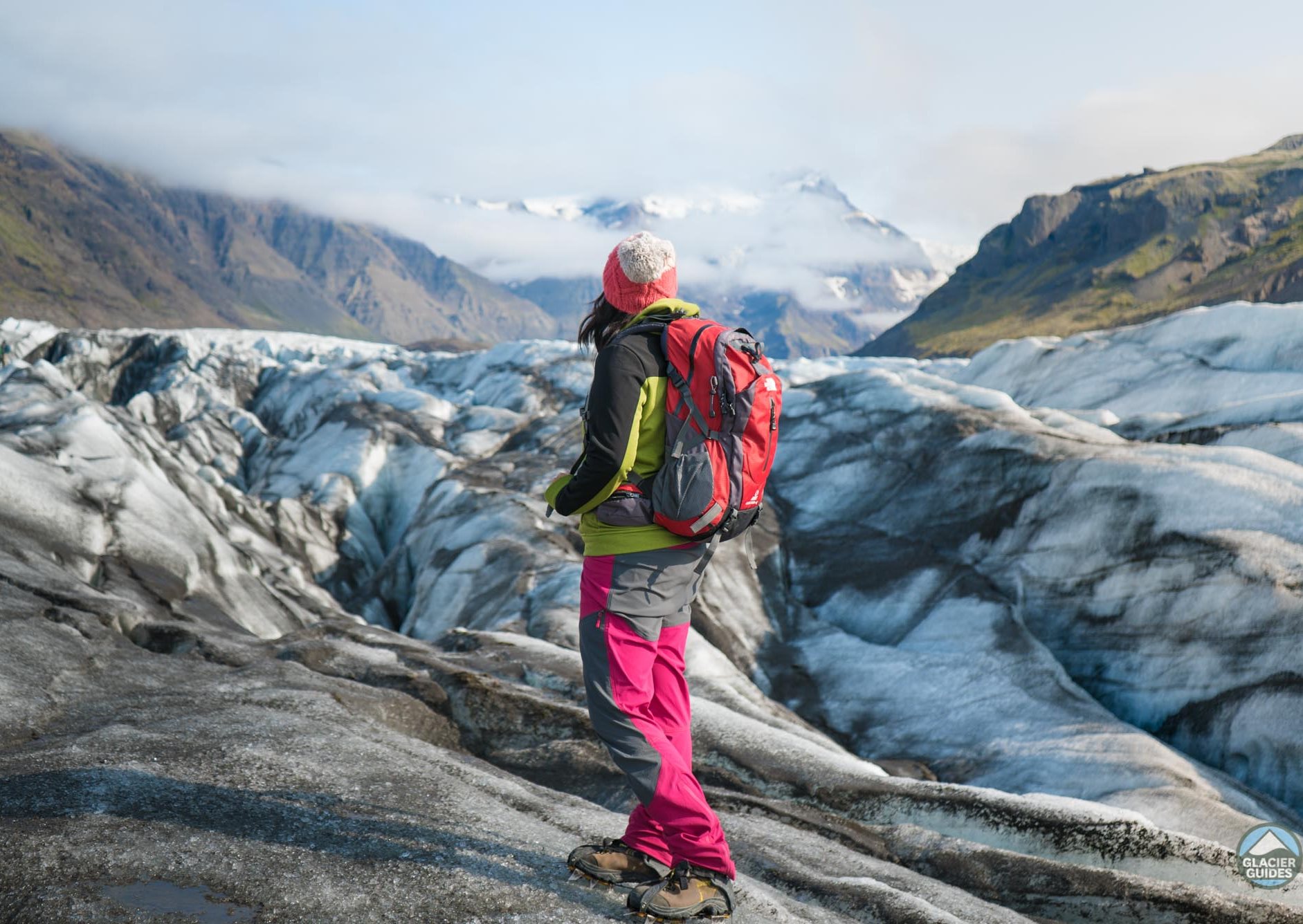 Day 3: Glacier hiking on Vatnajokull and return to Reykjavik
Time for a glacier hiking adventure. You get the chance to explore the surface of a glittering glacier and not just any glacier, Vatnajökull is Europe's largest glacier!
From our booking house in Skaftafell, we gear up and head towards *Svínafellsjökull. Svínafellsjökull glacier is another of the glacial tongues which reaches out towards the coast from Vatnajökull. Today's hike with an expert guide is realtively short and easy but fun-packed and fascinating! See amazing crevasses, sinkholes, and incredible ice ridges and formations.
Read more about day 3...
*The glacier hike usually takes place on Svínafellsjökull, occasionally due to weather and glacier conditions it will be operated on a different outlet glacier, such as Falljökull or Sólheimajökull. These are both totally fabulous glaciers, perfect for glacier hiking. Your glacier guide will issue all the equipment you need including ice crampons and keep you safe.   
We will start making our way back to Reykjavík arriving somewhere between 20:00 and 23:00, depending on possibilities for the northern lights and weather and road conditions.
---
Map: - click to enlarge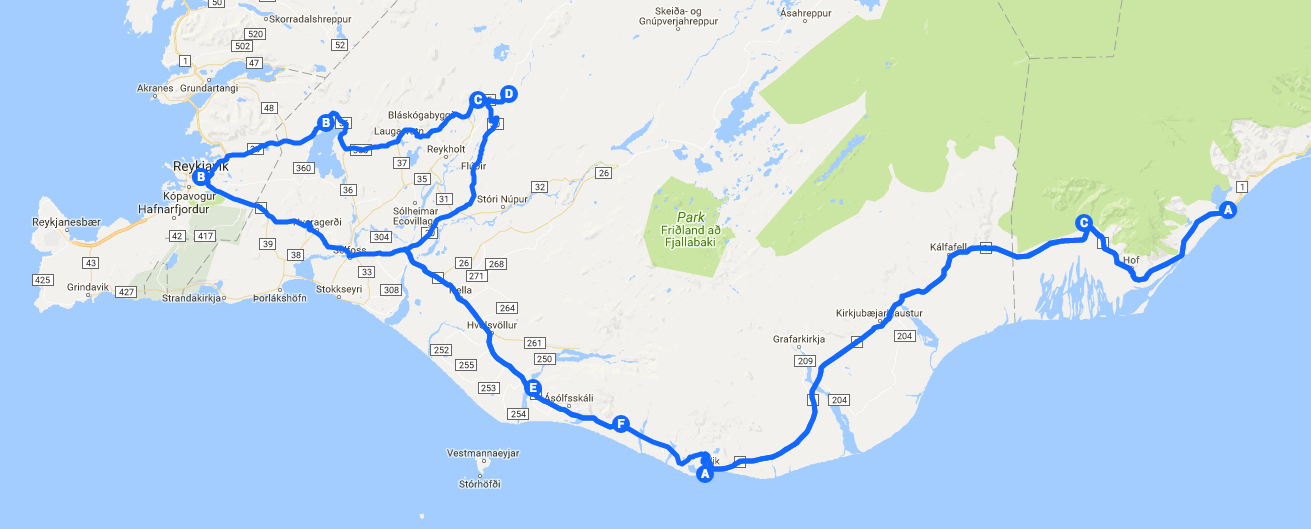 ---
Disclaimer: This tour is operated by Arctic Adventures and Glacier Guides. All our tours are undertaken on the responsibility of its participants. We do not assume any responsibility for accidents that are caused by its customers or can be traced to their own actions. Participants have to sign a waiver before undertaking all trips stating that they realize that all outdoor activities carry an inherent risk.
---
Related Tours