This is a winter tour only! A small group experience of Iceland's south coast natural wonders, including the unique Jokulsarlon Glacier Lagoon, Skaftafell National Park and an exciting glacier hike on Europe's largest glacier. If we're lucky, we may even have the chance of seeing Northern Lights!
Pick-up: 8 a.m. from Reykjavik
Available: Sep 15th - Apr 15th
Tour Highlights:
Glacier hike
Vatnajokull National Park
Jokulsarlon Glacier Lagoon
Diamond Beach
South Coast of Iceland
Small group experience
Reykjavik pickup: Pick up in Reykjavik starts at 8 a.m.
Included: Two day guided tour of the South Coast of Iceland including glacier hiking with a certified Glacier Guide. Pick up and drop off in Reykjavik, one night in a hotel room and breakfast at the hotel. All necessary glacier gear will be provided by us.
Not included: Meals, other than breakfast on day two, are not included in the tour price. However, you can purchase meals and food at restaurants and shops/cafés along the way.
Bring with you: Warm outdoor clothing, waterproof jacket & pants, sturdy hiking boots, headwear and gloves.
Note that you can rent sturdy hiking boots, waterproof jacket and waterproof pants in the booking process. You will need hiking boots to fit the crampons for the glacier hike. 
Close
Book this tour here
2 Day South Coast, Glacier Hike and Northern Lights
Tour Description
This tour offers a small group experience. Your driver will pick you up at a local pick up point in Reykjavík. You then head out along the stunning south coast of Iceland, to see the priceless natural pearls of the region. Visit black volcanic beaches, see incredible waterfalls, watch shimmering icebergs floating across the glacier lagoon and set foot on a glacier.
Highlights of the South Coast include Skógafoss and Seljalandsfoss waterfalls, the black beach at Reynisfjara, the Reynisdrangar peaks, the village of Vík, mountain views, Jökulsárlón Glacier Lagoon and Vatnajökull glacier. Our adventure continues with an exciting glacier hike with a knowledgeable guide, exploring the fascinating features of the glacier. In the evening, we search for Northern Lights and cross our fingers that we will be graced by their presence.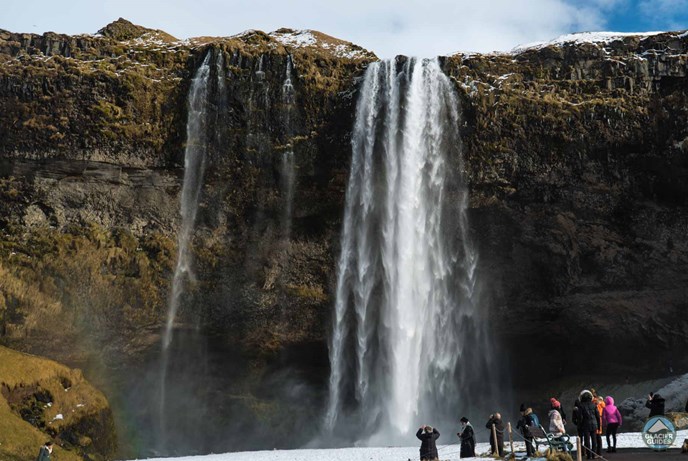 Day 1 - The Grand South Coast and Northern Lights
We head out of the city and drive south through picturesque countryside, passing impressive mountains and little villages on the journey to Seljalandsfoss waterfall. This waterfall is very unusual because a pathway leads behind the tumbling cascade, giving you a unique vantage point and photo opportunity - a good raincoat is recommend!
This is not the only stunning waterfall of the day, a visit is made to Skógafoss waterfall, the powerful Skógá river drops 60 m through the falls. On a clear day the mountain glacier scenery in this area is sensational.  Also on the agenda is the black sand beach at Reynisfjara with magnificent black basalt columns and the crazily shaped Reynisdrangar peaks rising from the white-tipped rolling waves of the Atlantic Ocean. A stop is made for lunch at the village of Vík before your tour heads east. You will travel across incredible rough sand deserts on the way to your accommodation for the night.
Out in the country, if conditions are good you have the chance to look out for the magical swirling colors of the northern lights - of course, as with any natural phenomena, you need to have luck on your side!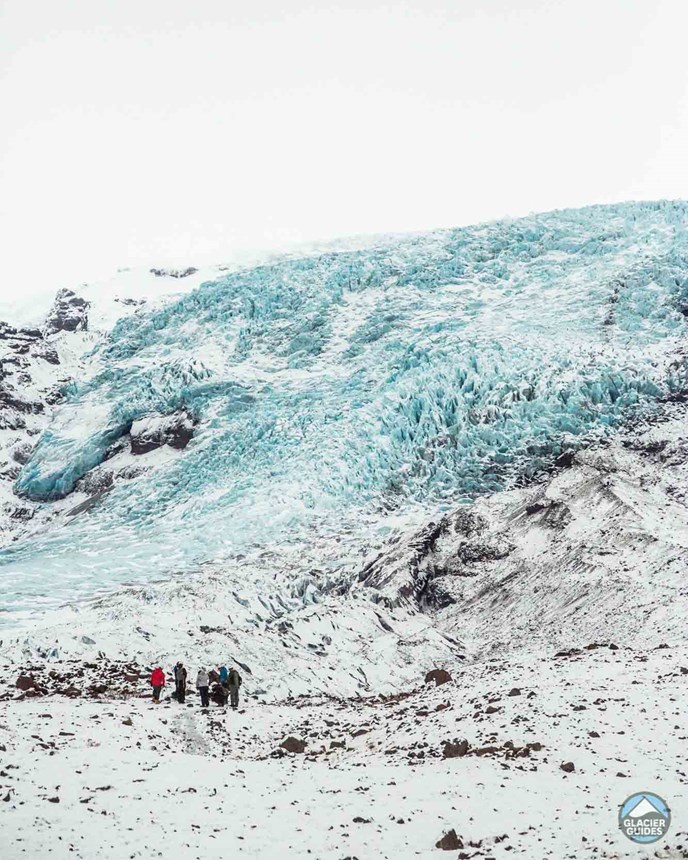 Day 2 - Glaciers and Jökulsárlón Glacier Lagoon Magic
Today you will get up close and personal with the glaciers! You will visit the mystical Jökulsárlón Glacier Lagoon to see incredible icebergs of all shapes and sizes floating across the vast lagoon at the edge of Breiðamerkurjökull glacier, a tongue of Vatnajökull. These glistening blue/white beauties calve off the glacier and slowly make their way to the Atlantic. A few come to rest on the Diamond Beach where their opalescent forms are a magnificent sight as they sit glistening on the black sand.
Now for another great glacier experience!
You are off for a hike on a tongue of Vatnajökull glacier, the largest icecap in Europe. These fabulous outlet glaciers, stretch out like the fingers of icy hand, as Vatnajökull sits high above. There is nothing quite like setting foot on a glacier, you will see amazing ice formations, a stunning ice fall where ancient ice drops from the mountain, and great crevasses. Your specialist glacier guide will provide ice crampons and all the glacier equipment you need. You will learn some fascinating facts about the glacier, which is moving and always changing.
Footage of many famous movies has been shot in Vatnajökull National Park including Batman Begins, James Bond, The Secret Life of Walter Mitty and the Game of Thrones. We then make our way back along the south coast but there will still be new things to see. Returning in the evening you will be dropped off where we picked you up in Reykjavík after your great adventures.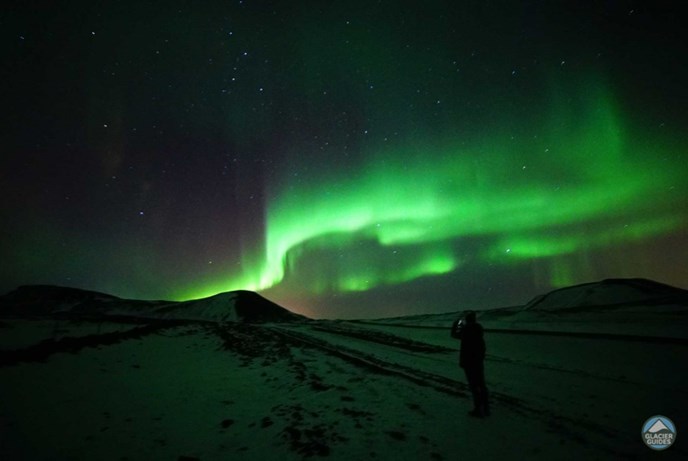 ---
Map: - click to enlarge