This is a winter tour only! Visit a natural ice cave and see all of the major highlights of the stunning south coast on this 2 day tour available directly from Reykjavik. This is a one-of-a-kind south coast adventure, offering unique photo opportunities of the picturistic landscape of the majestic south coast.
Pick-up: 8 a.m. in Reykjavik
Available: November - March
Tour Highlights:
Natural Ice Cave
Skaftafell and Vatnajokull National Park
Jökulsárlón Glacier Lagoon & Diamond Beach
Northern Lights
South Coast natural attractions
Pick up: Reykjavik pick up starts at 8:00 a.m.
Included: Two day guided tour of the South Coast of Iceland including pick up & drop off in Reykjavik, ice cave exploration with a certified glacier guide, one night in a hotel with private bathroom and breakfast at the hotel.
Not included: Meals, other than breakfast on day two, are not included in the tour price. Participants can purchase meals at restaurants and shops/cafés on the way.
Bring with you: Warm outdoor clothing, waterproof jacket & pants, hiking boots, headwear and gloves.
---
Note: *There is no guarantee that our group will be alone in the cave, as the same cave is used by more tour operators. If you are looking for a more exclusive experience we recommend the Into the Glacier tour.
---
Tour Description
This tour offers you a small group experience, giving you a very comfortable and personal environment. Your sightseeing and hiking journey begins down the scenic route 1 as we head southeast. We visit the amazing natural wonders of the South including stunning waterfalls, black sand beach of Reynisfjara, Jokulsarlon Glacier Lagoon and much much more. Two full days of adventure and exploring a natural ice cave. A unique experience that we can cross off our bucket list!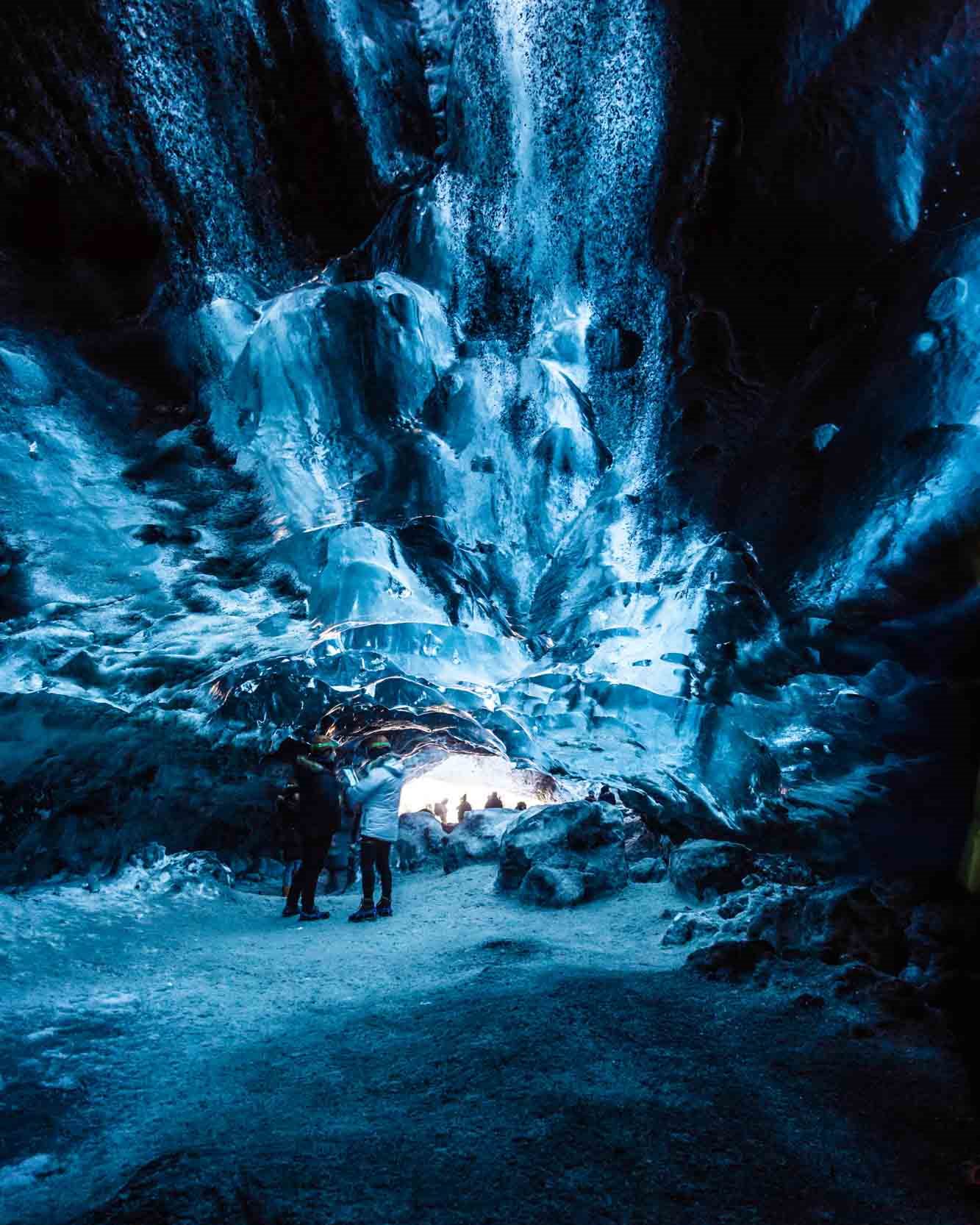 Day One - The Grand South Coast and Northern Lights
We drive along the south coast and admire all the spectacular scenes along the way. Your first stop will be at Seljalandsfoss waterfall, with the famous Eyjafjallajokull, home of the massive eruption that halted all European air travel in 2010, rising above. After that, we make our way to Skógafoss waterfall before we continue on to Reynisfjara black sand beach. Here the Reynisdrangar peaks emerge just off shore and a basalt column cave can be explored. Throughout the entire drive, passengers can expect breathtaking surroundings; lava fields, glaciers and jagged mountain ridges.
As we keep on heading east we get closer to our place of accommodation near Skaftafell. Once there, we can enjoy a nice meal at a local restaurant. We will go out to hunt for the northern lights if the conditions are in our favor - the Aurora Borealis is best spotted out of the lights of the city.
Day Two - Land of Ice
The second day is all about Vatnajökull glacier, Europe's biggest ice cap. We start at the Jökulsárlón glacier lagoon where the floating icebergs are sure to take your breath away. The glacier lagoon has been used as a location for many big movies and tv shows over the years, e.g. Game of Thrones and Batman Begins. Next, we head to the Crystal Ice Cave where our certified guides will assure a safe and exciting adventure. Experience the magical blue light seeping through the Ice and get a once in a lifetime possibility to capture it with a photo. On our trip, we will visit one cave.
After the Crystal Ice Cave, we start heading back to Reykjavík. We will stop at Skaftafell Nature Reserve. Driving back the same route gives us a possibility to make extra stops at some of the places visited on day one or explore different ones. We will make sure to look for the Northern Lights as the evening closes in. We return back to Reykjavik between 21:00 and 23:00.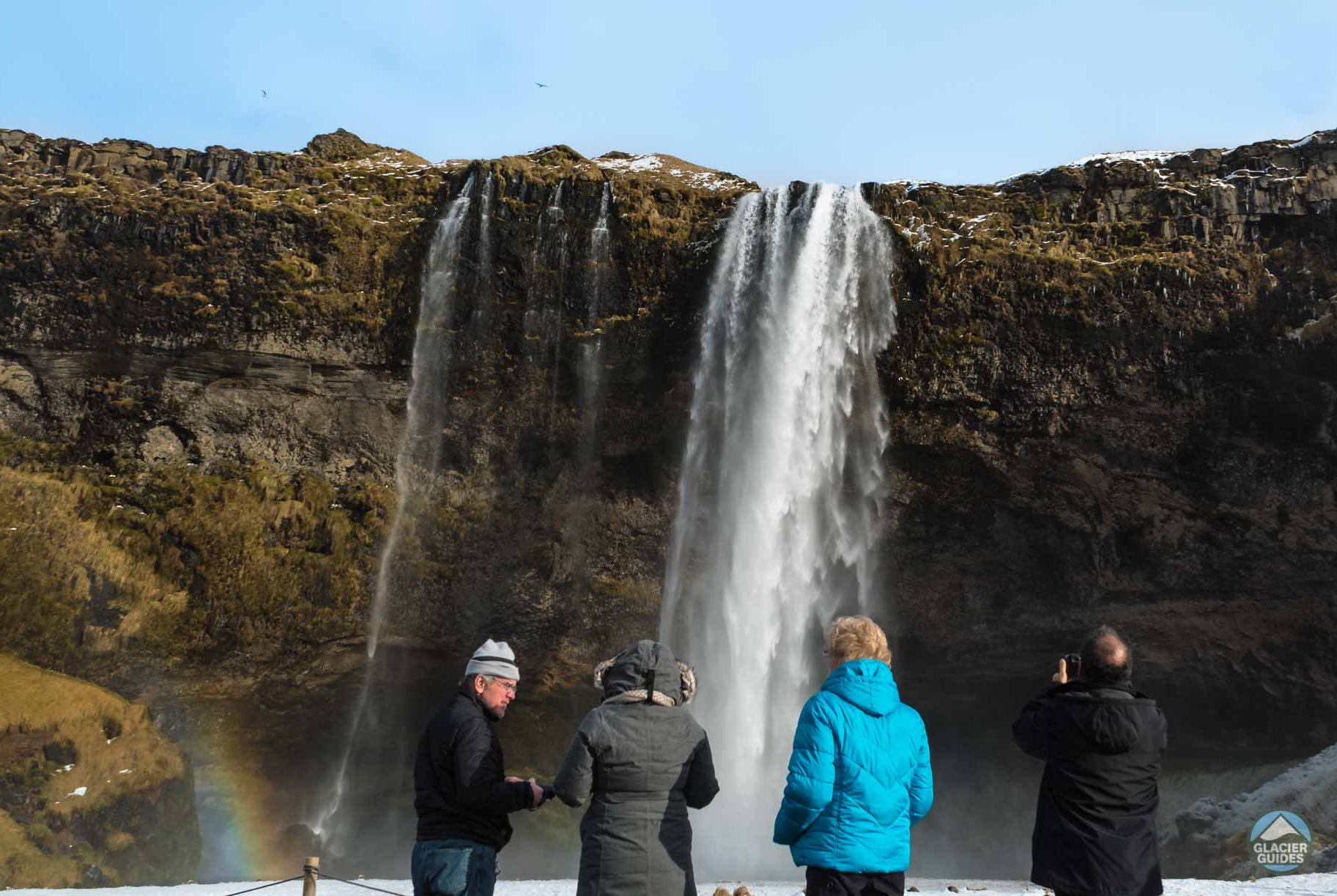 ---
Map: - click to enlarge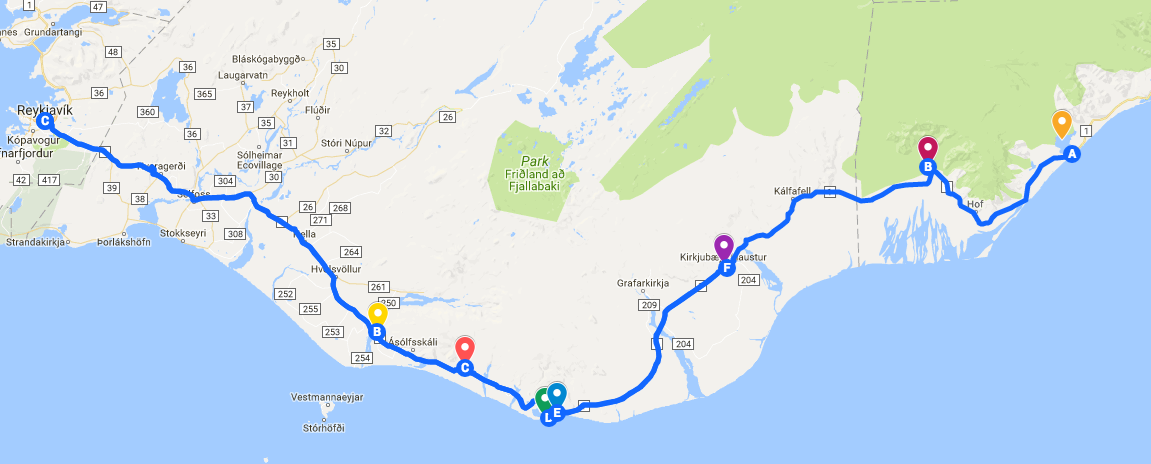 ---
Disclaimer: This tour is operated by Arctic Adventures and Glacier Guides. All our tours are undertaken on the responsibility of its participants. We do not assume any responsibility for accidents that are caused by its customers or can be traced to their own actions. Participants have to sign a waiver before undertaking all trips stating that they realize that all outdoor activities carry an inherent risk.
---