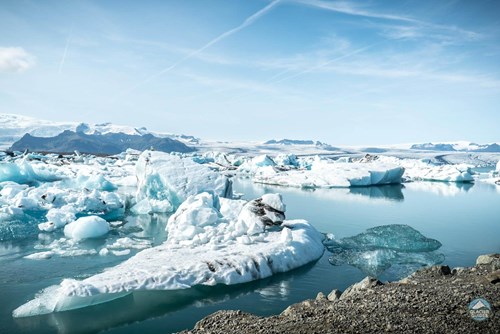 If you want to be left gasping in wordless wonder you have to see Jökulsárlón and the incredible black sands of the Diamond Beach. The enormous ice lagoon at the edge of Breiðamerkurjökull glacier is filled with the huge icebergs, these opalescent giants break away from the retreating glacier. Large icebergs can form here because the ice at the edge of Breiðamerkurjökull is quite thick. Each iceberg is a shimmering and totally unique natural ice sculpture. You will see blue ice, sometimes amazingly bright blue hues contrasting sensationally against Arctic whiteness. A few of these ice-beauties display stark reminders of great volcanic eruptions. You will see the dramatic gray volcanic ash shadows slicing through them. 
About Jökulsárlón Lagoon
Jökulsárlón is a powerful and elemental place where it is impossible to forget the opposing forces of fire and ice. Those elements built this land shaped the lives of the Icelandic people, sometimes in very dramatic ways. The magnificent panoramas of Vatnajökull glacier the largest icecap in Europe soar to 910 m (3000 ft) above you.
The rapid growth of the lagoon is a testament to the power of Icelandic nature, cycles of change and global warming. This giant glacial lake is now the deepest natural lake in Iceland at 248 m (814 ft). It did not exist at all before 1934/35. The lagoon developed in the area which became exposed when Breiðamerkurjökull glacier retreated back from the ocean. It now covers 18 km2 (6.9 sq mi), having increased fourfold since the 1970s. The lagoon is the lowest point in Iceland at 200 m (660 ft) below sea level.
An amphibian boat tour on the lagoon will take you sailing between these crazily beautiful and luminous floating icebergs. When you get really close you can feel the 'ice-glow' - the aura of coldness which surrounds them. This boat tour is available from May to October.
In winter totally awesome Crystal Ice Cave tours begin at Jökulsárlón - enjoy boat trips in the summer or a visit to a completely natural and totally stunning crystal ice cave in winter.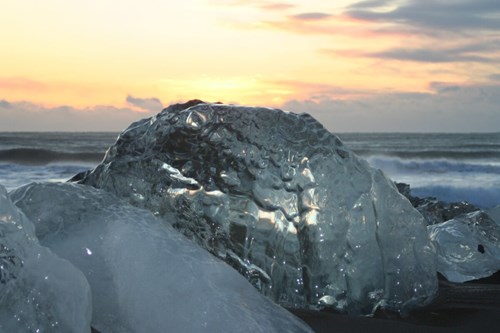 Diamond Beach
The plethora of floating icebergs sails towards the Atlantic Ocean at the Diamond Beach. With the light shining through them, reflecting rainbow glints, they are a mind-blowing sight as they head surreally out to sea. Some are carried by the tide onto the black volcanic sands of the Diamond Beach, this is one of the most incredible sights to be found in Iceland. Those diamond bright, glittering chunks of ice are the reason why this black beach is so-named!
Visit in any light and there is a special magic here. Whether you come at sunrise, sunset, noon or in the mystical light of twilight, under the midnight sun or starlight, Jökulsárlón and the Diamond Beach are absolute must-sees for anyone traveling to Iceland. Sometimes, in winter, the northern lights ripple across the sky, casting multi-faceted reflections and kaleidoscopes of radiant color in all directions.
Where is Jökulsárlón Glacier Lagoon?
Jökulsárlón Glacier Lagoon is around 370 km (230 mi) from Reykjavík in Southeast Iceland, really close to the Ring Road (Highway 1). The Lagoon is at the edge of Breiðamerkurjökull, an outlet glacier of Vatnajökull glacier. The ice lagoon is within Vatnajökull National Park, a protected wilderness area covering 13,600 km2 (8,450 sq mi). Many of Iceland´s most exciting natural wonders can be found in this area. Spellbinding glacier tongues or outlet glaciers extend from Vatnajökull glacier towards the south coast. There is a raw vastness to the nature and majestic scenery around this area. Skaftafell is around 56 km (around 35 mi) to the west and Höfn, the lobster capital of Iceland, is 80 km (around 50 mi) to the east.    
Is the Diamond Beach nearby?
Yes, the Diamond Beach is very close to Jökulsárlón Glacier Lagoon, about 600 m away, it takes less than 10 minutes to walk between them. There are also two car parks at the Diamond Beach, one on each side of the bridge.   
Is there a day tour Jökulsárlón?
A summer day trip will take you to see the Jökulsárlón and the Diamond Beach. Multi-day tours which go to Jökulsárlón also go to the Diamond Beach. 2, 3, 4, and 5 day tours to Jokulsarlon with accommodation are available all year Multi-Day Adventure Tours.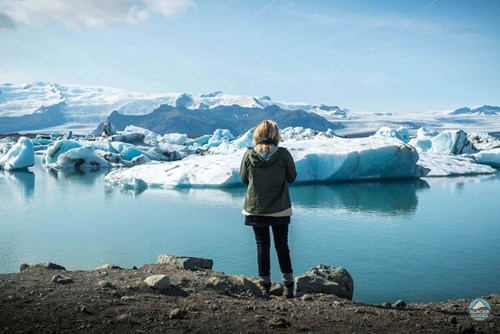 Can I self-drive to Jökulsárlón?
Yes, Jökulsárlón and the Diamond Beach are beside the Ring Road (Highway 1). So, you can easily drive a regular car in good conditions. Check out the weather forecast at www.vedur.is, and the road conditions at www.vegagerdin.is, or www.safetravel.is, this is even more important in winter. Though, the weather can change suddenly at any time of year.  
Self-drive to Jökulsárlón in a day?
If you start very early and finish late in the evening, in good conditions, you can do this. The drive will take you along the spectacular south coast, through fabulous mountain landscapes, passing iconic waterfalls and mountain glaciers and crossing extraordinary glacial sand plains. This is one of the most fabulous 370 km/ 230 mi drives in Iceland, with such varied terrain and scenery, it is never boring. The driving time each way is around 4.75 hours in reasonable conditions, without any stops - so don´t be tempted to stop too often or for too long if you want to do Jökulsárlón in a day!
If you want to linger at a few of the wonderful waterfalls or attractions along the south coast and visit Jökulsárlón it is much better to say overnight. Some people stay overnight in the Vík or Skaftafell area, visiting the glacier lagoon the next day, then and either continuing around the Ring Road, or returning to Reykjavík.
Where to stay at Jökulsárlón Lagoon
There are a few places around this area but, not surprisingly, there is high demand so booking in advance is good, you can sometimes get lucky at short notice, though!
The Vesturhús Hostel http://vesturhus.is/ is located 38 km (23 mi) to the west of the glacier lagoon. There are some HI Hostel options, both to the west and east of Jökulsárlón. Vagnsstaðir HI Hostel is the closest, located just 26 km (16 mi) to the east. Höfn HI Hostel is 79 km to the east (49 mi). Vík HI Hostel is 193 km (120 mi) to the West and is perfect if you want to enjoy the south coast then go to the glacier lagoon early the next day. For details of all HI Hostels in Iceland check out http://www.hostel.is/.    
Hof Adventure Hotel, near Skaftafell is a good country hotel, situated at a historic farm 38 km (23 mi) to the west of the lagoon www.http://hof1.is/. This hotel is in a really good location for Jökulsárlón, Skaftafell and travelers to the south coast.
Hali Country Hotel and self-catering apartments can be found 14 km (8.7 mi) to the east.
Fosshotel Glacier Lagoon is a new 4 star hotel 29 km to the west of Jökulsárlón http://www.fosshotel.is/hotels/fosshotel-in-the-south-east/fosshotel-glacier-lagoon/.
Fosshotel Vatnajökull is another new hotel, situated 67 km (41.5 mi) to the east at Höfn http://www.fosshotel.is/hotels/fosshotel-in-the-south-east/fosshotel-vatnajokull/.
These are just a few examples of accommodation options, try www.booking.com. The demand is high in this area but new hotels, guesthouses, hostels and self-catering places have been opening up, so you never know what you might find!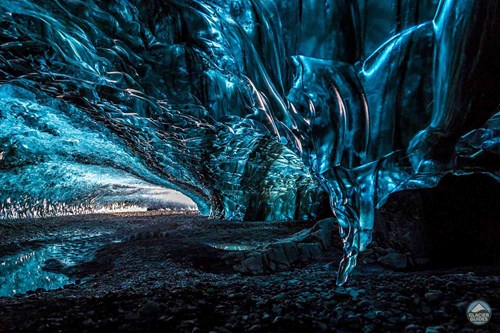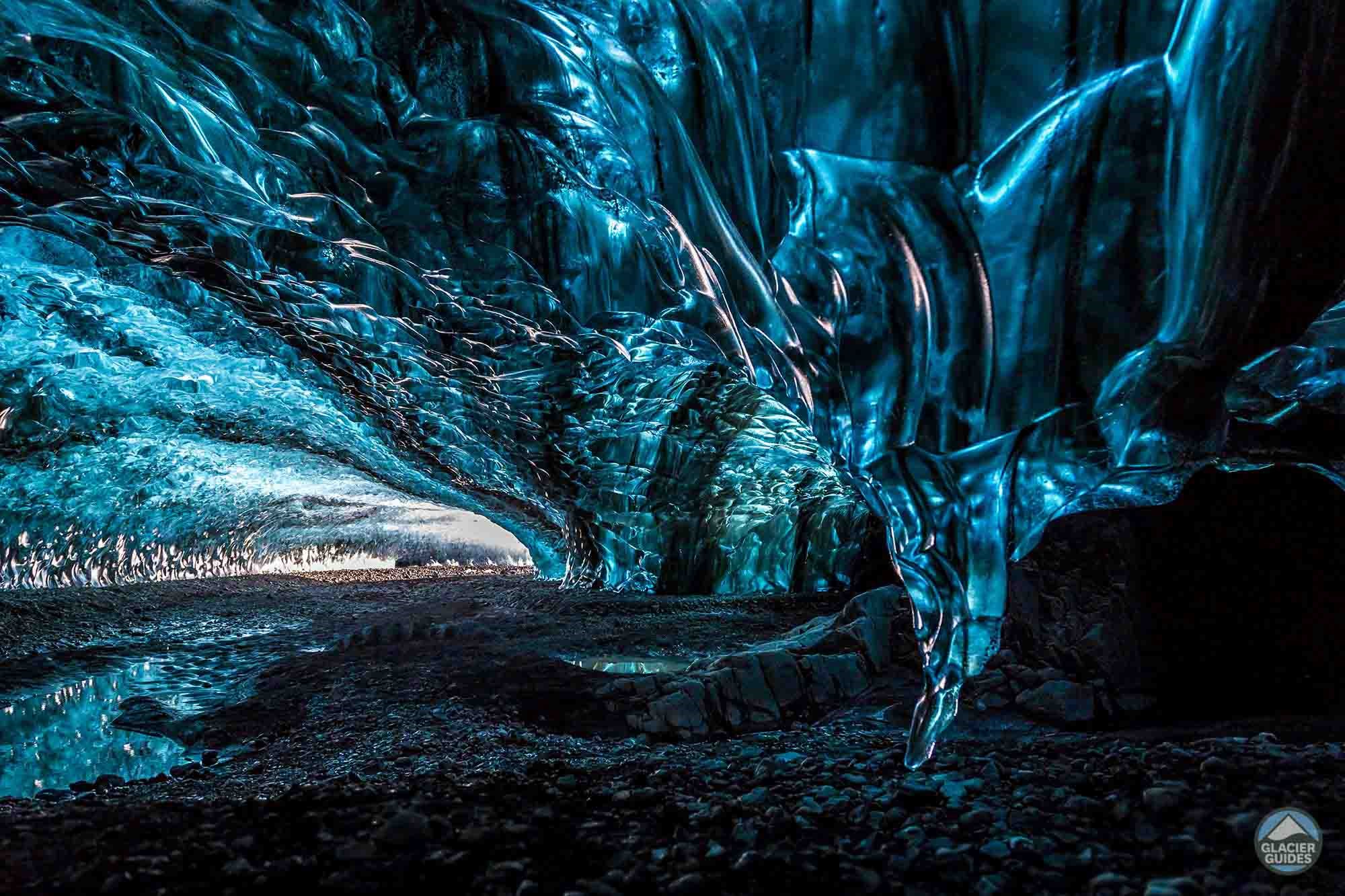 Is the Crystal Ice Cave near Jökulsárlón?
The Crystal Ice Cave tour actually departs from Jökulsárlón Glacier Lagoon. Both the ice lagoon and the Crystal Ice Cave are at Breiðamerkurjökull glacier, an outlet glacier of the Vatnajokull Icecap. Breiðamerkurjökull is large and magnificent, you are driven through fabulous glacial vistas on the way to the Crystal Ice Cave, which you explore with a certified glacier guide. You can book this trip on our website - Crystal Ice Cave. To be certain of a space you should book your place before you travel to Jökulsárlón.
Places to see along the way
Even if you are doing Jökulsárlón in a day you just have to make brief stops at a couple of these places. Sooo… much better, though, to stop over if you possibly can!
You have to see Seljalandsfoss Waterfall, the really beautiful 60 m high waterfall everyone talks about, the one where you can walk behind the cascade.
Skógafoss Waterfall, a short drive towards the east is another 60 m high tumbling waterfall, which is an impressive 15 m wide. There is a great legend of hidden treasure, it is said that Þrasi Þórólfsson, the first Viking settler in this part of Iceland, buried a chest of treasure in a cave behind the waterfall. The locals tried to retrieve the chest but could only grasp the ring on the side of the chest, before it slipped back into the depths forever.
On the eastern side, a pathway with more than 500 steps leads to the top of Skógafoss. This path joins with the famous Fimmvörðuháls hiking trail, which goes right between two great volcano mountain glaciers. Who can forget the 2010 eruption of Eyjafjallajökull? Not so many people have heard of Mýrdalsjökull, but nearly everyone has heard of Katla, the legendary volcano dwelling under Mýrdalsjökull´s serene icecap. On a clear day, the views from around the Skógafoss area of these mountain glacier landscapes are just mind-blowing. Take the time to appreciate if you can!   
The black beach at Reynisfjara is one of the most visited places in Iceland and it is easy to see why. Soft black sands, rolling white-tipped Atlantic waves, great basalt column cliffs and cave and the Reynisdrangar basalt peaks looming above the ocean. Just stand well back from the ocean, this beach is known for its 'sneaker' waves!
The village of Vík is the southernmost settlement in Iceland. With a picturesque church high on the hill, this is another interesting stopping place, if you have the time.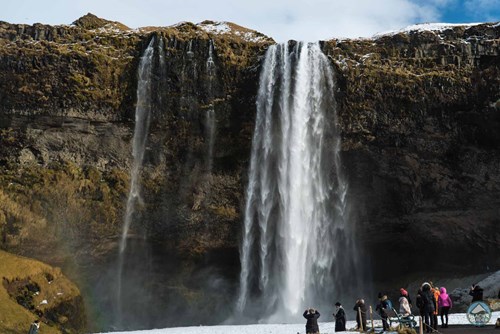 Not self-driving?
Don´t worry, just check out some tours and choose a 2, 3, 4, or 5 day tour which includes Jökulsárlón and the south coast Multi-day Adventure Tours.   
Dream movie location
Sometimes visitors to Jökulsárlón feel some of the scenery is strangely familiar! The glacier lagoon has been the location for action scenes in a couple of James Bond movies, A View to Kill and Die Another Day. The makers of Prometheus, Flags of our Fathers and Laura Croft, Tomb Raider also shot footage here. When Jökulsárlón Glacier Lagoon features in a TV show or documentary viewing figures usually shoot through the stratosphere. Batman Begins was filmed nearby at Svínafellsjökull Glacier in Vatnajökull National Park. This area is seriously popular with movie makers, when you go there you will see the reason why!   
What not to do at Jökulsárlón?  
Action movie dream scenes and mesmerizing glacier lagoon vistas are very inspiring. A few people, tantalized by the Jökulsárlón magic have tried some crazy things, otherwise, Jökulsárlón is a safe place!
Never, ever attempt to wade or swim in the lagoon, it may seem obvious that a glacial lagoon filled with giant icebergs has to be freezing cold. There are other dangers: The current is powerful enough to move enormous blocks of ice into the wild waves of the Atlantic, it will easily sweep you away; the icebergs sometimes flip over, you could be trapped underneath; icebergs are far larger than they appear, 90% of them is beneath the surface of the water. Being swept out into the Atlantic, getting trapped underwater beneath an iceberg, suffering hypothermia and risking the lives of search and rescue volunteers are all very real dangers.
People have been tempted the stand on the icebergs which, it should be obvious, is something no one should do. They are very slippery and they drift away from the shore and turn over with no warning. Stand on a floating iceberg and you are very likely to take an unplanned swim in icy water. People have had to be rescued from the icebergs on Jökulsárlón - so just don´t try it!
The icebergs are tantalizing, everyone wants to get as close as they can and take the most amazing photos. Walk right up to the icebergs on the Diamond Beach, or take a summer boat trip.