Visit Iceland's bluest ice cave in years as you walk into the depths of Vatnajokull Glacier's ancient ice. Depart from Jokulsarlon Glacier Lagoon with a certified guide and head towards Europe's largest glacier for the ultimate ice cave experience. The crystal ice cave's captivating shades of blue and brilliant ice formations create a magical winter wonderland unlike any other. Grab your camera and become a glacier explorer for the day inside one of the world's most unique natural wonders!
Pick-up: Multiple departures from Jokulsarlon Lagoon everyday
Tour Highlights:
Natural Blue Ice Cave
Vatnajokull National Park
Jokulsarlon Glacier Lagoon
Breiðamerkurjökull outlet glacier
Glacier experience
Departures: Multiple departures everyday. See calendar for more information on times and availability.
Departs from: Jökulsárlón Glacier Lagoon, located in the southeast of Iceland on ring road nr. 1, approximately 379 km. from Reykjavik and 56 km. from Skaftafell. Please check-in 15 min prior to tour departure.
Bring with you: Thermals (top and bottom), warm outdoor clothing, waterproof outer layers, sturdy hiking boots (not necessary but recommended), headwear, scarf and gloves. 
Included:
A guided tour of the crystal blue ice cave
All necessary glacier gear: crampons and a helmet
A safety briefing so that you can feel confident once you are on the glacier
Super Jeep transfer to & from a Crystal Blue Ice Cave
Tours with transportation from Reykjavik: We have a variety of multiday tours, ranging from 2 - 5 days, that include a visit to the natural ice cave as well as transportation from Reykjavik and accommodation. Have a look at our selection of multiday tours here: Multiday tours
---
Note: Please keep in mind that ice caves are ever-changing natural phenomena that are often only accessible during winter when the temperature drops well below zero so the water from the rivers that run underneath the glacier freezes and leaves us with this amazing natural wonder to explore. Each year new caves are formed in different locations. We will visit one naturally formed ice cave during this tour and the cave we visit is chosen based on conditions and safety each time.
---
Tour Description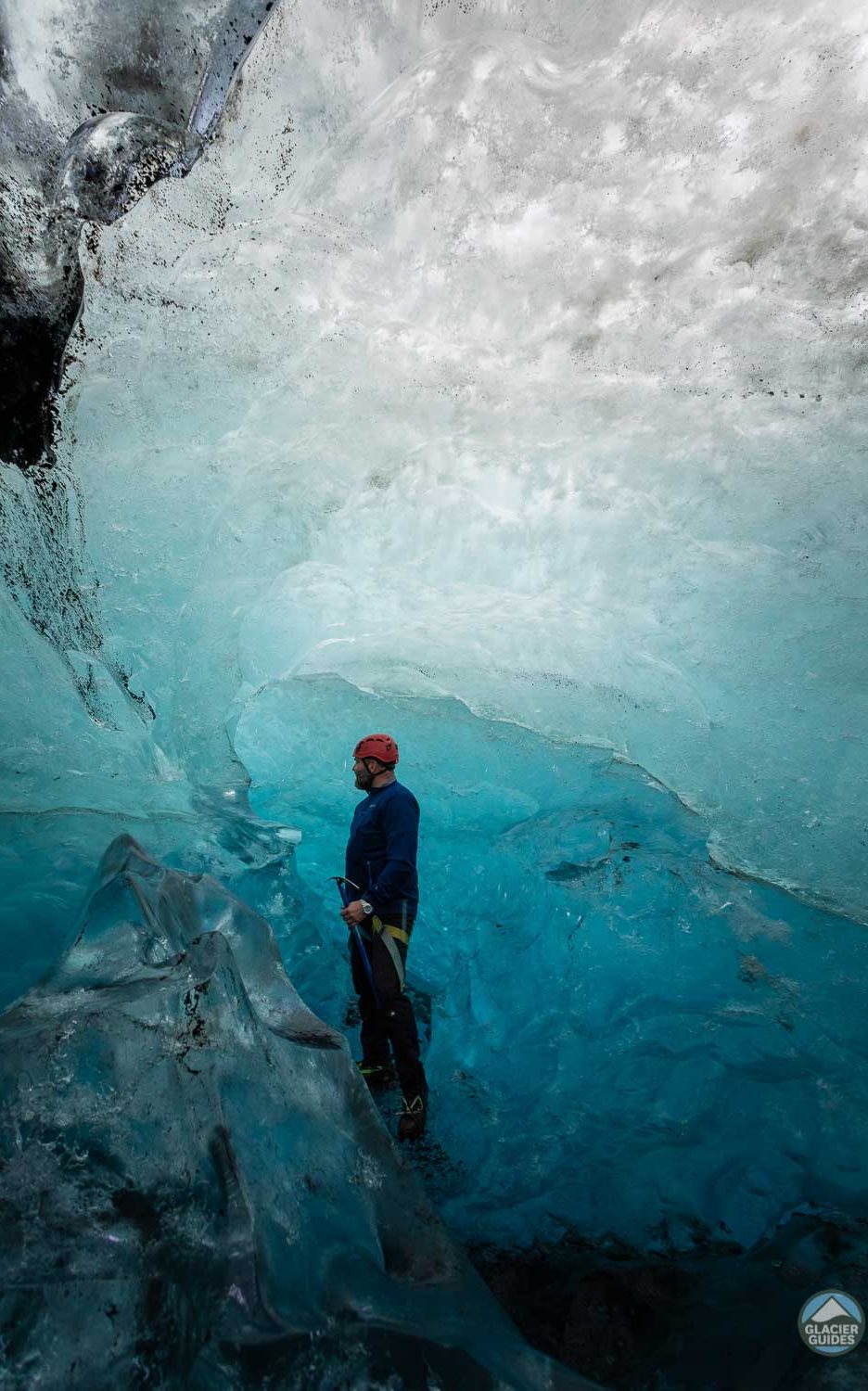 Exploring a natural Ice Cave is truly a unique experience and strongly recommended for anyone visiting Iceland during winter months! 
The Crystal Ice Cave tour departs from Jökulsárlón Glacier Lagoon multiple times a day. Jökulsárlón Lagoon is located in the southeast and definitely one of Iceland's highlights, not to be missed on your travels. From there we head for the magnificent Crystal Blue Ice Cave in Vatnajökull Glacier. Natural Ice Caves are only formed when temperatures start cooling again after the summer months and therefore, only available in winter. Each year we find unique and amazing ice caves making the experience even more magical.
After a super jeep ride from Jökulsárlón Glacier Lagoon, you arrive at the glacier, where you'll take a short walk (appr. 20-30 min) to the mouth of one of the crystal caves. You spend about 30-45 minutes inside the cave so you will have enough time to explore the wonders of the ice on your own and take pictures. Our skilled guides will make sure that you are safe and secure the whole time inside the Crystal Cave.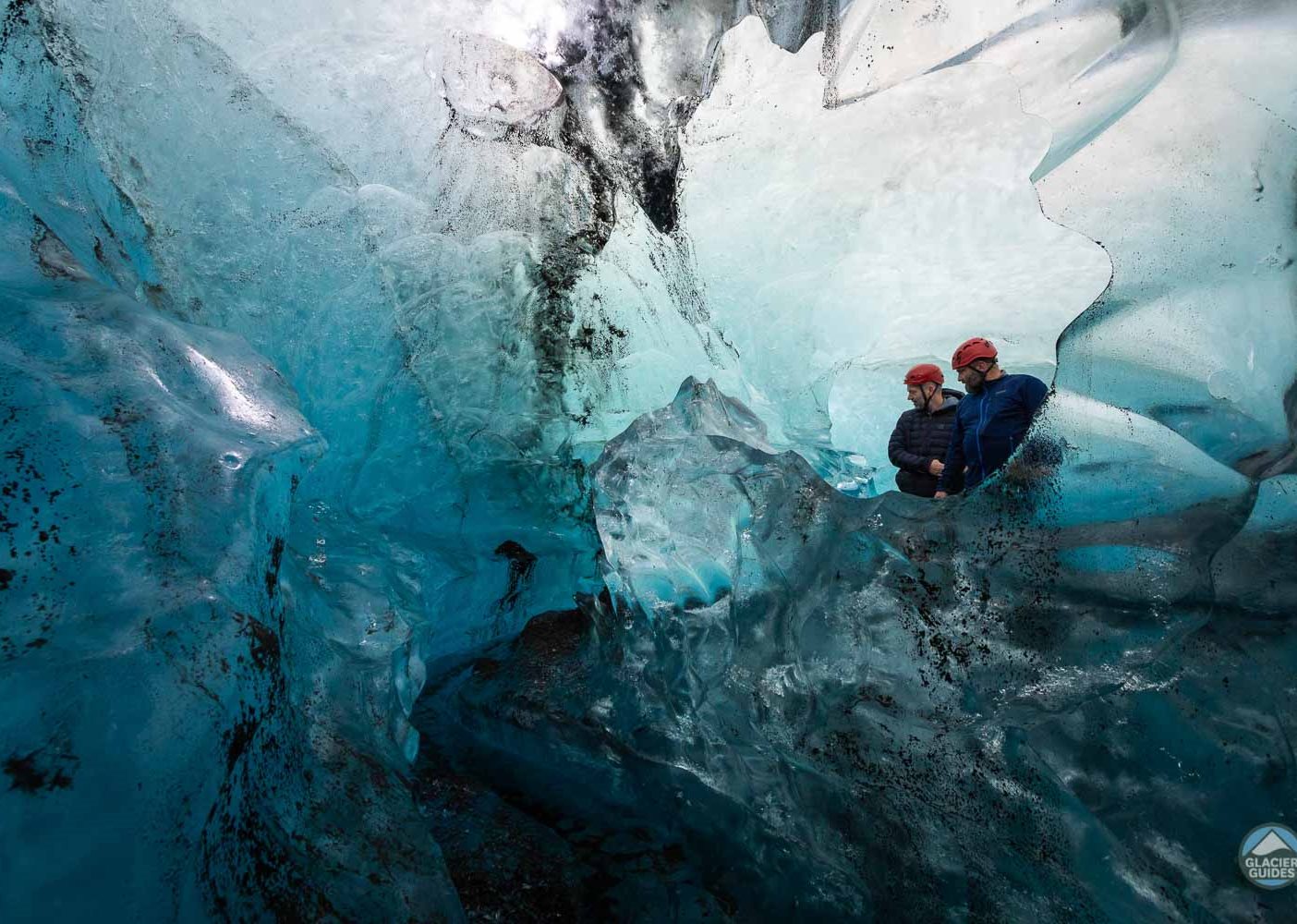 If you are looking for a broader glacier exploration then we recommend that you check out our Into the Glacier tour. This tour includes a short glacier hike as well as a natural blue ice cave. The benefit of joining this tour is that you get a more exclusive experience.
Looking for an ice cave tour from Reykjavik?
We have several multi-day tours including transportation from Reykjavik and a glacier ice cave adventure. For example, our two day South Coast, Ice Cave and Jokulsarlon tour and three day Golden Circle, Ice Cave and South Coast Highlights tour.
Please note:
There is no guarantee that our group will be alone in the cave, as the same cave is used by more tour operators. If you are looking for a more exclusive experience we recommend the Into the Glacier tour.*
You must arrange your transportation to the meeting point of the tour (Jökulsárlón is 4.5 hours east of Reykjavik). Participants must check-in no later than 15 minutes before the tour starts. The

 

bus schedule during the winter is very limited so it is highly recommended to rent a car and to stay in the area either the night before or after your tour. Driving times can be greatly affected by winter conditions so please be sure to give yourself enough time depending on winter road conditions. Find out more about

 

Road and Weather conditions.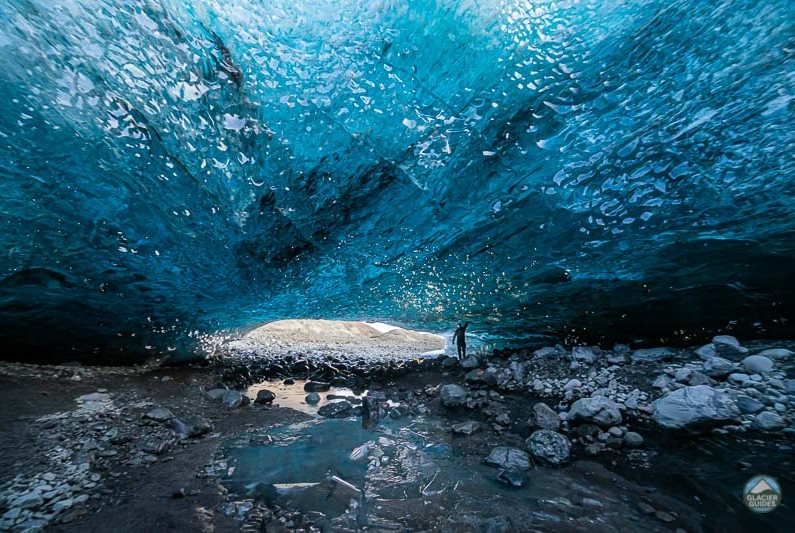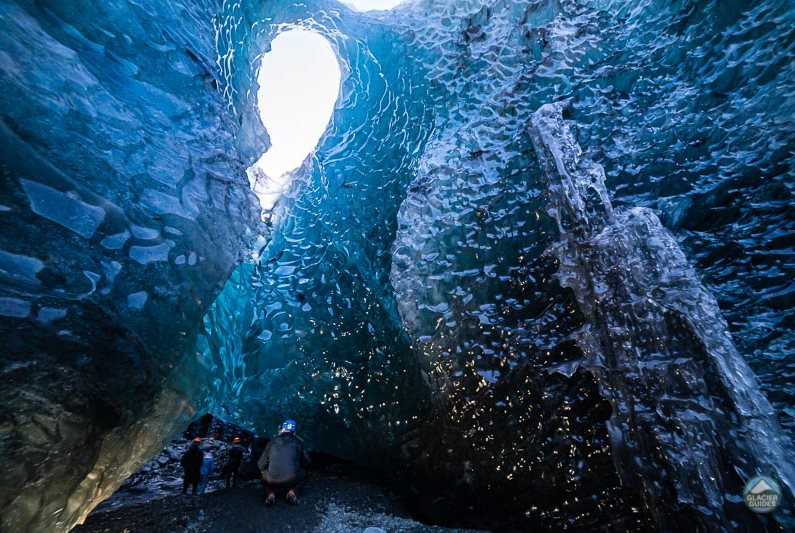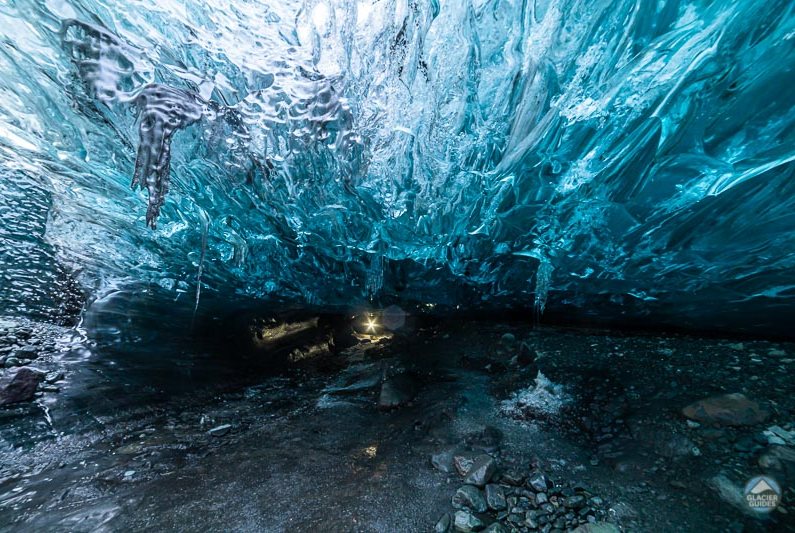 ---
Map: - click to enlarge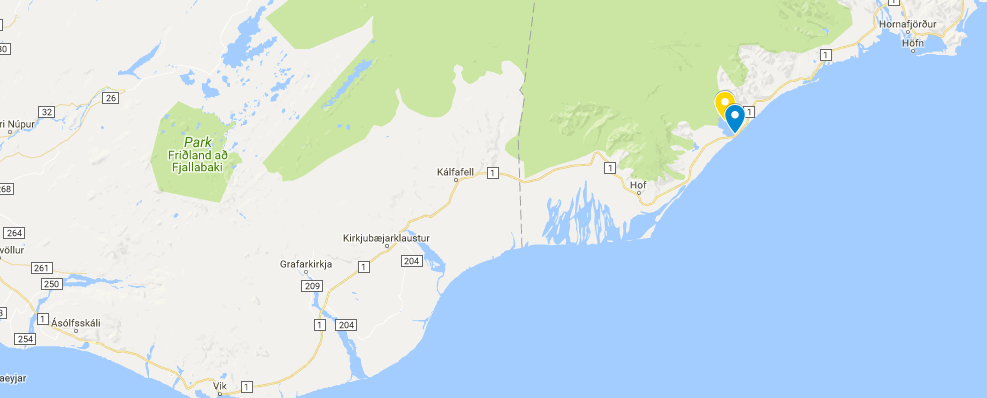 ---
Disclaimer: For important safety reasons, it is not recommended to go into the ice caves without a certified glacier guide. We will visit one ice cave during the tour and this cave is selected based on conditions and safety. This tour is operated by Glacier Guides. All our tours are undertaken on the responsibility of its participants. We do not assume any responsibility for accidents that are caused by its customers or can be traced to their own actions. Participants have to sign a waiver before undertaking all trips stating that they realize that all outdoor activities carry an inherent risk.
---
Related Tours