This easy kayak trip will take you between uniquely shaped icebergs as you paddle your way across the mirror-surface of Jökulsárlón Glacier Lagoon, one of the most amazing and famous natural wonders in Iceland. Glaciated high mountain peaks 'frame' the ice lagoon, playful seals are sometimes seen and ocean birds are plentiful. Create memories to treasure for years to come and photos to die for. The Jökulsárlón kayak adventure is equally suitable for beginners and experienced paddlers.
Duration: 1.5 hours (Kayaking 1 hr)
Tour Highlights:
Small group experience
Kayaking amongst icebergs
Jökulsárlón Glacier Lagoon
Breiðamerkurjökull Glacier
Vatnajökull Glacier
Meeting point: The meeting point is at Jökulsárlón Glacier Lagoon Car Park. You should look out for the box van which is clearly marked "IceGuide". Jökulsárlón is 370 km (230 mi) from Reykjavík, around 4.75 hours driving time in good conditions. GPS: 64.048096, - 16.178778.  
Included: Double kayak and paddle, licensed kayaking guide, drysuit, safety vest, shoes and gloves. Young people must share a double kayak with an adult. Adults can upgrade to a single kayak, the upgrade fee is 5,000 ISK. Dry cases for your cameras and/or smartphones are available upon request, so please ask!
Bring with you: Warm outdoor layers to wear under the top quality drysuit provided. For example, fleece tops, thermal tops and bottoms, soft shell or similar hiking trousers and good wool socks. Sunglasses are recommended.
Please Note: It is very unlikely but possible that your clothes could get wet, so a change of clothes is useful just in case.
For further information:
info@glacierguides.is
From:
Youth (12-15 years): 5 900 ISK
Close
Book this tour here
Kayaking on Jökulsárlón Glacier Lagoon
Tour Description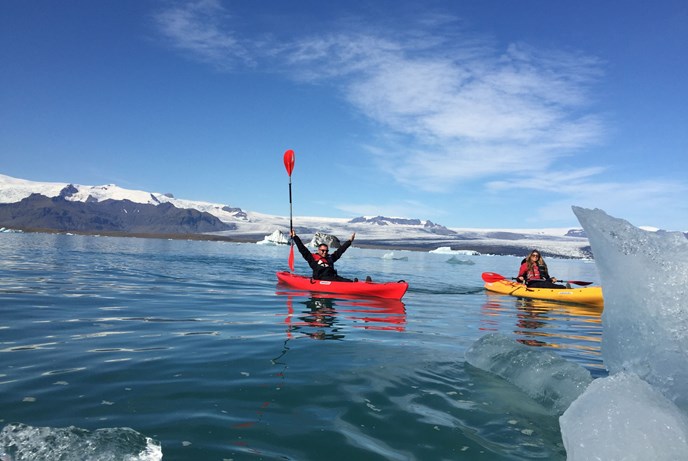 The stunning Jökulsárlón Glacier Lagoon on the edge of Breiðamerkurjökull, a glacier tongue of Vatnajökull Glacier, is certainly one of the most famous natural wonders in Iceland. High-octane action scenes from James Bond and other movies have ensured the ice lagoon is a scenery super-star in its own right!
This kayak trip will take you to a unique vantage point and into the embrace of this glacial wonderland. Your licensed kayaking guide knows all about the history, nature and wildlife around the lagoon and will share some great facts with you. Questions are always welcomed.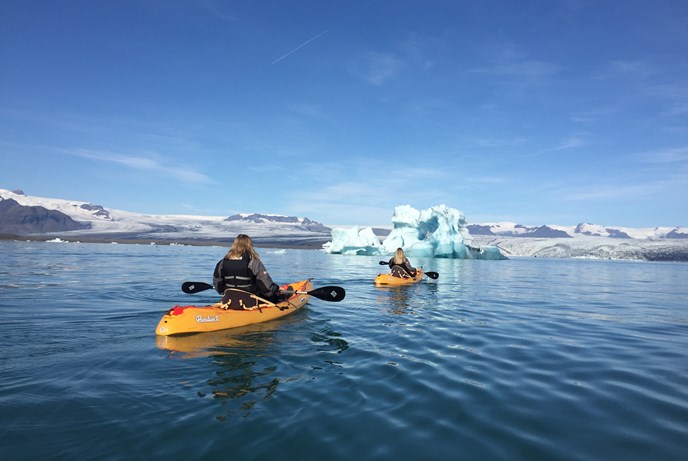 You will discover some 'secret´ places which you would never see from the land, and be humbled by the majesty of the landscapes all around you. Icebergs break free from the fairly thick ice at the edge of Breiðamerkurjökull, so you will see some large icebergs as you paddle through the serene waters of the ice lagoon. Large or small, the ice chunks display some enchanting colors, contrasting starkly with the Arctic whiteness around Jökulsárlon. When ice is compressed, the air is pushed out, creating blue ice, sometimes the blueness is intensified by algae. Other icebergs have coal-like gray shadowy streaks, these are the marks left by the ash of former volcanic eruptions, a reminder of the volcanoes slumbering beneath the Vatnajökull icecap. Surrounded by ice, you are never allowed to forget Iceland is truly a land of fire and ice!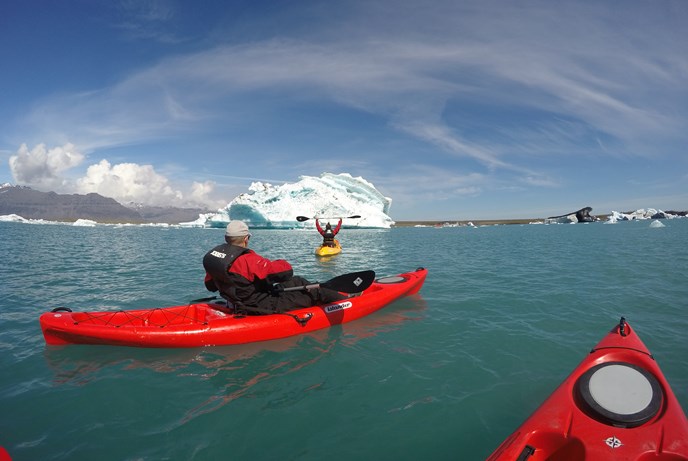 If you want to be totally spellbound by surreal and majestic glacial scenery take this kayak tour!
---
Map: - click to enlarge