Vatnajokull Voyager
- AA-VV
Day tour to Jokulsarlon Glacier Lagoon
The perfect day trip from Reykjavik. Escape the hustle and bustle of the city for a glacier walk on Europe's largest glacier with an added visit to Jökulsárlón Glacier Lagoon. This is a fast paced trip offers an opportunity to see highlights of the south coast in just one day!
Pick-up: 8:00 - 8:30 in Reykjavik
Group maximum: 16 persons
Tour Highlights:
Skaftafell Nature Reserve
Vatnajökull - Europe's largest glacier
Hiking on Falljökull (glacier tongue)
South Coast
Jökulsárlón Glacier Lagoon
Diamond Beach
Virkisjökull glacial river views
Reykjavik pickup: Please be ready at your selected pickup location at 08:00. Pickup can take up to 30 minutes.
Included: Glacier walk with an expert guide, Jokulsarlon glacier lagoon, the Diamond Beach, all glacier gear.
Not included: Meals. We will make stops on the way.
Bring with you: Warm clothing, waterproof outer layers, gloves and sturdy hiking shoes. See full equipment list here below.
---
Note: This tour is operated by Arctic Adventures and Glacier Guides. The top activity tour operators in Iceland. We provide guests with crampons for walking on the ice, helmets and ice axes. Waterproof clothing and hiking boots are available for rent (see booking engine).
---
Tour Description
The Vatnajökull & Jökulsárlón day tour offers you a chance to hike on the magnificent Vatnajökull and explore the breathtaking Jökulsárlón Glacier Lagoon on the same day. This is a fast paced trip for all fitness levels and is the perfect choice for those with limited time in Iceland. Unless you have walked on a glacier and seen the floating icebergs on the Glacier Lagoon up close, one could argue that you really have not seen Iceland.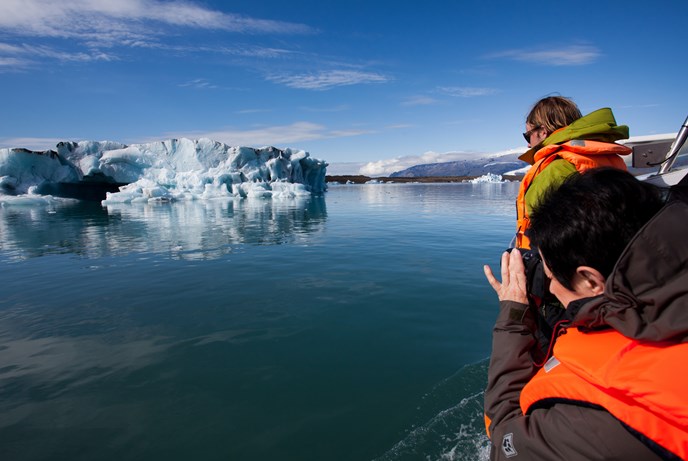 We head out from Reykjavik. With a few short stops along the way, you will arrive in Skaftafell, the south entrance to the Vatnajökull National Park. After a lunch break, you will be fitted with glacier equipment and we will make our way to the Falljökull glacier tongue. With its steep ice fall and fascinating features, it has been described in many words but "amazing" seems to be the reoccurring theme. You will be in good company with our expert guides who love sharing their local knowledge. But time will fly by and we are on our way to Jökulsárlón before we know it.
During the 25 minute long journey to the lagoon, you will pass multiple glacier tongues that seem suspended in air with distances and sizes that never fail to impress. You will see evidence of where the glaciers once stood as we continue past the highest moraines in Iceland, pushed up by the glacier during its former advance. Once at the Lagoon, you will have the opportunity to explore the area, and to see the lagoons wildlife before heading back to Skaftafell. We will take a break in Skaftafell before departing at 19:15 to arrive back in Reykjavík around midnight.
Recommended equipment list
Equipment list (click here)
This is the recommended equipment list for this long day tour:
Waterproof jacket and pants (We do have rental clothing available)

Hiking boots (Available for rent, 1000 isk. We advise against runners or any type of shoe that comes up below the ankle bone as the straps on the crampons can get a bit painful during the walk)

Light sweater, wool or fleece
Light synthetic or quick dry pants (Try and stay clear of jeans on the longer trips as they get wet & cold quick and dry slow)
Thin Gloves
Hat
Small Backpack (Can be handy to carry camera, rain gear and all extras)
Sunglasses and sun protection (It can get quite bright on the ice with the reflection)

Food and drinks (we also make stops on the way).

Camera (If you forget everything else don´t forget that)
---
Map: - click to enlarge

---
Disclaimer: This tour is operated by Arctic Adventures and Glacier Guides. All our tours are undertaken on the responsibility of its participants. We do not assume any responsibility for accidents that are caused by its customers or can be traced to their own actions. Participants have to sign a waiver before undertaking all trips stating that they realize that all outdoor activities carry an inherent risk.
---