Ever wanted to step foot on a glacier? This tour is available all year round directly from Reykjavik and includes a short glacier hiking tour on the stunning, ever-changing glacier tongue of Myrdalsjokull glacier, Solheimajokull glacier.
Duration: Approx. 9 hours
Tour Highlights:
Pick up in Reykjavik
Guided glacier hike
Solheimajokull Glacier
Outlet glacier of Myrdalsjokull
Certified Glacier Guide
Seljalandsfoss Waterfall
Skógafoss Waterfall
South Coast of Iceland
Pick up:
9 am from Nov 1st until Feb 15th
8 am from 16th Feb until Nov 1st
Included: Pick up and drop off in Reykjavik, visit to Seljalandsfoss and Skogafoss waterfalls, easy glacier hike with a certified glacier guide and all necessary glacier equipment.
Bring with you: Warm clothing, waterproof outer layers and sturdy hiking shoes. Food and drinks are not provided on this tour so please bring a packed lunch or buy one at the stop along the way. See full equipment list below.
From:
Children (10-15 years): 8 995 ISK
---
Note: This tour is operated by Arctic Adventures and Glacier Guides. We provide guests with crampons for walking on the ice, helmets and ice axes. Waterproof clothing and hiking boots are available for rent.
---
Tour Description
The adventure starts as you are picked up in Reykjavik at your selected location and driven along the picturesque south coast of Iceland. You will pass through some little towns and villages on the way to Solheimajökull glacier, a tongue of Mýrdalsjökull, the glacier which shrouds the notorious Katla volcano in its midst. On a clear day the views are spectacular.
When you arrive at Sólheimajökull you will get ready for an adventure like no other. Your qualified glacier guide will introduce you to the equipment and give you all the safety tips you need before you set off on a short walk to the glacier.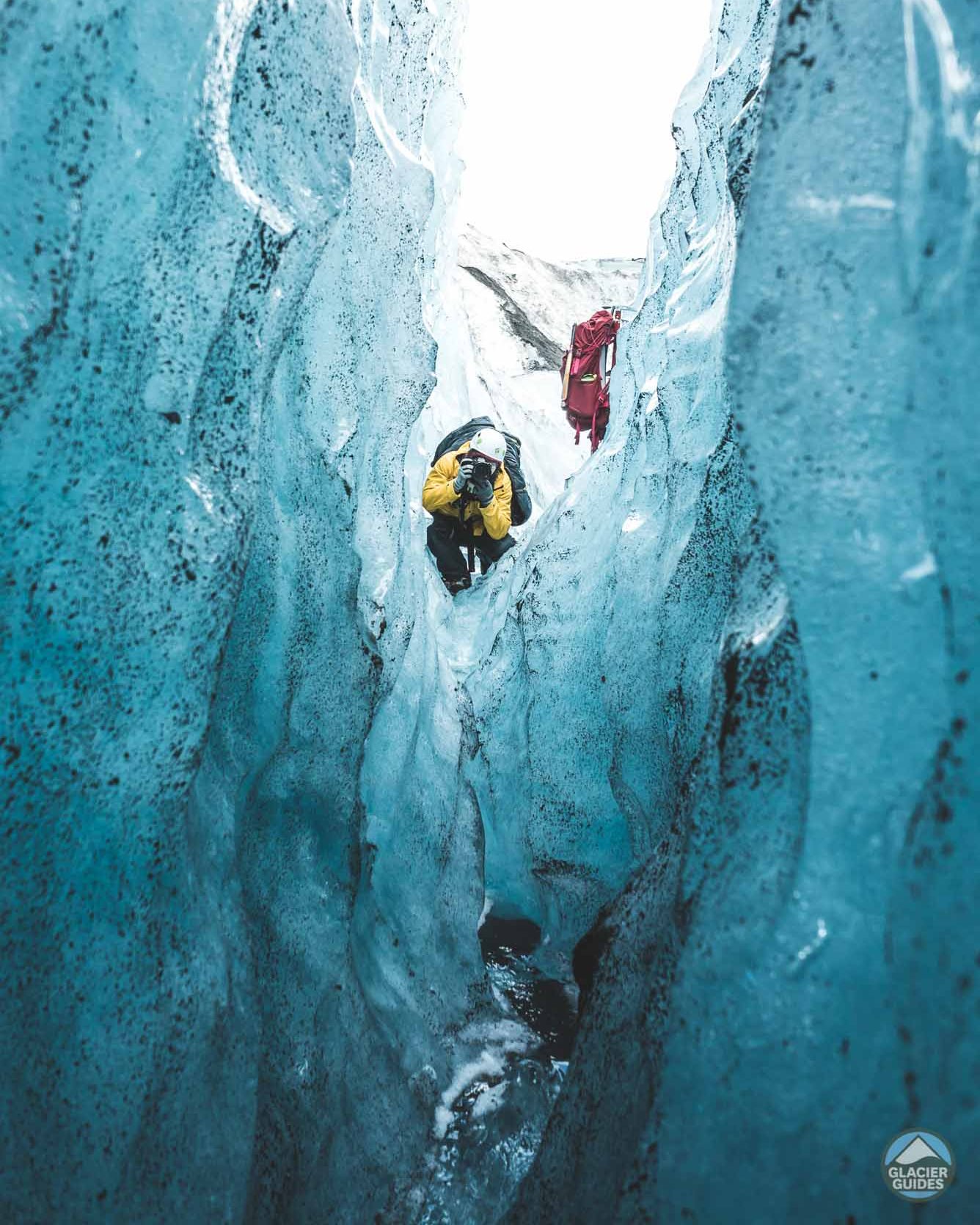 The valley you walk through was filled by the glacier just a few years ago, your specialist glacier guide will show you how the glacier is retreating at an alarming rate, so fast it is almost disappearing before our eyes. As you walk across the coal-black volcanic sands you will soon see the grand frozen vistas of Sólheimajökull glacier opening out before you. At the edge of the ice you fasten your crampons and your guide will lead you onto the ice to explore this otherworldly natural wonderland. There is so much to learn about this constantly evolving but ancient hub of frozen water. If you want to hold ancient ice in your arms, here is your opportunity!
On our way back to Reykjavík we will stop at Skógafoss waterfall and Seljalandsfoss waterfall, both are iconic south coast waterfalls. Seljalandsfoss is known as the waterfall you can walk behind and believe us when we say that it's truly stunning the whole way around. Skogafoss is different but equally stunning and powerful.
We return to Reykjavík at around 17:00, as always in Iceland, weather conditions can influence the schedule a little.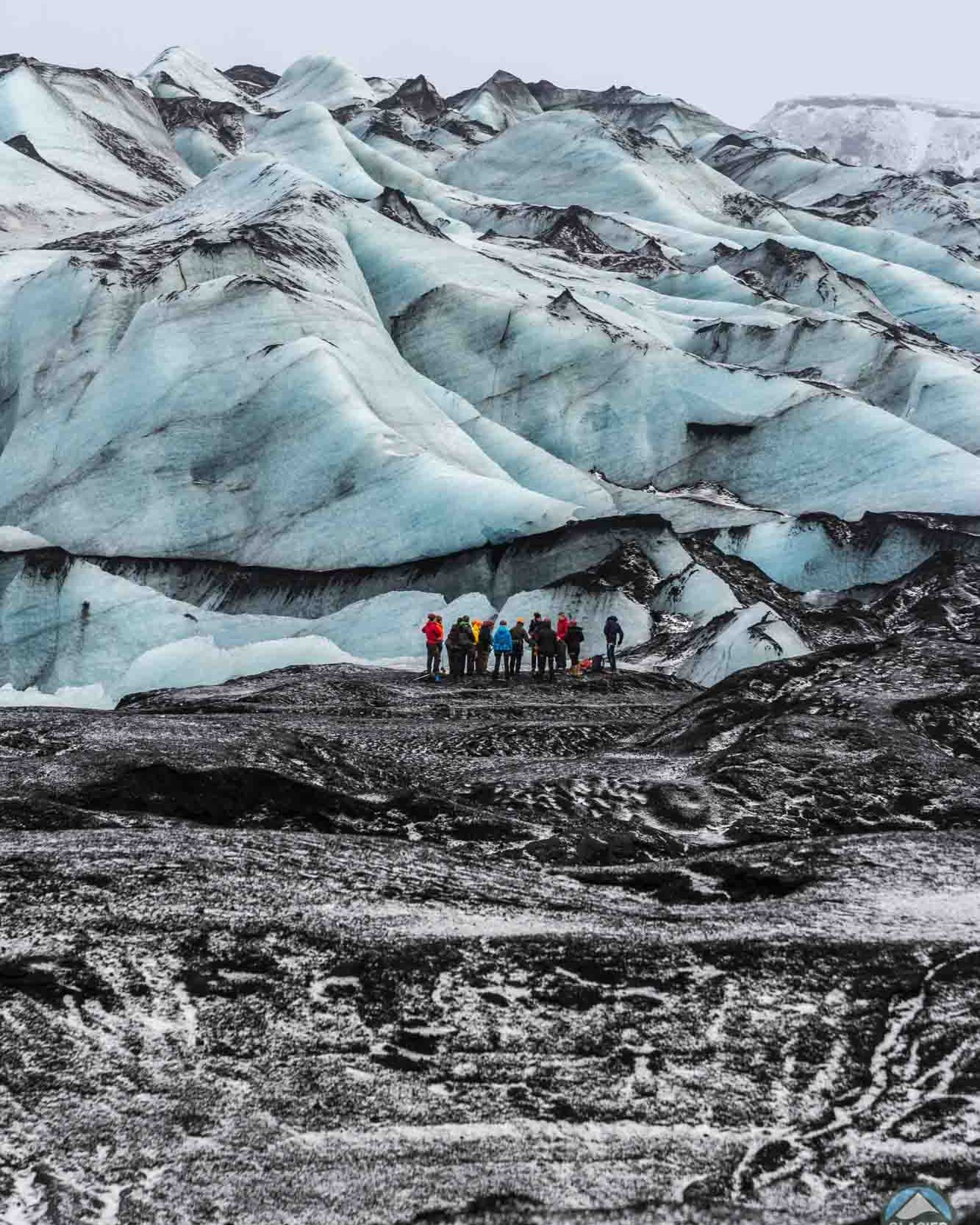 A glacier hike is a very special and unique adventure, as glaciers retreat worldwide, there is a sense of being in a very precious place. With the rapid rate of climate change who knows whether our grandchildren, or even our children, will be able to enjoy this? You will see how primal forces have shaped and continue to sculpt the glacier, creating mesmerizing labyrinths of ice ridges and steep networks of crevasses which trace their way through the ice. There are huge sink-holes, known as "moulins", which can descend all the way through the glacier, allowing the meltwater to drain onto the black sand beneath its enormous weight. You will see the marks which have been left on the glacier by great the volcanic eruptions of the not so distant past. Ash from the 2010 eruption of Eyjafjallajökull found its way onto this glacier.
Glacier Equipment List:
The recommended equipment list for Glacier Experience:
Waterproof jacket and pants (We do have rental clothing available in the booking process)
Hiking boots (Available for rent, 1000 isk. We advise against runners or any type of shoe that comes up below the ankle bone as the straps on the crampons can get a bit painful during the walk)
Light sweater, wool or fleece
Light synthetic or quick dry pants (Try and stay clear of jeans on the longer trips as they get wet & cold quick and dry slow)
Thin Gloves
Hat
Small Backpack (Can be handy to carry camera, rain gear and all extras)
Sunglasses and sun protection (It can get quite bright on the ice with the reflection)
Food and drinks (Lunch is not provided on any of our trips. June - September there is plenty of fresh water on the glacier so bring a bottle)
Camera (If you forget everything else don´t forget that)
---
Disclaimer: This tour is operated by Arctic Adventures and Glacier Guides. All our tours are undertaken on the responsibility of its participants. We do not assume any responsibility for accidents that are caused by its customers or can be traced to their own actions. Participants have to sign a waiver before undertaking all trips stating that they realize that all outdoor activities carry an inherent risk.
---
Related Tours