The perfect day trip from Reykjavik. Escape the hustle and bustle of the city for an adventure of the south coast and all the way to Vatnajokull National Park. Explore Jökulsárlón Glacier Lagoon and the sparkling Diamond Beach. This is a fast paced trip offers an opportunity to see highlights of the south coast in just one day!
Pick-up: 7:00 - 7:30 in Reykjavik
Group maximum: 16 persons
Tour Highlights:
Jökulsárlón Glacier Lagoon
Vatnajökull - Europe's largest glacier
South Coast
Diamond Beach
Seljalandsfoss Waterfall
Skógafoss Waterfall (Only During Summer)
Vík Village
Reynisfjara Black Sand Beach (Only During Summer)
Small Group Experience
Pickup: Starts at 7 a.m. from Reykjavik pickup points. Please note that pickup can take up to 30 minutes.
Included: Tour of the south coast of Iceland with a knowledgeable guide. Stops on the south coast include Seljalandsfoss, *Skógafoss, *Reynisfjara black sand beach, Vik, Jokulsarlon Lagoon and the Diamond Beach in Vatnajokull National Park.
Not included: Meals are not included. However, we will make stops on the way where you can purchase food and drinks.
Bring with you: Warm clothing, waterproof outer layers, gloves and good hiking boots with ankle support.
Tour Description
The Vatnajökull & Jökulsárlón day tour offers you a chance to visit the South Coast key attractions, the magnificent Vatnajökull National Park, explore the breathtaking Jökulsárlón Glacier Lagoon and visit the Diamond Beach all on the same day.
This is a fast-paced trip for all fitness levels and is the perfect choice for those with limited time in Iceland. Unless you have seen the floating icebergs on the Glacier Lagoon up close, one could argue that you really have not seen Iceland. It's truly a unique natural wonder that should not be missed. Join us on our day tour and tick off your Iceland bucket-list all day long - we'll take you there!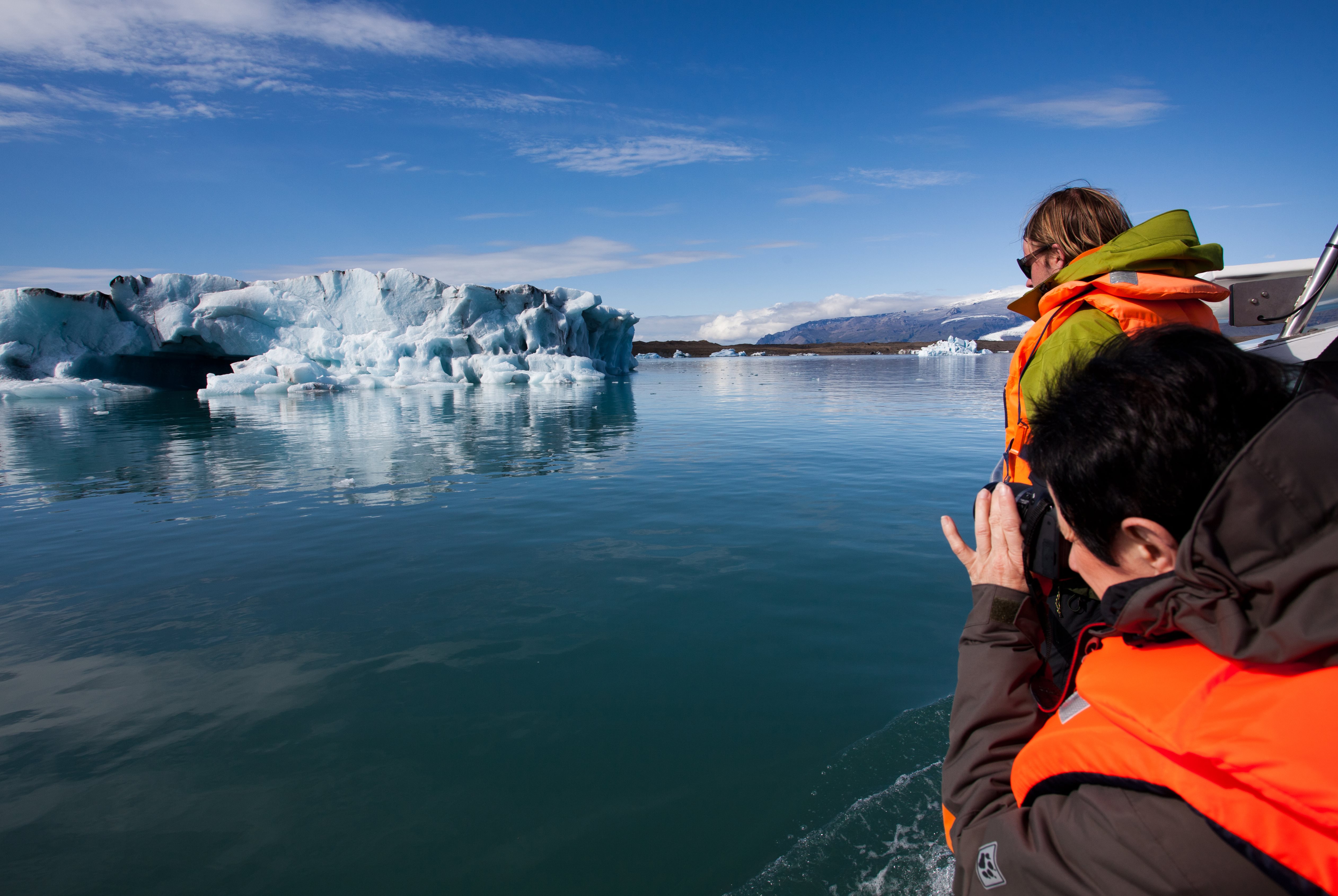 Itinerary
We head out from Reykjavik making stops at some of the best attractions on the South Coast of Iceland, including Seljalandsfoss, *Skogafoss, and Vík. We make a short lunch break in the charming village of Vík before continuing our adventure further east.
Jokulsarlon Glacier Lagoon is our next stop and can easily be argued as Iceland's most unique and beautiful natural wonder... at least one of them! 
Get up close to the icebergs with an optional boat ride on the glacial lagoon, bookable along with your tour. A short walk from Jokulsarlon Lagoon is the mesmerizing Diamond Beach, shimmering with stranded chunks of icebergs on the black sand beach.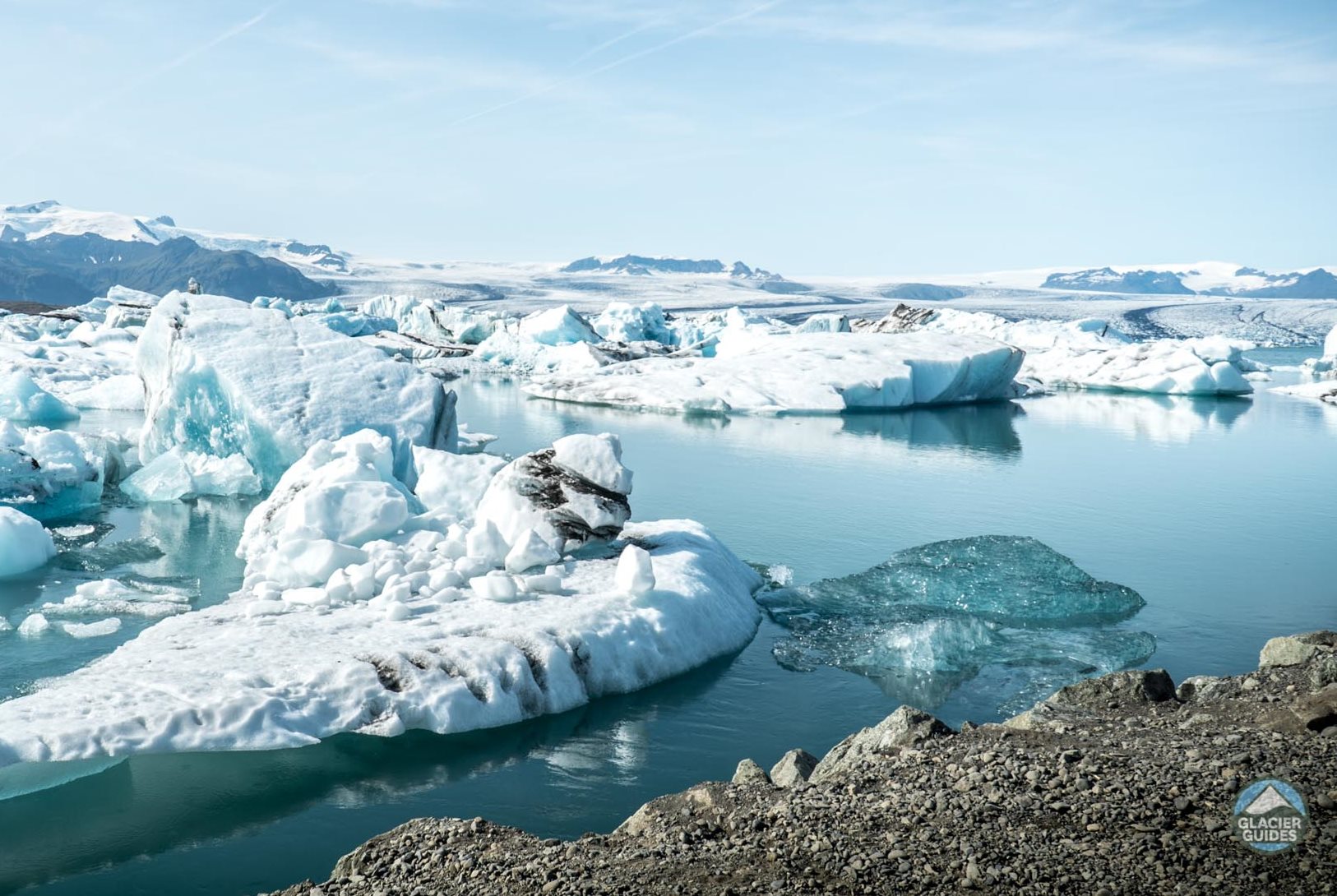 Enjoy a scenic drive to Skaftafell, located just under Vatnajokull Glacier, Europe's largest glacier in volume. View the glacier tongues crawling down the side of the glacier mountain, a fascinating sight to see. Skaftafell is also one of our favorite places and the home of Glacier Guides!
During the drive in Vatnajokull National Park, you will pass multiple glacier tongues that seem suspended in air with distances and sizes that never fail to impress. You will see evidence of where the glaciers once stood as we continue past the highest moraines in Iceland, pushed up by the glacier during its former advance. 
In the summertime, on the way back to Reykjavik, we make a stop at *Reynisfjara black sand beach, another beautiful and picturesque location on the south coast. Fortunately, long summer days make it capable for us to enjoy natural attractions until late in the evening.
Our day ends in Reykjavik at around 23:30.
*October 16th - May 14th:
Due to limited daylight, we have to stop at fewer places from the 16th of October until May 14th so that we can reach Jokulsarlon before it gets dark. During this time period, we don't stop at Skogafoss and Reynisfjara but we will stop at Seljalandsfoss waterfall, Vik village and the amazing Jokulsarlon & Diamond Beach.
Recommended equipment list
Equipment list (click here)
This is the recommended equipment list for this long day tour:
Waterproof jacket and pants 

Comfortable shoes fit for a long day of sightseeing. We recommend hiking shoes/boots and preferably waterproof.

Light sweater - wool or fleece
Light synthetic or quick dry pants (try and stay clear of jeans on the longer trips as they get wet & cold quick and dry slow)
Thin gloves or mittens
Warm hat
Small backpack (can be handy to carry camera, rain gear, waterbottle and all extras you need for the day)
Sunglasses and sun protection

Food and drinks (we also make stops on the way).

Camera (if you forget everything else don´t forget that!)
---
Map: - click to enlarge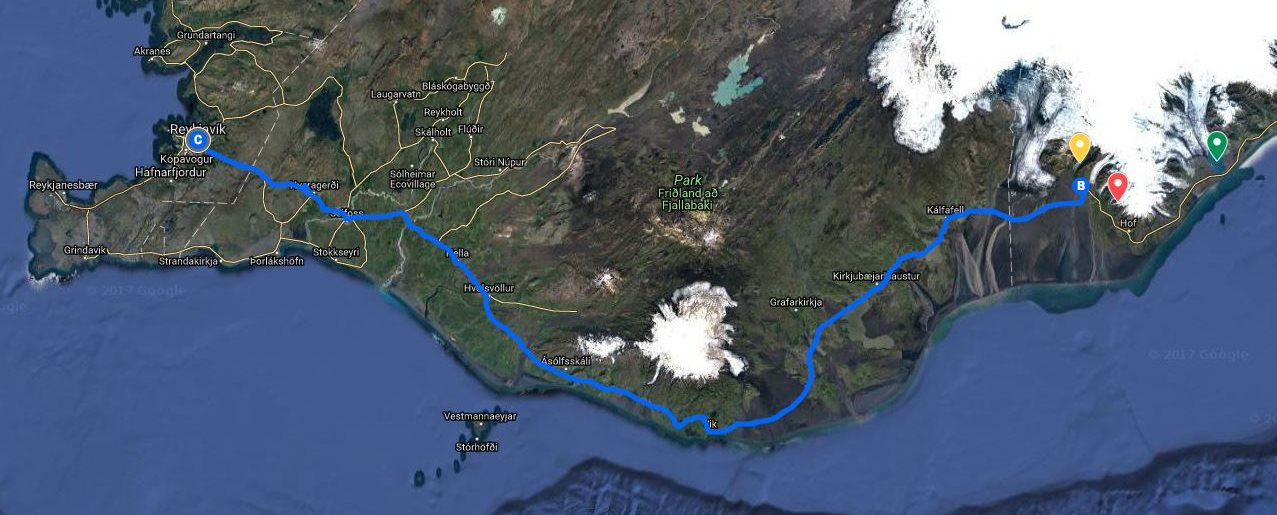 ---
Disclaimer: This tour is operated by Arctic Adventures and Glacier Guides is a part of the Arctic Adventures Family. All our tours are undertaken on the responsibility of its participants. We do not assume any responsibility for accidents that are caused by its customers or can be traced to their own actions. Participants have to sign a waiver before undertaking all trips stating that they realize that all outdoor activities carry an inherent risk.
---
Related Tours