Explore Iceland's famous South Coast, where we will see a number of incredible sights including Seljalandsfoss & Skogafoss waterfalls, before going on an exciting glacier hike on Solheimajokull glacier outlet. Then, visit Reynisfjara black sand beach before heading back to Reykjavik in time for dinner before heading on another adventure... a search for the Northern Lights! It is an action-packed day filled with awe and wonder, offering the opportunity to see some of the most magical things that the land of fire and ice has to offer.
Available: September 15th - April 20th
Tour Highlights:
South Coast Waterfalls
Seljalandsfoss Waterfall
Skogafoss Waterfall
Reynisfjara Black Sand Beach
Glacier Hike
Solheimajokull Glacier
Northern Lights Hunt
Volcano Views
What to bring: Warm clothing, waterproof jacket and pants, headwear, gloves, scarf, water bottle, lunch and/or snacks. Good hiking boots with ankle support are essential (can be rented).
Included: Pick up and drop off in Reykjavik, glacier hike with a certified glacier guide, necessary glacier gear (crampons, ice axe and helmet), a guided tour of south coast highlights and a Northern Lights hunt in a minibus.
*If you don't see Northern Lights on your tour then you can contact our sales team (info@glacierguides.is) and we will book a Northern Lights Minibus tour on the next available day free of charge. Please remember to mention your booking number in the email.
Tour Description
Our adventure begins bright and early when we collect you from Reykjavik and make the scenic journey to Iceland's famous South Coast. We strongly recommend that you dress up warm and bring a camera, so you can immortalize the amazing things that you will see on the tour. As we drive towards the South Coast we will pass several amazing places, including a geothermal power plant and rustic agrarian countryside. Our friendly guide will tell us all about everything that we are seeing and will be delighted to answer any questions that you might have. 
Tour itinerary
Our first stop will be the dramatic Seljalandsfoss Waterfall, whose powerful circular torrent cascades 60 meters down into a valley below. There is a hidden cave located behind its curtain of water, allowing us to view this incredible natural wonder from a completely different perspective.
From there we will head to our base camp at the foot of the Sólheimajökull Glacier, where our friendly guide will give us a quick safety briefing and gear you up with crampons, harnesses, ice-axes, and helmets. Then we will head out onto the glacier itself for an exhilarating experience that will take us across an ever-evolving icy landscape, replete with crevasses, ice-sculptures, and volcanic craters. The entire hike lasts for about an hour and will be on the Sólheimajökull Glacier that unfurls like a tongue from the larger Myrdalsjökull Glacier, which covers the capricious Katla volcano, which is one of Iceland's most active. Our friendly guide will tell us all that we need to know about glaciers and how they have helped to craft Iceland and the wider world, ensuring an educational and fun experience that everyone is sure to enjoy.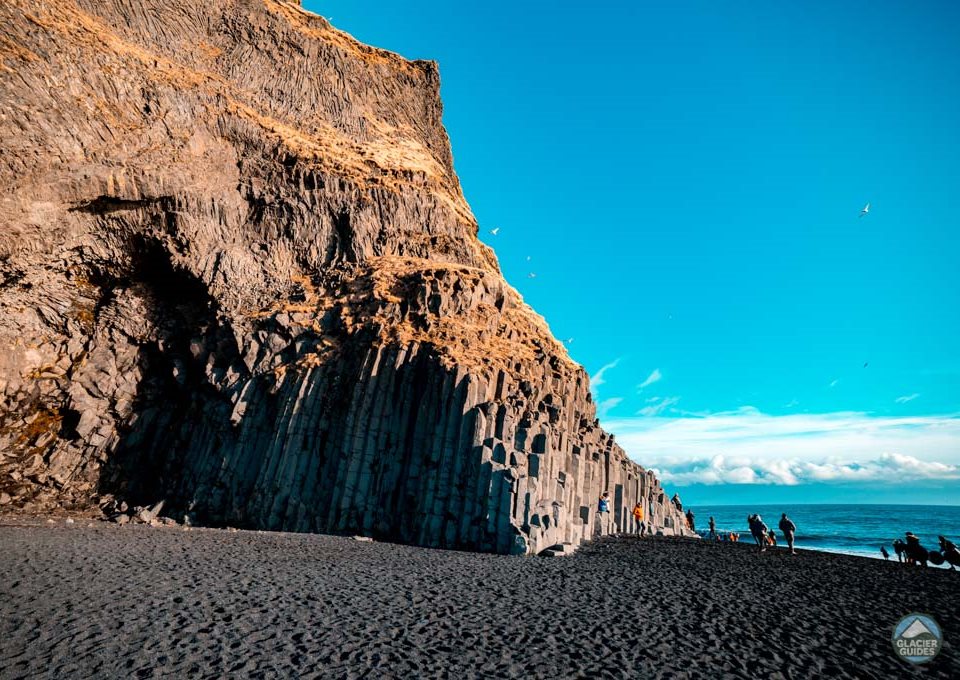 Our journey will then take us from the pristine white world of the glacier to the black sands of Reynisfjara Beach, whose dark volcanic landscape provides a stark contrast to the white-tipped waves of the Atlantic Ocean. Behind it are a series of dramatic basalt sea stacks, whose columnar shapes rise up against a craggy cliff face. They are highly photogenic and are a bit like the Giant's Causeway in Ireland.
Our final stop will come at around twilight at the Skogafoss Waterfall, which is both incredibly beautiful and steeped in local legend. Its roaring cascade tumbles over a volcanic rockface into a teeming white pool below. There is a winding path on the hill next to it that offers a panoramic view over the falls and surrounding area. On our way up, we will see a couple of fascinating rock formations that local legend holds are petrified trolls who were turned to stone when they forgot about the dawn. Locals also believe that there is treasure hidden somewhere close to the cascade, although it can only be found by someone who was born at the nearby Skogar Farm and has been raised on horse milk and horsemeat, without ever hearing the name of God. Suffice to say no-one has yet fulfilled these stringent conditions, so the treasure remains there!
We will then return to Reykjavik and drop you off your Reykajvik accommodation at around 19:00.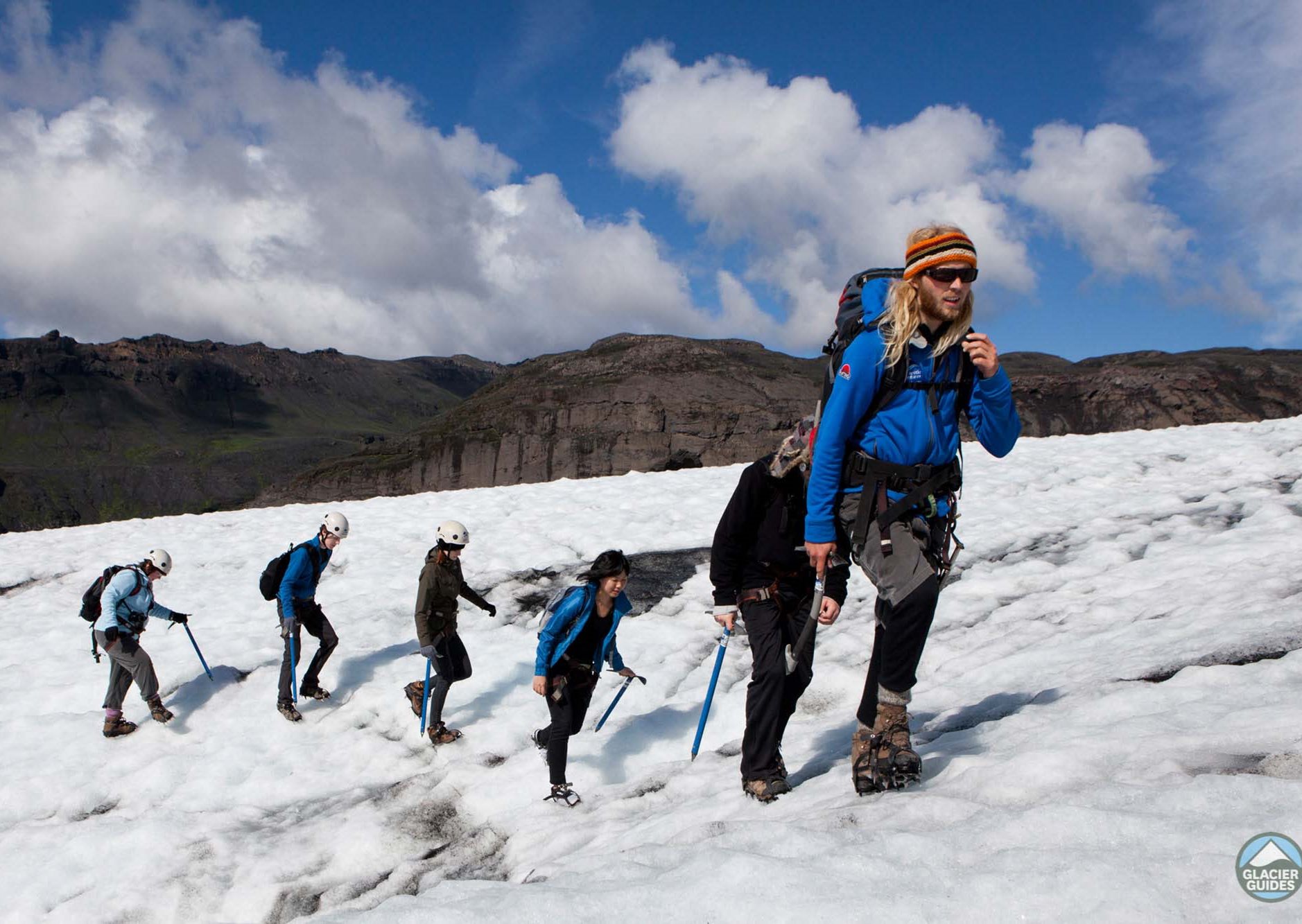 Northern Lights Tour
We will pick you up at your Reykjavik accommodation at *21:30 (9:30 p.m.) for the second part of our adventure, which will take us in search of the ethereal light show that dance across the Arctic skies during the winter months. Known as the Northern Lights or Aurora Borealis it has enchanted humans throughout the centuries and is widely considered to be the closest thing to the supernatural that it is possible to experience. The Auroras are a natural phenomenon and therefore impossible for us to guarantee that we will see them. Also, weather conditions play a massive part in us seeing this elusive miracle. However, our expert guides will take us to the locations that give us the best possible chance depending on the forecast and take us to locations that have no light pollution. We will arrive back in Reykjavik at around 00:00-01:00 depending on the conditions.
Northern Lights
There is nothing quite like seeing the Aurora Borealis dance, a heavenly light show that paints the sky with greens, purples, reds, and pinks, which dance across the sky and illuminate the surrounding area. Almost every place that experiences the Northern Lights associates them with the divine and Nordic religion is no different, believing that they are the fierce Valkyrie charging into battle in Valhalla. The experience is truly miraculous, and words cannot do it justice, but if we see them, it will inspire awe and wonder in equal measure.
* Pick up starts at either 20:30 (8:30 p.m.) or 21:30 (9:30 p.m.), depending on the season.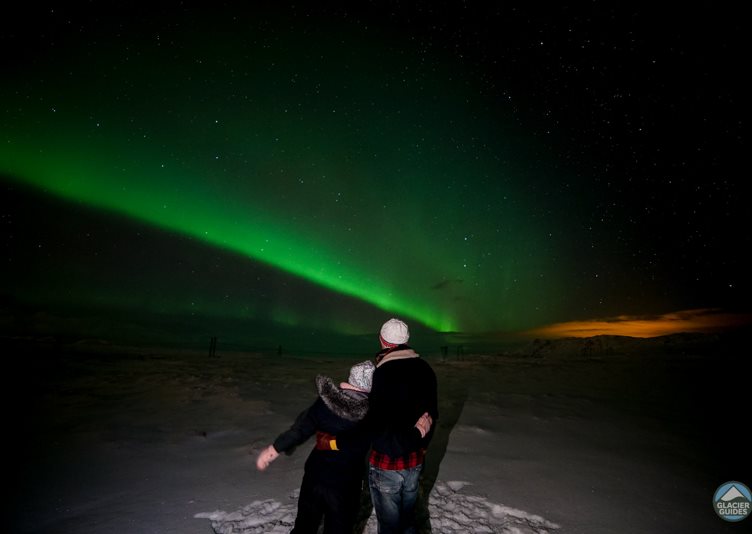 ---
Map: - click to enlarge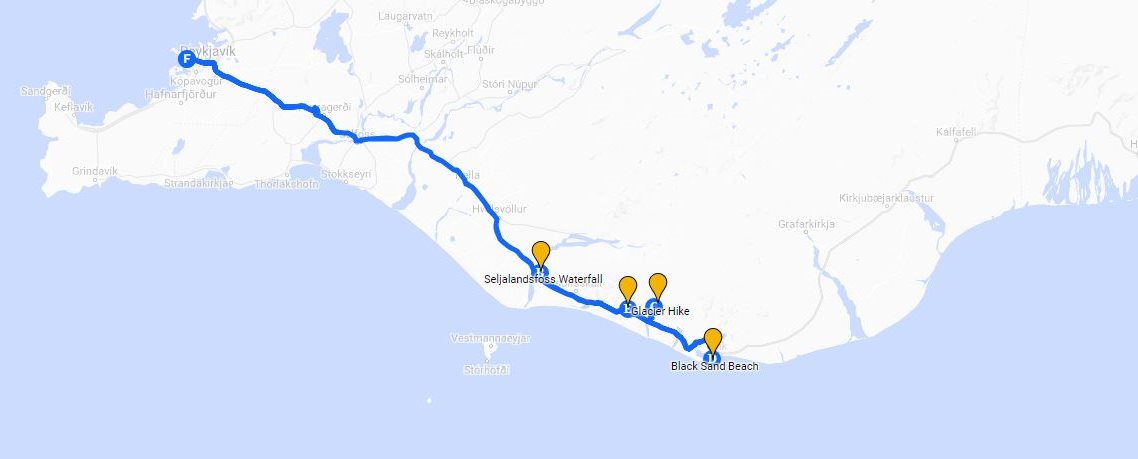 Related Tours