Ice caves are an everchanging natural phenomenon with fascinating ice formation and colors. Standing in a stunning ice cave within a great glacier you will feel you have gone right to the heart of this land of fire and ice. See the light pouring through fabulous transparent ice and the glorious vibrant blues swirling around you at the Crystal Ice Cave in the mighty Vatnajökull Glacier. All of Iceland´s ice caves are spellbinding beauties, each one is different and every one is an incredibly precious jewel of nature.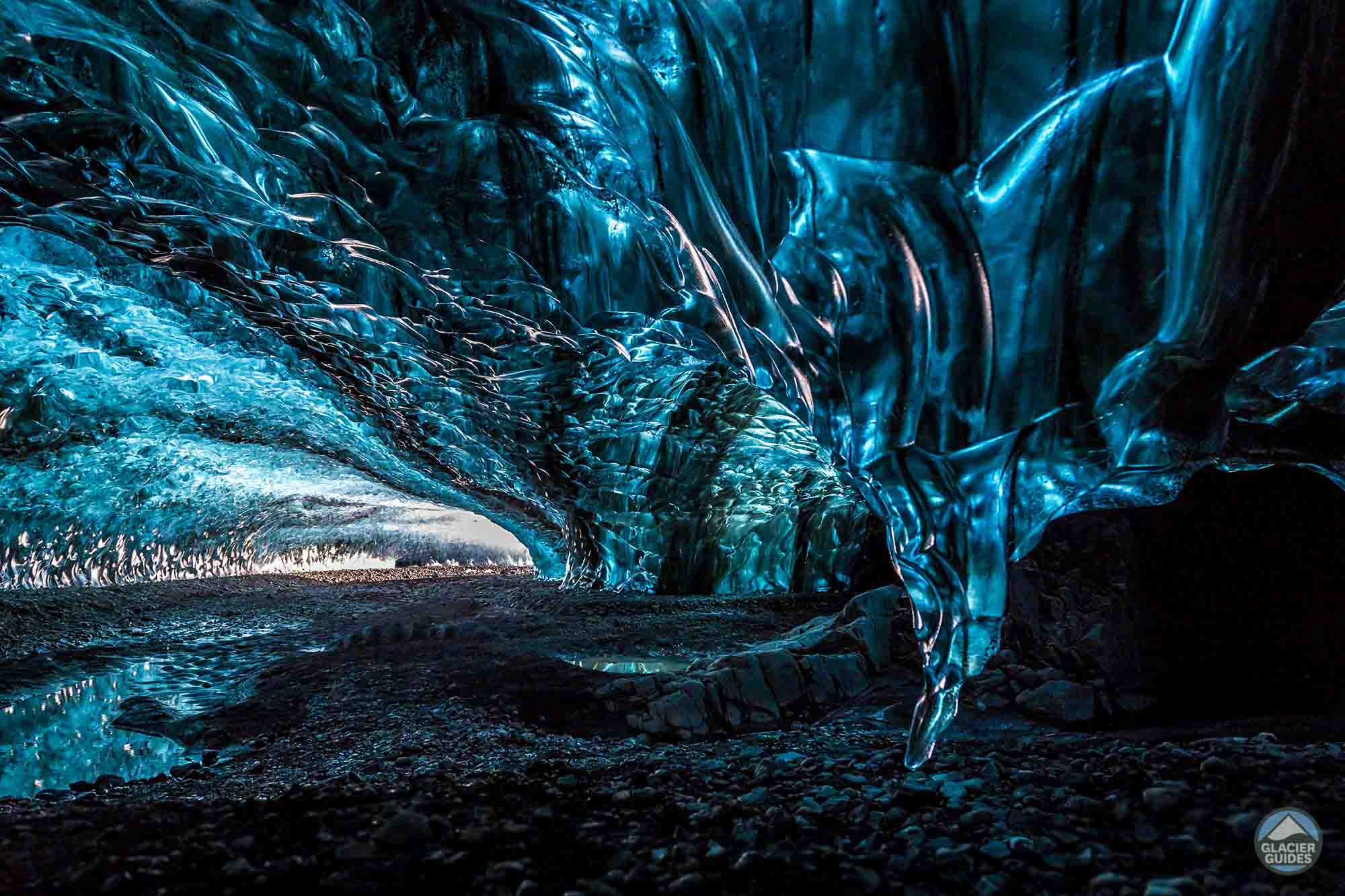 7 Fun facts about Ice Caves in Iceland
❄ Guided tours to Iceland's natural ice caves operate from November to March
❄ The Crystal Ice Cave has amazingly clear ice and blue ice
❄ Ice caves are not always blue or white, ice can be white grey and black
❄ Iceland's ice caves are formed by meltwater flows and geothermal activities
❄ You can snowmobile to a stunningly beautiful ice cave in Langjökull Glacier
❄ Ice caves change a lot, even over a few days there will be some changes
❄ Never go onto a glacier or into an ice cave without a guide - you need a knowledgeable professional to keep you safe
About ice caves
Iceland is very fortunate to have some stunning ice or glacier caves. In Iceland we always talk about ice caves, although technically these are glacier caves because they are ice caverns in glaciers, rather than regular caves with a lot of ice. There is even a branch of science, glacio-speleology, dedicated to studying these mysterious and very beautiful glacial structures fashioned entirely by the hand of nature.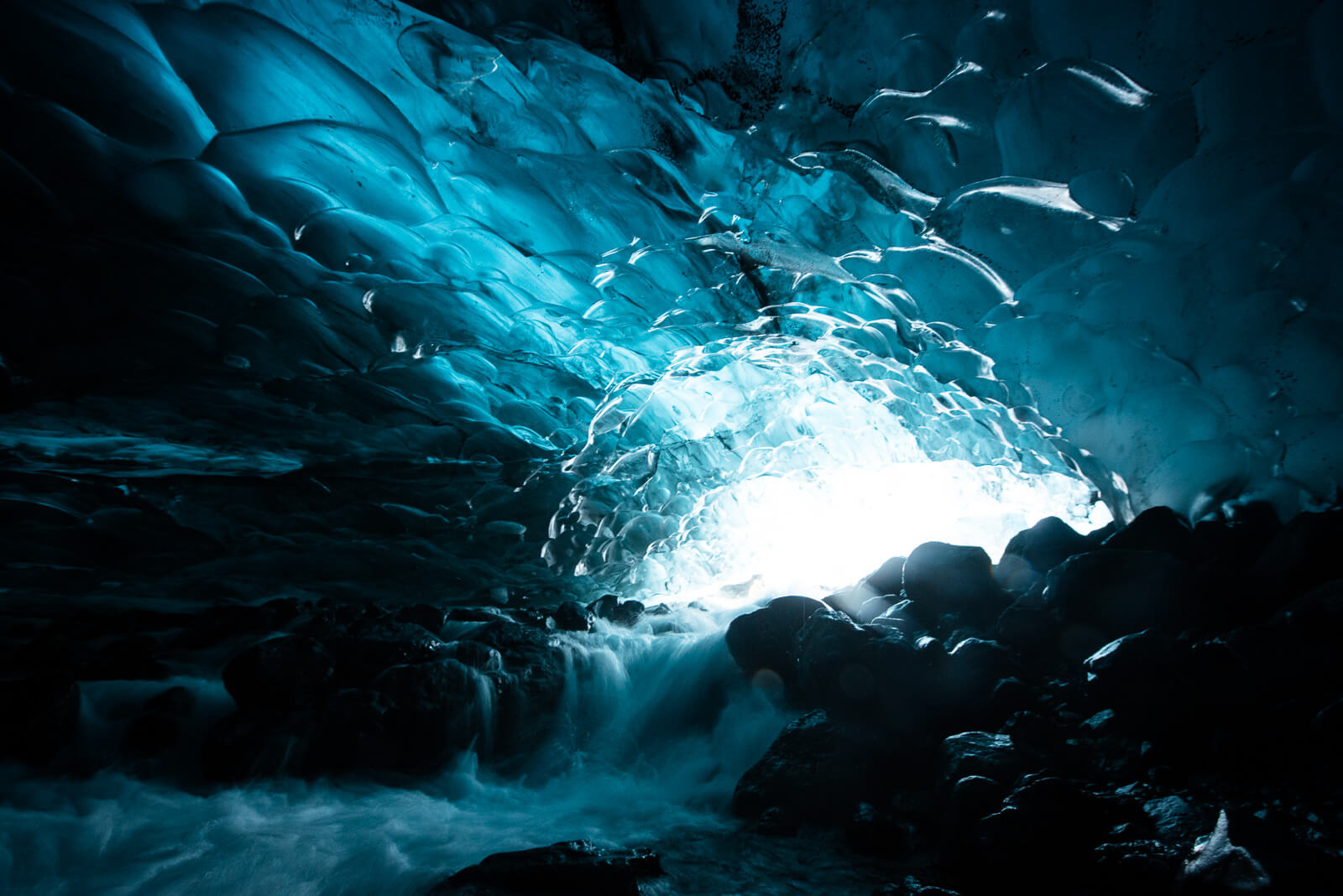 It is a surprise to quite a few people that even during the course of a single winter, there will be changes. Ice caves can alter within a short space of time, separate visits a few weeks apart will reveal new ice stalactites, stalagmites and other ice features.  
How are ice caves created?
Seasonal melt/freeze cycles have a huge influence on ice or glacier caves, warmer temperatures and increased sunlight will erode existing ice cave structures and fashion new caves. Surface meltwater generated in spring and summer drains through moulins all the way to the base of the glacier. These natural drainage conduits can be 10 meters wide, so quite powerful rivers of meltwater flow within the glacier eroding the ice, when this happens ice caves form. Lower temperatures in autumn and winter will then harden and stabilise new ice caves. In Iceland the spectacular Vatnajökull Crystal Ice Cave has formed each year in a very similar way and location.
Iceland is a volcanic island so hydrothermal activity beneath glaciers also plays a part in forming ice caves, many are created by a combination of hydrothermal heat and seasonal meltwater. These geothermal processes operate independently of seasonal cycles. An ice cave in Mount Kverkfjöll, North Iceland was formed entirely by subglacial geothermal activities. This cave is extremely difficult to access.
Ice caves in Iceland
The most famous ice cave in Iceland, the Crystal Ice Cave, is situated at Vatnajökull, the largest glacier in Europe. People travel across the world to view this particular ice cave, its photogenic brilliant jewel blue crystal ice has featured in a huge number of photos. In this cave you will see great swirls of strong jewel blue turquoise and even really deep aquamarine opening out around and above you.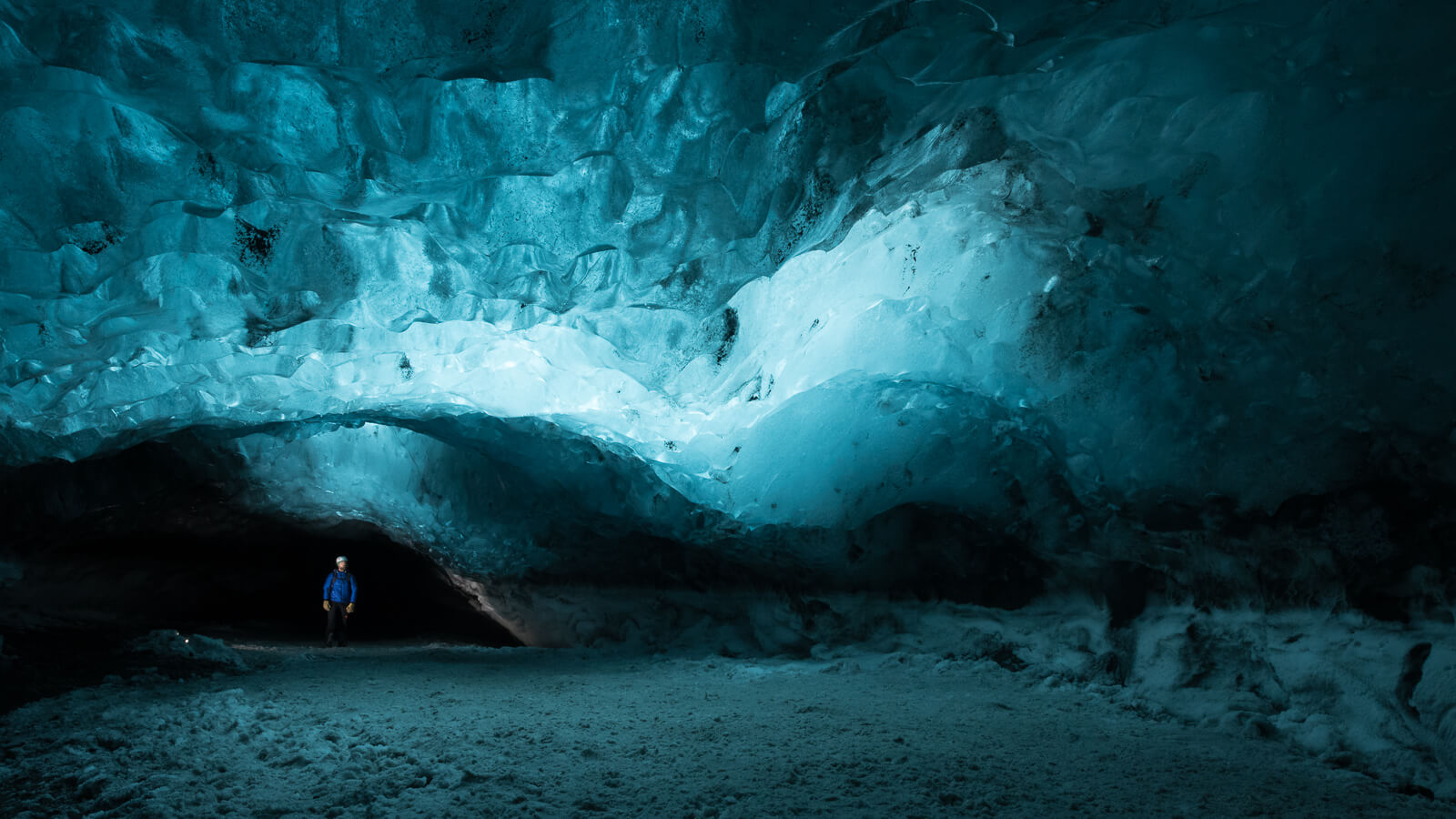 This is The Crystal Ice Cave so, of course, you will see plenty of incredibly clear quartz-like crystalline ice. A 3 hour must-do tour departs from Jökulsárlón Glacier Lagoon (read more abouth the tour: Crystal Ice Cave. Travel through magnificent glacial scenery and spend 40 minutes enjoying and photographing the cave. Touring in Iceland is a great winter experience, although driving in Iceland in the season of frost and snow can be quite challenging. The two day South Coast and Ice caving and three day Golden Circle, South Coast and Ice Caving guided tours from Reykjavík include visits to the Crystal Ice Cave and show you the amazing South Coast as well as South East Iceland.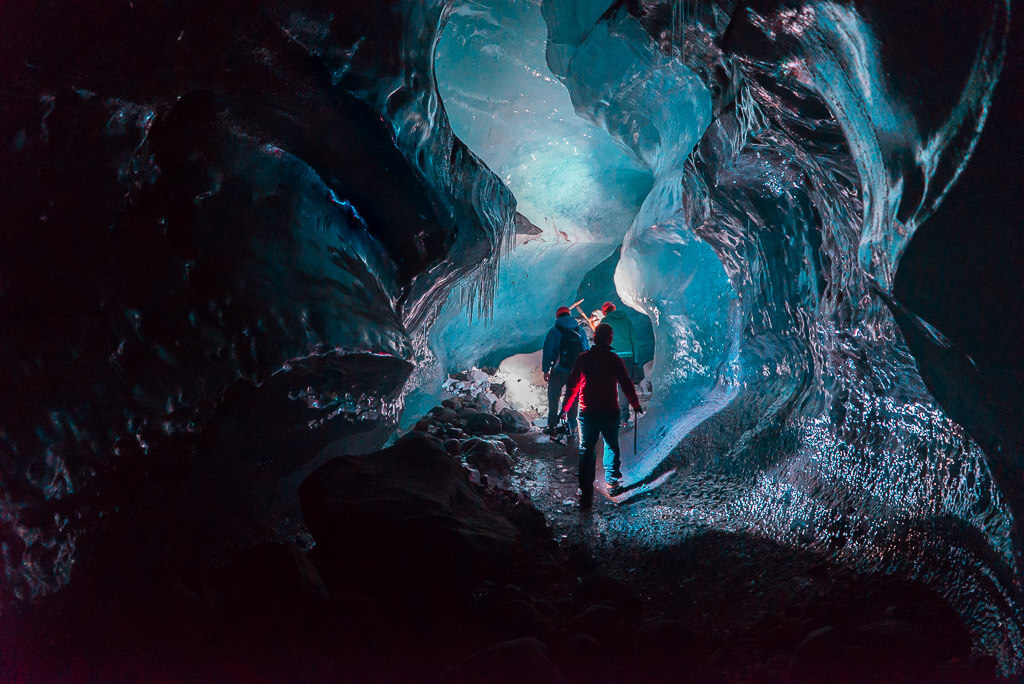 Another breathtaking ice cave in Vatnajökull can be reached by a 20 minute glacier hike. This cave also displays stunning fairly light blue ice, there is more than one entrance to this beautiful ice cave, so a few people have described this natural wonder as an ice tunnel! Pale blue ice contrasting with some darker, anthracite gray and light ice makes this a really dramatic cave to explore. If you want to hike on a glacier and visit an ice cave the Into the Glacier Tour from Skaftafell is for you - this 3 hour tour will give you an hour of ice magic glacier hiking and exploring a natural Vatnajökull ice cave.
Unusual ice caves in Iceland
This year the Langjökull Ice Cave, the second largest glacier in Iceland with incredible colors and patterns. A very deep blue 'ice river' traces its way across the roof, this is framed by white ice which is layered with zebra like gray stripes from the ash deposits of volcanic eruptions.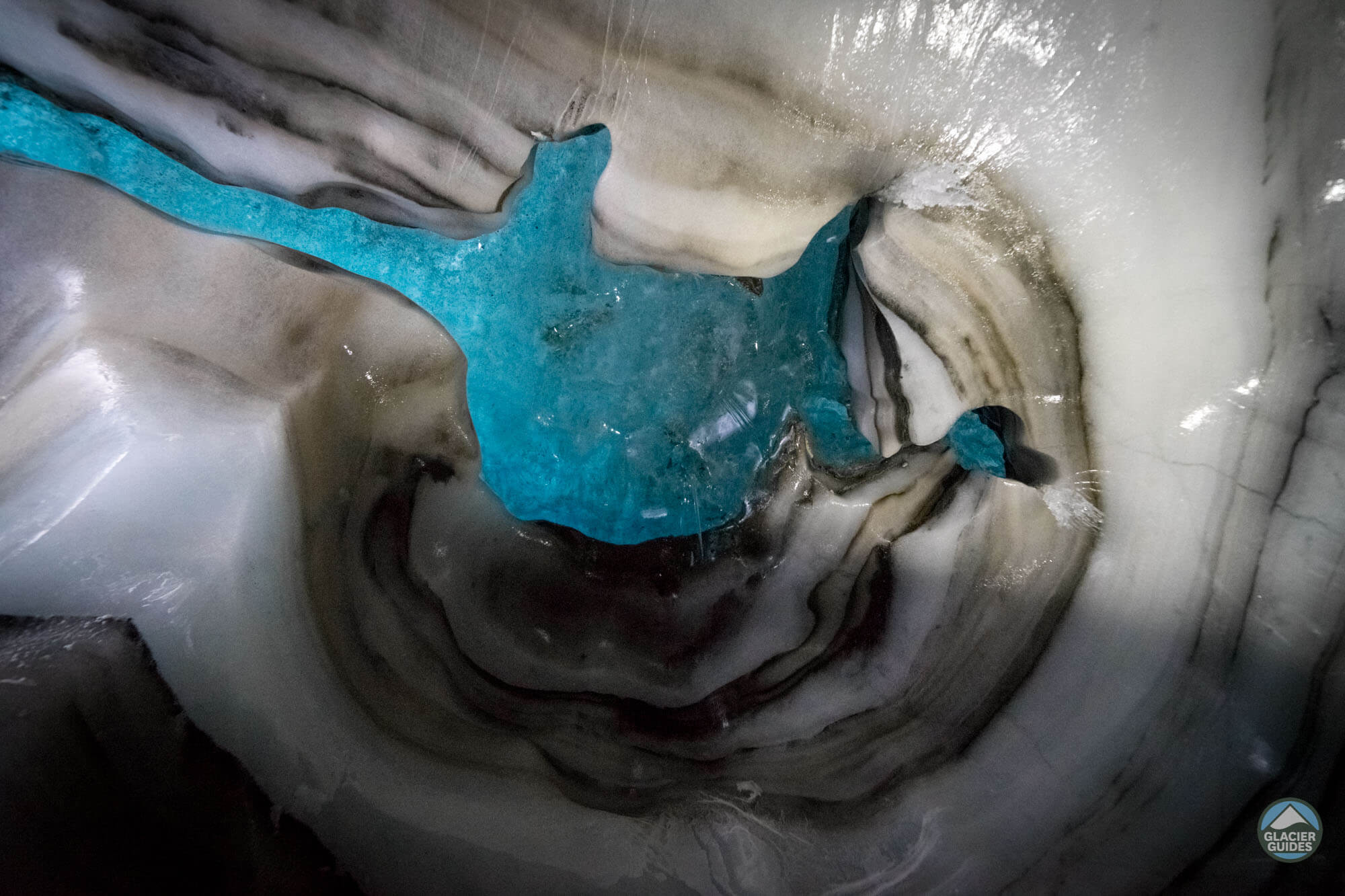 The Dark Rubin is another Vatnajökull ice cave which is comprised of black ice, so it is totally dark. Another dark ice cave is situated in Mýrdalsjökull, near the notorious Katla Volcano. In a way, all ice caves are unusual because each one is a unique wonder of nature.
Lofthellir Lava Cave
The Lofthellir Lava Cave in North Iceland is a lava tube cave in North East Iceland, close to Lake Mývatn. Although, not an ice cave in a glacier, this lava tube is famous for its magnificent natural ice sculptures which are the most sensational in Iceland.
Why is the ice blue?
The weight of the glacier has compressed the ice over many, many centuries, pushing the air bubbles out. When this happens the ice crystals become larger and very beautiful blue ice is formed, this can resemble deep blue quartz crystal, with the penetrating through, remarkably deep jewel blues and turquoise can show up. Very beautiful blue ice can also be opaque. Algae within the ice will deepen the colors and occasionally produce aquamarine or blue/violet hues. Glacier caves are not solely white and blue, grey, deep anthracite and black ice can appear.
Ice cave safety
Glacier Guides have years of experience and are trained to thoroughly assess the safety of ice caves, if a cave was unsafe you would not be taken into it. In Iceland tours to natural ice caves are operated from November to March when temperatures have been low for long enough to make them stable and safe. The Man-made ice cave on Langjökull Glacier is the only ice cave which is open all year.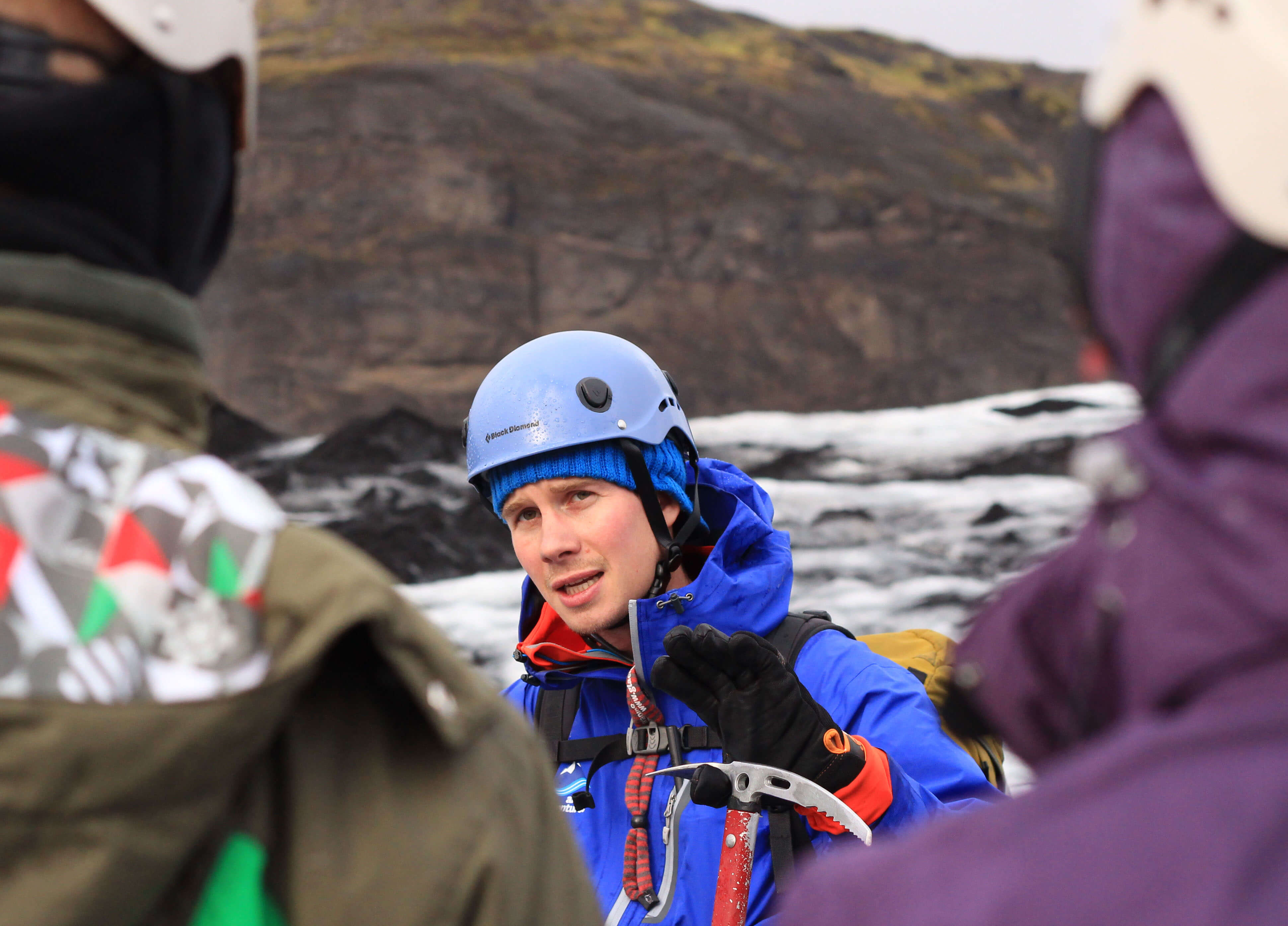 Glacier safety gear includes harness, crampons, ice axe and helmet. Also, no one should venture onto the glacier without a glacier guide or necessary glacier gear in any circumstances, specialist glacier knowledge is required to safely explore the ice. The golden rule is: always go on the glacier with a guide!
Driving in Iceland
Let´s talk about winter! You need to be experienced at driving roads with snow and ice and comfortable with it. In the darkest times of the year, you will usually be beginning and ending your journey in the dark. Great for spotting the northern lights but not so good on remote country roads. Driving when snowing can really obscure your visibility, fog can also descend at times. Icy roads or wet roads can be very slippery. Very strong winter winds, particularly around the mountains are common too. Always check the road conditions and travel alerts with www.safetravel.is and www.vegagerdin.is, follow weather forecasts at www.vedur.is and keep checking these sites because the conditions change often in Iceland. Always heed weather warnings they exist for very good reasons!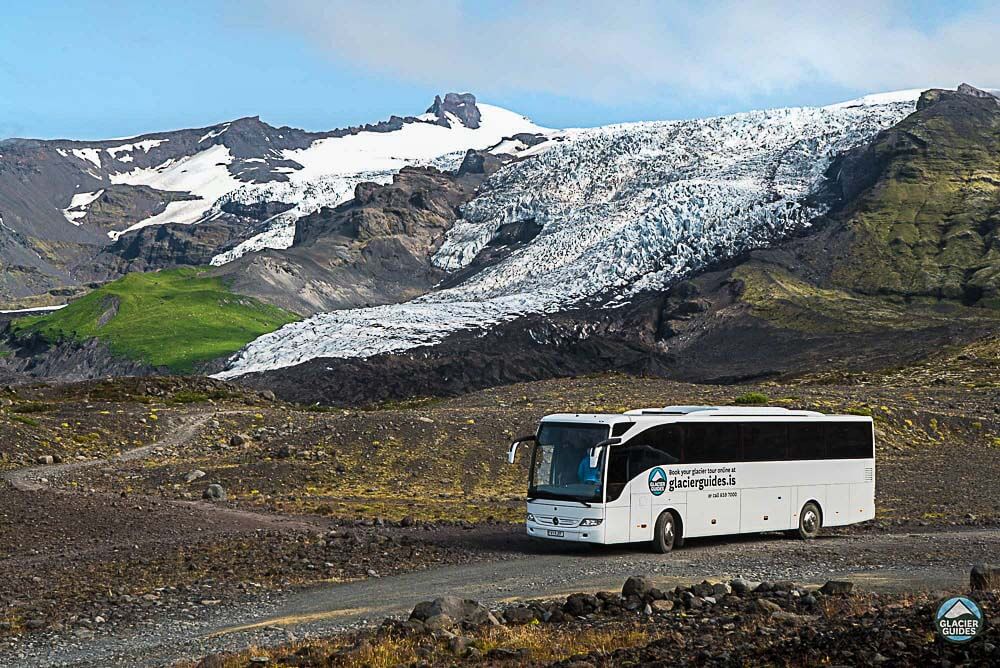 Self-driving to a meet on location ice cave tour at Skaftafell or Jökulsárlon needs careful planning with plenty of extra time allowed. The best plan is to stay in the Skaftafell/Jökulsárlón area the night before your dream tour. Doing the Crystal Ice Cave tour from Jökulsárlón, or the Into the Glacier tour from Skaftafell as a self-drive day trip from Reykjavík is not the best option. Only ever attempt it in good conditions, with a good weather forecast and no travel alerts in the areas you will be passing through. Even so, allow lots of extra time, in the best conditions it takes 4 hours to get to Skaftafell, 319 km and around 4 hrs and 35 mins to get to Jökulsárlón. These driving times do not factor in any stops. It is best to plan an overnight stay if you possibly can.
Ice caves around the world
The Arctic has many glaciers and, thus, quite a few ice caves: Svalbard, Northern Norway; the Jostedal ice cave at the Jostedal Glacier, Norway; Mount Titlis, Engelberg, Switzerland; and the Mendenhall Ice Caves at Juneau, Alaska are a few well-known caves.
Disappearing ice caves
Glaciers are retreating, in many places at a fast rate. Some of the well-known ice caves in the Perito Moreno Glacier, Los Glaciares National Park, Argentina are now partly submerged, all of these caves have eroded at an incredibly fast rate.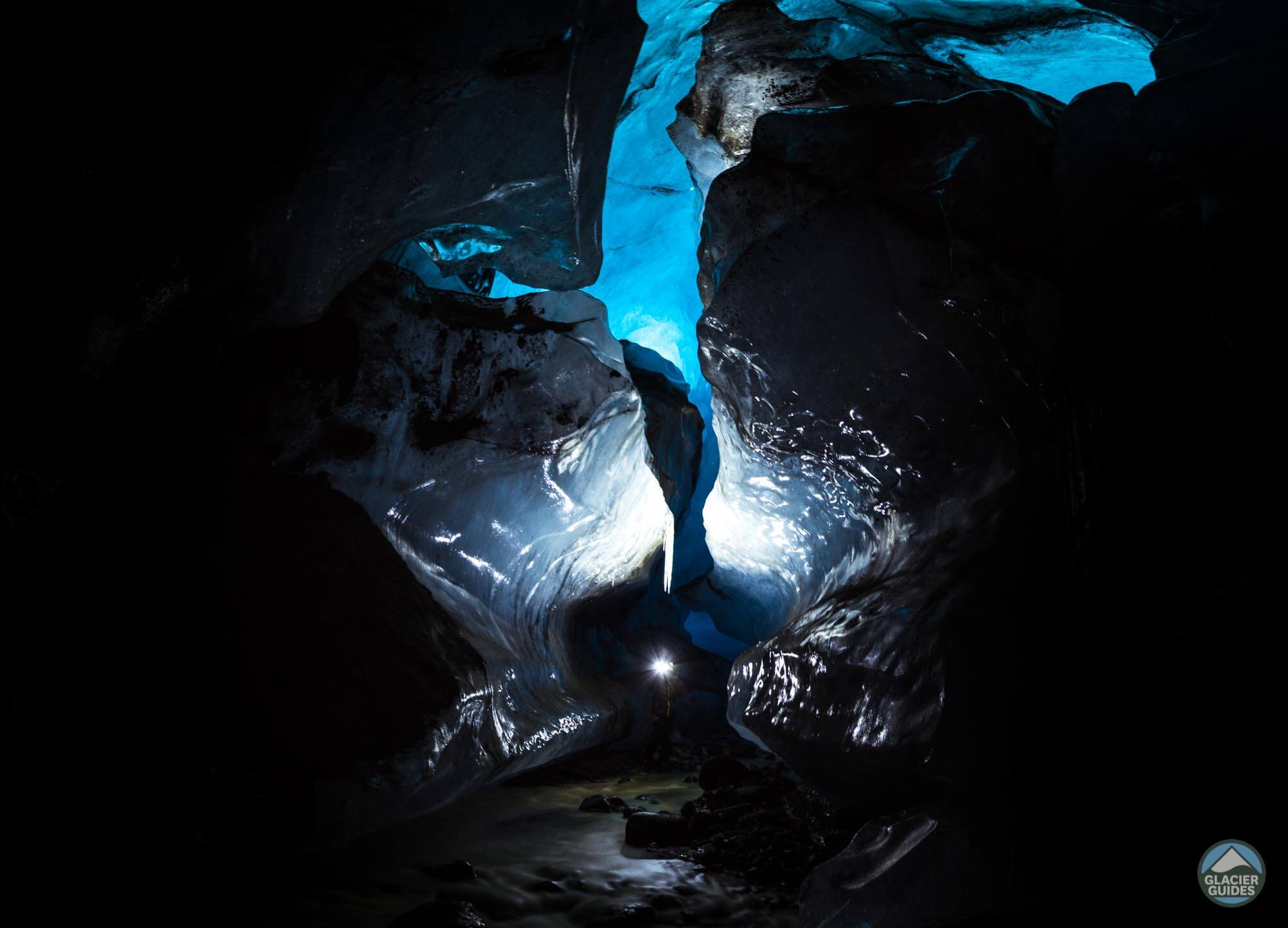 The Paradise Ice Caves on Mount Rainier in the United States were eroded by glacier retreat around 20 years ago. Previously this network of ice passageways had stretched out more than 13 kilometres. The Big Four Ice Caves, Big Four Mountain in Washington State have degraded to the point that they are now too dangerous to visit. It is still possible to hike the Big Four Ice Caves trail through the Mount Baker-Snoqualmie National Forest but going into the ice caves is strictly forbidden.