This is a winter tour only! Join us for this amazing experience, where you get the chance to walk on a glacier and explore a natural ice cave in the Vatnajökull region!
Pick-up: Multiple departures everyday
Available: November - March
Age limit: 10 years (must fit EUR size 35 to fit hiking crampons)
Tour Highlights:
Natural ice cave
Short glacier hike
Vatnajokull National Park
Skaftafell Nature Reserve
Certified Glacier Guide
Note: This tour will be available from November 2018.
If you are looking for an all year Ice Cave tour in the area then we highly recommend our Katla Ice cave tour from Vík, read more about it here:
Natural Ice Cave in Myrdalsjokull Glacier by Katla Volcano
Also, have a look at other glacier tours in Skaftafell:
Meeting point: Glacier Guides booking house in Skaftafell, located next to the Vatnajokull/Skaftafell Visitor Center (see map below). 
Duration: Approximately 3 hours (1-1,5 hours on ice). We spend about 15-20 minutes in the ice cave.
Included: Guided glacier hiking & ice cave tour with a certified Glacier Guide and all necessary safety equipment for the glacier.
Provided glacier gear: All necessary glacier gear will be provided by us. This includes crampons, helmet, ice axe and harness.
Bring with you: Warm outdoor clothing, waterproof jacket & pants, sturdy hiking boots, head-wear and gloves.
Note that you can rent hiking boots, waterproof jacket and waterproof pants in the booking process.
Tour Description
Natural Ice Caves are only found during the wintertime when the glacial rivers retract and the water freezes. New caves are formed in different locations each year. This tour is highly dependent on conditions (including temperature, safety and accessibility). Ice-caves must be treated with the utmost respect in regards to the ceiling being supportive along with other factors. Being inside an Ice Cave provides visitors with unparalleled photographic opportunities while capturing the blue light passing through the glacier ice.
This tour departs from the Glacier Guides booking house in Skaftafell. It's a perfect tour for those looking for a shorter but stunning guided glacier walk with a visit to an Ice cave on the way, a fantastic all-around experience. The Falljökull glacier tongue is quite unique in that it offers everything glaciers are best known for without the need to travel great distances. The cave is selected based on conditions, hiking route, and safety each time. This tour is suitable for the whole family and everyone with a basic fitness level.
Our buses leave from Skaftafell several times a day for the scenic 15-minute drive to Falljökull glacier. We embark on a short glacier walk and visit a natural ice cave. This cave is selected based on conditions and safety. We spend about 15-20 minutes inside the mesmerizing ice tunnel, allowing us time to take pictures and admire this natural wonder. The benefit of joining on this tour is that you get a more exclusive ice cave experience since Glacier Guides is the only operator going to this cave. A natural ice cave is definitely a must-see for anyone looking for a unique experience in Iceland!


If you are looking for a more extensive glacier hike in this area then the Glacier Explorer might be more suited for you.
We have several multi-day tours including transportation from Reykjavik and a glacier ice cave adventure. For example, our two day South Coast, Ice Cave and Jokulsarlon tour and three day Golden Circle, Ice Cave and South Coast Highlights tour.
Tours from Reykjavik (click here)...
Recommended equipment list (click here)...
Waterproof jacket and pants (We do have rental clothing available)
Hiking boots (Available for rent, 1000 isk. We advise against runners or any type of shoe that comes up below the ankle bone as the straps on the crampons can get a bit painful during the walk)(Climbing boots are included on the ice climbing tour)
Light sweater, wool or fleece
Light synthetic or quick dry pants (Try and stay clear of jeans on the longer trips as they get wet & cold quick and dry slow)
Thin Gloves
Hat
Small Backpack (Can be handy to carry camera, rain gear and all extras)
Sunglasses and sun protection (It can get quite bright on the ice with the reflection)
Food and drinks (Lunch is not provided on any of our trips. June - September there is plenty of fresh water on the glacier so bring a bottle)
Camera (If you forget everything else don´t forget that)
---
Map: - click to enlarge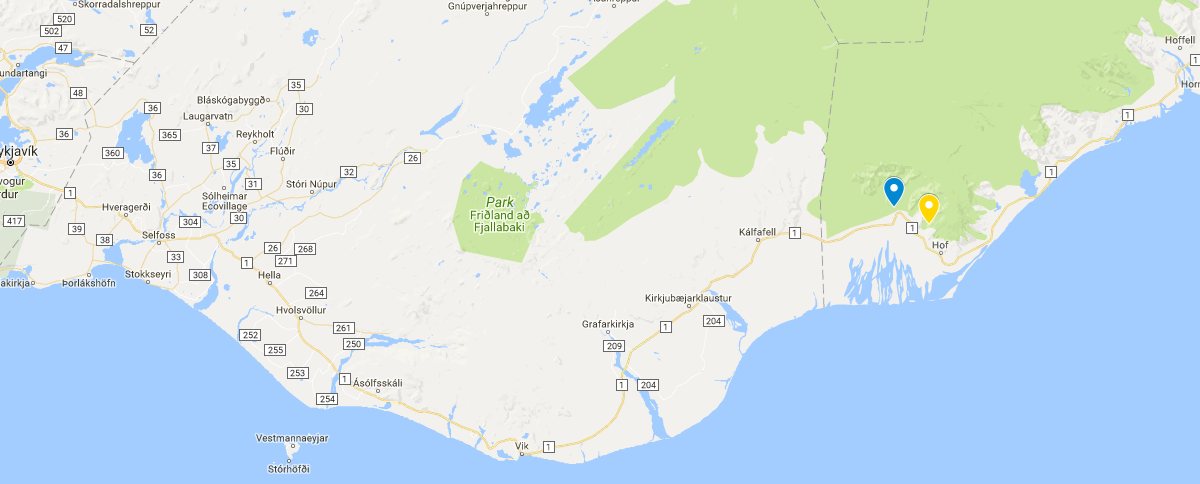 ---
Disclaimer: This tour is operated by Glacier Guides. All our tours are undertaken on the responsibility of its participants. We do not assume any responsibility for accidents that are caused by its customers or can be traced to their own actions. Participants have to sign a waiver before undertaking all trips stating that they realize that all outdoor activities carry an inherent risk.
---