Svartifoss is one of the most incredible and glorious waterfalls in Iceland - its name literally means 'the Black Waterfall'. The narrow and extremely elegant cascade drops 20 m (65 ft) from a crescent-shaped cliff, composed of magnificent hexagonal black basalt columns.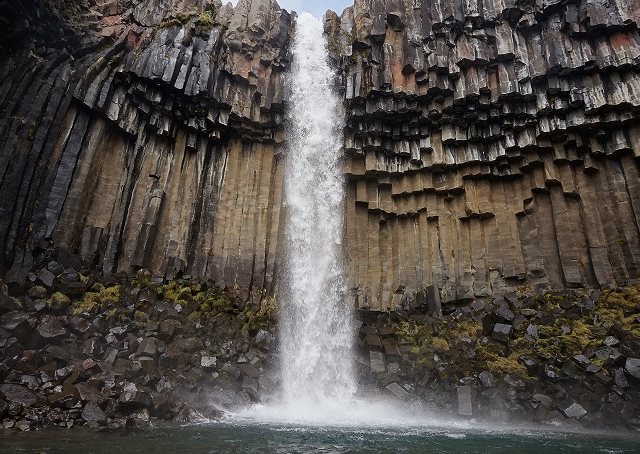 Watching shimmering white water tumbling over the coal black basalt, as it descends into the calm pool is crazily beautiful. The horseshoe of basalt columns form a majestic 'frame', the way some columns ´hang´ out in space makes it even more stunning. Many people have likened Svartifoss to the pipes of a giant church organ, it is not hard to see the resemblance!     
This type of hexagonal columnar structures can be seen in a few other places in Iceland, the cave at Reynisfjara black beach is the most famous - around the globe they occur very rarely.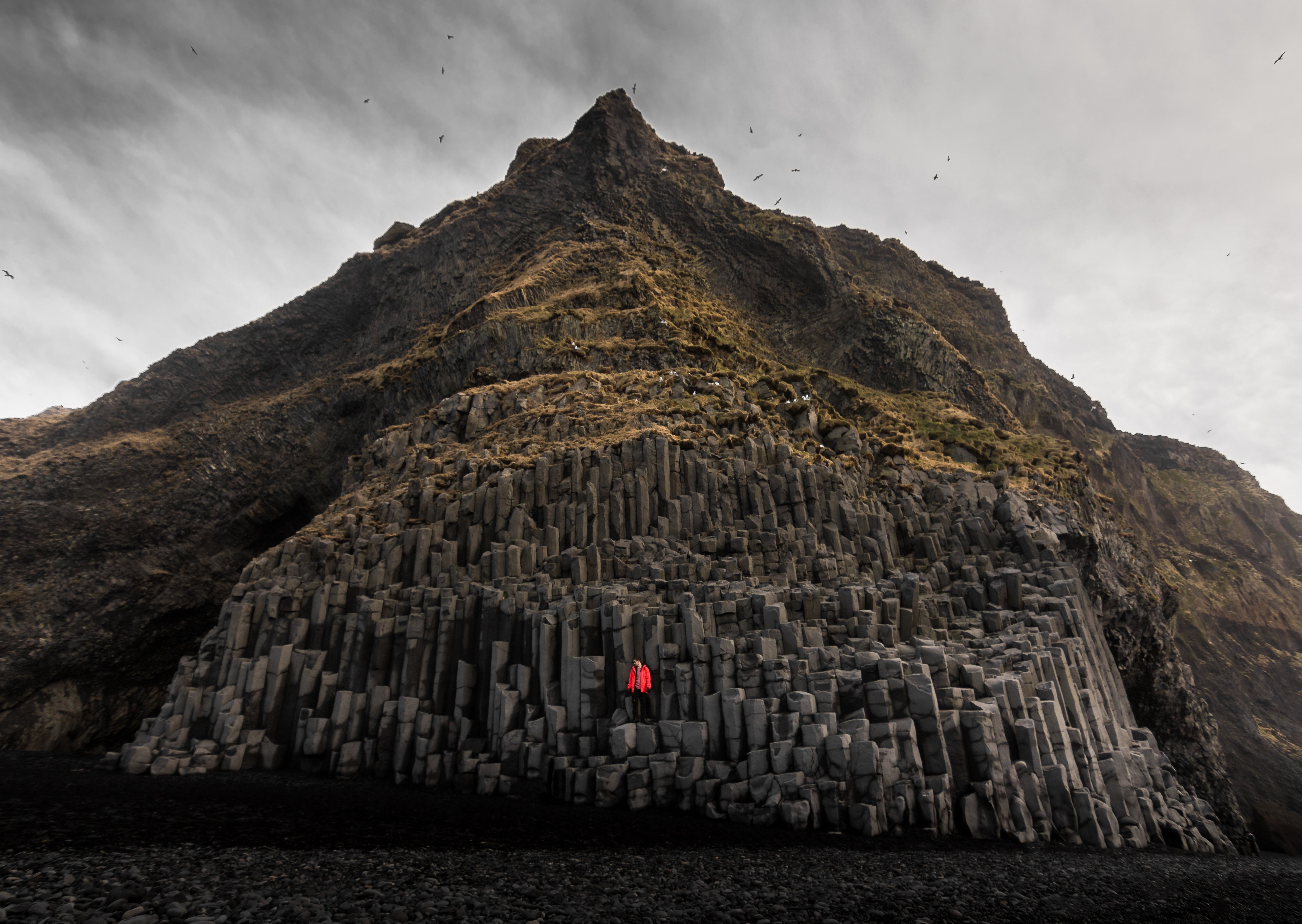 Stórilækur flowing from Vatnjökull glacier, not far the mountain peaks of Kristínartindar, feeds Svartifoss. The waterfall is in a lush green area where birch and rowan trees grow well, the dramatic mountains and glacial landscapes of Vatnajökull National Park surround the area. Wildlife is plentiful with Arctic foxes, mice, mink, ravens and other birds having their habitats nearby. Svartifoss and Skaftafell are quite sheltered and get less snowfall in winter.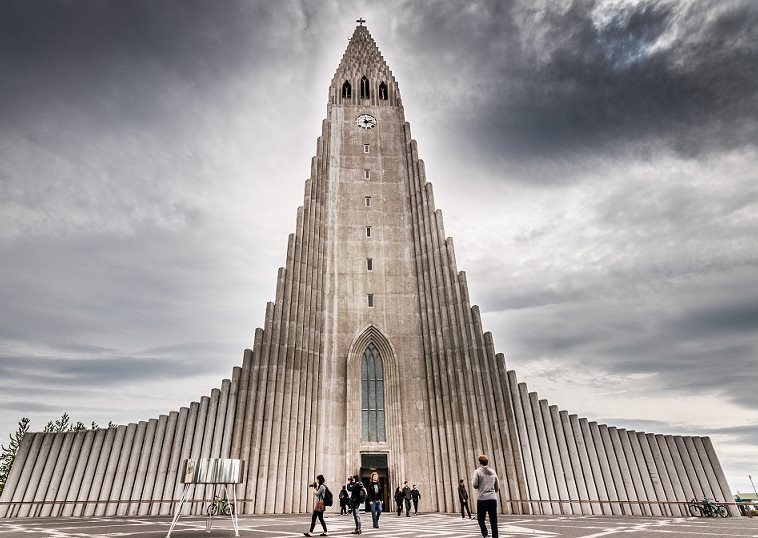 The dramatic shape of Svartifoss is reflected in the design of Hallgrímskirkja, the towering white church at Skólavörðuholt in Reykjavík. The influence of this lovely waterfall also shows up in the Art Deco ceiling of the Icelandic National Theatre on Hverfisgata. Both buildings were designed by the State Architect, Guðjón Samúelsson, clearly he was deeply touched by the Svartifoss magic!   
Hiking to Svartifoss Waterfall from Skaftafell
The marked trail from Skaftafell Visitor Centre to Svartifoss is an easy 5.5 km (3.4 mi) circular walk. You head out through the camping ground then follow the pathway uphill which will bring you to a viewing point above the waterfall. You then drop down into the ravine and ascend the basalt column steps on the other side of the ravine.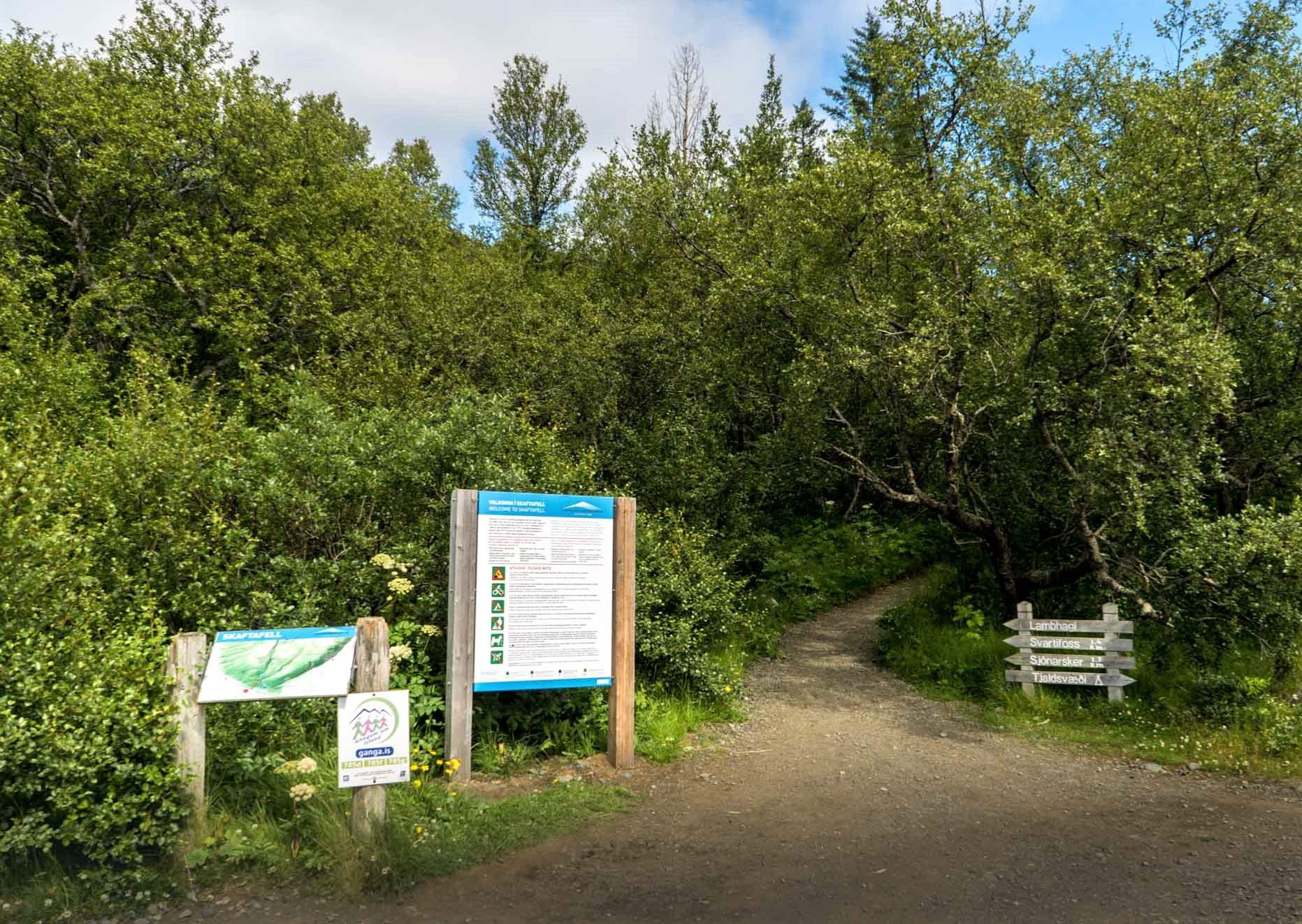 The trail then takes you to the viewing point and dial at Sjónarsker - you will know exactly which direction you are pointing in! On your way back you will see the old turf house at Sel before walking through Lambhagi. Icelanders have lived in turf houses since settlement times, making good use of local materials. You not only get to see Svartifoss, along the way you will get magnificent views and photo opportunities.         
Those who want to can do a challenging and far longer Svartifoss hike - 16.7 km (10.4 mi). This trail goes across Skaftafellsheiði to the foot of Kristínartindar mountain peaks between the Skaftafellsjökull and Morsárjökull glaciers - mind-blowing!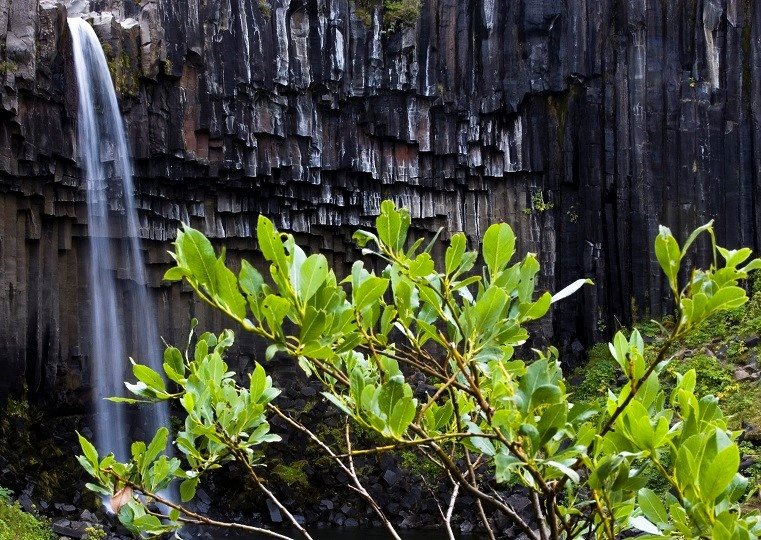 Where is Svartifoss Waterfall located?
Svartifoss is located a short hike from Skaftafell Visitor Centre at Skaftafell National Park in the south east of Iceland. Skaftafell is now part of Vatnajökull National Park, a huge preserved wilderness area which encompasses Vatnajökull, the largest glacier in Europe. Skaftafell Visitor Centre is 319 km (198 mi) from Reykjavík.  
What to do around Skaftafell
There are plenty of interesting places and activities around Skaftafell. It is really easy to plan other hikes or exciting glacier adventures around your hike to Svartifoss.
Some great trails begin at Skaftafell Visitor Centre:
Skaftafellsjökull - an easy 3.7 km (2.3 mi) hike with impressive views of Skaftafellsjökull glacier.

Sjónarnípa - this 6.4 km (4 mi) hike includes some challenging sections.

Svartifoss and Sjónarnípa - a 7.4 km (4.6 mi) hike with some challenging sections.

Bæjarstaðarskógur - a challenging 15.8 km (9.8 mi) circular hike through sensational ravines and the beautiful birch woods at Bæjarstaðarskógur. Not fully way-marked.

Kristínartindar - a difficult 17.9 km (11.12 mi) circular hike to the top of the Kristínartindar ridge. This trail is usually closed from spring through June due to thawing ice.

Morsárjökull - a challenging 20.9 km (13 mi) hike to the glacial lake at the Morsárjökull glacier.

Kjós - a challenging 29.8 km (18 mi)  hike - the part of the trail which leads up from the birch forests at Bærjarstaðarskógur is not well-defined.

Full details of these trails and a map are available at Skaftafell Visitor Centre. The staff can give you tips on the local conditions, this is particularly important in winter time.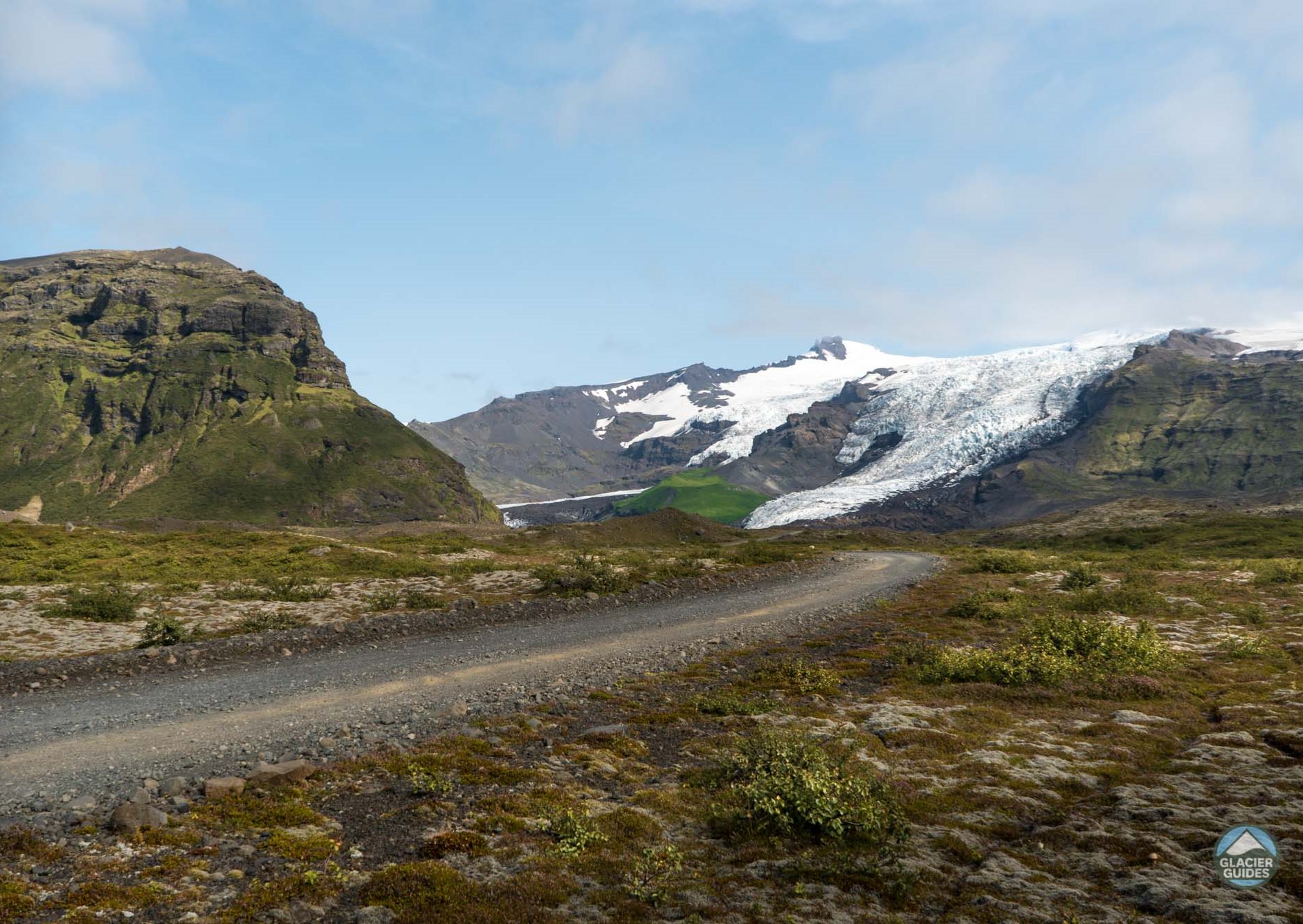 Skaftafell is in the heart of the glaciers, not surprisingly it is a hub for exhilarating glacier tours and activities. These are our really popular day tours: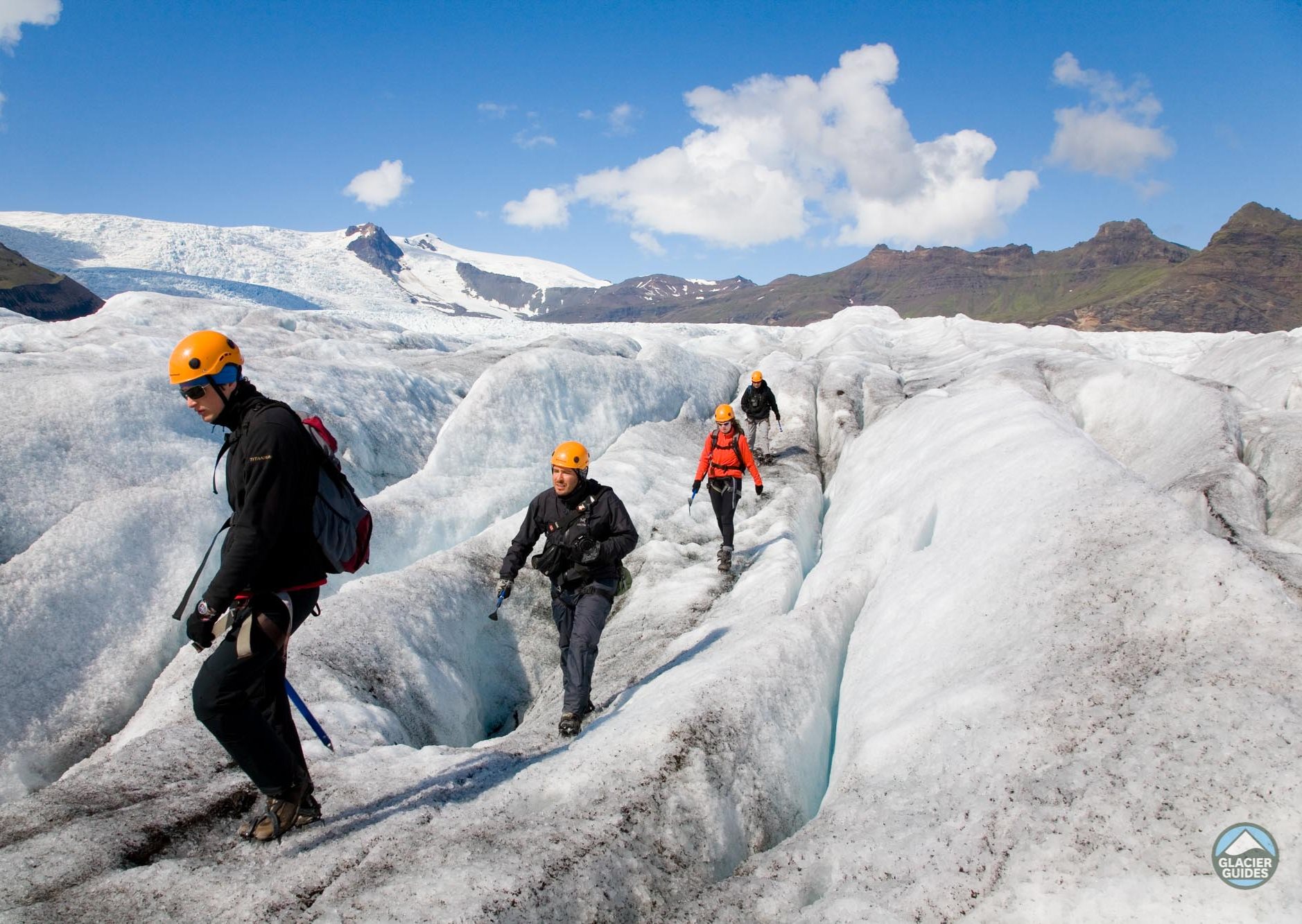 Other places of interest
Whether you are circling the Ring Road, or just exploring the south and east of Iceland, Svartifoss is conveniently located for many other attractions, activities and magical places. Jökulsárlón Glacier Lagoon is just 56.3 km (35 mi) and Höfn is 136 km (84.5 mi) to the east, Egilsstaðir is located 313 km (194.5 mi) east of Skaftafell. Skógafoss Waterfall is 173 km (107.5 mi) to the south of Skaftafell.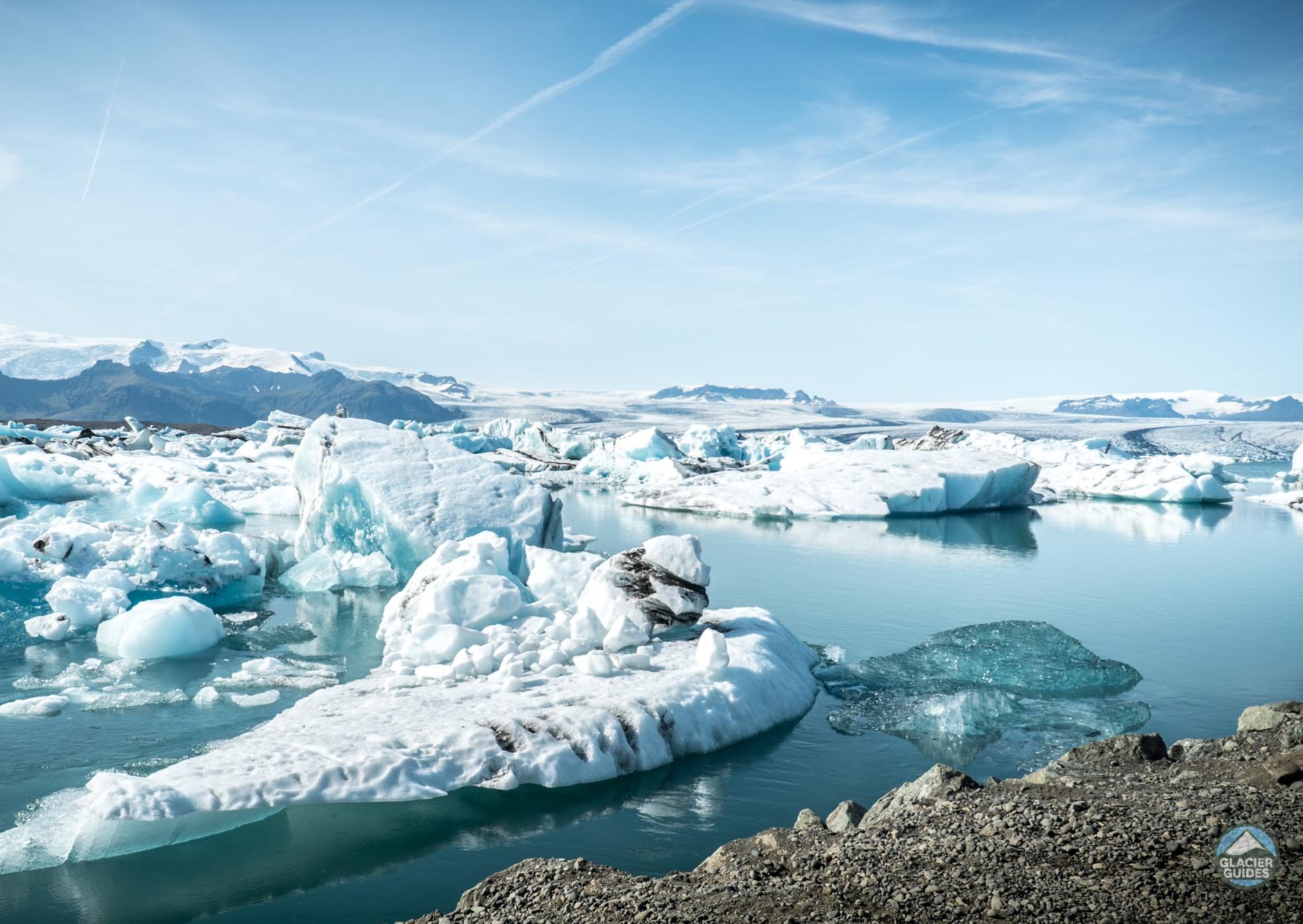 My tip is to visit the Reynisfjara black beach and two legendary south coast waterfalls, Skógafoss and Seljalandsfoss then stay the night close to Skaftafell. Spend a whole day around Svartifoss and Skaftafell and enjoy a glacier hike, stay another night in the Vatnajökull area then continue to Jökulsárlón - sheer magic!
Svartifoss and Skaftafell in a day from Reykjavík is also fabulous!