Great for those passing by Skaftafell National Park looking for a stunning glacier adventure. The glacier hike takes place on outlet glaciers from Vatnajokull, Europe's largest glacier. Svinafellsjokull and Falljokull glacier tongues are quite unique in that they offer everything glaciers are best known for without the need to travel over great distances.
Pick-up: At Glacier Guides office, Skaftafell
Group maximum: 15 participants per guide
Tour Highlights:
Small group guarantee
Vatnajokull Glacier, Europe's largest glacier
Falljökull Glacier
Guided glacier walk
Certified Glacier Guide
Meeting point: At the Glacier Guides ticket office in Skaftafell, click here to see a map.
Shoe size: Please note that children must have at least a size EUR 35 to partake in the glacier hike. This is because our crampons (necessary for the glacier hike) do not fit smaller shoe sizes.
Included: A short glacier hike on Falljökull Glacier, a certified glacier guide and specialized glacier gear.
Bring with you: Warm clothes and good hiking boots with ankle support. See our recommended equipment list here below.
---
Note: For all of our glacier tours Glacier Guides will provide guests with crampons for walking on the ice, helmets and ice axes. Waterproof clothing and hiking boots are available for rent. In Skaftafell we do have many of the items below for sale in our booking center.
---
Tour Description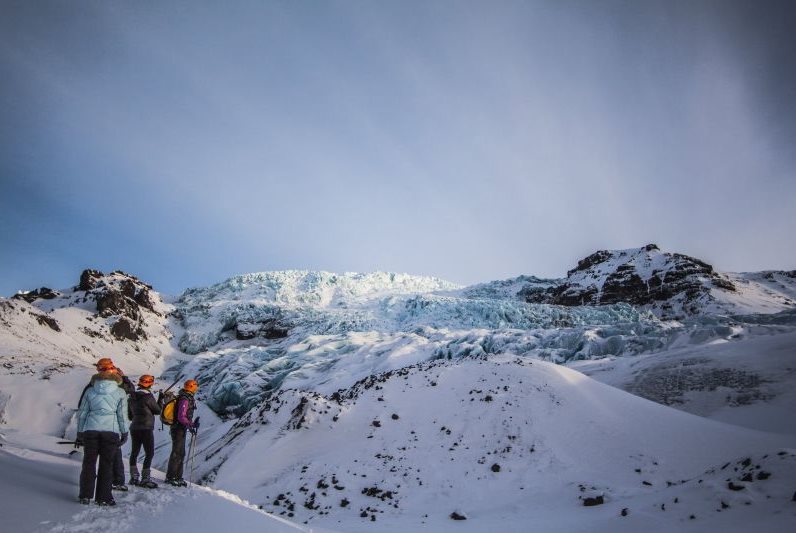 For those looking for a shorter but stunning guided walk, this is a fantastic introduction to the unique world of glaciers. Our travels take us to Vatnajokull, Europe's largest glacier in volume, where we will take a walk on its incredible outlet glacier, Falljokull or the Falling Glacier in English.
Falljökull Glacier
Falljokull is a stunning glacier outlet (also called glacier tongue) of Vatnajokull Glacier. Falljökull glacier tongue is quite unique in that it offers everything glaciers are best known for without the need to travel great distances. Crevasses, Jökladrýli (Dirt cones), glacier mice and Moulins are some of the amazing features that we explore on our adventure. Experience the glacier wonderland with its unique ice formations and ice sculptures as we make our way through the labyrinth of ice.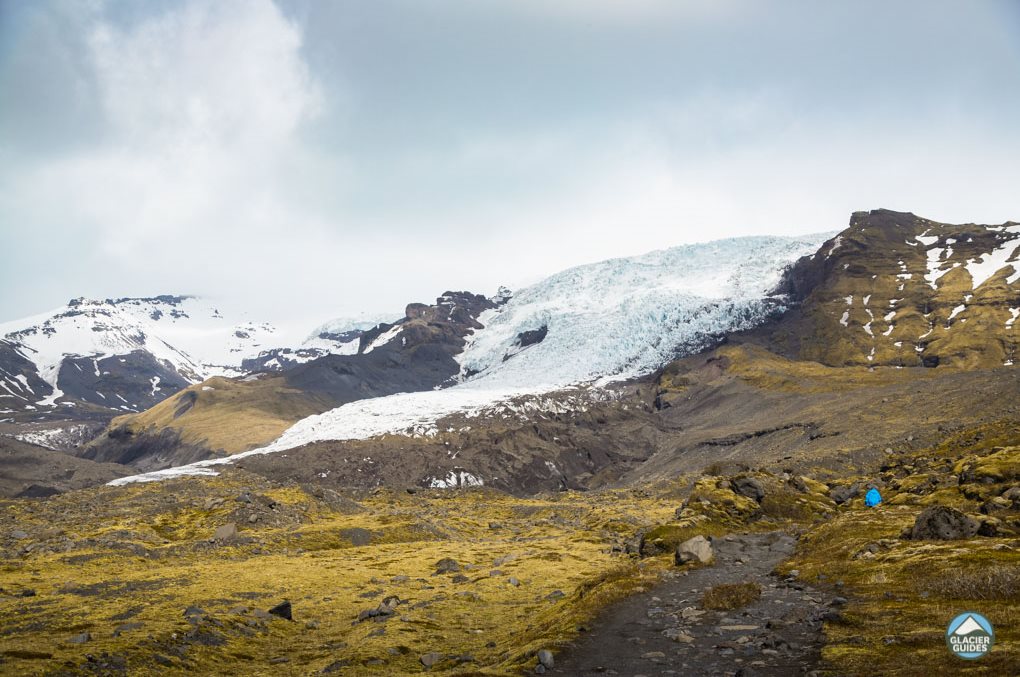 We start our walk along the bottom of the glacier-carved valley where your guide will explain the unique features left by the retreating Falljökull and Virkisjökull glaciers and their surroundings. As we arrive at the edge of the Falljökull glacier, your guide will assist you with crampons and give a short lesson on the use of the equipment provided and safety talk. We explore the lower part of the glacier with many photo and Q&A opportunities along the way to our vantage point surrounded by breathtaking landscape. The Glacier Wonders trip will allow on average 1 hour on the glacier.
The choice of outlet glacier which our hike takes place on depends on the weather and season. The alternative, but equally amazing outlet glacier, is Svínafellsjökull. It's known as Vatnajokulls's most famous glacier tongue as it has been used as a shooting location for numerous films & tv shows including Games of Thrones and Interstellar. It's glacier features are fascinating and very unique. 
This tour is suitable for families, friends, individuals, student groups and anyone with a basic fitness level (please note that the terrain is rocky and uneven and there are some uphill sections on the walk). Our buses leave from Skaftafell several times a day for the scenic 15-minute drive to Falljökull glacier. On our way, we will see impressive mountains that line the southern edge of the Vatnajökull glacier. 
Recommended equipment list
Equipment list (click here)
This is our recommended equipment list for the glacier hiking tour:
Waterproof jacket and pants (We do have rental clothing available)
Hiking boots (Available for rent, 1000 isk. We advise against runners or any type of shoe that comes up below the ankle bone as the straps on the crampons can get a bit painful during the walk)
Light sweater, wool or fleece
Light synthetic or quick dry pants (Try and stay clear of jeans on the longer trips as they get wet & cold quick and dry slow)
Thin Gloves
Hat
Small Backpack (Can be handy to carry camera, rain gear and all extras)
Sunglasses and sun protection (It can get quite bright on the ice with the reflection)
Food and drinks (Lunch is not provided on any of our trips. June - September there is plenty of fresh water on the glacier so bring a bottle)
Camera (If you forget everything else don´t forget that)
Looking for a more extensive glacier hiking tour?
Check out our best seller tour Glacier Explorer.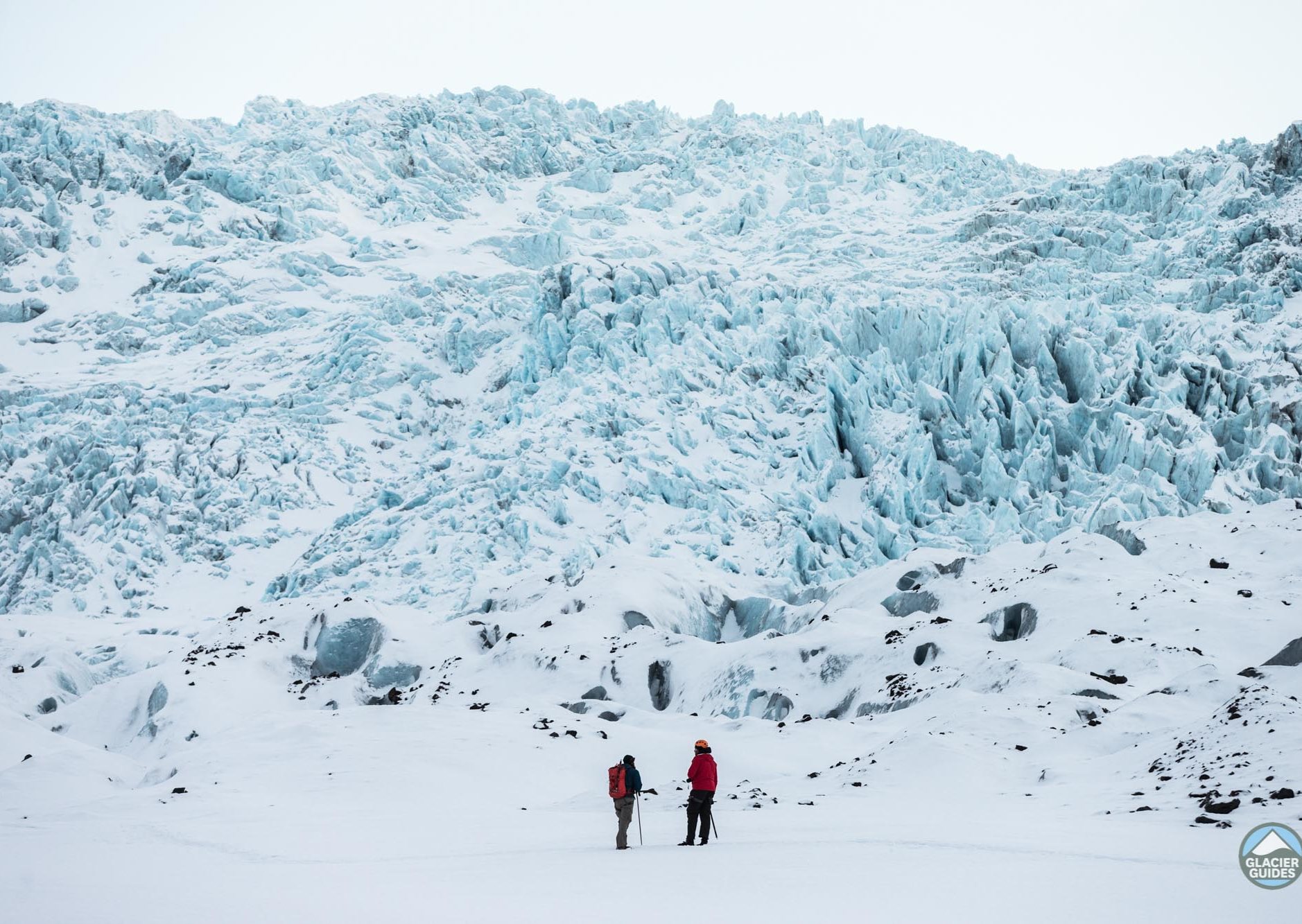 ---
Map: - click to enlarge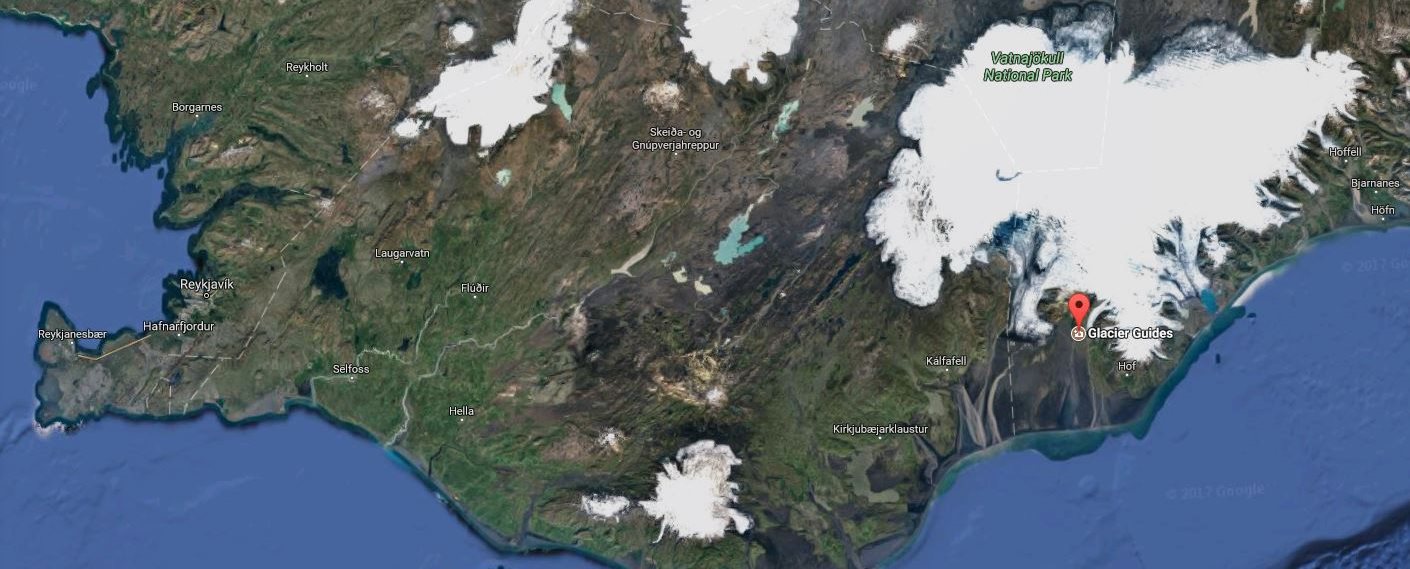 ---
Disclaimer: All our tours are undertaken on the responsibility of its participants. Glacier Guides does not assume any responsibility for accidents that are caused by its customers or can be traced to their own actions. Participants have to sign a waiver before undertaking all trips stating that they realize that all outdoor activities carry an inherent risk.
---
Related Tours