Available from Reykjavik and meet-on-location. On this day tour you will explore the crevasse riddled outlet glacier that is Sólheimajökull and along the way get the chance to try out your ice climbing skills first hand!
Duration: ~4,5 if you meet us there or 11 hours if you join from Reykjavik
Pick-up: Available from Reykjavik
Group maximum: 8 participants per guide
Difficulty: Moderate (3/5)
Tour Highlights:
Small group experience
Solheimajokull Glacier
Introduction to ice climbing
Glacier hiking
Certified Glacier Guide
From Reykjavik: We will make stops at both Seljalandsfoss and Skógafoss, the total duration of the tour is around 10.5 hours. Please see the booking engine for the pickup time.
Meet on location: Meet us at Solheimajokull Glacier, parking lot, at 9 a.m. or 1 p.m. (see booking engine for available times). GPS: 63.530524, -19.370576. Tour duration is around 4,5 hours.
Click here for a map to the meeting location.
Included: Glacier hike, option introduction to ice climbing, a certified glacier guide, all necessary equipment.
Not included: Meals. We recommend bringing packed lunch.
Bring with you: Warm clothing, gloves, headwear, waterproof outer layers, and good hiking boots with ankle support. See recommended equipment list here below.
During Winter: From 1st of November until 16th of February, we won't be able to stop at Skogafoss due to limited daylight. However, we will have a view of Skogafoss from our minibus.
If you are staying downtown Reykjavik please read this information about pickup.
You have chosen: Meet on location
You have chosen: From Reykjavik
---
Note: This tour is operated by Arctic Adventures and Glacier Guides. We provide guests with crampons for walking on the ice, helmets and ice axes. Waterproof clothing and hiking boots are available for rent.
---
Tour Description
Here is your chance to visit a glacier and not just any glacier. This trip will take you to the frozen glacial tongue that is Sólheimajökull (2 hours east of Reykjavik). It is a magnificent phenomenon, a rugged, raw and ever changing hub of ancient frozen water.
You will explore the crevasse riddled outlet glacier with its amazing ice formations, sinkholes and jagged ridges. Along the way, you will find an ice wall on the glacier where you will be able to test your ice climbing skills. You will be provided with all the necessary equipment (ice axes, helmet, crampons and safety lines) and of course a certified glacier guide.
On this trip, you get to see and do what many people will only dream about and very few ever try. Why not be adventurous and explore the amazing crawling glacier of mighty Solheimajokull?
---
Recommended equipment list
Equipment list (click here)
The recommended equipment list for this tour:
Waterproof jacket and pants (We do have rental clothing available)
Hiking boots (Available for rent, 1000 ISK. We advise against runners or any type of shoe that comes up below the ankle bone as the straps on the crampons can get a bit painful during the walk)
Light sweater, wool or fleece
Light synthetic or quick dry pants (Try and stay clear of jeans on the longer trips as they get wet & cold quick and dry slow)
Thin Gloves
Hat
Small Backpack (Can be handy to carry camera, rain gear and all extras)
Sunglasses and sun protection (It can get quite bright on the ice with the reflection)
Food and drinks
Camera (If you forget everything else don´t forget that)
From Reykjavik:
On your return journey to Reykjavik, you will also stop at two of the most beautiful waterfalls on the South Coast of Iceland, Seljalandsfoss and Skógafoss. 
Seljalandsfoss is known as the waterfall you can walk behind, giving you the chance to see it from all angles. Skógafoss is a powerful waterfall, energizing us after our glacier adventure.
We will return to Reykjavik in the evening.
Meet on location:
Driving from Reykjavik - directions
If you are driving from Reykjavík follow the signs for Selfoss on road no. 1. You drive road no. 1 south for around 2 hours, passing the following towns without making any turns: Hveragerði, Selfoss, Hella and Hvollsvöllur. Keep driving until you see the Skógarfoss waterfall on your left hand side. After you pass Skógarfoss you drive for around 5 minutes, you pass a bridge over the Jökulsá river, then you take the first turn on the left (Road 221) towards the glacier and you stop at the 2nd parking lot by the glacier.
Driving from the East - Directions
If you are driving from the East (for example Höfn) continue west on Road no.1, after passing through the coastal town of Vík, continue for approximately 25 minutes until you see the yellow sign for road 221 on the right. This will be immediately before a bridge crossing the Jökulsá river.  Take a right and continue towards the glacier (4km) and stop at the 2nd parking lot by the glacier.
Please note:
In the winter the roads in Iceland can be very difficult and especially the road in towards the Sólheimajökull glacier. During this time we strongly recommend you buy a pick-up and transfer from Reykjavík.
---
Map: - click to enlarge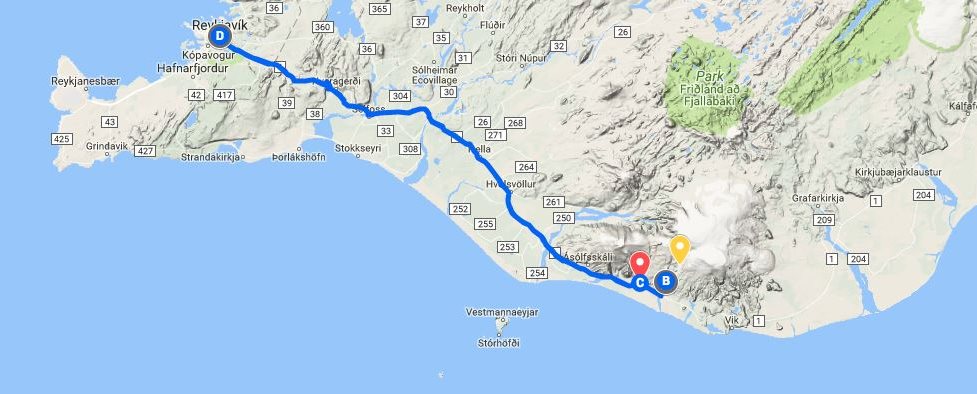 ---
Disclaimer: This tour is operated by Arctic Adventures and Glacier Guides. All our tours are undertaken on the responsibility of its participants. We do not assume any responsibility for accidents that are caused by its customers or can be traced to their own actions. Participants have to sign a waiver before undertaking all trips stating that they realize that all outdoor activities carry an inherent risk.
---
Related Tours