Spend the day touring the second-largest ice cap in Iceland, Langjökull Glacier! Explore the glacier inside out with a snowmobile tour and visit to the stunning, naturally formed Langjökull Ice Cave in Reykjavik. Set off on a thrilling glacier adventure and journey into the heart of Langjökull from Gullfoss Waterfall!
Duration: 4-5 hours / ~8-10 hours
Tour Highlights:
Small Tour Group Size
Langjökull Glacier, the second-largest ice cap in Iceland
Super Jeep Ride
Snowmobile Ride Across Langjökull Glacier
Guided Tour of Natural Ice Cave
Panoramic Views Of the Kerlingarfjöll Mountains
Departures:
Departures everyday. See calendar for more information on times and availability.
Pick up:
All pick-up options for this day tour are from Reykjavik. 
You can arrange to be picked up from a preselected location in Reykjavik. If you select the Reykjavik tour option, please pick the time when booking and pick up takes up to 30 minutes.
For those who don't choose pick up, meet us on location at Skjól (Skjól Camping 35, Iceland)
Bring with you:
 Warm layers, Weatherproof clothing, Headwear, Packed lunch (highly recommended), Durable hiking boots, A valid driver's license if you plan to drive a snowmobile
Included:
 Pick-up from Gullfoss or Reykjavik, Certified Tour Operator, Snowmobile Tour, Explore Natural Ice Cave, Snowmobile Gear, Ride In Super Jeep
Not included:
Lunch
Solo Travelers:
The price of the tour is per person when sharing a snowmobile between two people. If you travel solo or if there's an odd number of travelers, you must book a solo snowmobile for an additional cost. 
If you're traveling solo but don't have a valid driving license, you can book a guide to operate the snowmobile for an additional cost.
For further information:
info@glacierguides.is
You have chosen: From Skjól
You have chosen: From Reykjavik
Tour Description
This adventure satisfies the desires of both thrill-seekers and explorers. Traverse over Iceland's second-largest ice cap, Langjökull Glacier, from the seat of a snowmobile, then switch gears to explore the whimsical ice formations of a natural ice cave.
Explore the Icelandic Highlands
Your day begins at the arranged pick-up point in Reykjavik or at Skjól meeting point, located in Skjól Camping 35. En route to the glacier get a taste of Iceland's diverse landscapes, as we ride through the lush green Icelandic Highlands in a super truck. On clear days there is no shortage of photo-worthy moments with panoramic views of Eiríksjökull Glacier (the highest mountain in west Iceland), Hofsjökull Glacier and the Kerlingafjöll Mountains.
Before leading you on your glacial expedition, your certified guide will teach you to handle a snowmobile along with safety instructions. Don't worry about bringing any gear, we give you a snowmobile suit, balaclava, helmet, and gloves. Let your tour guides know if you have any questions or concerns before we take off so they can ensure a positive experience.
Snowmobile across Langjökull Glacier
Equipped and oriented, it's time to motor off across the glittering Langjökull Glacier! Langjökull, which translates to 'Long Glacier,' stretches 925 km² (357.144 mi²) with the highest peak, Baldjökull, standing at 1405 m (4609.58 ft). Rip and roar into the vast unknown on your snowmobile with an action-packed ride on expansive frozen tundra. The glacier includes a smattering of snow-frosted mountains, such as Jarlhettur ("the earl's hat"), along the way that adds to the dreamy scenery.
Step into the Langjökull Ice Cave
A guided tour of the Langjökull Ice Cave is one of the featured spectacles of this excursion. Step into the dazzling, blue-hued cave and marvel at the natural beauty of one of the most striking glacier caves in Iceland. Learn about how the caves are formed as you make your way deep into the heart of the glacier. You'll get about 15 minutes to explore and photograph this crystal ice cave. 
Waiting outside the caves, your snowmobiles will take you back to base camp. On the way, you'll get a chance to see both the Eiríksjökull and Hofsjökull Glaciers. Don't miss out the chance to explore all that Langjökull Glacier has to offer while taking in the spectacular views along the Golden Circle.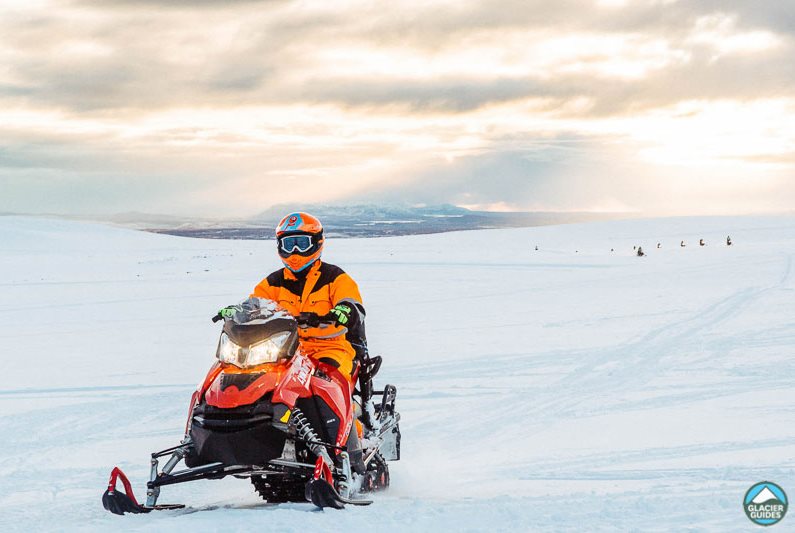 Related Tours