About Langjokull Glacier
Langjokull is the second largest glacier in Iceland, perched in the middle of the Icelandic Highlands. The glacier's close proximity to Reykjavik and a famous man-made ice cave makes it the most popular glacier among travelers to Iceland.
The glacier is 31 mi (50 km) long and 12 mi (20 km) wide. The highest peak Baldjökull rises  4,757 ft (1,450 m) above sea level. The ice of the glacier is around 1,900 ft (580 m) thick and has five outlet glaciers to the east, south, and west.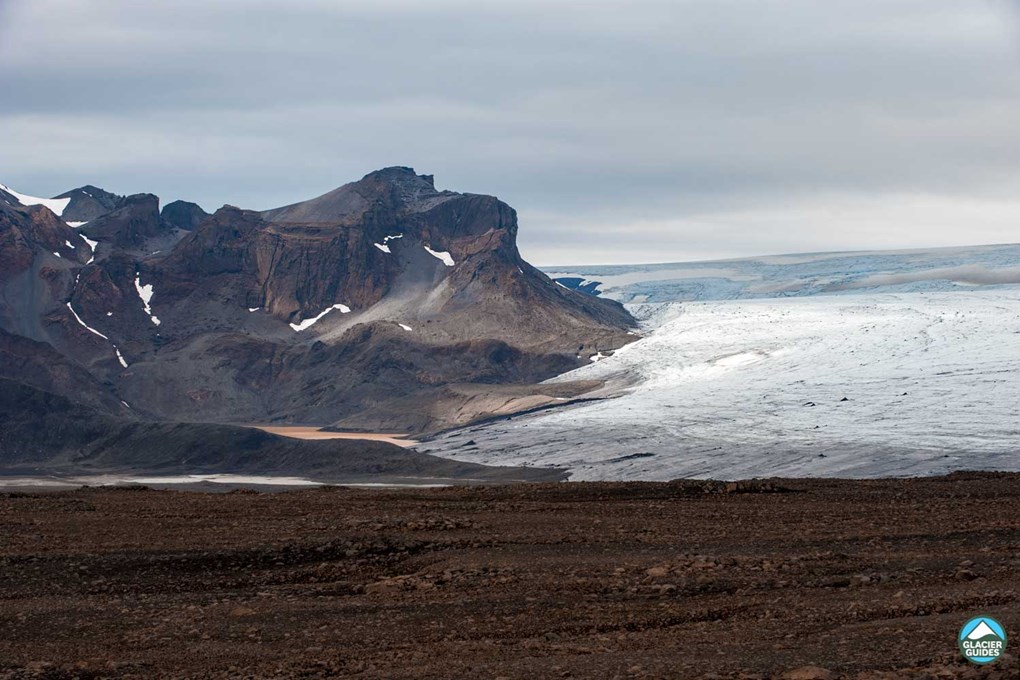 Langjokull Glacier is a never-ending water source for Þingvallavatn Lake in the South, and Hvita River and Borgarfjörður Hot Spring Region in the West. The famous Silfra Fissure, a rift valley between two tectonic plates, is spring fed by the groundwaters of Langjokull Glacier. The meltwaters travel through porous lava rock formations for 100 years before they surface in the valley. The glacial meltwater in Silfra is considered one of the clearest bodies of water in the world, with visibility of around 328 ft (100 m).
The famous Langjokull ice cave in Iceland, called "Into the Glacier", is the world's largest man-made ice cave. It opened on June 1st, 2015. The ice cave is webbed with 1640 ft (500 m) long tunnels that stretch 9ft (3m) tall and 11 ft( 3.5 m) wide. Into the Glacier is one of the most popular attractions in Iceland and definitely worth a visit. Langjokull Glacier tours and snowmobiling tours take place on and in the glacier.
Operations and Services
Langjokull Glacier and Ice Cave is open all year round. The Kalki Base Camp office is open from around 10 a.m. to 5 p.m. You can buy food or souvenirs at a shop at the base camp, but it's always a good idea to bring a packed lunch and water. The closest restaurant is in Húsafell, where a buffet of local cuisine is prepared fresh every day.
The restroom at the ice cave is intended for emergency use only. Use the public facilities at Klaki Base Camp before you head to the ice cave.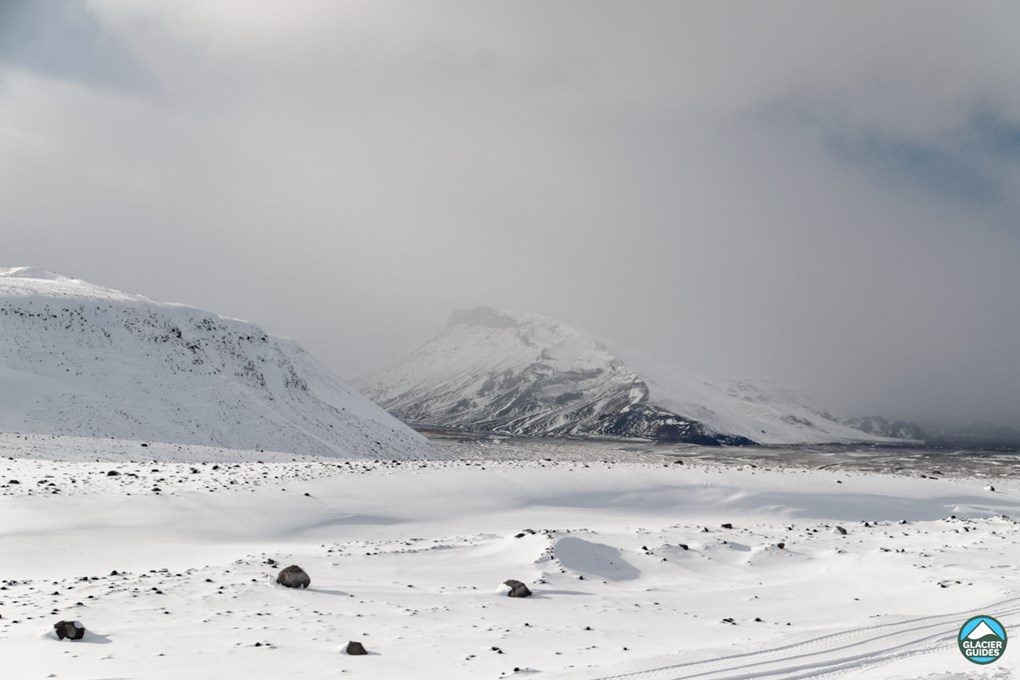 Langjokull Glacier Map
How to get to Langjokull Glacier?
It's only possible to visit Langjokull Glacier or its ice cave with a pre-booked tour. You might be able to get a spot on a tour on-site, but it's unlikely due to high demand. To avoid getting turned away at the entrance, book Snowmobile and Ice Cave Day Tours or Langjokull Ice Cave Experience in advance.
Reykjavik to Langjokull
Reykjavik to Langjokull. To get to Langjokull Glacier from Reykjavik, you'll need the help of a super vehicle. The closest point to the glacier you can reach by yourself from Reykjavik is Klaki Base Camp (only in summer) and Husafell center (all year round). Both of the spots have parking lots.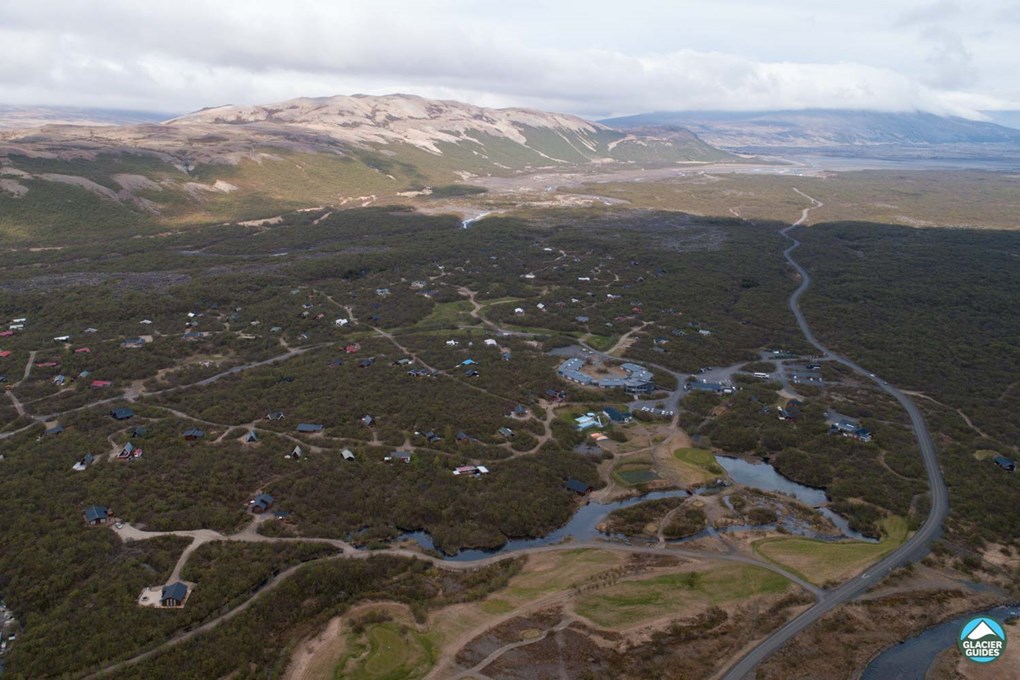 The distance from Reykjavik to Langjökull glacier is 82 mi (132 km). When driving from Reykjavik, take Ring Road 1 north towards Borgarnes. After around 44 mi (71 km), turn onto Road 50. Continue driving for around 20.5 mi (33 km) until you enter Road 518 at the intersection for Deildartunguhver Geothermal Area. After another 18 mi (29 km) you'll reach Husafell.
To get to Klaki Base Camp, continue on Road 518 for around 1.86 mi (3 km) until you enter Road 550 and continue for about 30 minutes. Please note that Road 550 is suitable for 4x4 vehicles and is only accessible in summer.
Weather on Langjokull Glacier
Iceland is notorious for its ever-changing weather. It can be sunny and warm one moment and raining hail the next. The average temperatures on the glacier are slightly lower due to the high altitude. Expect anything from 30°F (-1°C) to 43°F (6°C) in summer and 28°F (- 2°C) to 37°F (3°C) in winter. The temperature inside the ice cave stays constant throughout the year at 32°F (0°C).
Make sure to wear warm layers, sturdy hiking shoes, a scarf, and gloves at all times on the glacier.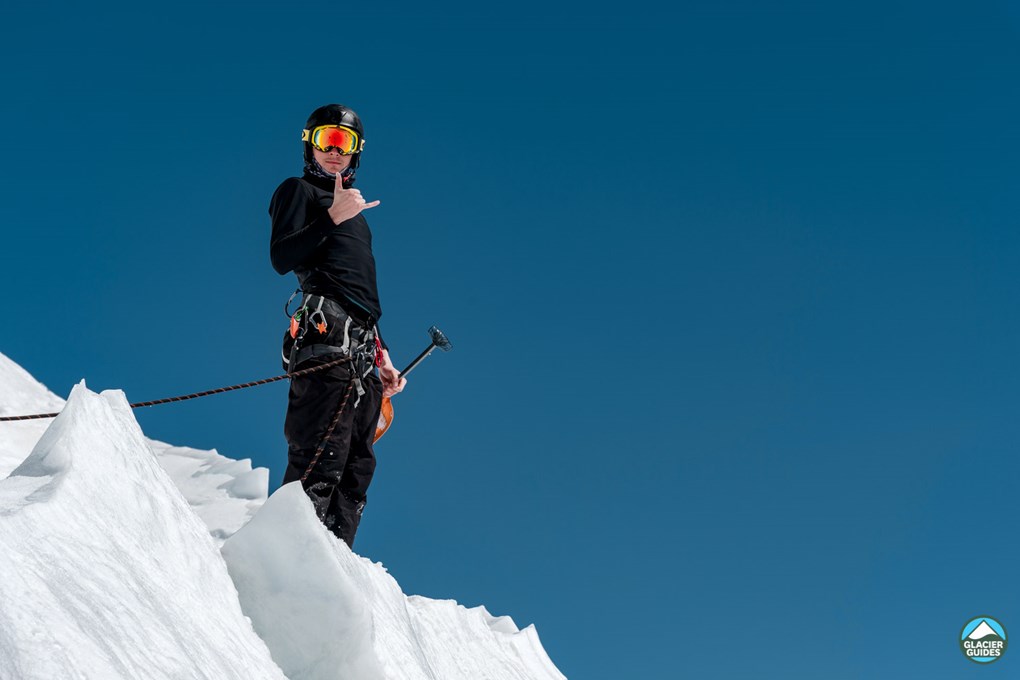 What to do on Langjokull Glacier
Glaciers cover around 11% of Iceland's total surface area and no trip to Iceland is complete without visiting at least one of them! Several exhilarating activities await on the white expanse of Langjokull Glacier.
Langjokull Glacier Snowmobiling
Langjokull Glacier is one of the most popular glaciers in Iceland for snowmobiling due to its hilly landscape and substantial length.
Join us for an adrenaline-filled snowmobiling tour on Langjokull Glacier! We'll provide you with all the necessary snowmobiling equipment. Our experienced snowmobiling guides make sure your adventure is safe and fun. Ride across the breathtaking landscape for an hour of bliss. Snap plenty of photos so that you can take a piece of winter wonderland home with you.
Langjokull Glacier Ice Cave Tour
There are several ice caves in the icy depths of Langjokull Glacier. One of the most famous ice caves in Iceland hides under the Langjokull Ice Cap. Into the Glacier is a manmade ice cave that resembles a huge underground ice tunnel — the first of its kind in the entire world. The tunnel was finished in 2015 and is now open to everyone who dares to venture under this mighty ice cap.
Besides Into the Glacier, Langjokul has another ice cave worth exploring. Contrary to Into the Glacier, this one is a naturally made ice cave discovered in 2017. Located right under the Jarlhettur Mountains, the ice cave is famous for a frozen river and waterfall in the blue-hued walls of the ice cave.
Join us on the Into the Glacier Ice Cave and snowmobiling tour from Reykjavik — the ultimate glacier experience!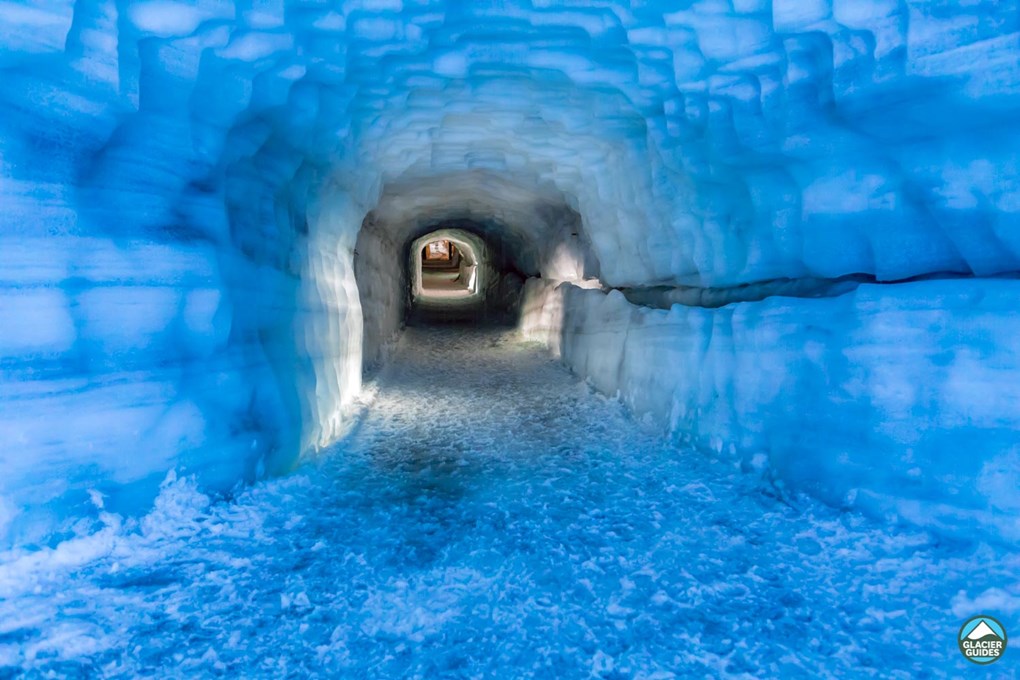 Where to stay near Langjokull Glacier
There a few accommodation options available near the glacier, mostly located in Húsafell and Borgarfjörður.
Hotel Husafell. This luxurious hotel has 48 rooms and all the amenities you could need. Hotel guests also get free access to the geothermal baths. The hotel is located directly in the town of Husafell and just a short walk from Husafell Visitor Center, the meeting point for Langjokull tours.
Hotel A. This country-style hotel is located 7.4 mi (12 km) from Husafell in the city of Borgarfjördur. It's equipped with all the necessary amenities as well as a restaurant and a bar. The hotel is located just a short drive from the  Langjokull Glacier tours meeting point.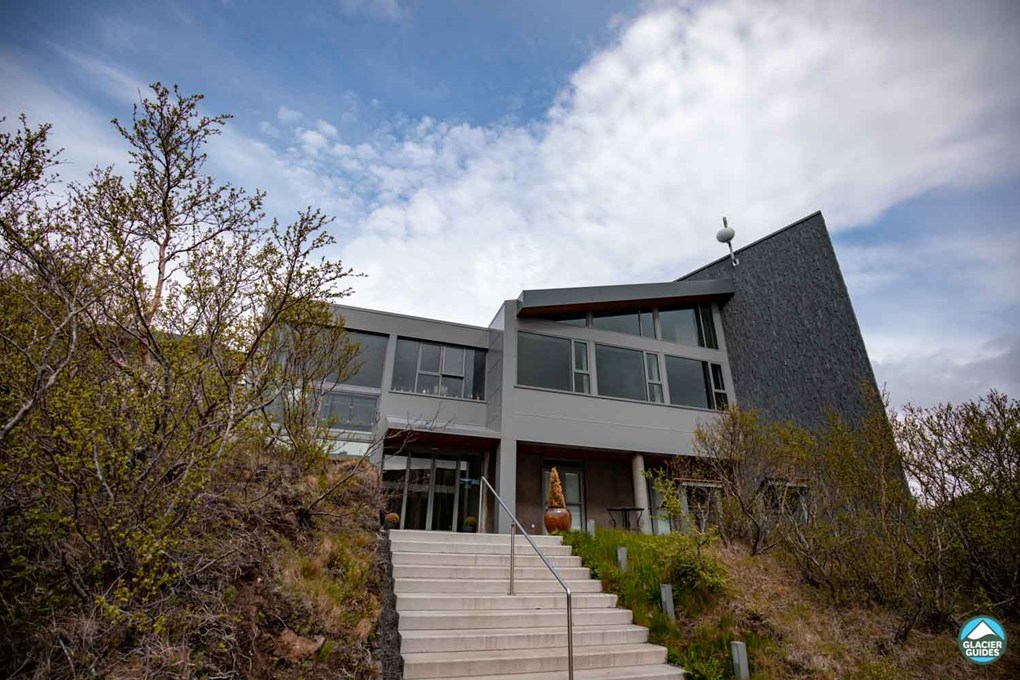 Related Tours