The ultimate glacier experience! Glacier hiking on Vatnajokull, Europe's largest glacier, and a Zodiac boat ride on Fjallsárlón glacier lagoon. This trip will provide you with plenty of photo opportunities and the chance to gain a thorough understanding of these powerful glaciers.
Group maximum: 12 participants per guide
Tour Highlights:
Small group guarantee
Vatnajokull Glacier, Europe's largest glacier
Svínafellsjökull Glacier outlet
Guided glacier walk
Boat ride on Fjallsarlon Glacier Lagoon
Certified Glacier Guide
Meeting point:
Boat ride: 9 a.m. at Fjallsárlón Lagoon (tour starts at 9:30), about 47 kilometers east of Skaftafell. Look for a sign that says "Fjallsárlón Glacier Lagoon Boat Tours".
Glacier hike: 14:20 at the Glacier Guides Booking Hut in Skaftafell.
Duration:
Boat ride: 90 minutes (45 min in the boat)
Glacier hike: approximately 3.5 hours
Crampons: Please note that the smallest set of crampons available fits EUR shoe size 35
Included: Guided glacier walk, a certified glacier guide, all necessary glacier safety gear and a boat ride on Fjallsarlon Glacier Lagoon.
Bring with you: Warm and waterproof clothing and sturdy hiking boots. See full equipment list here below.
---
Note: For all of our glacier tours Glacier Guides will provide guests with crampons for walking on the ice, helmets and ice axes. Waterproof clothing and hiking boots are available for rent. In Skaftafell we do have many items for rent and sale.
---
Tour Description
The name "Glacier Grand Slam" really says it all. This tour is a combination of our popular Ultimate Icescape trip along with a zodiac boat ride on the secluded Fjallsárlón glacier lagoon.
Svínafellsjökull is a glacier tongue or outlet glacier from Vatnajökull Glacier, the largest ice cap in Europe. This glacier tongue is quite unique in that it offers everything glaciers are best known for without the need to travel great distances. Crevasses, Jökladrýli (Dirt cones), glacier mice and Moulins. This tour is suitable for the whole family (10 years and older) and anyone with a basic fitness level (please note that the terrain is rocky and uneven and there are some uphill sections on the walk).
If you're looking for a full day of glacier fun in the Skaftafell region, look no further - this is the tour for you!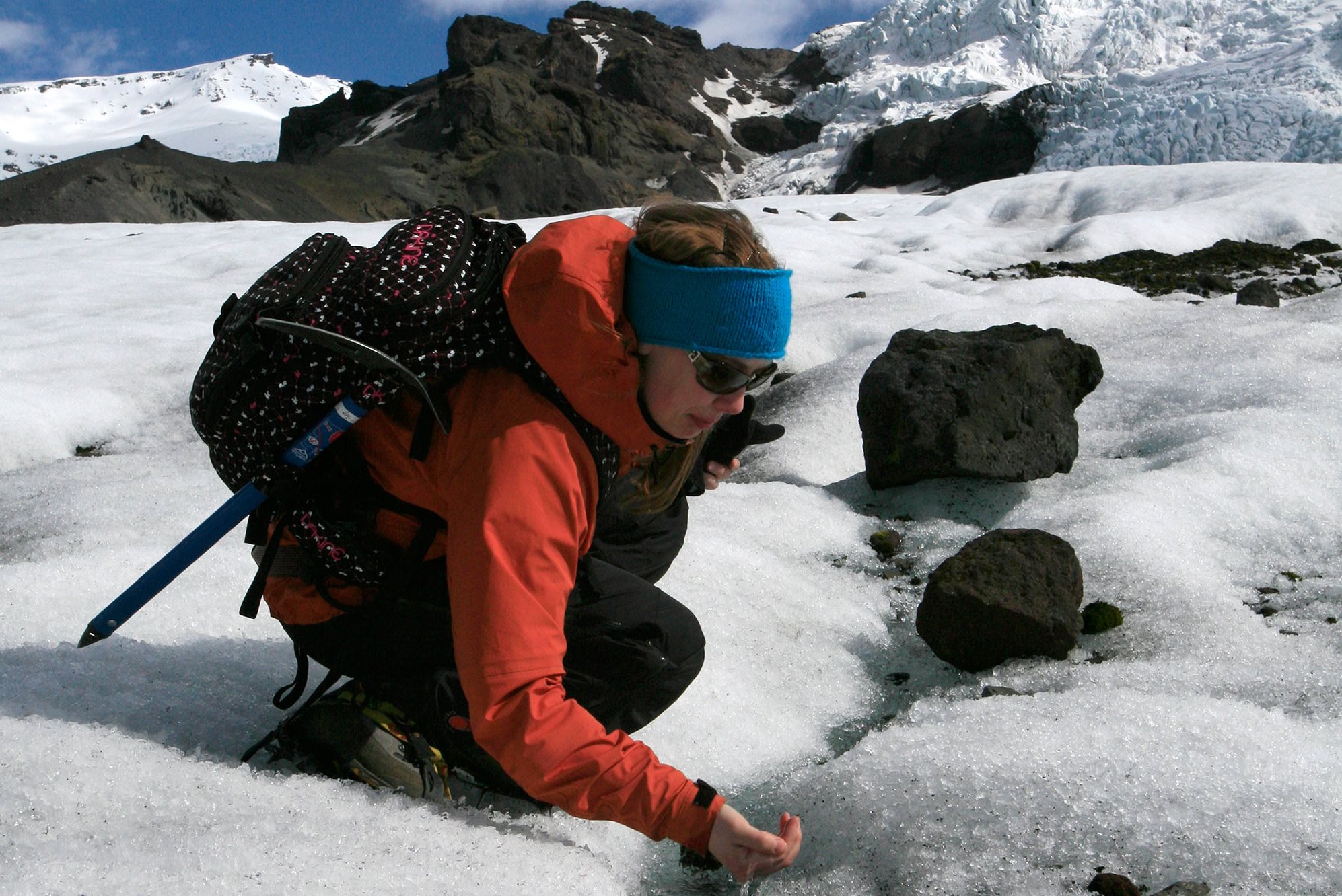 Your day of adventures starts with an amazing zodiac boat ride on Fjallsárlón Glacier Lagoon at 9:30 a.m (check-in at 9 a.m.). The Lagoon is full of icebergs of all shapes and sizes and in the background, you have Vatnajökull, Europe's largest glacier. Once the group has been suited up, the 45 min glacier lagoon safari starts.  Your knowledgeable guide will explain everything you need to know about the magnificent glacier lagoon on an exciting boat tour.
From Fjallsárlón, you need to make your way (independently) to Skaftafell, about 47 km east of Fjallsárlón. We will meet you at the Glacier Guides Booking Hut in Skaftafell, where you will need to check-in at 14:20 for your glacier hiking tour.
Your glacier hiking adventure starts from the Glacier Guides Booking Hut located in Skaftafell National Park where we will gear up with all necessary safety gear. From there, you will jump on a scenic bus ride to Svínafellsjökull, an outlet glacier from Vatnajökull. Together with your certified glacier guide, you will explore the glacier. He/she will explain all the unique features of the glacier, including crevasses, moulins and ice formations.
Recommended equipment list
Equipment list (click here)
This is the recommended equipment list for the tour:
Waterproof jacket and pants 
Hiking boots (Available for rent on the glacier hiking part of the tour for 1000 isk. We advise against runners or any type of shoe that comes up below the ankle bone as the straps on the crampons can get a bit painful during the walk)
Light sweater, wool or fleece
Light synthetic or quick dry pants (Try and stay clear of jeans on the longer trips as they get wet & cold quick and dry slow)
Thin Gloves
Hat
Small Backpack (Can be handy to carry camera, rain gear and all extras)
Sunglasses and sun protection (It can get quite bright on the ice with the reflection)
Food and drinks (Lunch is not provided on any of our trips. June - September there is plenty of fresh water on the glacier so bring a bottle)
Camera (If you forget everything else don´t forget that)
---
Disclaimer: All our tours are undertaken on the responsibility of its participants. Glacier Guides does not assume any responsibility for accidents that are caused by its customers or can be traced to their own actions. Participants have to sign a waiver before undertaking all trips stating that they realize that all outdoor activities carry an inherent risk. Please note that the boat tour on Fjallsárlón Lagoon is operated by a local tour operator that specializes in boat tours.
---