This wonderful combination tour is ideal for anyone who wants to understand glaciers, to experience them up close and personal, and to admire the incredible landscapes that they have helped to shape.
Tour Highlights:
Small group guarantee
Vatnajökull National Park
Glacier Hiking
Zodiac Boat Ride
Jökulsárlón / Fjallsárlón Glacier Lagoon
Certified Glacier Guide
Meeting point: The meeting point depends on which option is chosen during the booking process. If you have chosen Jökulsárlón you will need to meet your guide at the Jökulsárlón parking lot, no later then 09:45 AM. If you have chosen Fjallsárlón you will need to meet your guide at the Fjallsárlón parking lot, no later then 09:30 AM.
Duration: Boat ride: 90 minutes (45 min in the boat)
Glacier hike: approximately 3.5 hours
Shoe size: Please note that children must have at least a size EUR 35 to partake in the glacier hike. This is because our crampons (necessary for the glacier hike) do not fit smaller shoe sizes.
Included: Guided glacier walk, a certified glacier guide, all necessary glacier safety gear and a boat ride on a Glacier Lagoon.
Bring with you: Warm and waterproof clothing and good hiking boots with ankle support. See the full equipment list here below.
You have chosen: At Jökulsárlón
You have chosen: At Fjallsárlón
---
Note: You have the option of doing the zodiac boat ride on Jökulsárlón or Fjallsárlón. You can choose between the two variations in the booking widget. Upon booking you will receive a confirmation voucher that includes important information such as your meeting points and meeting times. Please note that driving between the two meeting points will take about 40-50 minutes. Transportation between the two locations is not included.
---
Tour Description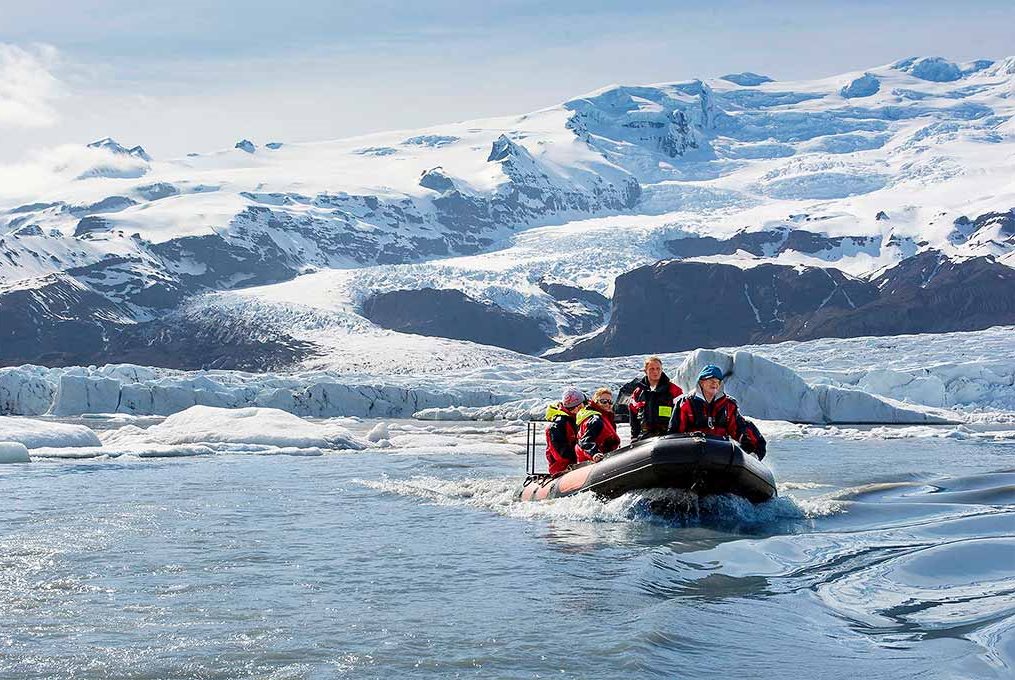 This tour includes an exciting Zodiac boat ride across a spectacular glacier lagoon along with a glacier hike on Falljökull glacier. There is no better way to see these vast bodies of ice that make Iceland so special. So, buckle up and get ready for an exciting day spent exploring Iceland's legendary glacial landscape!
There are two versions of the tour and you can select the option you like more in the booking widget. The boat ride can take place on either Jokulsarlon or Fjallsarlon glacier lagoon. Both are epic and filled with floating icebergs, it is only the surrounding landscape that looks slightly different. Both of these glacier lagoons belong to outlet glaciers from the astounding Vatnajokull ice cap.
Once the lagoon excursion has ended, you will meet your glacier guide and strap on your crampons to hike up one of the most beautiful outlet glaciers that Vatnajokull has to offer. If you're looking for a full day of glacier fun in the Skaftafell region, look no further - this is the tour for you!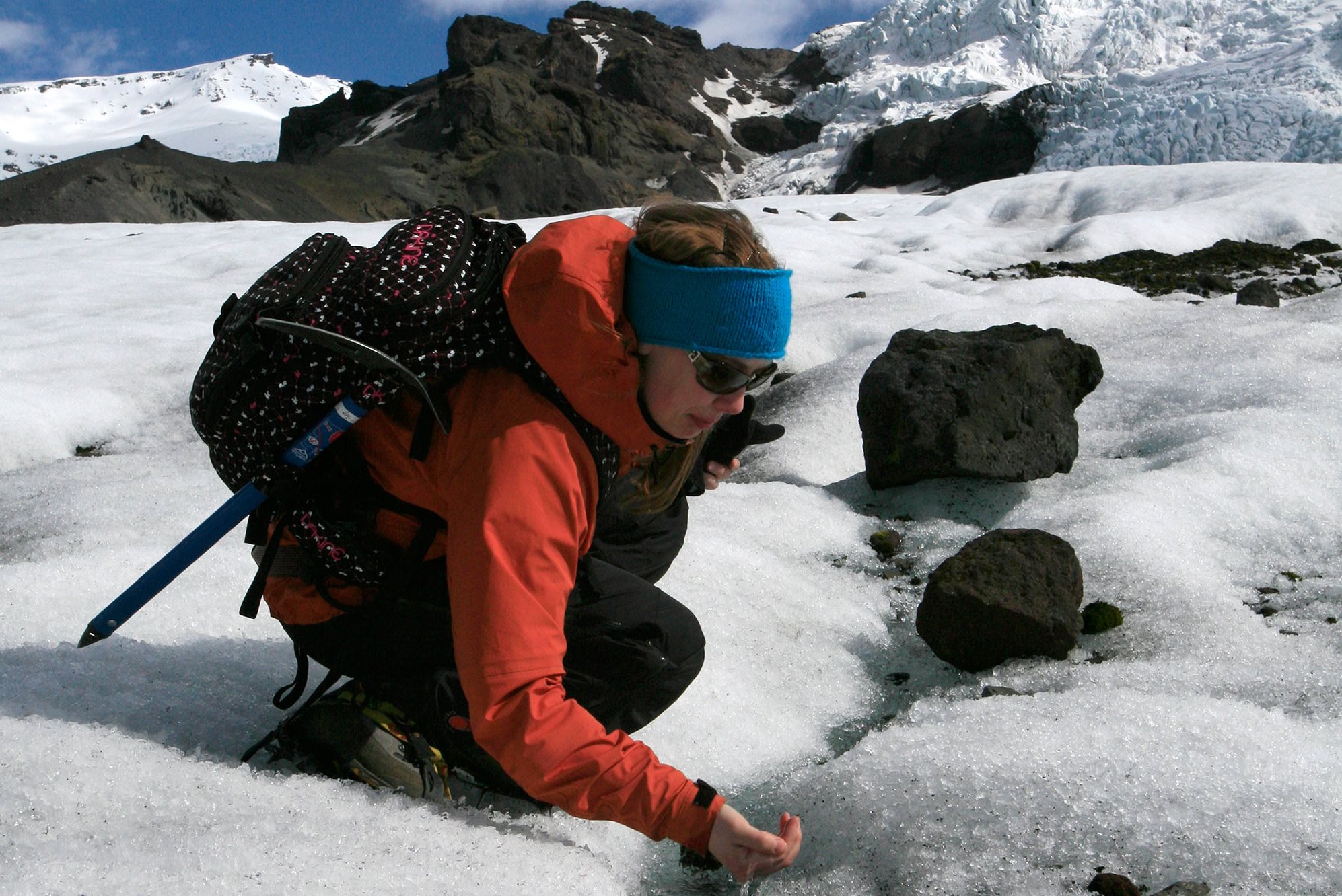 Option 1: The Jökulsárlón Glacier Lagoon
Jökulsárlón glacier lagoon is located at the tip of Breiðamerkurjökull, an outlet of the vast Vatnajokull glacier. As the glacier retreats, meltwater fills up the depression it leaves behind. In a process known as "calving", huge chunks of ice break off of the glacier and the lake is then filled up with these floating icebergs.
Jökulsárlón is an extraordinary sight. What makes it special is that Jökulsárlón is connected to the ocean, which makes it a perfect habitat for seals. The water is also salty and bluer than other glacier lagoons.
Your certified guide will meet you in the parking lot and drive you to the dock. As soon as you arrive, you'll be given a floatation suit/life vest. We'll then launch the Zodiac boats and start our exciting hour-long ride. As we set sail, you'll enjoy stunning views of the glacier with Vatnajökull towering over us on the horizon. 
Within no time, the Zodiac boat will carry us into the heart of the lagoon. This dreamy, iceberg-dotted wonderland is filled with glistening hunks of ice that come in all shapes and sizes. Visitors to Jökulsárlón are always amazed by the colors of the icebergs, which light up when the sun hits them. Some icebergs are sapphire blue while others are crystal-clear, making for some truly remarkable photos. 
Zodiac boats are the perfect way to explore Jökulsárlón as their maneuverability means that we can get amazingly close to the icebergs. If you examine the icebergs closely, you'll see some gray streaks running through them as a memorial to the many volcanic eruptions that Iceland has experienced in the past.

Jökulsárlón is also renowned for its amazing wildlife and our guides will happily point out the friendly family of seals that resides in the glacier lagoon. Look up and you'll see Arctic terns doing spectacular acrobatics high above our heads while you may also get the chance to see huge seagulls and Arctic skuas.
Option 2: The Fjallsárlón Glacier Lagoon
Right next to Jökulsárlón, within an 8-kilometer (5-mile) drive, lies another glacial lake that belongs to the glacier tongue of Fjallsjökull.
 Fjallsjökull, originating from Vatnajökull, extends all the way to the lagoon's surface, where large icebergs break away from the ice cap and fall into the water below. With the many hundreds of icebergs that float on top of the lagoon's surface, Fjallsárlón is considered to be a strong second to the nearby, more famous, Jökulsárlón glacial lagoon.
 While Fjallsárlón might be second to the nearby Jökulsárlón, it also has some aspects that make it preferable. First of all, it is smaller and therefore is less famous and less visited than Jökulsárlón. This keeps the lagoon from being overcrowded or overbooked weeks in advance. Its water is a bit browner, but it is still equally beautiful.
 Fjallsárlón also has a different surrounding landscape than the neighboring Jökulsárlón. The sight of Öræfajökull volcano, Iceland's tallest mountain, towering overhead in the background is spectacular. The glacial backdrop is much closer to the shore and rises up much more steeply as well. 
 No matter what choice you make, the experience of exploring a glacier lagoon by boat will not let you down. There is no wrong choice! As the length of the boat tours is the same and the distance between the two so small, it is up to you to choose which interests you more.
Skaftafell Glacier Hike
After your boat ride, you will drive to Skaftafell National Park. This protected site is a green oasis surrounded by spectacular glacier tongues. Here, your qualified glacier guide will meet you at the Booking Center. We'll drive to the foothills of Falljökull glacier, which will be the starting point for your adventure.
From here, we'll continue on foot. So, once we geared up with crampons and helmets, we'll start to walk up to the ice! The hike is a thrilling journey across a wondrous glacial landscape that will provide memories that will last a lifetime. You can expect one of the best panoramas in the world, dotted with mountain peaks, other glaciers, and dramatic volcanoes.
Glaciers never stop moving and in doing so generate a remarkable landscape of winding crevasses, deep moulins, dramatic ice sculptures, and ancient icefalls. Look up and you'll see Hvannadalshnúkur, Iceland's tallest peak, towering above the remarkable scene. We guarantee that you'll take some great photos and leave with a profound sense of awe at just how majestic nature can be!
Your expert guide will point out the fascinating patterns that have been cut into the landscape by the glacier. They'll also tell you about how glaciers form and warn you about some of the bleak predictions for their future.
This highly-popular trip is called the Glacier Grand Slam for good reason. It's a brilliant combination of the most thrilling adventures a glacier can offer: a glacier hike and a scenic boat ride across a glacial lagoon. This epic tour is sure to tick a few boxes on your bucket list! Join us!
Recommended equipment list
Equipment list (click here)
This is the recommended equipment list for the tour:
Waterproof jacket and pants 
Hiking boots (Available for rent on the glacier hiking part of the tour for 1000 isk. We advise against runners or any type of shoe that comes up below the ankle bone as the straps on the crampons can get a bit painful during the walk)
Light sweater, wool or fleece
Light synthetic or quick dry pants (Try and stay clear of jeans on the longer trips as they get wet & cold quick and dry slow)
Thin Gloves
Hat
Small Backpack (Can be handy to carry camera, rain gear and all extras)
Sunglasses and sun protection (It can get quite bright on the ice with the reflection)
Food and drinks (Lunch is not provided on any of our trips. June - September there is plenty of fresh water on the glacier so bring a bottle)
Camera (If you forget everything else don´t forget that)
---
Disclaimer: All our tours are undertaken on the responsibility of its participants. Glacier Guides does not assume any responsibility for accidents that are caused by its customers or can be traced to their own actions. Participants have to sign a waiver before undertaking all trips stating that they realize that all outdoor activities carry an inherent risk. Please note that the boat tour on Fjallsárlón Lagoon is operated by a local tour operator that specializes in boat tours.
---
Related Tours