It's time to explore the magic of Icelandic glaciers. Go far off-the-beaten-track on an ice cave expedition to the famous site the mighty Mýrdalsjökull glacier and the famous Katla Volcano. Travel to the epic filming location of Stars Wars and Game of Thrones and a paradise of unbelievable natural wonders. The new ice cave found in Mýrdalsjökull is nature at its best!
Tour Highlights:
Scenic Super Jeep ride
View over Myrdalsjokull
Visiting a natural Ice Cave
Epic landscapes
Expert info on the ice cave
From Vik
Departures: Departures every day. See calendar for more information on times and availability.
Pick up: the meeting point is at the bus parking lot behind the Icewear Magasin building (facing the sea) in Vik, South Iceland.
The guide will be standing outside in the parking lot in front of the "Ice Cave Bistro / Restaurant in Vik" by a Super Jeep with an Arctic Adventures sign in the front window. 
Bring with you: Thermals (top and bottom), warm outdoor clothing, waterproof outer layers, sturdy hiking boots, headwear, scarf and gloves.
Included: Super Jeep Ride from Vík, a visit to a natural ice cave, crampons for walking on ice and a knowledgeable glacier guide.
For further information:
info@glacierguides.is
Tour Description
Myrdalsjokull glacier is one of the best known glaciers in Iceland, it is the fathering glacier to the glacier hiking paradise Solheimajokull as well as the ice cave utopia Kotlujokull. In recent years Kotlujokull, named after the infamous Katla Volcano, has had some stunning natural ice caves but the one visited on this tour is by far the best on yet!
Kotlujokull glacier is known for its multicolored ice layers and epic black ice that makes the ice caves found in it truly unique and different from any other ice caves.
The tour departs from Vík and the views that await you are of rough and moon-like landscapes all whilst surrounded by glistening glaciers and volcanoes. The Super Jeep will make sure that we have no trouble getting to our remote location and soon we will make a turn off the Ring Road 1 and onto black sand plains, often covered by snow and ice in winter. The surroundings are mesmerizing and you will soon understand why Hollywood producers keep choosing this location to film!
Once there we will step out, find our right size crampons (provided on the tour), put them on and start our walk to the awaited ice cave.
In front of you is the opening to Kotlujokul glacier, in all its glory, with ranging layers and glistening black and blue ice. You will walk in between sky-high ice walls and into the "dome" where an opening appears on the roof of the glacier. When the light shines through it creates the most magical setting and will get us all star eyes. We will have plenty of time to walk around and let is all sink in and meanwhile, your guide will give you a short lesson on the history and geology of this place.
Next we will step out again into the glacier wonderland and see if other smaller ice caves are found around the area, this varies a lot in time and season which just adds to the excitement of the tour. Then we will return back to the Super Truck and start making our way back to Vík, make sure to keep your eyes out the window on the way back as you will not want to miss your last moments in this other worldly place.
This tour is sure to create marvelous memories that will last a lifetime!
Would you like to include transportation from Reykjavik?
Have a look at Myrdalsjokull Glacier Ice Cave by Katla Volcano from Reykjavik.
---
Map: - click to enlarge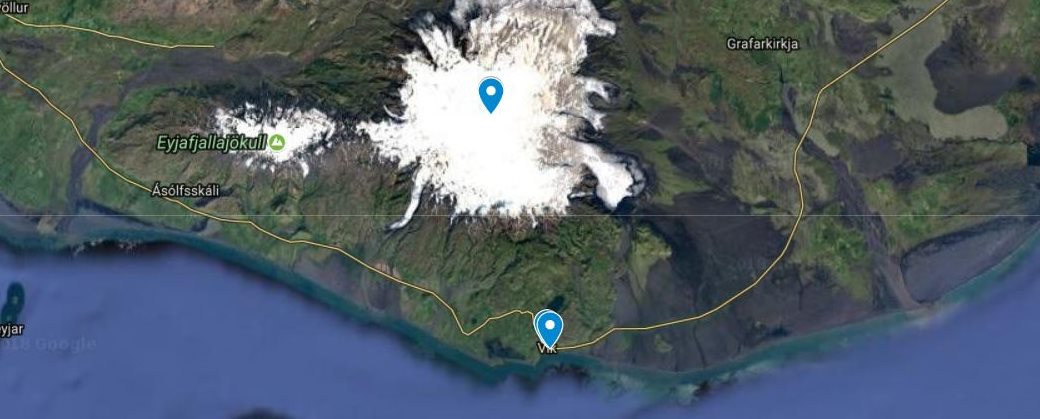 ---
Disclaimer: Ice caves are everchanging phenomena and highly dependant on weather conditions. Therefore, we reserve the right to alter or cancel the tour if conditions are not safe.
---
Related Tours