This half-day glacier hiking tour from Skaftafell National Park offers you the chance to explore all that Icelandic glaciers have to offer in just 5 hours. Experience first hand the cascading ice fall of Falljökul Glacier (Falling Glacier) crashing down from the mighty Vatnajökull ice cap.
10% discount in July with promo code:
GGJULY18
Group maximum: 12 participants per guide
Difficulty: Moderate (3/5)
Tour Highlights:
Small group guarantee
Vatnajokull Glacier, Europe's largest glacier
Falljökull Glacier
Guided glacier hike
Learn about glaciers from a knowledgeable guide
Skaftafell
Meeting point: We will meet you at the Glacier Guides Booking Center in Skaftafell, see a map with directions below.
Included: A fully guided glacier hike on Falljökull Glacier with a certified glacier guide. All specialized glacier gear is provided including crampons, helmet and axe. Our guides will provide a safety briefing so you will feel confident on the glacier. 
Distance: The glacier hike itself is approx. 8 km.
Bring with you: Warm outdoor clothing, waterproof jacket & pants, sturdy hiking boots, head-wear and gloves. You can rent hiking boots, a waterproof jacket and waterproof pants in the booking process. Please see a more detailed equipment list below.
---
Note: For all of our glacier tours, Glacier Guides will provide guests with necessary glacier safety gear, including crampons for walking on the ice, helmets and ice axes. Please note that the smallest set of crampons available fits EUR shoe size 35. Waterproof clothing and hiking boots are available for rent at the Glacier Guides Booking Center and bookable along with your tour (recommended). We also have many of the items for sale in our booking center.
---
Tour Description
Your glacier adventure starts at the Glacier Guides Booking Hut located in Skaftafell National Park where you will jump on our bus which will take you on a 15 minute scenic ride towards Falljökull Glacier (e. Falling Glacier). From there your certified glacier guide will accompany you along a winding path through an ever-changing landscape carved out by the glacier before you will arrive at the tongue of the glacier where you will receive a safety briefing from your guide and gear up for the glacier exploration.
From the edge of the glacier you will then head up towards the ice fall.  With your glacier guide leading the way you will soon be exploring dramatic terrain, walking through a wonderland of frozen ice formations and brilliant blue colors. During this tour, you will have plenty of time to take in the vast panoramic views of the surrounding mountains as you make your way to the rugged and majestic ice fall.
This trip provides an extensive glacier experience with plenty of photo opportunities and the chance to gain a thorough understanding of this magnificent glacier, how it's formed and how it continues to change shape everyday. We think that everyone should have a glacier hike on their bucket list and this is your chance to check it off your list!
Equipment list (click to open)
Waterproof jacket and pants (We do have rental clothing available)
Hiking boots (Available for rent, 1000 isk. We advise against runners or any type of shoe that comes up below the ankle bone as the straps on the crampons can get a bit painful during the walk)(Climbing boots are included on the ice climbing tour)
Light sweater, wool or fleece
Light synthetic or quick dry pants (Try and stay clear of jeans on the longer trips as they get wet & cold quick and dry slow)
Thin Gloves
Hat
Small Backpack (Can be handy to carry camera, rain gear and all extras)
Sunglasses and sun protection (It can get quite bright on the ice with the reflection)
Food and drinks (Lunch is not provided on any of our trips. June - September there is plenty of fresh water on the glacier so bring a bottle)
Camera (If you forget everything else don´t forget that)
Would you like to try glacier hiking AND ice climbing?
Check out Glacier Xtreme, a thrilling adventure tour where we combine both glacier hiking and ice climbing.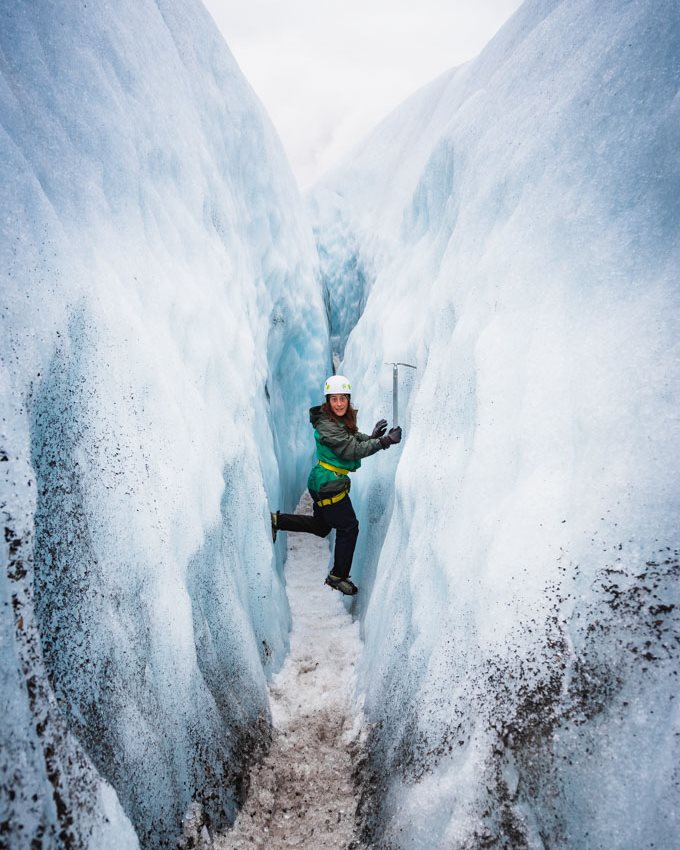 ---
Map: - click to enlarge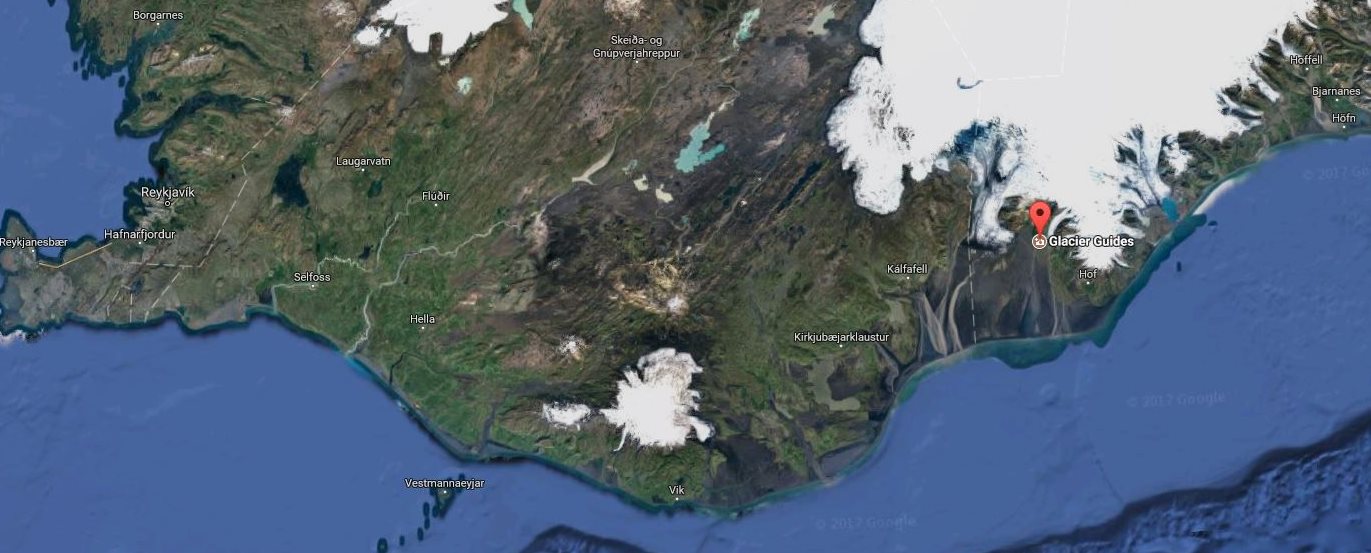 ---
Disclaimer: All our tours are undertaken on the responsibility of its participants. Glacier Guides does not assume any responsibility for accidents that are caused by its customers or can be traced to their own actions. Participants have to sign a waiver before undertaking all trips stating that they realize that all outdoor activities carry an inherent risk.
---