Get ready to conquer the majestic "Falling Glacier" - the crown jewel among Vatnajökull's icy wonders. Brace yourself for an adventure that will bring you face-to-face with Europe's largest glacier in all its breathtaking glory!
Group maximum: 6 participants per guide
Available: June - September
Difficulty: Challenging (5/5)
Tour Highlights:
Small group experience
Glacier hike
Vatnajökull Glacier
Ice climbing
Falljökull Glacier
Meeting point: Departure from Skaftafell booking centre (wooden hut with Arctic Adventures logo). Skaftafell is located 327km (203 miles) from Reykjavík. The nearest towns to Skaftafell are Kirkjubæjarklaustur (69km to the west) and Höfn (130km to the east).
Distance: The glacier hike itself is approx. 8 km with around 350 m elevation change.
Included: A fully guided glacier hike on Falljökull Glacier with a certified glacier guide. All specialized glacier gear is provided including crampons, helmet and axe. Our guides will provide a safety briefing so you will feel confident on the glacier.
Bring with you: Warm outdoor clothing, waterproof jacket & pants, good hiking boots with ankle support, headwear and gloves. You can rent hiking boots, a waterproof jacket and waterproof pants in the booking process. Please see a more detailed equipment list below.
---
Note: Our journey begins at the Skaftafell Booking Center, where you'll meet our glacier guides. Think of them as your trusty companions who will ensure your safety and prepare you for the frozen escapade. They'll equip you with all the essentials: crampons, harnesses, helmets, and ice axes.
---
Tour Description
Once fully geared up and ready to embrace the frozen frontier, it's time to meet the star of the show - the mighty Falljökull glacier. Hop aboard as we embark on a short but thrilling ride of approximately 20 minutes (12 km) to the glacier's starting point.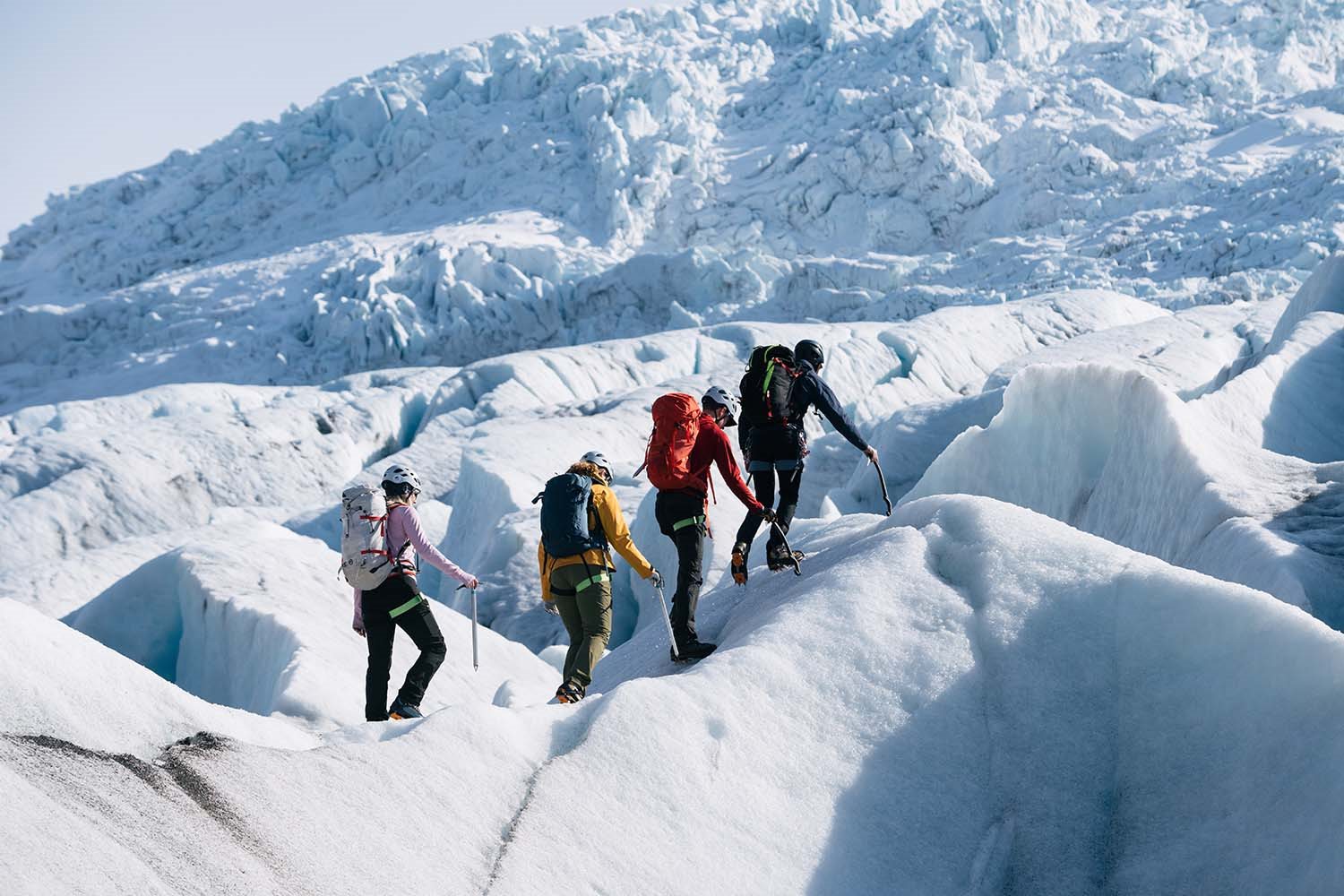 You will take your first steps on the rugged, icy terrain, and the sensation of strapping on those crampons will send shivers of excitement down your spine. And remember to bring your water bottle along for the journey because, trust us, sipping on pure meltwater from the glacier is an experience like no other!
As you ascend the ice, guided by our glacier experts, you'll be treated to a mesmerizing spectacle of nature. You will hear captivating tales of this frozen wonderland, as the guide shares secrets of the icy giants surrounding you.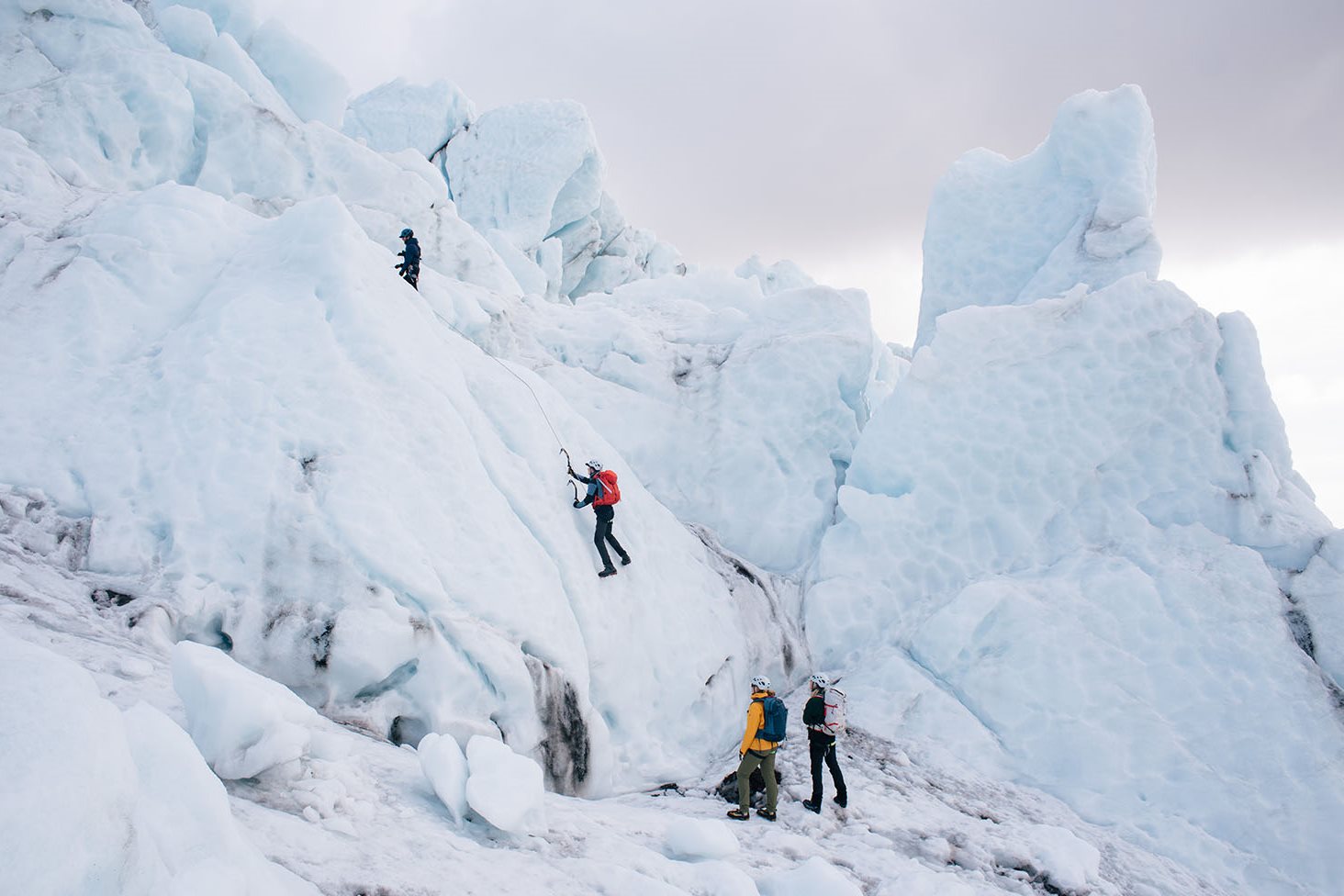 With an elevation change of around 350 meters, every step you take will lead you deeper into the heart of this icy paradise. Keep your eyes wide open and your camera ready because the views along the way are nothing short of extraordinary.
But wait, there's more!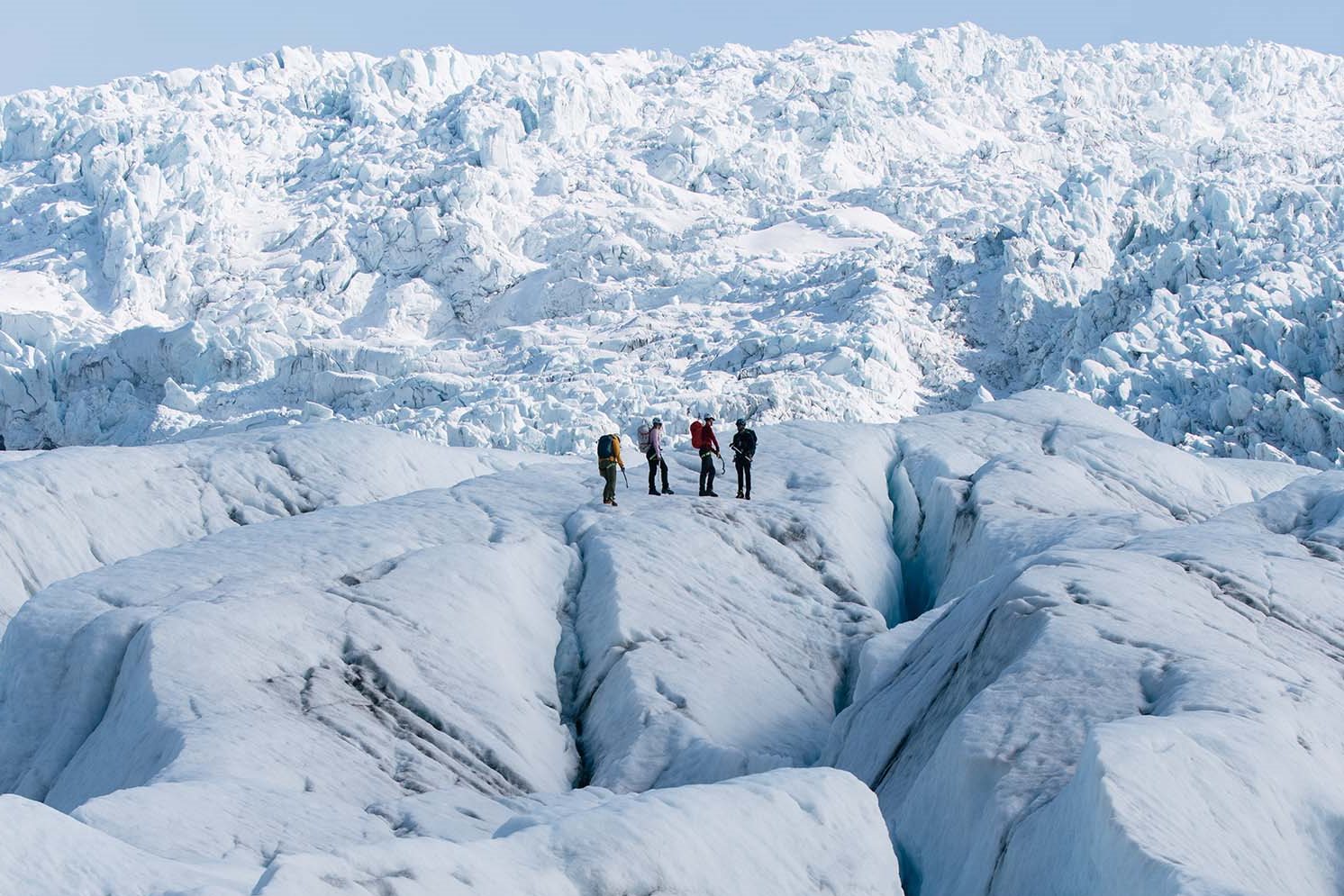 Get ready for the next exhilarating chapter of our icy escapade - ice climbing on the glacier. With the guidance and expertise of your trusty guide, you'll have the chance to unleash your inner ice climber and put your strength to the test.
Scale towering ice walls or venture into crevasses as you soak in the breathtaking panoramic vistas. This is your moment to embrace the thrill of conquering the ice and capturing the essence of this frozen wonderland.
You can expect to spend approximately 4.5 to 5 hours on the glacier's surface, covering about 8 kilometers (5 miles).
Time will fly by in a blur of adrenaline, awe, and unforgettable moments. So seize every second, make the most of this frozen playground, and create memories that will warm your heart long after the adventure ends!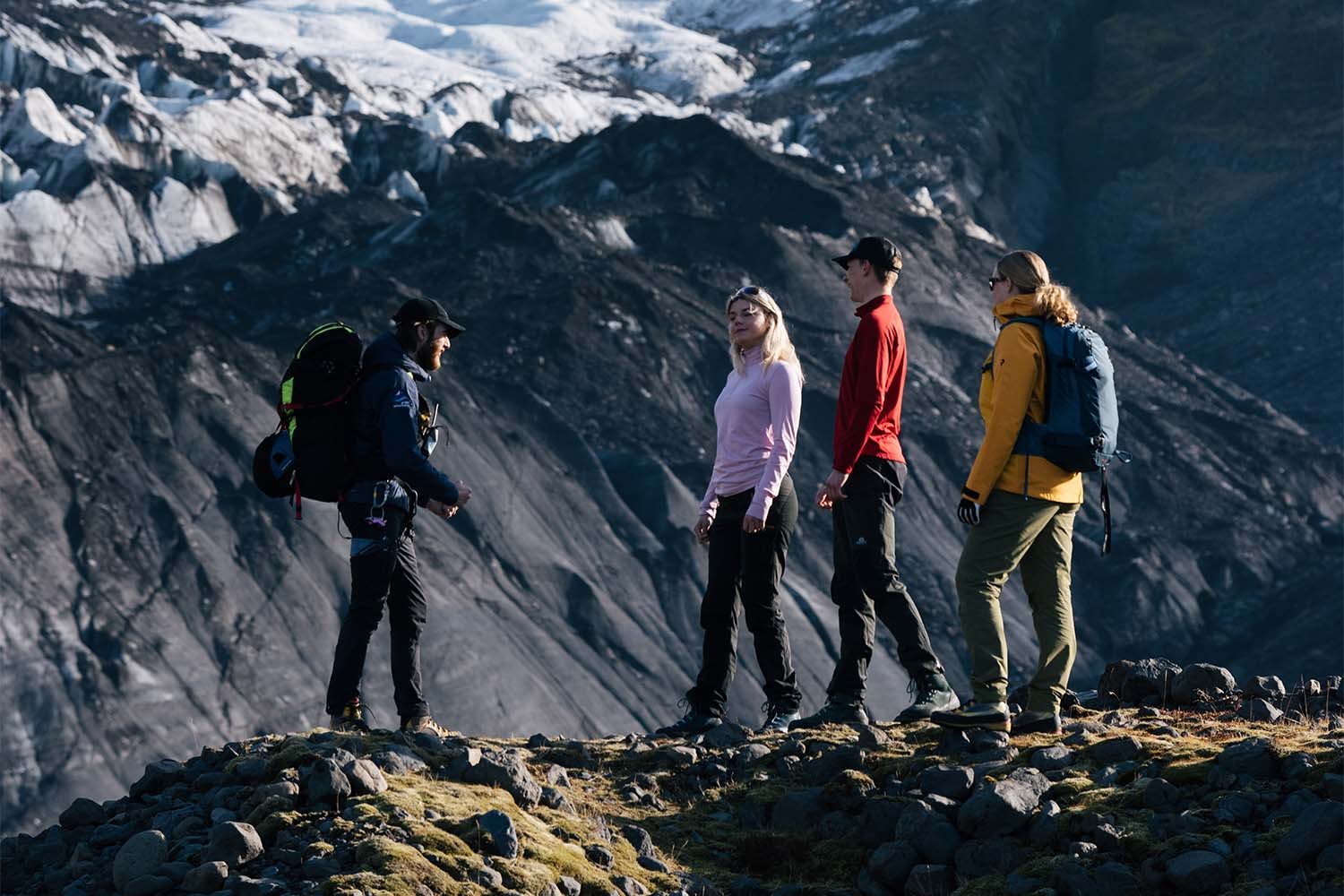 ---
Map: - click to enlarge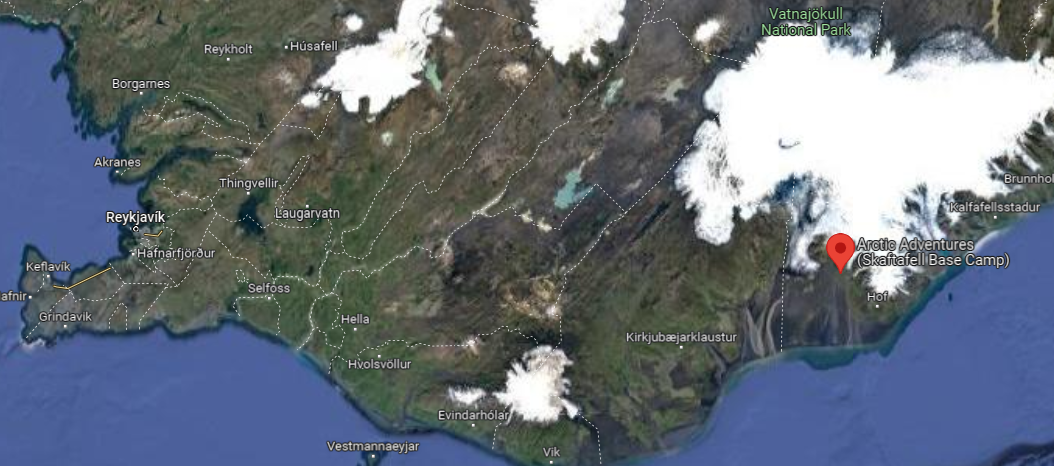 ---
Disclaimer: All day trips are undertaken on the responsibility of their participants. Arctic Adventures does not assume any responsibility for accidents that are caused by its customers or can be traced to their own actions. Participants have to sign a waiver before undertaking all trips stating that they realize that all outdoor activities carry an inherent risk.
---
Related Tours