Looking for a unique way to explore the Land of Fire and Ice? Try out snowmobiling in Iceland on Europe's biggest glaciers! Around 11% of Iceland is covered in ice caps, making it the perfect playground for snowmobiling enthusiasts.
Zooming across a vast glacier on a snowmobile is an experience you'll never forget. Still, it may seem a bit daunting. Our ultimate guide to snowmobiling will answer all your questions and show you the best places for snowmobiling in Iceland.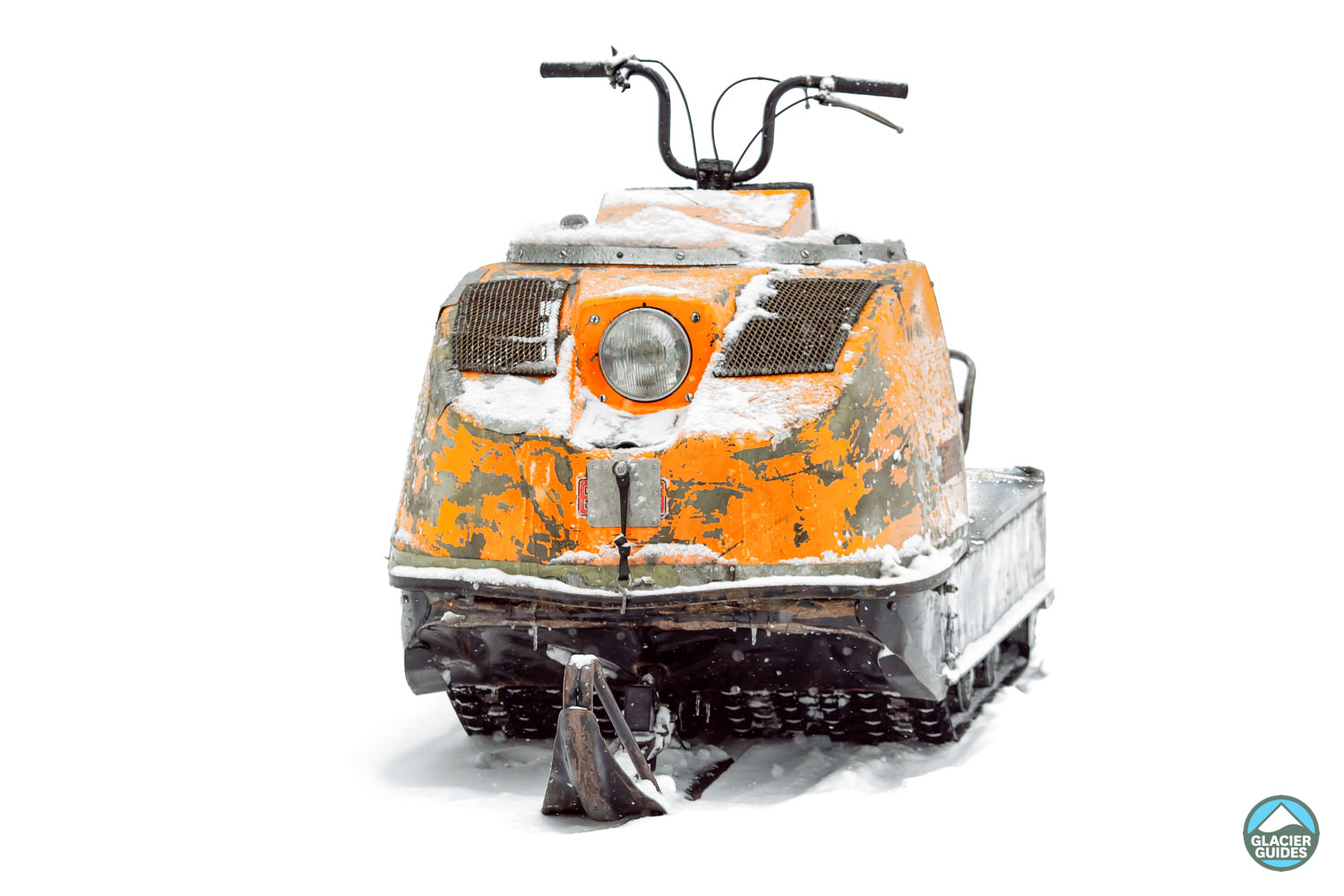 History of Snowmobiling in Iceland
Back in the day, snowmobiles were a means of transportation in remote, snowy places like Iceland and Northern Canada. The snowmobile was invented by a Canadian father who lost his child when he couldn't get him to a hospital on time. To this day, snowmobiles are used by mountain rescue teams in Iceland and other countries.
Snowmobiling Culture in Iceland
Snowmobiling occupies a special place in Icelanders' hearts. They even have their own snowmobiling lingo.  For example, snowmobilers often call each other "sledheads" or refer to their vehicles as "snow scooters." The act of snowmobiling is often shortened to a simple    "'biling."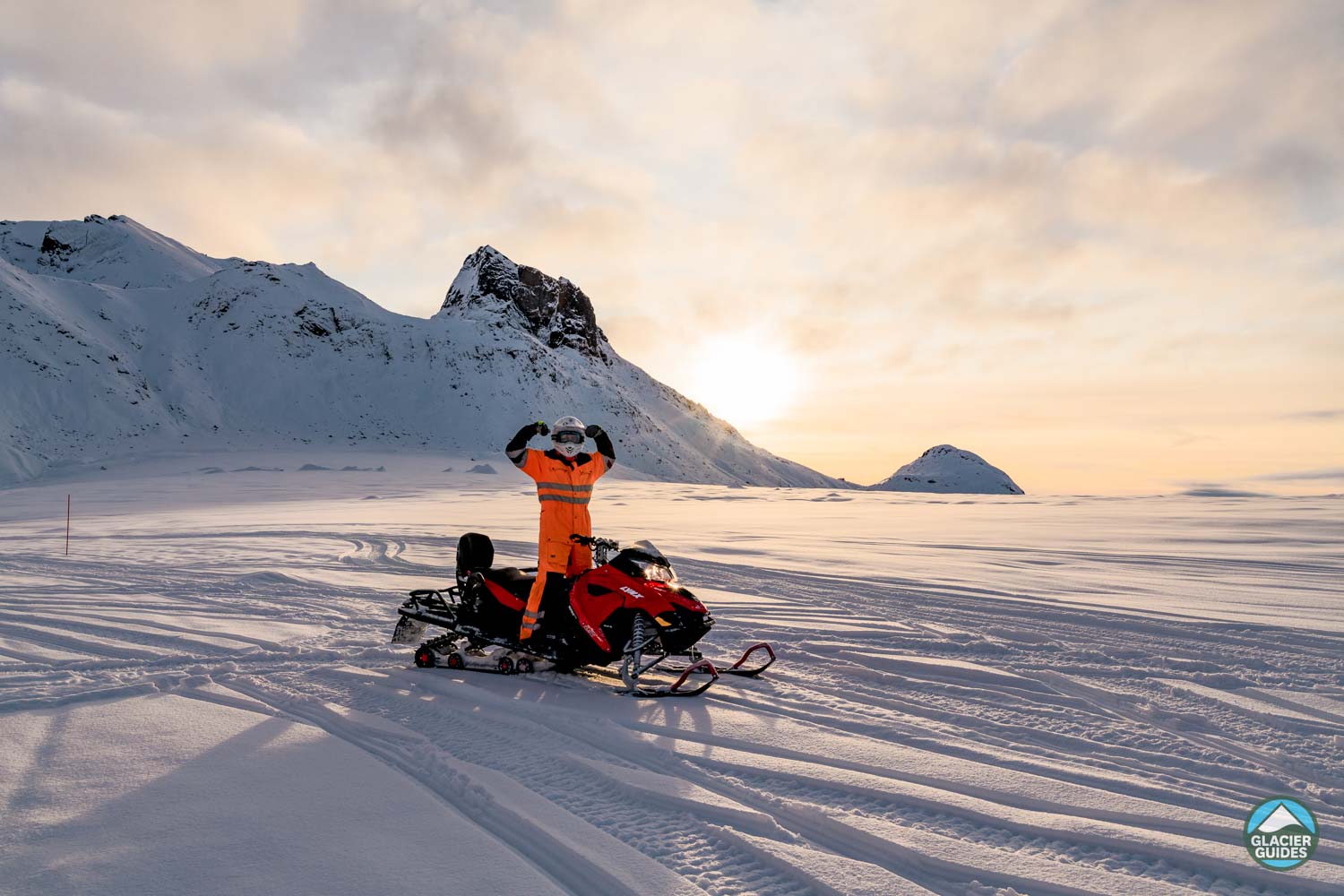 Places for Snowmobiling in Iceland
There are around 269 named glaciers in Iceland. Besides taking in moon-like landscapes,  during your ride, you're also likely to snowmobile over the top of a volcano. That isn't possible anywhere else in the world!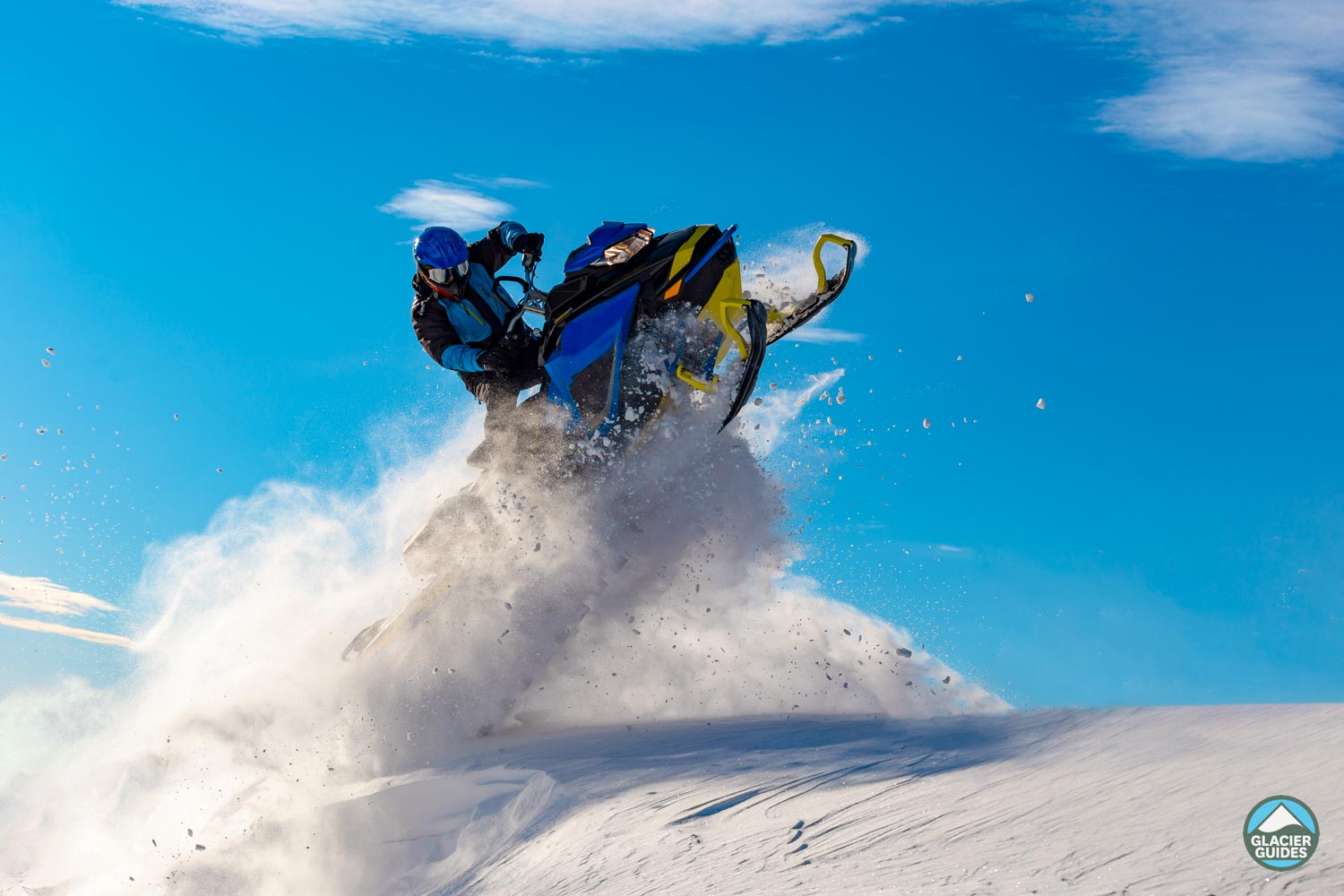 The most popular glaciers for snowmobiling are Vatnajokull, the largest glacier in Iceland and Europe, and Langjokull. Both ice caps hide extensive volcanic systems underneath a thick layer of ice.  A few snowmobiling tours operate on top of Eyjafjallajökull, the infamous volcano that caused mayhem in European airports in 2010.
Snowmobiling on Vatnajokull Glacier
Europe's biggest glacier covers around 3,13 sq. mi. (7,77 sq.km.). That's approximately 8% of Iceland's total landmass! The vast icy wonderland is the perfect playground for thrilling snowmobile rides.
On our snowmobiling tour on Vatnajokull Glacier, you'll be guided by some of the most experienced snowmobilers in the country and learn about the history of Vatnajokull. Zoom past valleys, peaks, and Hvannadalshnjúkur, Iceland's highest peak standing at 6,921 ft (2,109.6 m).
Langjökull Glacier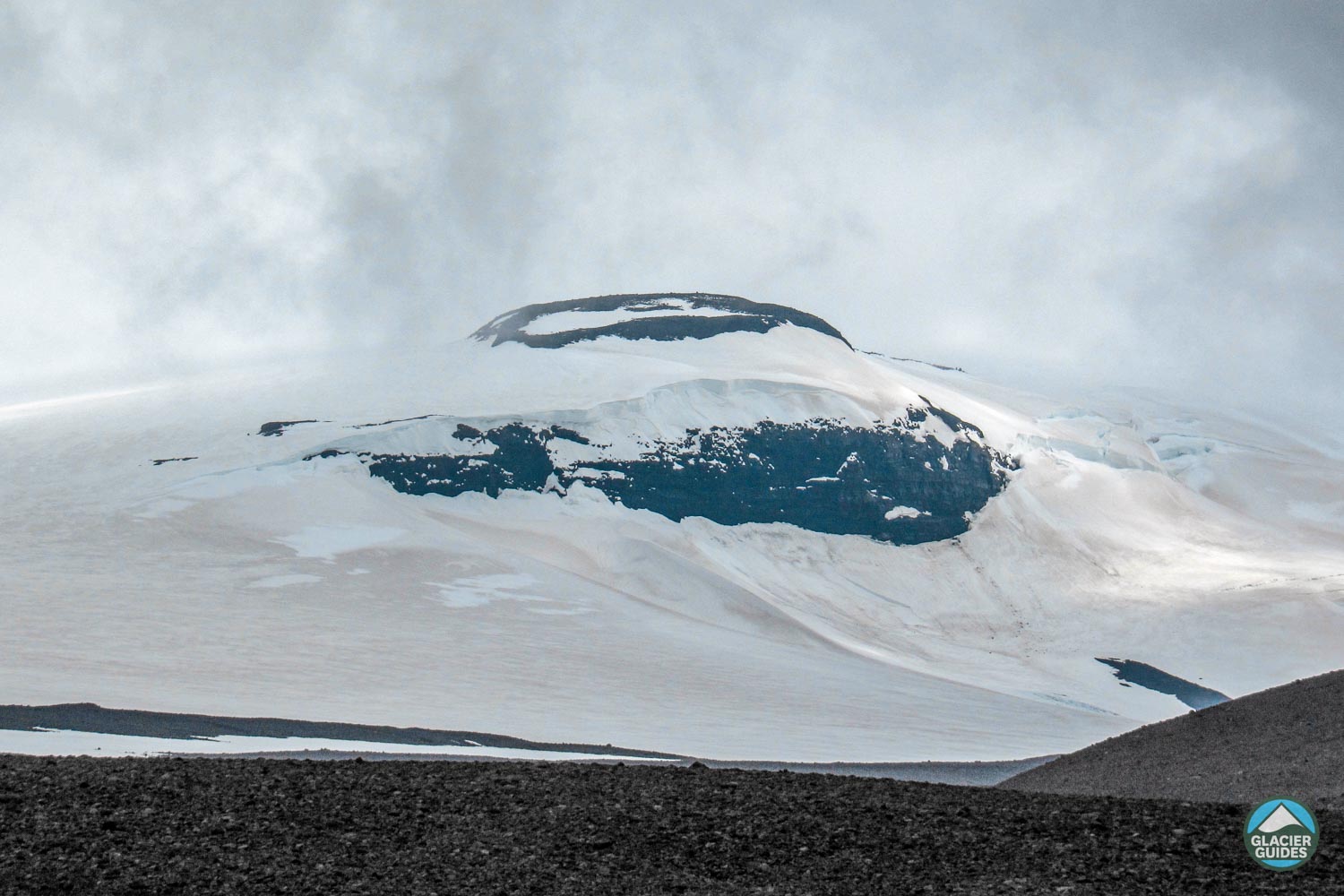 Langjokull Glacier is one of the most popular destinations for adrenaline seekers. Loved by locals and travelers alike, the glacier is the second-largest ice cap in Iceland. Translated from Icelandic, Langjokull means the "long glacier." And no wonder — it stretches for a whopping 31 mi (50 km). Bordered by Eiríksjökull and Hofsjökull Glaciers, Langjokull also has views of Kerlingarfjöll Mountain Range, the largest geothermal area in Europe.
A man-made tunnel pierces through the heart of the glacier. Our snowmobiling tour on Langjokull includes entrance to the tunnel, where a knowledgeable glacier guide will tell you all about this unique creation. 
Snowmobiling on a Volcano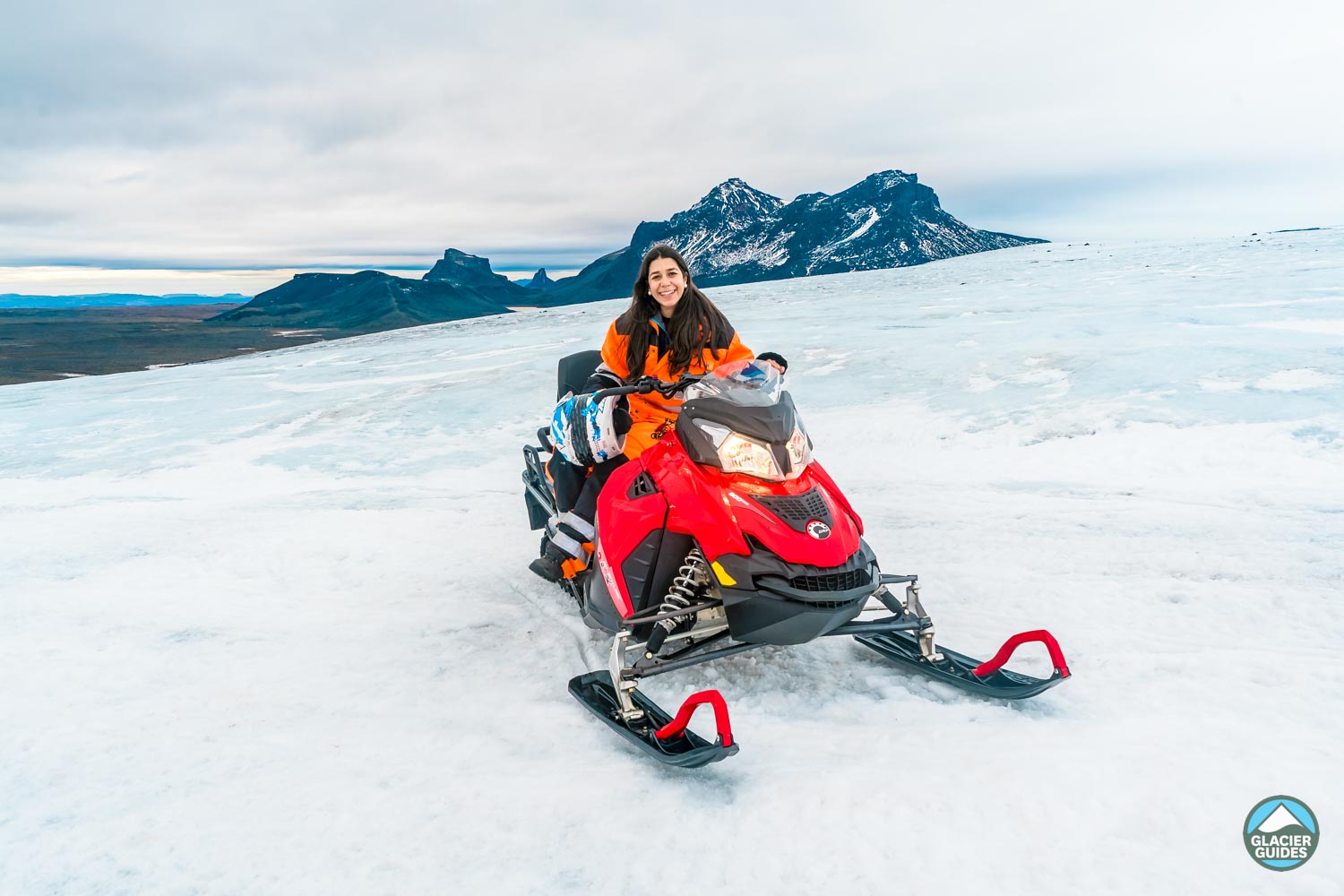 Iceland has almost as many volcanoes as it does glaciers. Luckily, some of them are covered with a thick layer of ice, allowing you to snowmobile right over the top of them! One such volcano is Eyjafjallajökull. From the top of the volcano, you can see Iceland's South Coast stretched out before you.
Join our Eyjafjallajökull snowmobiling tour to explore towering rock formations and the views of the South Coast and to find out about the volcanic activity underneath you!
Meet our Snowmobiling Guide Mardis
Mardis has worked as a  snowmobiling guide for three years now — and enjoyed every second. Check out this cool video about the life of a snowmobile guide in Iceland.
Snowmobiling Gear
Our tours provide you will all the necessary snowmobiling gear and safety equipment. Here's a video on the gear we provide and how to put it on:
Snowmobile suit. Most adventure snowmobile tours provide a snowmobile suit. There are no weight or height restrictions and the sizes vary from XS to 5XL.
Helmet. This will also be provided to you on the tour together with the suit. 
Balaclava and gloves. Together with the suit, you're also usually given a balaclava and snowmobiling gloves. The gloves that you bring with you will most likely fit under the snowmobiling gloves, so be sure to bring them too!
What to Wear While Snowmobiling?
Regardless of where you decide to go snowmobiling, dressing appropriately is important. Keep in mind that you will most likely be snowmobiling in winter. While the activity is exhilarating, you won't be moving much.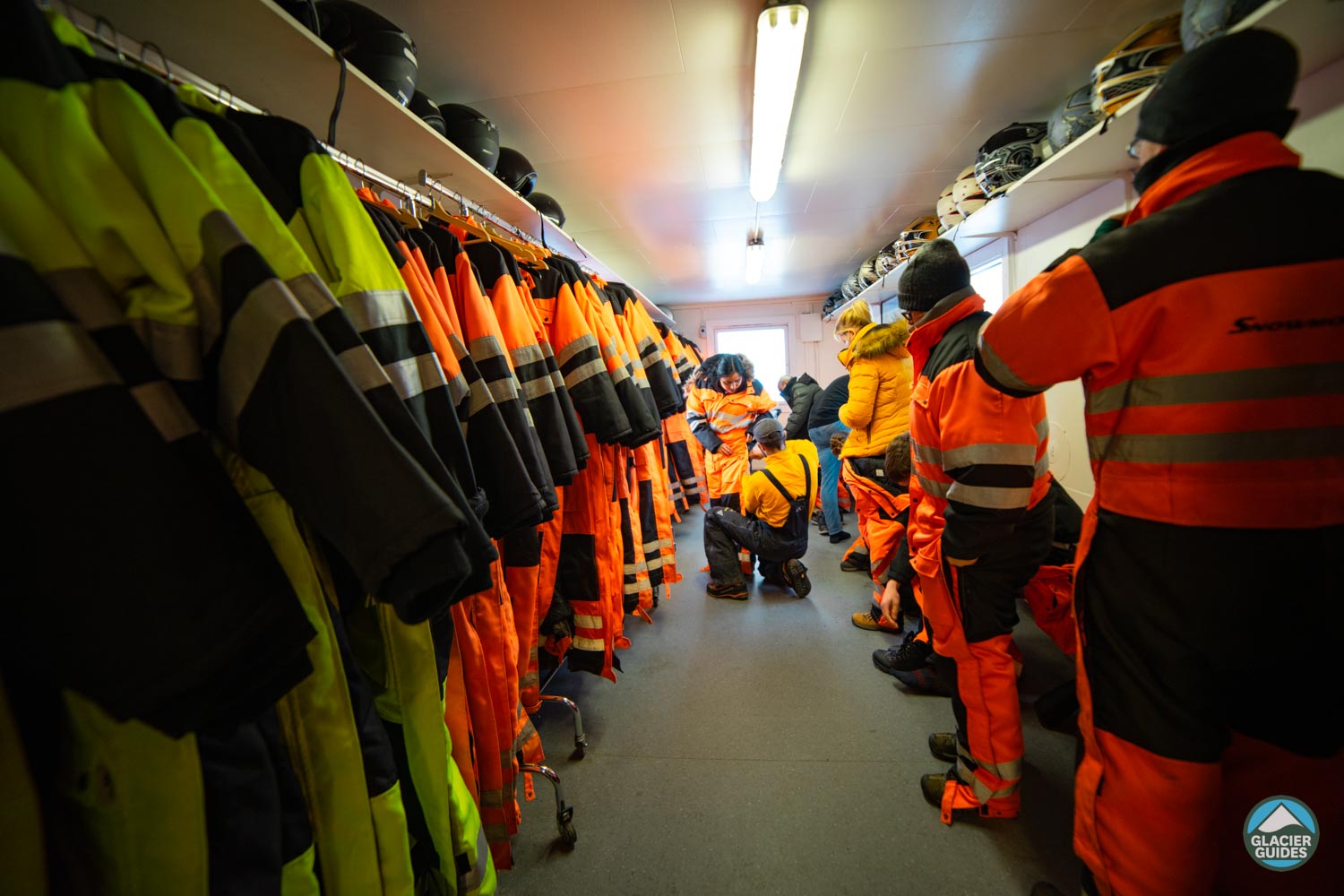 It's important to keep yourself warm on and off the snowmobile. Be sure to bring the following on your snowmobile ride:
Layers. Your base layer will keep you warm. It's usually made of wool or high-quality synthetics. The second layer should be warm, breathable, and easy to take off or put on. The top layer should be wind- and water-proof, or at least resistant. Rain, snow, or hail might come out of nowhere, so be ready!
Hat, scarf, and gloves. A good quality fleece or wool hat, gloves, and scarf will definitely come in handy. 
Sturdy boots.

There are no words to stress how important your boots are in Iceland.  If you want to enjoy your ride to the fullest, you must invest in hiking boots, snow boots, or any other high-quality waterproof footwear. If you don't own hiking or snow boots, you can rent them from us upon booking.

Hand warmers. Since you'll mostly be sitting still on the snowmobile, your hands might get chilly. Hand warmers are a great solution. insert them inside your gloves and they'll instantly heat your hands!
Snowmobiling Safety
Riding a snowmobile by yourself can be very dangerous if you're not following the rules. Guided snowmobiling tours, on the other hand, have a high success rate as accidents rarely happen. Prior to any tour, you'll be instructed on safety precautions and possible accident scenarios. You should also always be accompanied by a guide during the ride.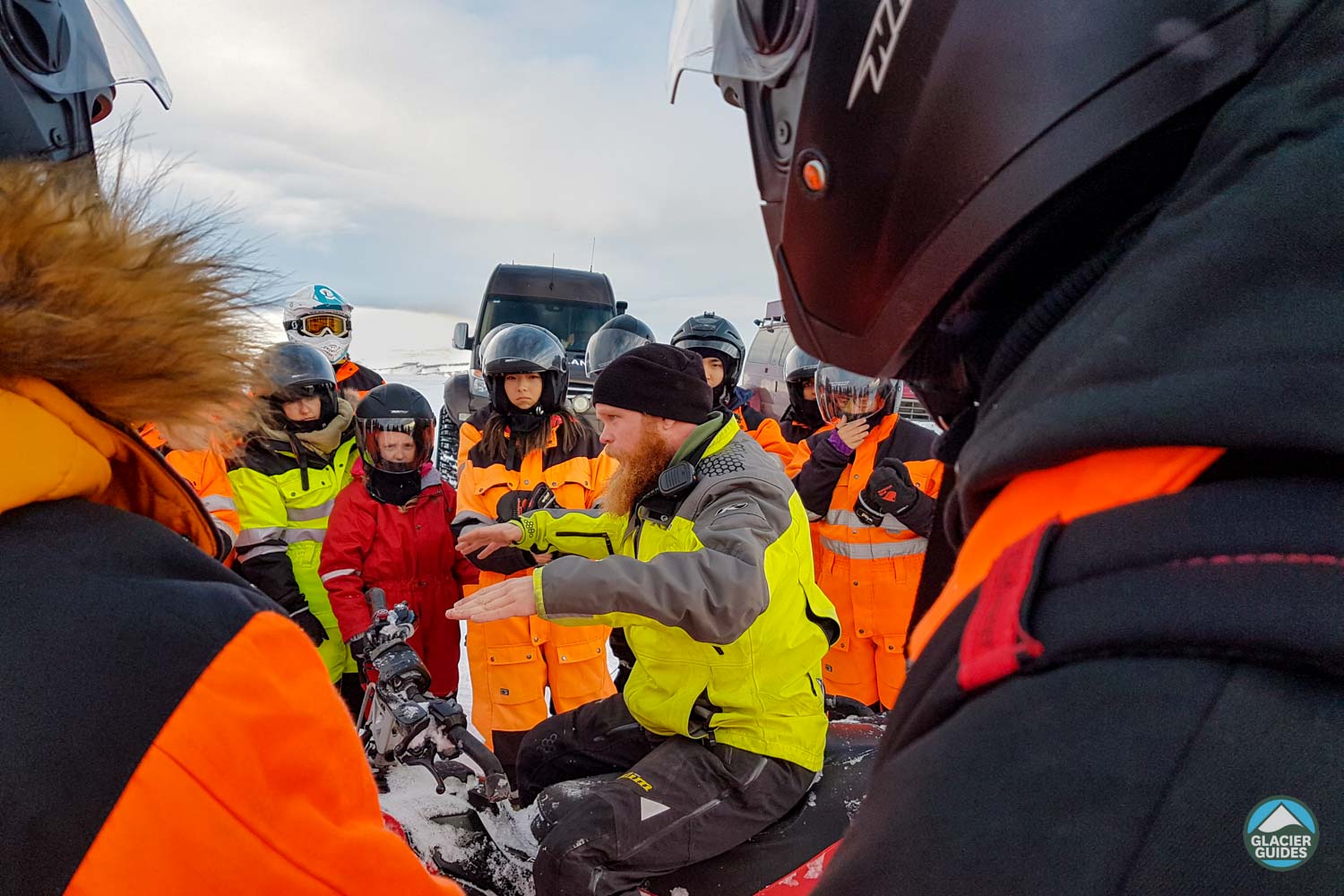 Our guides are experienced and certified snowmobiling experts. Your safety is their number one priority. Before the tour, they provide you with all the necessary gear and explain how to control the snowmobile. Then they ride alongside you, making sure you're safe and that no accidents happen.
Here are a few safety guidelines to follow before your ride:
Alcohol and snowmobiles don't mix. Just like with cars, drinking and driving a snowmobile is prohibited. No guide will let you get on a snowmobile if you've been drinking alcohol. Alcohol slows your reaction, increases the risk of hypothermia, and fogs your ability to make decisions.
Speeding is never an option on a snowmobile, especially if you're riding one for the first time. Going over the speed limit may result in an accident. The ride is exhilarating and exciting as it is, so there's no need to push your snowmobile's limits. 
Follow your guide's instructions. 
To avoid any accidents on your snowmobiling tour, you should always follow your guide's instructions. Our guides will answer all of your queries before the tour. They have extensive snowmobiling experience and know what to do in various situations.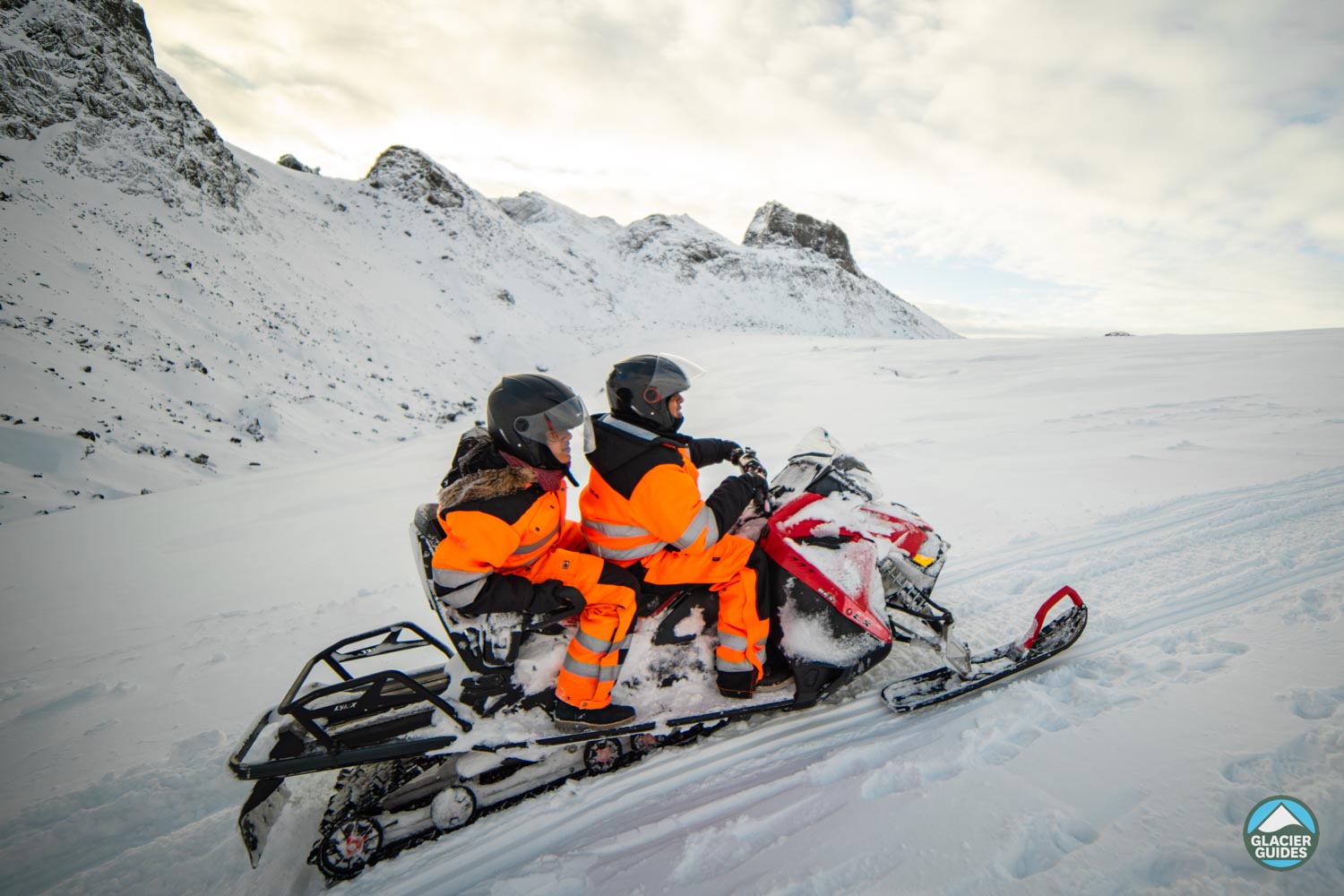 Best Snowmobiling Tours in Iceland
Pumped to try out snowmobiling but not sure where to begin? Snowmobiling tours in Iceland can be divided into two categories: only snowmobiling or snowmobiling combo tours. On an only-snowmobiling tour, you'll spend around an hour riding across the surface of a glacier surrounded by breathtaking views. A combo tour will include other activities along with snowmobiling.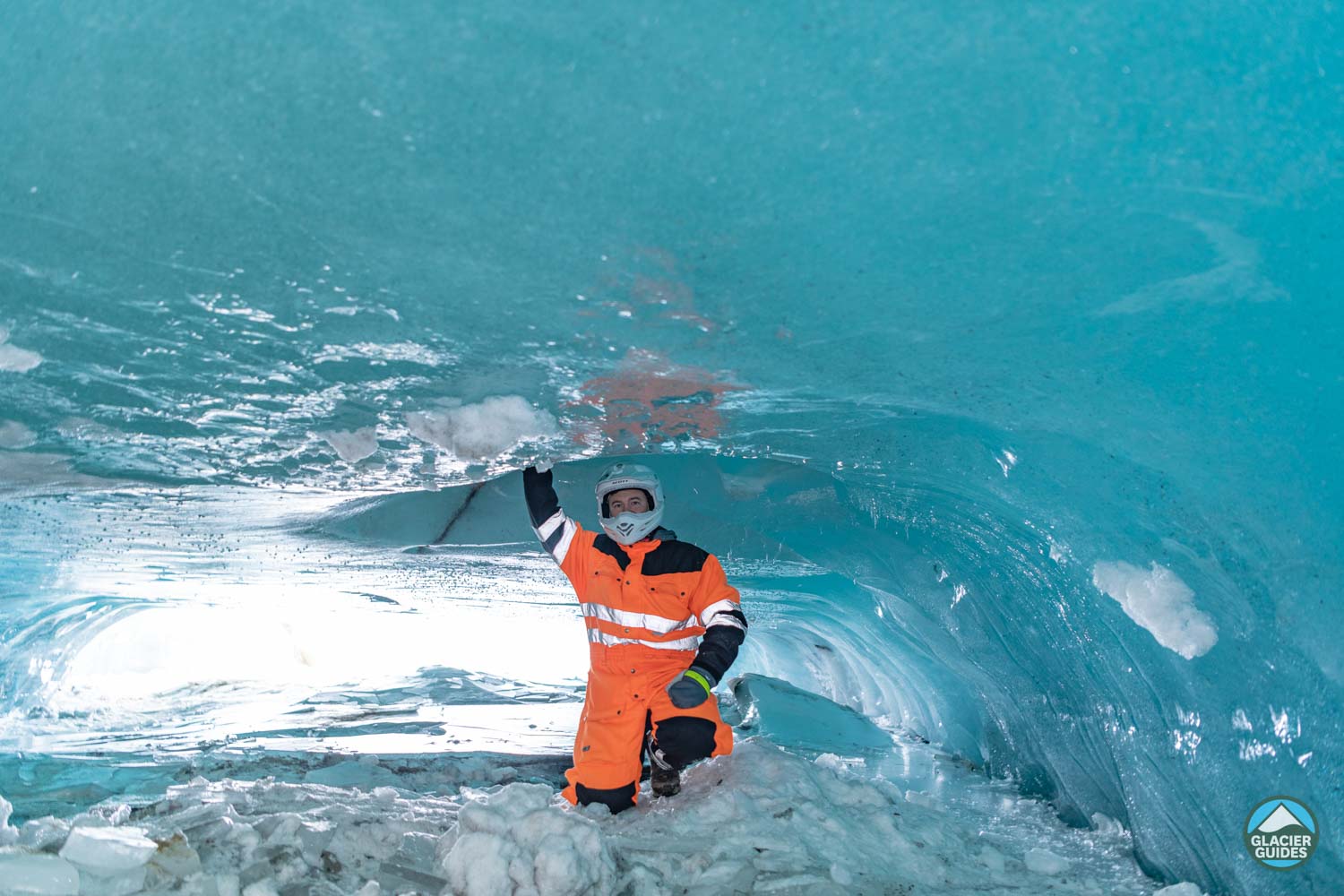 Check out these awesome snowmobiling-only tours:
For those who want to add more adventure to their snowmobiling experience, we also offer combo tours!
FAQ
How old do you have to be to snowmobile?
If you want to drive a snowmobile, you must be at least 18 years old and hold a valid driver's license. For passengers the minimum age is 8.
Can you drive a snowmobile without a license?
Unfortunately, no. Just as with cars, snowmobiles require a driver's license.
What is provided on a snowmobile tour?
An overall suit, helmet, balaclava, and gloves.
Do I need previous experience?
Luckily, those who never tried snowmobiling before are very welcome on our tours. No previous riding experience is necessary.
Can you go on a snowmobiling tour in the summertime in Iceland?
Yes. Each season in Iceland has its own magic, and snowmobiling in summer is just as exquisite as in winter.