Iceland is only fully understood once you've spent time on its largest glacier. Vatnajökull Glacier covers 8% of Iceland's total area, making it the largest glacier in Iceland and the second-largest in Europe. 
Vatnajökull Glacier National Park isn't only big — it's also home to the most exciting sites and activities in the country. This is the ultimate spot in Iceland for glacier hiking, ice climbing, cave exploring, and more. As the largest national park in Europe, Vatnajokull is full of hidden pockets that are well worth exploring. 
What is Vatnajökull Glacier?
Vatnajökull is an enormous glacier in South Iceland. It stretches over 3,000 square miles (8,100 square km), covering 8% of Iceland's total area. The average thickness throughout is 1640 feet, but the thickest parts of the glacier measure 3117 feet. That's over half a mile! 
Vatnajökull also has 30 outlet glaciers. These glacial tongues are a fantasy world of blue ice, volcanic ash, and fascinating wildlife. The best glacier hikes set out over the outlets, which are as fascinating as Vatnajokull itself.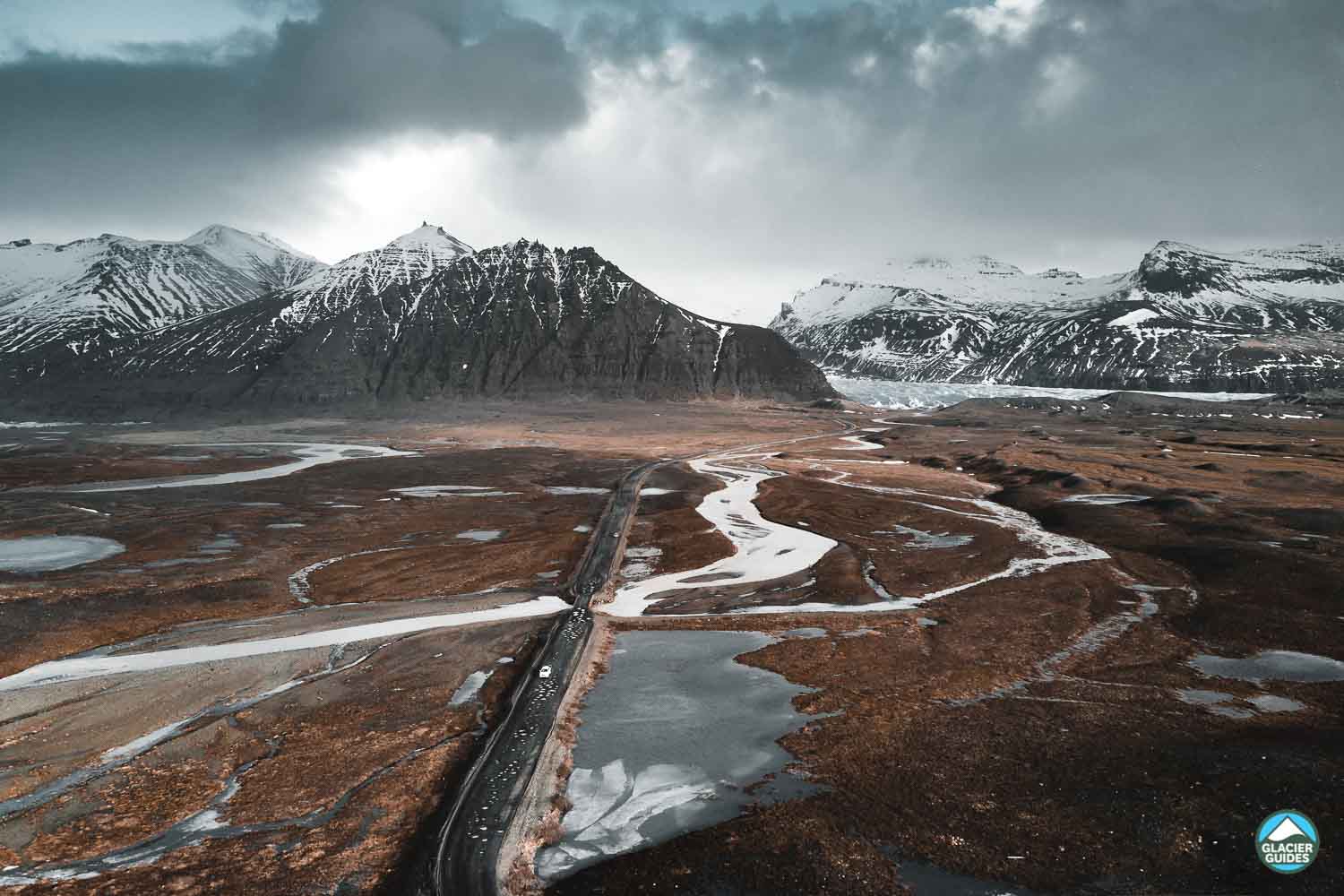 The glacier was first formed about 2,500 years ago but has ebbed and flowed over time. When Iceland was first settled in the ninth century, the glacier was much smaller. In the 13th century, the area froze over and the glacier expanded. The size of the ice cap reached its peak in 1930. It's been on the decline since then, largely due to global warming. 
Several active volcanoes are hidden under Vatnajökull's thick layers of ice. These volcanoes haven't erupted for some time, but scientists suspect an explosive comeback in the next half-century. Among the volcano craters stands Hvannadalshnúkur Peak, the highest peak in Iceland at 6,921 ft (2,110 meters). 
With a mixture of adventure sports, sightseeing, and relaxation, this stunning ice cap has something for everyone. Here are our top 5 favorite things to do in Vatnajökull National Park.
Best Things to Do at Vatnajökull Glacier National Park
1. Go Glacier Hiking
The best way to appreciate this ice cap and its many outlets is to walk across them. Vatnajökull's outlet glaciers are great places to hike for all ages and experience levels.
Vatnajökull's most famous glacial tongue, Falljökull, has some of the best hiking in the country. This breathtaking outlet glacier is very accessible and has everything glaciers are known for — jagged ice sculptures, deep crevasses, and beautiful views across the horizon. Falljökull is located on the southeast corner of Vatnajökull in Skaftafell Nature Reserve. From the nature reserve it's easy to set out on a hike.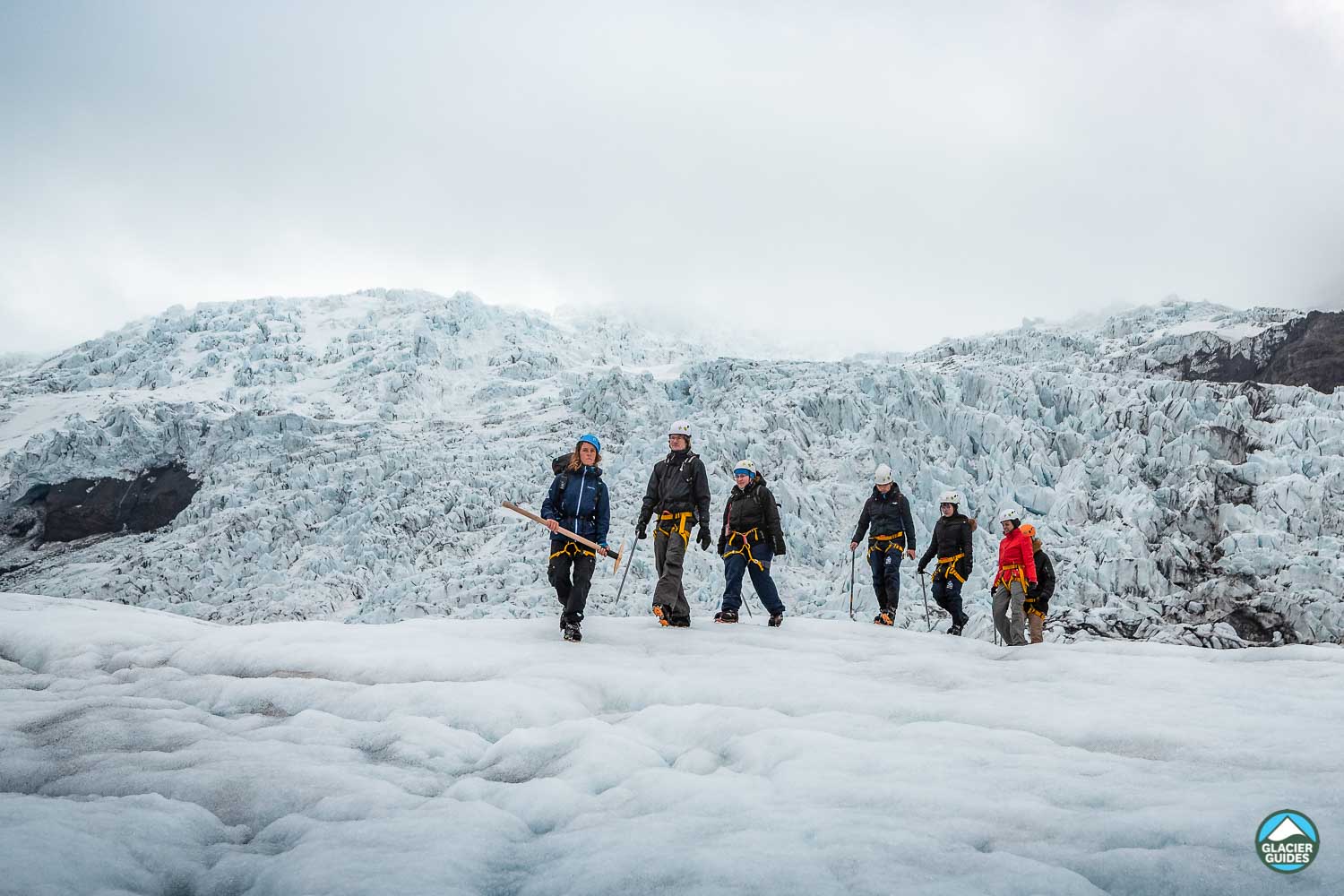 Guided hikes of Falljökull take visitors on a safe and exciting journey across the glacier. Expert guides will teach you everything there is to know about the nature, geology, and history of the area. Hiking with an experienced guide is crucial, as you'll need special equipment and techniques in order to hike safely. You'll be supplied with the necessary crampons, ice axes, and helmets. 
Hikers of all ages and experience levels can set out on a three-hour glacier walk on Falljökull Glacier. If you're up for more exercise, the half-day Falljökull Glacier hike features even more of the glacier's ice falls and twisting labyrinths. 
2. Take a Zodiac Boat Tour of Jökulsárlón Glacier Lagoon
The national park's glacier lagoon is as stunning as the glacier itself. Under the looming shadow of Vatnajökull Glacier, the Jökulsárlón Glacier Lagoon is one of Vatnajökull National Park's greatest gems. Icebergs break off from the glaciers into the lagoon.The glacial waters glitter with icebergs of all shapes, sizes, and colors — crystal clear, turquoise, and deep royal blue.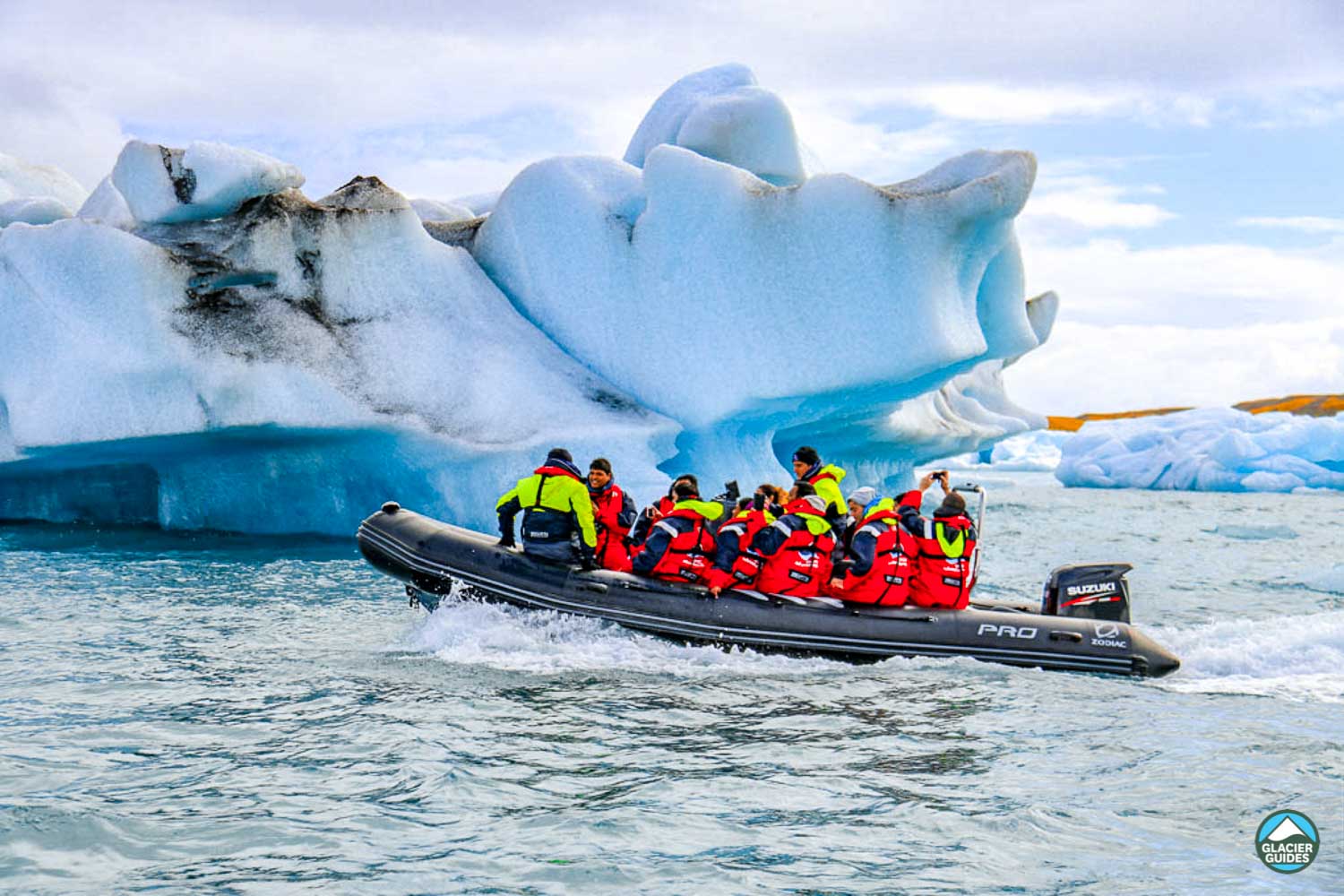 A boat ride is an exciting way to experience the lagoon and its dramatic surroundings. A zodiac boat tour winds its way through the glacier lagoon's icebergs and ice peaks. Zodiac boats are inflatable rubber boats designed for sightseeing, ensuring a safe and exciting journey. You'll sail to hidden pockets of Vatnajökull National Park that are otherwise unreachable. 
After your boat tour, take a short walk to the famous Diamond Beach on the edge of the lagoon. This black sand beach glitters with crystal and blue icebergs and is considered one of the most photogenic places on Earth. 
3. Climb Through a Crystal Ice Cave
The wonders of Vatnajökull National Park aren't only on the ice – they're beneath the surface too. Vatnajökull Glacier's crystal blue ice caves are a special natural phenomenon in South Iceland.
Each year, the glaciers cool and form new, unique ice caves. Expert guides bring visitors deep down into this crystal blue ice world. Ice cave tours last about 40 minutes, giving you plenty of time to explore the caves and take pictures.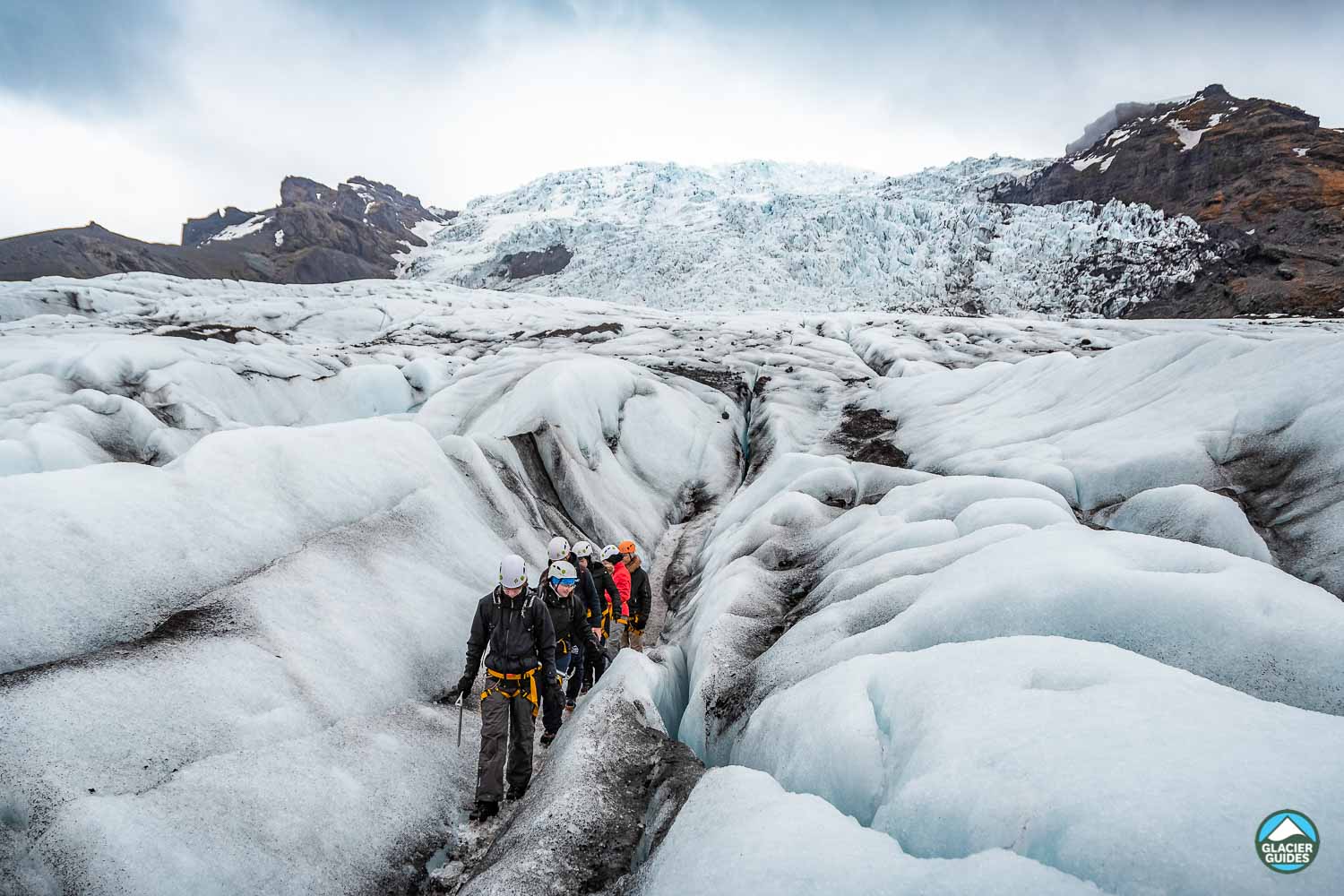 Ice caving calls for special safety measures, so you must visit the caves with a guide. Under their expert eyes, guests are sure to have a safe and exciting experience.
The ice caves form when the glaciers cool, so ice caving tours are only available in winter. That's just another reason to visit Iceland in the off-season, when the Northern Lights sparkle over the glacier. 
If you're seeking out the ultimate Vatnajökull adventure, you can combine an ice cave tour with a glacier hike.
4. Go Ice Climbing 
For serious adventurers, ice climbing is the ideal way to experience glaciers like most visitors never will. Sólheimajökull, an outlet glacier of Vatnajökull, is full of smooth ice walls that are perfect for climbing. When you reach the top of the ice, you'll have a great sense of accomplishment and adventure.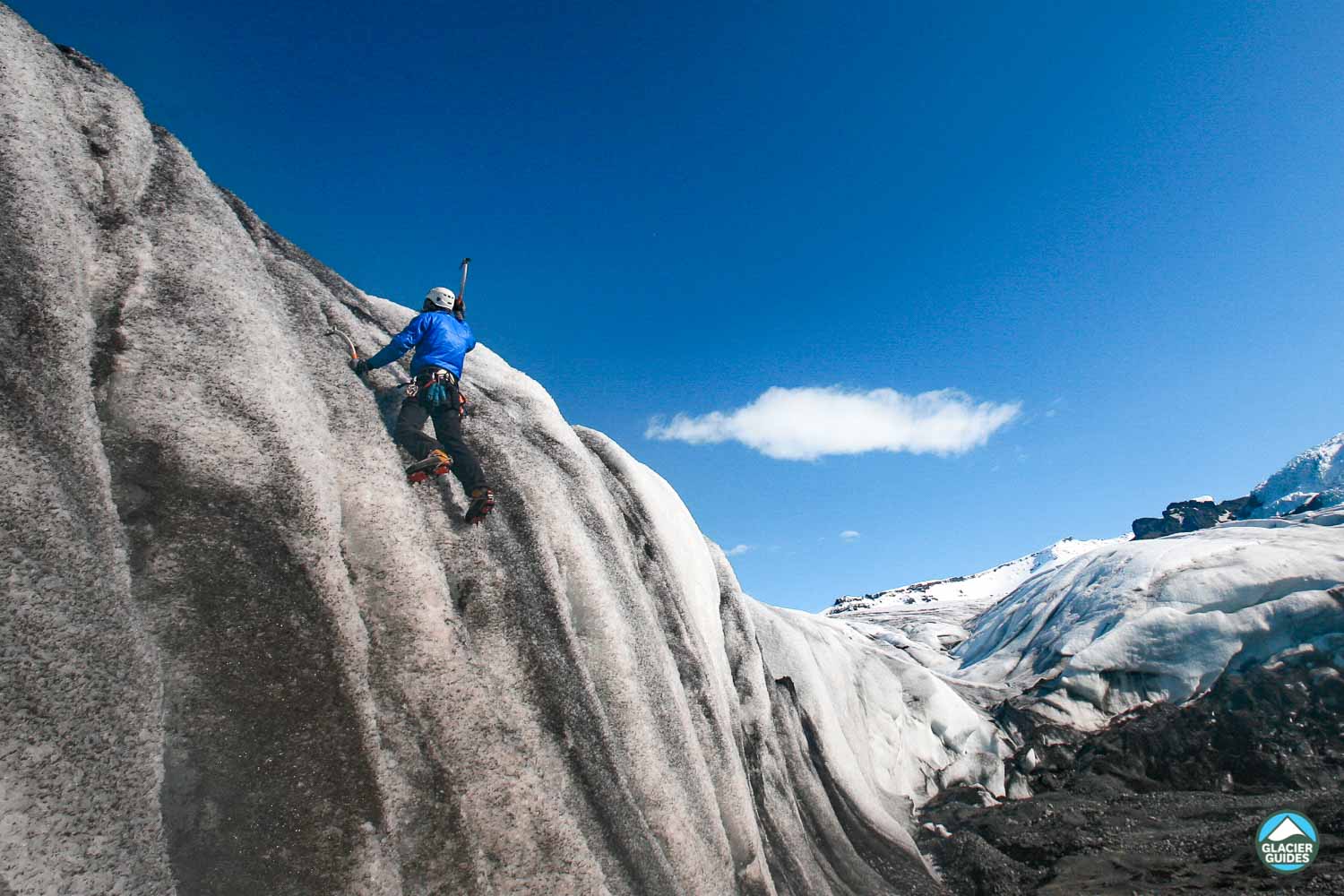 If you've been rock climbing before, then ice climbing will be a refreshing challenge. Climbers say that the thrill of ice climbing is much greater than that of rock climbing. As you ascend the ice wall, you'll settle into a steady, meditative rhythm. Ice climbers report that the experience is calming and even transcendental. 
Ice climbing tours provide all the necessary safety equipment and an expert guide. On the way to the ice walls, you'll hike past the glacier's ice sculptures, ridges, and sinkholes. This combination of hiking and climbing gets you up close and personal with Iceland's greatest icy wonders. 
5. Ride in a Super Jeep
See as much of the glacier wonderland as possible with a thrilling super jeep tour of Vatnajökull. Super jeep tours pack all of the glacier's most incredible sites into a three or four-hour journey. The powerful vehicle goes both on and off-road, taking you to hidden corners that can't be reached by foot.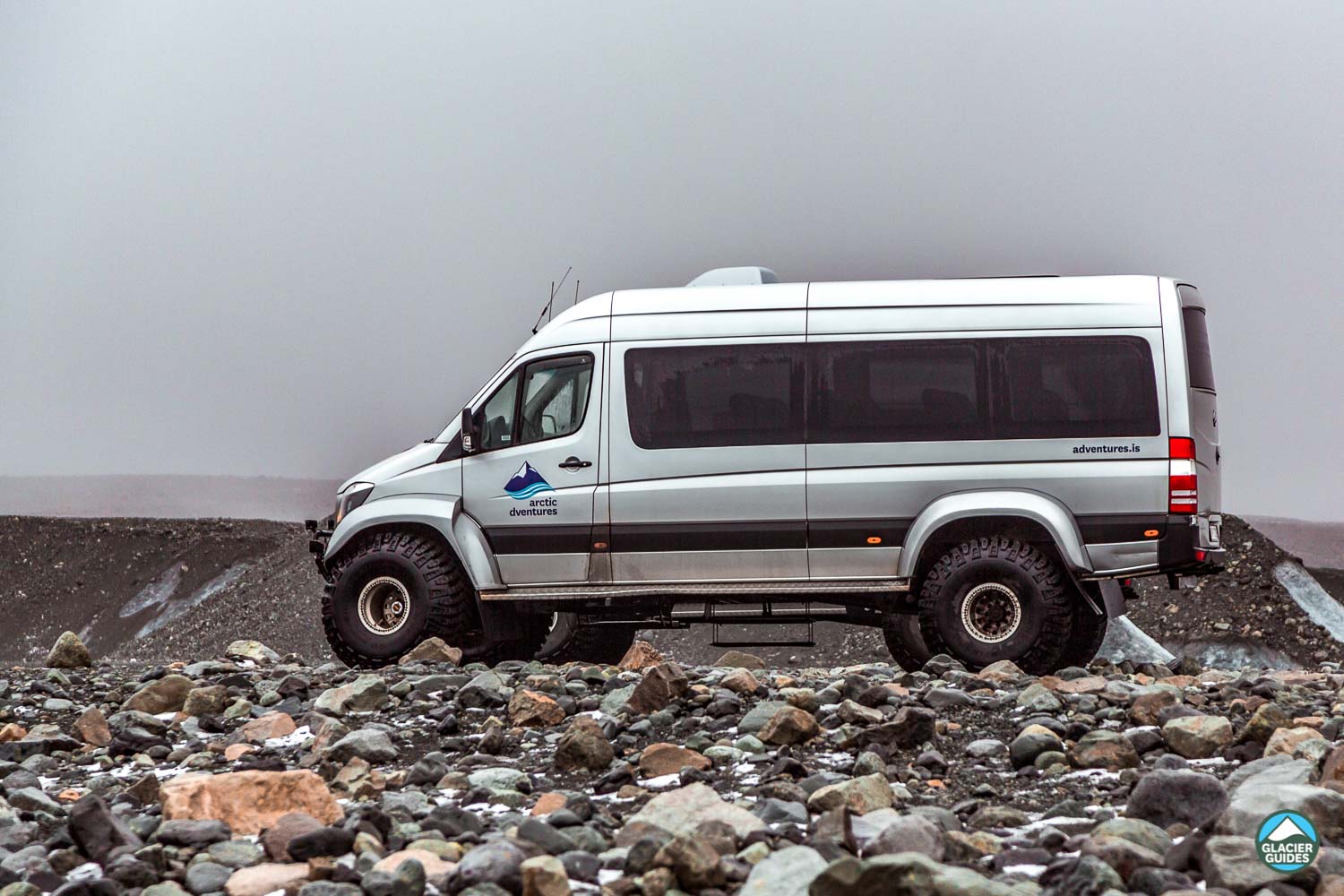 The jeep rolls past stunning views of Sultartungugil Glacial Valley, the dramatic peaks of the Esjufjöll Mountains, and Öræfajökull, the most active volcano in Iceland. It then takes visitors to Skálafellsjökull Outlet Glacier, a secluded ice cap. You'll then get out of the jeep and hike along the serene, remote glacier.
Jeep tours make stops for sightseeing and short hikes, so it's still important to wear hiking boots and dress warmly. 
Itching to book some time on the ice? Check out our glacier tours in Vatnajökull National Park!