About Reynisfjara Black Sand Beach
Reynisfjara is the most famous black sand beach in Iceland —  and the most dramatic! Located on the South Coast, Reynisfjara is near the village of Vik and easy to reach from Reykjavik.
The beach was voted one of the top 10 non-tropical beaches in the world by National Geographic. It's easy to see why! Visitors to Reynisfjara can wander among massive basalt columns and incredible rock formations set against dark sand.
Reynisfjara is also home to Iceland's beloved puffins, the most photographed seabirds in the country.
If you're searching for a wild beach experience, look no further!
The Eerie Folktales Behind the Beach
The tales surrounding Reynisfjara are no less dramatic than the beach itself. Once you arrive at Reynisfjara, you'll immediately notice jagged sea stacks rising out of the North Atlantic Ocean. These 216-ft (66-m) rock pillars are called Reynisdrangar.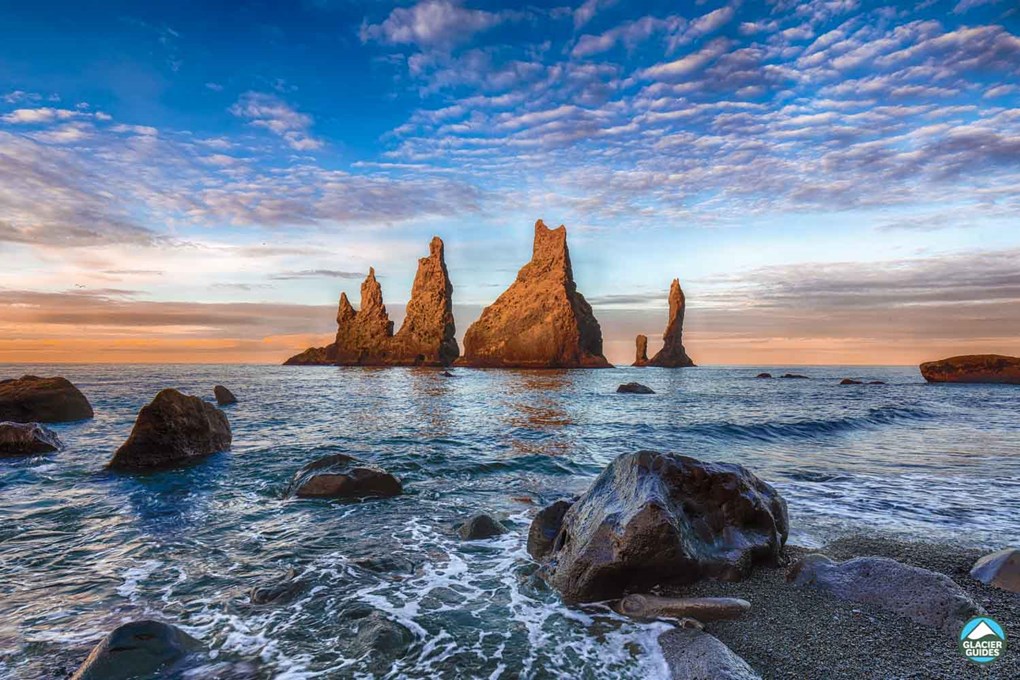 According to Icelandic folklore, the Reynisdrangar rock formations were once trolls. While trying to pull ships from the ocean to the shore, the trolls took too long to reach land. At the break of dawn, they were turned to stone.
Even today, locals believe you can hear the trolls' cries as they long for their home in the mountains. 
An alternative legend says that two trolls murdered a human woman. Her mourning husband hunted them down and turned them to stone.
Geologists have their own explanation for the sea stacks. They claim that Reynisdrangar was once part of Reynisfjall Mountain. Harsh weather and fierce waves eroded the cliffs into the jagged form you see today.
Natural elements continue to erode the basalt sea stacks on a daily basis. This means no two visits to the site are ever the same.
Although the geological explanation is likely the correct one, as you stand in front of Reynisdrangar, the legend of the trolls feels very true as well.
Why is Reynisfjara Beach Black?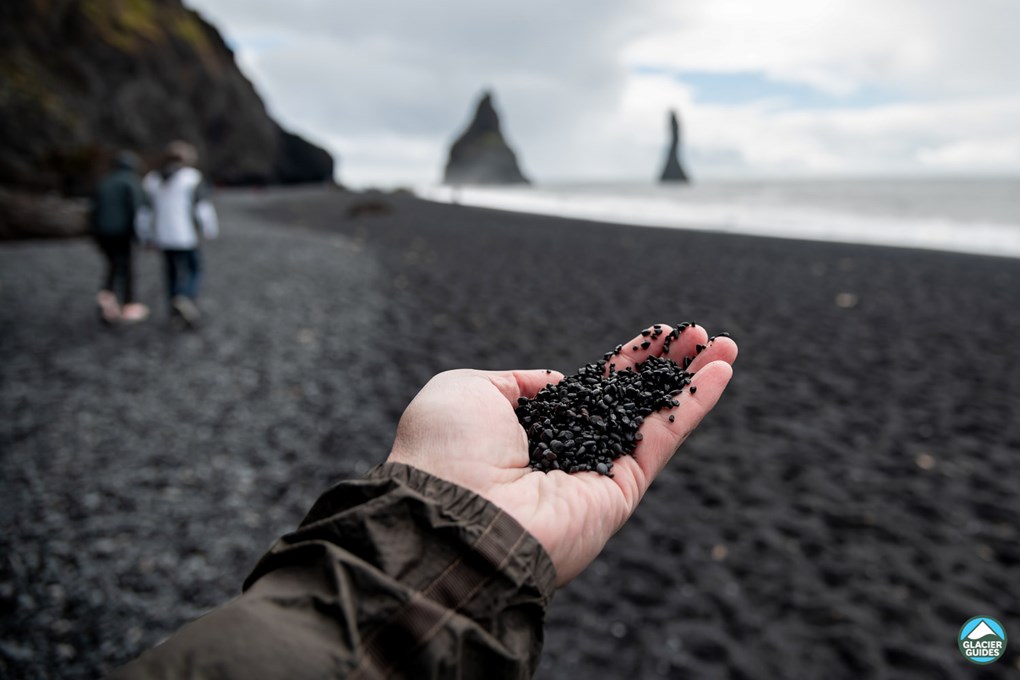 So why is the sand black at Reynisfjara? The answer lies in its volcanic history.
Sand is formed when the weather, such as wind, rain, and changes in temperature, breaks down rocks into tiny particles.
The sand at Reynisfjara originally comprised black and dark grey volcanic rocks. This dark color is caused by high iron content.
Basalt is the most common volcanic rock in Iceland. You'll find plenty of it at Reynisfjara!
Wildlife at Iceland's Reynisfjara Beach
Don't forget binoculars when packing for your trip to Reynisfjara! The site is a bird lover's paradise.
In the summer, puffins make themselves home at the black beach and surrounding cliffs. They aren't afraid of humans, so you can approach them within meters. But please don't touch! Touching puffins ruins the water-repellent properties of their feathers, which can be very dangerous.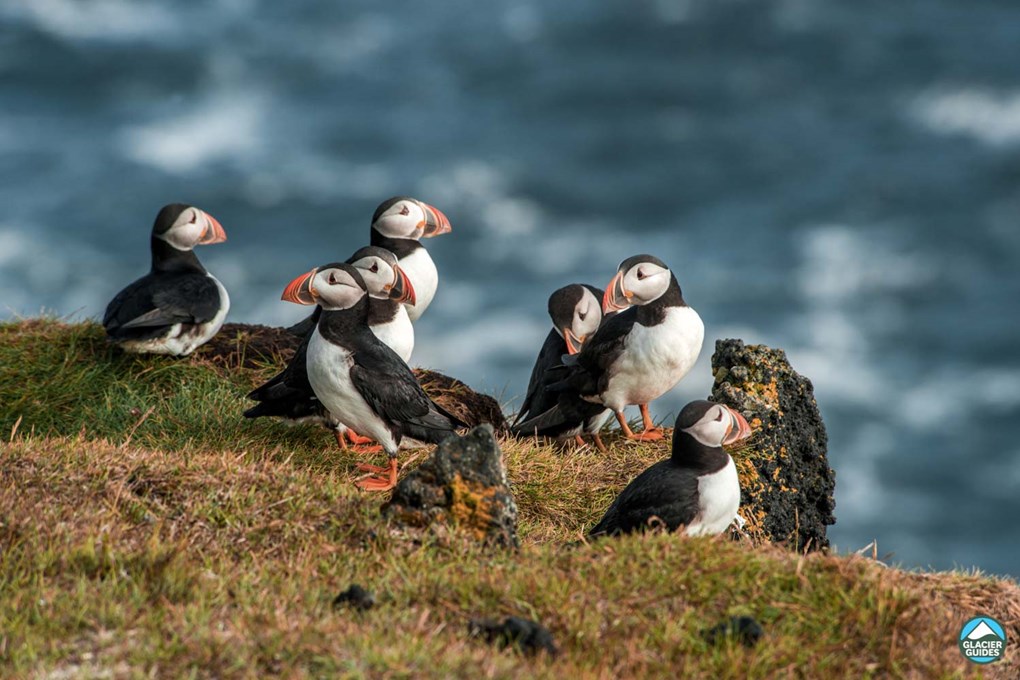 At Reynisfjara you can spot other birds including fulmars, Arctic terns, and seagulls.
Iceland's rugged coast is rich with marine wildlife. If you're lucky, you might spot a seal or a giant whale.
Movies and TV Shows Filmed at Reynisfjara Beach
The ghostly atmosphere of Reynisfjara has won the hearts of artists worldwide. The beach has appeared in several Hollywood movies and TV shows.
Season 7 of

Game of Thrones

features the Reynisfjara cliffs.

The otherworldly scenes of

Star Trek Into Darkness (2013)

were shot at Reynisfjara.

Noah (2014)

features Hálsanefshellir Cave, found on the beach.

The creators of

Rogue One: A Star Wars Story (2016)

also traveled to Iceland.

The black beach is the setting for the planet Eadu.
Where is Reynisfjara Beach?
Reynisfjara Beach is located on the south coast of Iceland, about 112 mi (180 km) east of Reykjavik. The closest town is Vik, situated about 6 mi (10 km) away from the beach.
How to Get to Reynisfjara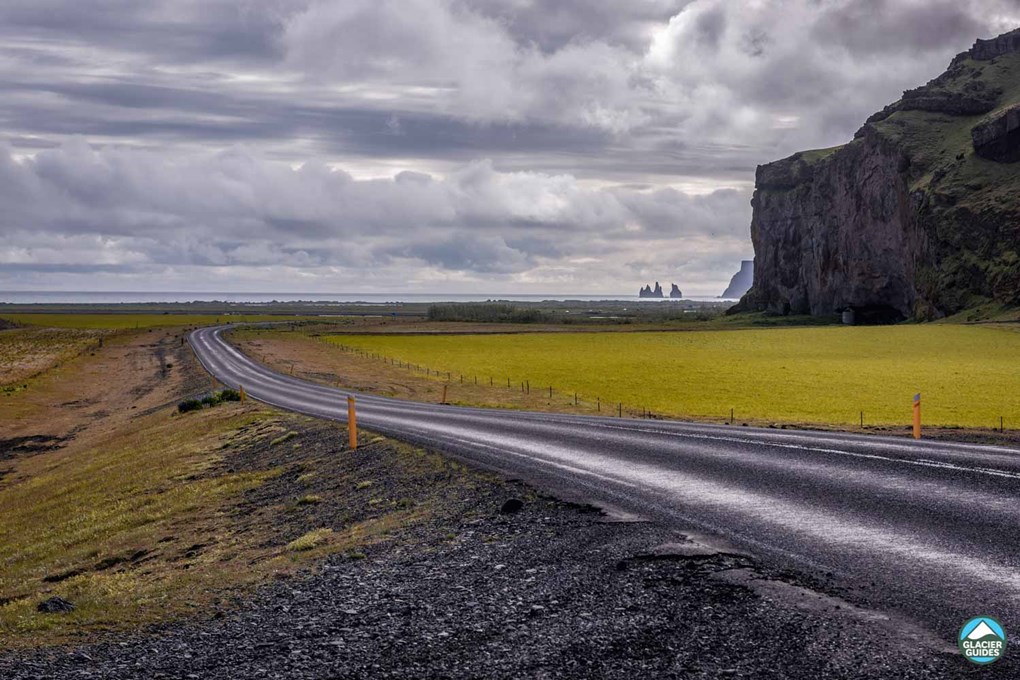 Getting to Reynisfjara is easy as many road signs direct you to the beach. There are three different ways to get there:
By Car
To reach Reynisfjara Beach from Reykjavik, take Route 1 (the Ring Road) until you reach the right turn onto Route 215. After about 10 minutes, you'll reach the free Reynisfjara Beach parking lot, where you'll find a little cafe and public restrooms. From there, it's a short walk to the beach.
To get to Reynisfjara Beach from Vik, take Route 1 and drive west until you reach the left turn onto Route 215. From there, it's the same as driving from Reykjavik.
By Bus
There is no direct bus to Reynisfjara. The closest bus stop is in Vik. From Reykjavik, take bus 51 to Vik, located about 6 mi (10 km) away from the beach. From Vik, you're on your own.
You can check timetables at the Strætó website. Note that fewer buses run in winter.
Join a Tour
Reynisfjara is a popular stop on guided tours along the South Coast, one of the most popular sightseeing routes in the country. Our South Coast Sightseeing & Glacier Hike Day Tour from Reykjavik offers you a fantastic opportunity to visit Reynisfjara and spice up your adventure with an easy glacier hike.
The Best Time to Visit Reynisfjara Beach
Reynisfjara Black Sand Beach is a great destination to visit year-round. However, each season means a different vacation, so you need to decide what you want out of your time in Iceland.
Summer
Summer is Iceland's busiest season because of the warm weather. The average temperature is 10-13°C (50-55°F). Keep in mind that being close to the water is always a bit colder. A warm jacket is never a bad idea!
But the welcoming weather isn't the only reason to visit in the summer. It's also the season when the area's birdlife is most active. From May to August, the fantastic puffin community awaits! If you visit Reynisfjara any other time of year, the puffins will have migrated away. They spend winter on the open ocean.
Iceland also enjoys the Midnight Sun in summer. This means the sky is never completely dark. In June, the sun stays above the horizon for 24 hours.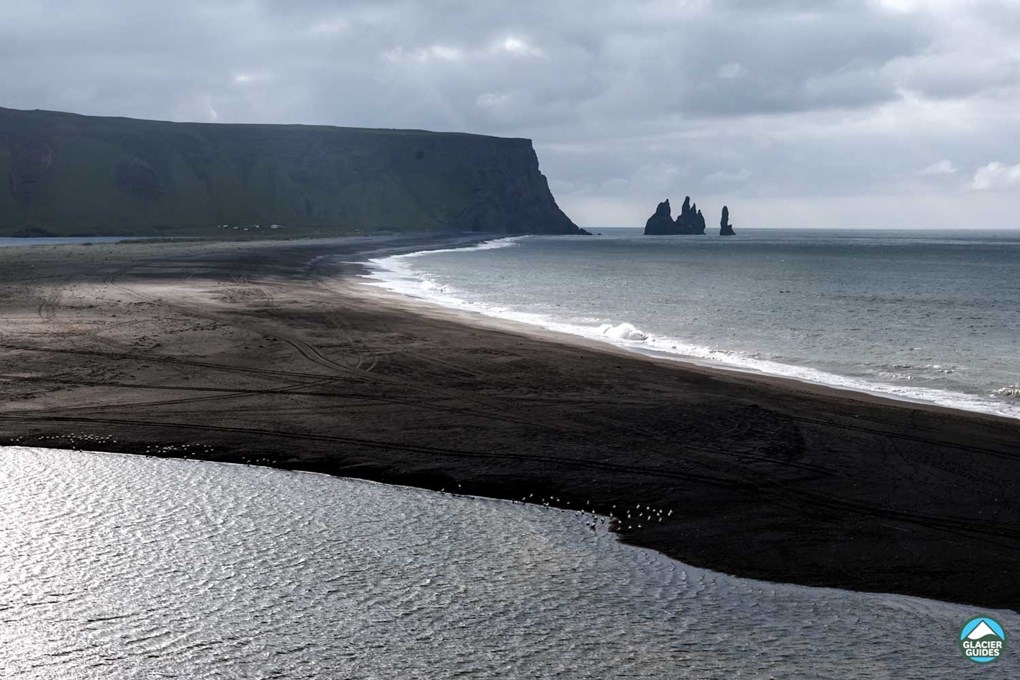 However, Reynisfjara gets packed in summer. Plan to visit the beach late at night if you want to beat the crowds.
Want to avoid rain? Travel in May or June, Iceland's driest months.
Shoulder Seasons
Traveling in shoulder seasons may mean chillier temperatures but it's a small price to pay for a quieter and less crowded beach. Plus, accommodation and flight prices are lower compared to the summer season.
Keep in mind: Iceland's precipitation increases in September, peaking in October. There is nothing a good outfit can't solve, though. We advise bringing waterproof clothing.
Winter
Reynisfjara Black Sand Beach in winter is quite a spectacle. The contrast between snow and pitch-black sands is simply breathtaking!
Iceland is just a few degrees south of the Arctic Circle, but thanks to the Gulf Stream, the weather is mild, even in winter. The average temperature hovers around the freezing point.
However, winter days experience only 4 or 5 hours of sunlight. On the other hand, prices are significantly lower for airfares and accommodation (except for several weeks around Christmas and New Year).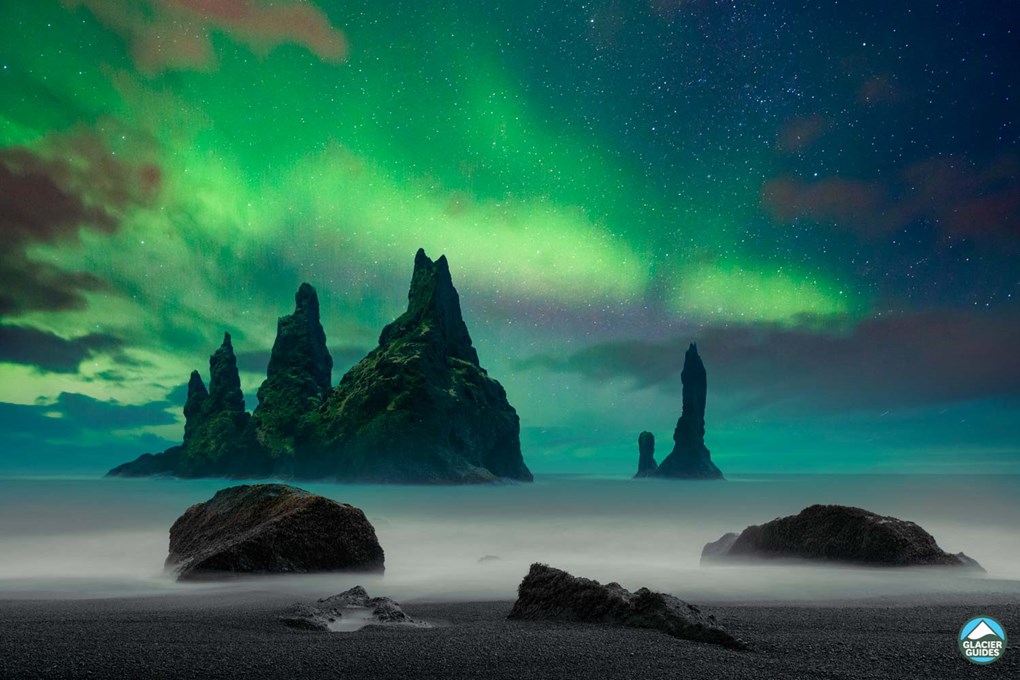 Then, of course, there are the Northern Lights. Reynisfjara is one of the best places to see the lights in Iceland. The aurora season runs from mid-September to mid-April.
On our South Coast, Glacier Hike & Northern Lights tour from Reykjavik, stroll along the black sand beach of Reynisfjara and chase the Northern Lights with expert guides!
Things to Do at Reynisfjara and Nearby
Discover the Basalt Cave Hálsanefshellir
This incredible Reynisfjara cave sits at the base of Reynisfjall Mountain. Surrounded by basalt columns, Hálsanefshellir is a photographer's delight.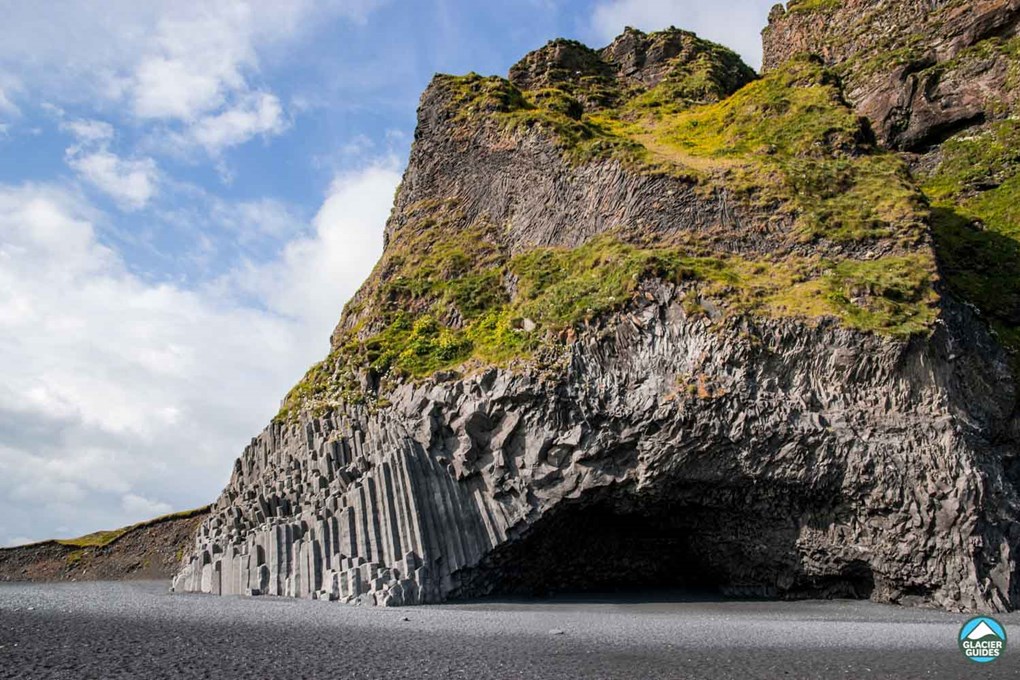 Take care while visiting the cave as it can get cut off at high tide. For tidal schedules, ask around or visit the Surf-Forecast website.
Embark on an Easy Glacier Hike
Ever wanted to walk on an ancient glacier? Lucky for you, Reynisfjara is close to the majestic Solheimajokull Glacier. You don't need previous glacier hiking experience, but you do need a certified glacier guide to show you the trails. Glacier hiking is a memory you'll treasure for the rest of your life.
Can't choose between visiting Reynisfjara and trekking a glacier? Do both on our Glacier Experience tour from Reykjavik. This tour operates year-round.
Don't Miss Stunning Waterfalls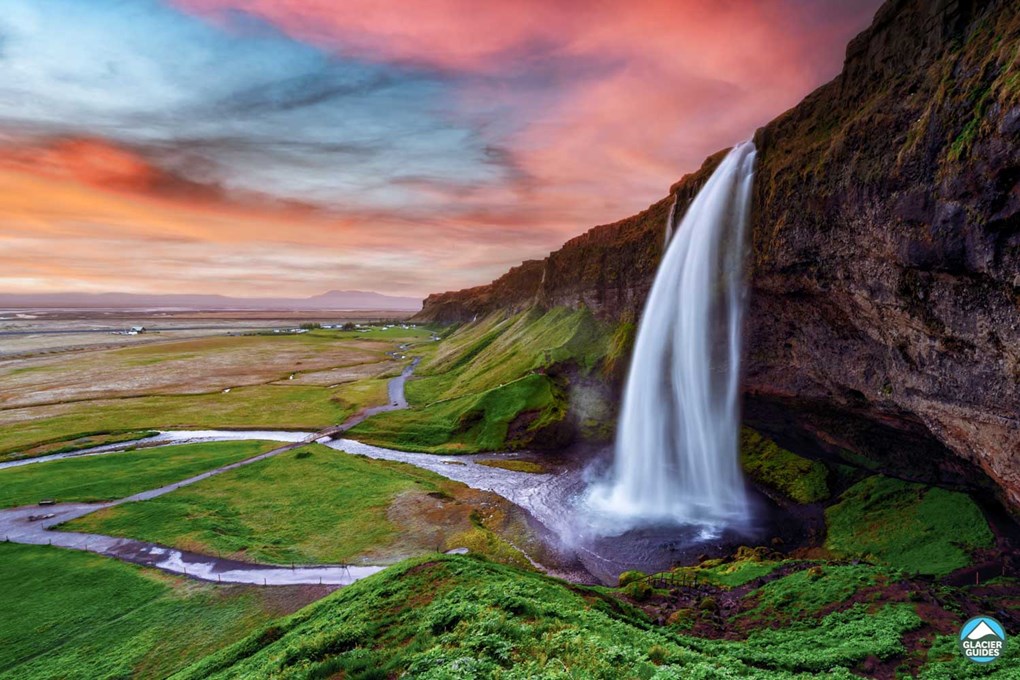 Reynisfjara is close to two majestic waterfalls, Seljalandsfoss and Skógafoss. These awe-inspiring torrents lure thousands of nature lovers and photographers year-round. Find these waterfalls en route to Reynisfjara Beach from Reykjavik, or join us on our Glaciers & Waterfalls tour from Reykjavik.
Visit the Famous Dyrhólaey Rock Arch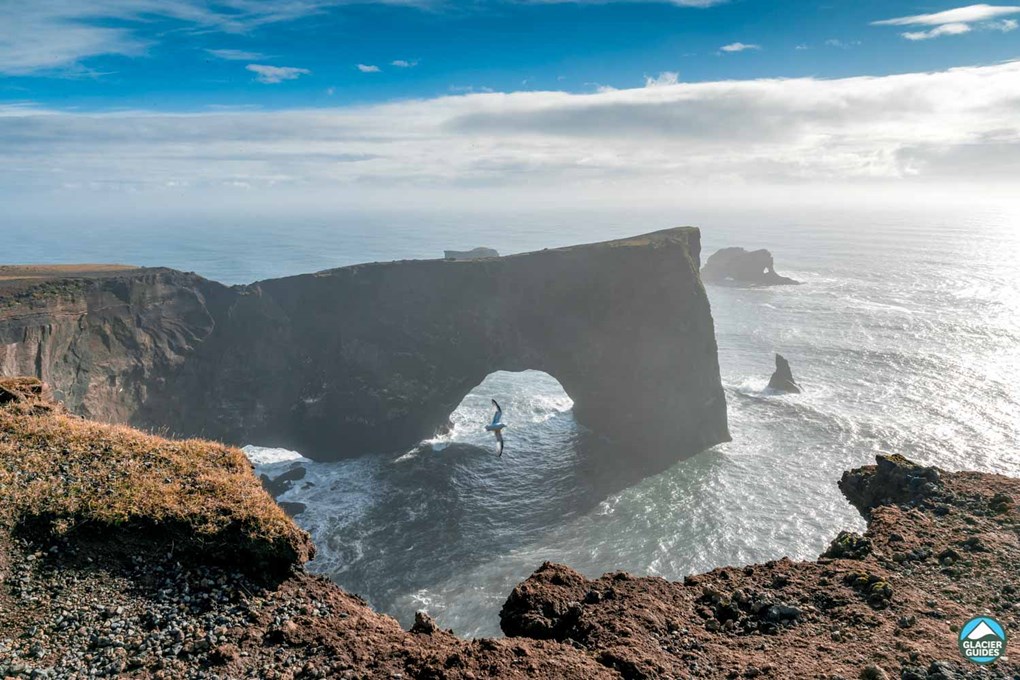 Dyrhólaey is a massive sea archway, large enough for daredevil plane pilots to pass through. Hence the name Dyrhólaey, which translates to "door hill island." The site is known for its vistas of Iceland's South Coast, as well as its historic lighthouse and rich birdlife.
Note that Dyrhólaey can be closed during the birding season from May 1 to June 25.
Explore Natural Ice Caves in Vatnajökull National Park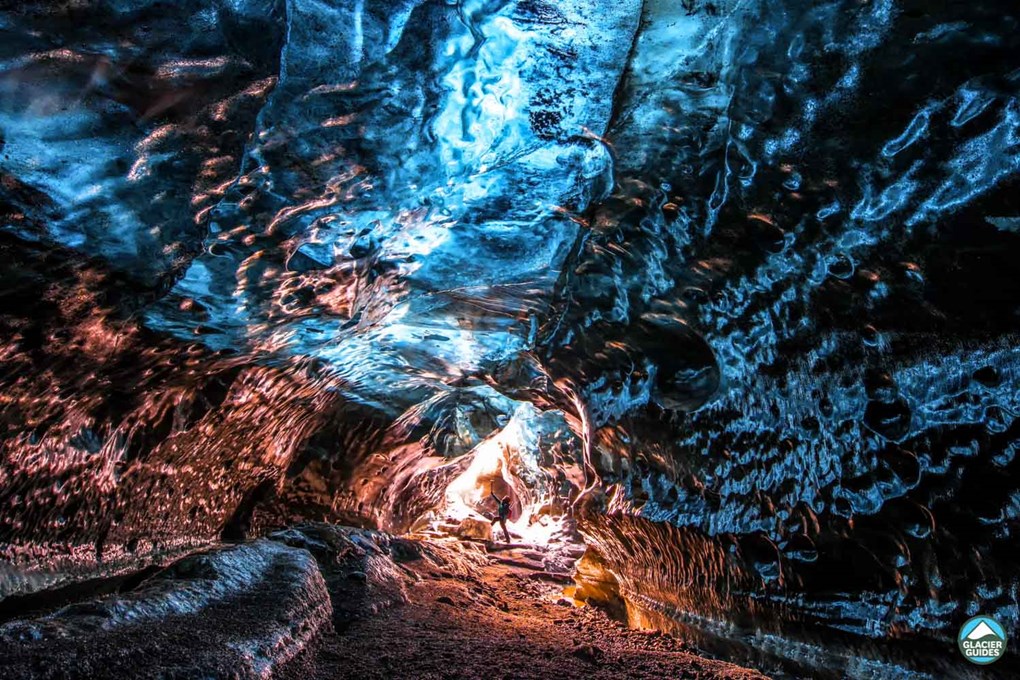 Further along the South Coast, you'll reach Vatnajökull, the largest glacier in Europe. This giant ice cap is responsible for glacier lagoons and remarkable ice caves. If you want to extend your visit along the South Coast, check out our 2-Day South Coast - Ice Cave, Skaftafell & Jökulsárlón Lagoon Tour from Reykjavik. The Reynisfjara Beach tour is included.
Safety at Reynisfjara
The number one rule when visiting Reynisfjara is to never turn your back on the roaring waves, even for a selfie! Always keep a safe distance from the water of at least 98 ft (30 m).
Even if the weather seems nice and calm, sneaker waves — the unexpected surges in water — might appear out of nowhere.
Keep a close eye on children and don't let them wander along the beach alone.
Can You Swim in the Ocean in Iceland?
There are some safe swimming places in Iceland, such as Nauthólsvík Beach, but Reynisfjara is definitely not one of them. Swimming or getting into the water at Reynisfjara is dangerous and not allowed. Rogue waves at the beach are life-threatening and the water is ice cold. So save your swimsuits for Iceland's famous hot springs. 
Hotels Near Reynisfjara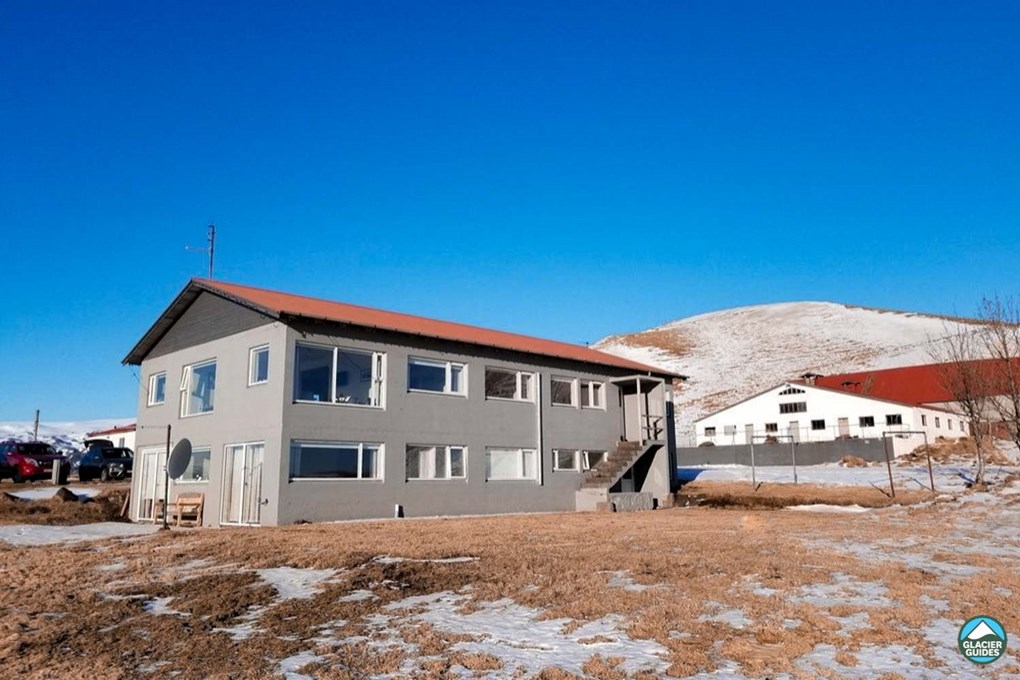 Looking for accommodation near Reynisfjara? Here are the best hotels and guesthouses close by.
Guesthouse Reynir

, located just a 3-minute drive from Reynisfjara Black Beach, is a family-run accommodation. It offers simple rooms, some of which look out over the ocean.

Giljur Guesthouse

, located a 9-minute drive from the beach, offers rooms with shared or private bathrooms. Guests can also enjoy a garden and a terrace.

Hotel Dyrhólaey

, located a 12-minute drive from the beach, features spacious rooms with private bathrooms. Some rooms offer views of glaciers and the ocean.

Farmhouse Lodge

,

located about 9 mi (14 km) away from Reynisfjara, houses rooms with a modern design. Guests also have access to free bicycles. 

Volcano Hotel

, located a 11-minute drive from the beach, features volcano motifs in its design. There is also an in-house restaurant.
Related Tours