Iceland is dotted with little towns, but Vik is hands down one of the most beautiful villages on the island. The southernmost municipality in Iceland, Vik is perched right in the middle of Myrdal Valley, where the high peaks of the Reynisfjall and Myrdalur Mountains shelter the town from harsh Arctic winds.
About Vik i Myrdal
Vik i Myrdal is the only seaside town in Iceland without a harbor. As a result the area wasn't inhabited until the 1890s, when it became a meeting point for southern traders and farmers.
The town is bordered by Reynisfjall Tuff Mountain to the west, Katla Volcano to the north, the Myrdalur Cliffs to the east, and Reynisfjara Beach to the south. The most popular attraction is the striking Víkurkirkja Church, built in 1934. Nestled on the top of a nearby hill, the church is considered the safest place to escape to in case of a sudden Katla Volcano eruption and flood.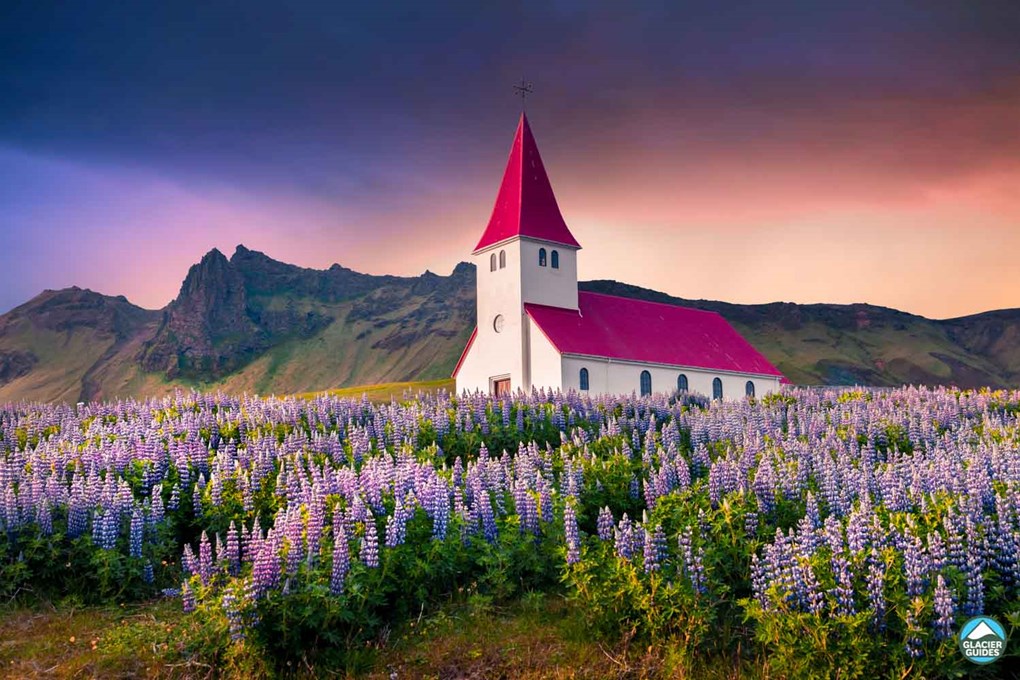 Just like in the past, Vik is now the main shopping center for all adventurers to the South Coast as there are no other settlements within a 43 mi (70 km) radius. It's a perfect pit stop to refuel, restock, and rest on your voyage along South Iceland. Better yet, Vik is surrounded by a million and one things to do. Spending a day or two exploring the area might turn out to be quite the adventure
Wildlife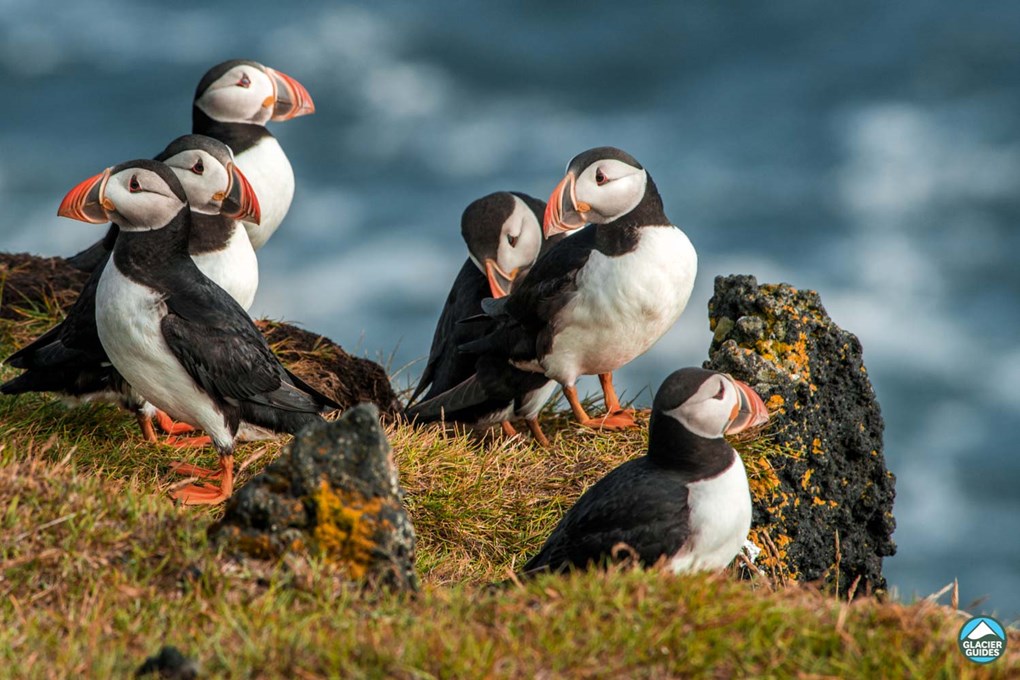 Because of its mild climate, Vik is home to many different species of birds and marine wildlife. Dyrholaey Peninsula is a nesting site for adorable puffins. To the east, not far from Reynisfjall Mountain, you can spot an abundance of arctic terns. Sometimes you can even see seals sunbathing on the black sand beach or dolphins and whales visiting the shore. Vik is truly a paradise for all nature lovers.
Services in Vik
Vik is the metropolitan hub of Iceland's South Coast. Here you'll find shops, gas stations, restaurants, hotels, museums, ATMs, and many other useful services.
Orkan is an automated gas station where you can refuel at any time. There's also N1 gas station open from 9 a.m. until 6 p.m. where you can buy snacks and basic food supplies.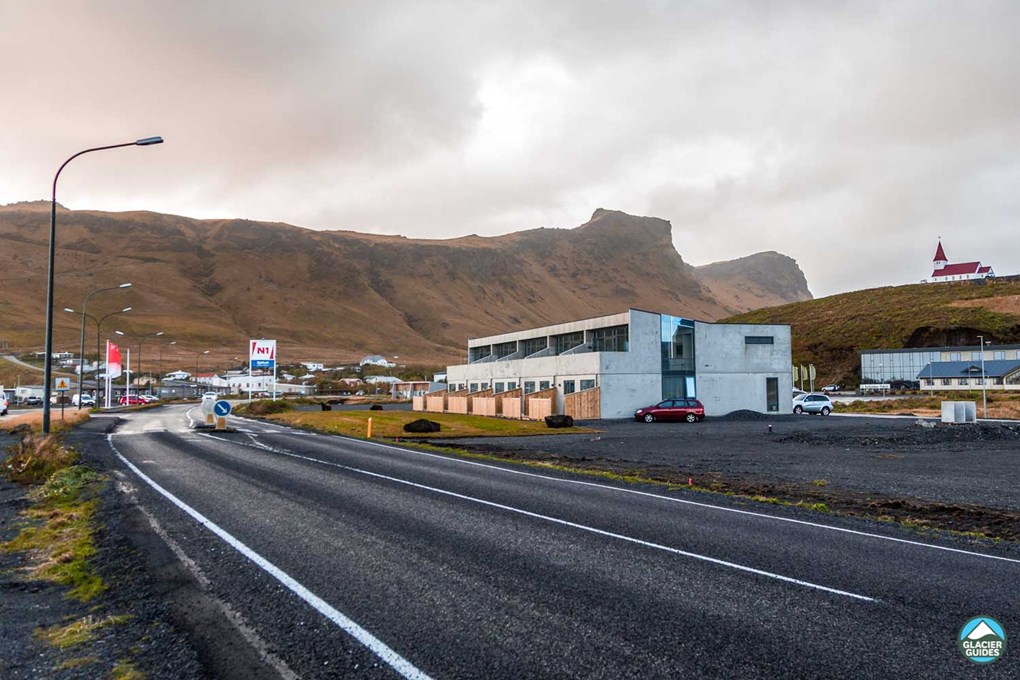 Vínbúðin, nestled right in the city center, is an alcohol shop. In Iceland, you won't be able to buy alcohol in just any supermarket. Vinbudin, however, is a dedicated, government-owned alcohol shop. It's open from 2 p.m. to 6 p.m.
Further down towards the coast, you'll find a shopping center. There is a clothing shop (Icewear), supermarket (Kr), cafe, and a restaurant. The shopping center is open from 8 a.m. to 10 p.m.
Map of Vik in Iceland
How to get to Vik
The main road in Iceland, the Ring Road or Road 1, pierces through the heart of Vik. The distance from Reykjavik to Vik is 111 mi (179 km) and you can get there by car or bus.  Straeto, a public transportation company in Iceland, operates daily regular bus service from Reykjavik to Vik. The ticket costs you $30-60. The bus stops at Selfoss on the way to Vik.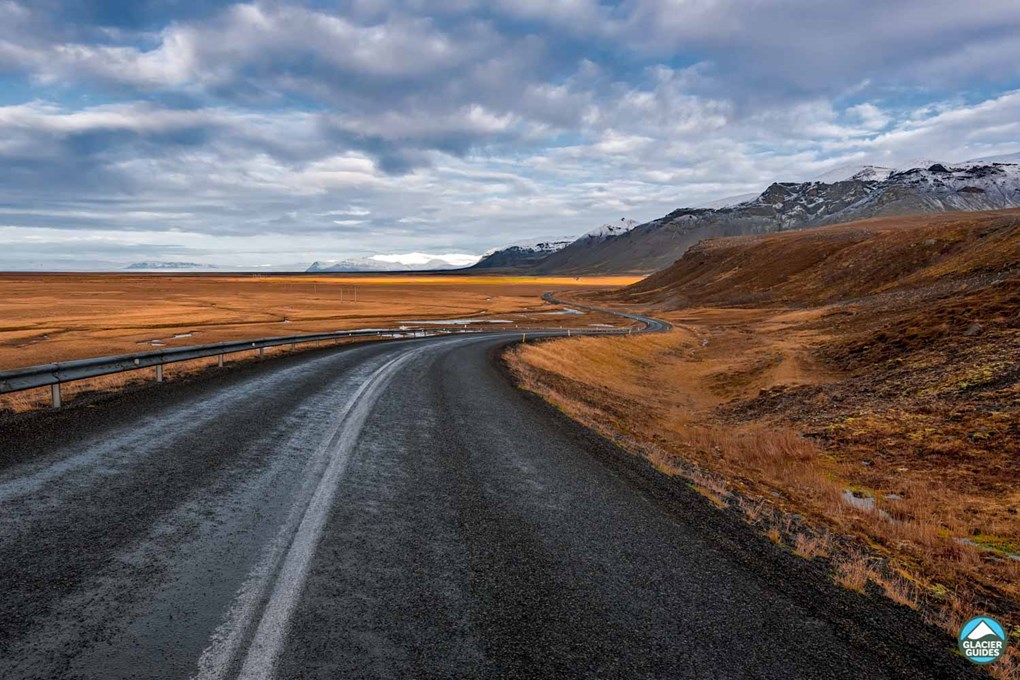 If you choose to drive to Vik by car, just take the Ring Road 1 south for around 3 hours. On your way, stop at Selfoss or Seljalandsfoss Waterfall to make a day out of it!
Weather in Vik in Iceland
Just like most settlements in Iceland, Vik is located close to the seashore. The southernmost hamlet in Iceland is sheltered by Reynisfjall and Myrdalur cliffs, so the climate here is milder than in the rest of the country (but only by a few degrees).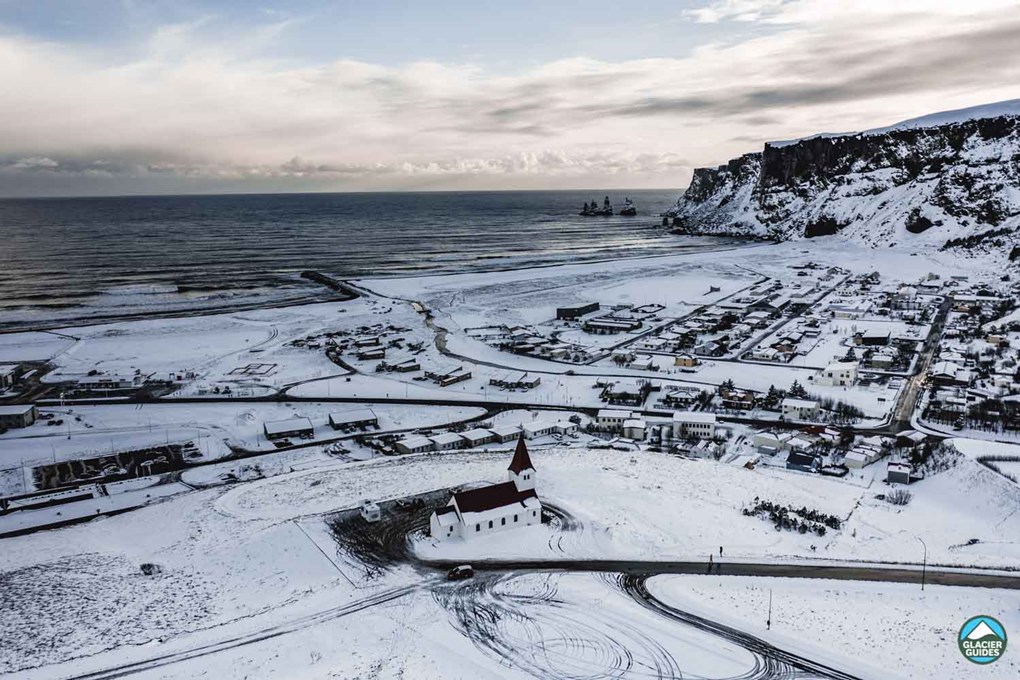 In the summer Vik is covered in a blanket of wildflowers and is the perfect place for puffin watching. In winter it turns into a snowy wonderland and is ideal for Northern Lights watching as the light pollution is almost nonexistent.
The warmest month in Vik, just as in the rest of Iceland, is July. The temperature in July reaches 44.6°F (7°C). The coldest month is February, when temperatures plummet to about 33.8°F (1°C). Vik can be quite rainy during the warmer months, so rainproof gear is essential regardless of the season.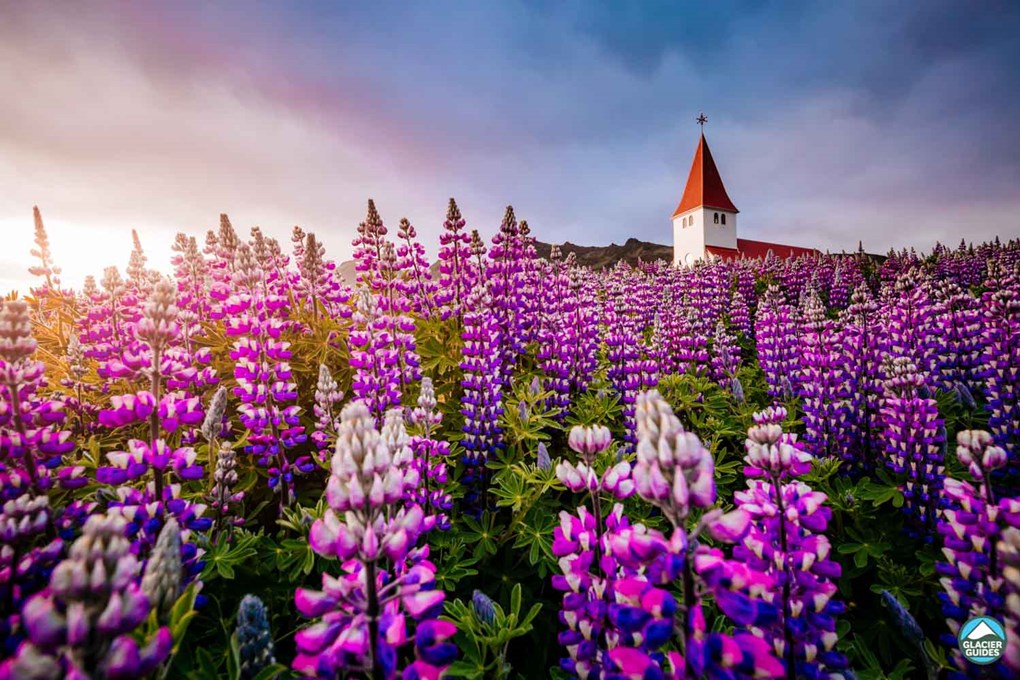 What to See in Vik in Iceland
Vik has been a cultural hub since the ninth century. On top of the breathtaking landscapes, the town is also home to museums, sculptures, and a church, all marking its historical heritage and importance to Iceland.
Here are a few attractions you simply must see when in Vik:
Víkurkirkja Church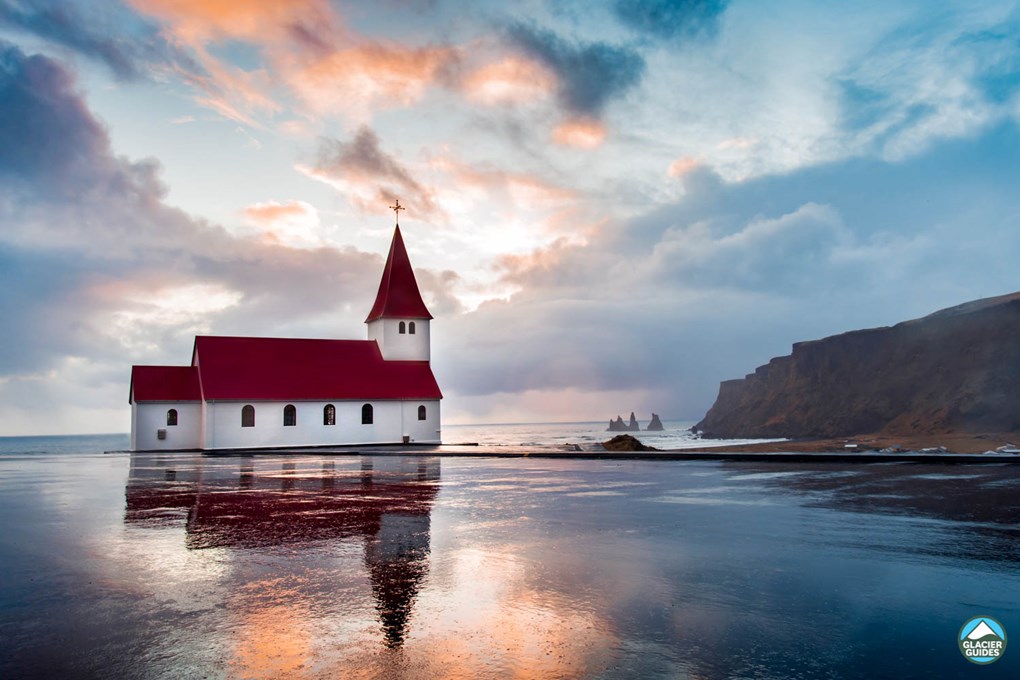 Standing tall atop a hill, Vik's church in Iceland has become the main symbol of the village. You'll be hard pressed to find a picture of the town that doesn't feature the majestic church. Víkurkirkja was built in 1934 (even though a priest lived in town since 1911). The church is a sight for sore eyes with its arched windows and cross on top of a bell tower. It seats around 200 people. In the case of a Katla eruption or a flood, Víkurkirkja is the safest hiding place in town.
Reynisfjara Black Sand Beach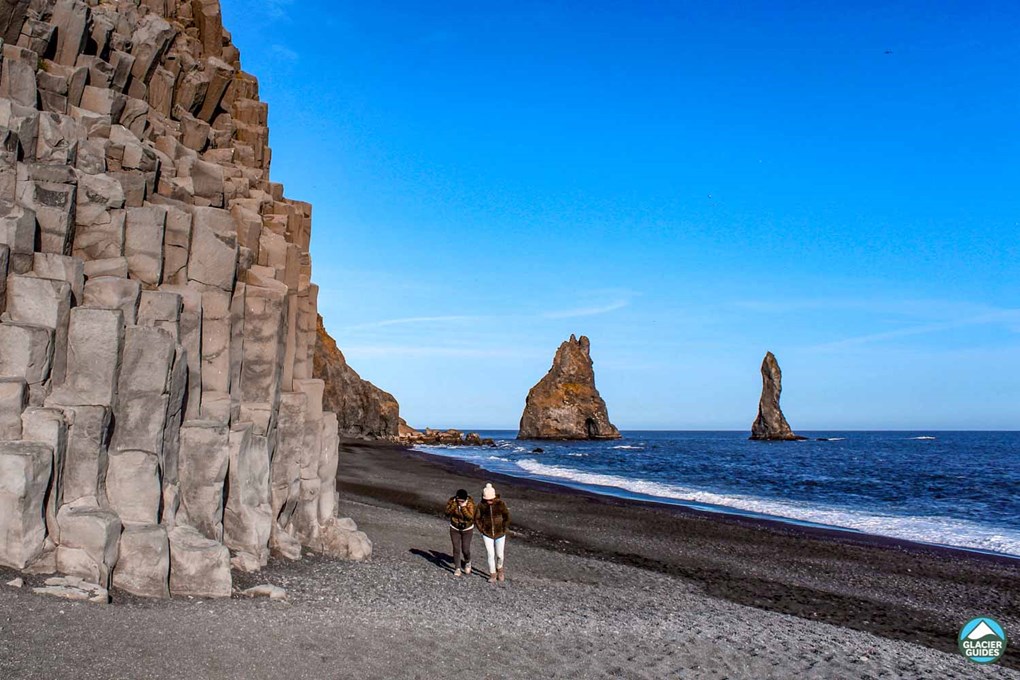 Reynisfjara Beach is the most popular black sand beach in Iceland and has been named one of the top 10 most beautiful non-tropical beaches in the world. The silver-lined waves of the Atlantic Ocean wash across the volcanic black sand with tremendous power. In fact, the power of the waves is so great that a few travelers have been washed away from shore. Be careful when you visit and don't walk too close to the shoreline.
Framed by enormous basalt columns, the beach looks like a gigantic amphitheater. You can also spot basalt sea stacks called Reynisdrangar just off the eastern shore. Legend has it that the sea stacks used to be trolls. They were pulling their ships to shore when they accidentally got caught in the light of dawn and turned into stone.
Dyrhólaey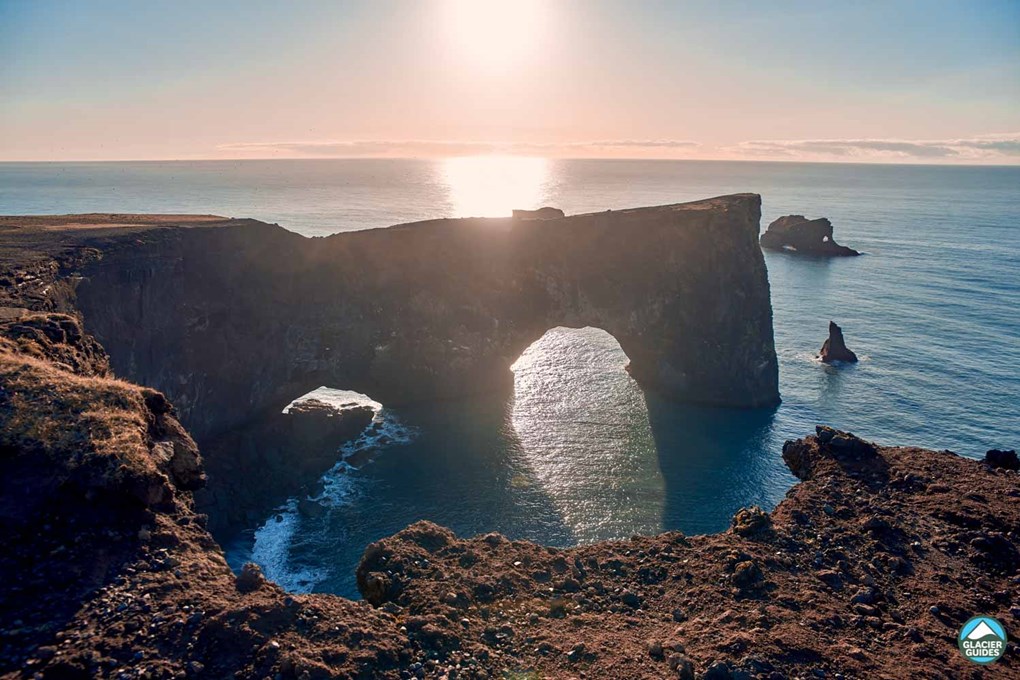 To the west of the beach, you'll stumble upon Dyrhólaey. Dyrhólaey is a peninsula with a door-shaped arch that leaps over the shore. While it's not possible to walk through the arch, you can hike on top of it and enjoy breathtaking views of South Iceland.
Voyages Friendship Statue
On the way to the black sand beach from the city center of Vik, visit the Voyages Friendship Statue. The statue was made by Steinunn Thorarinsdottir and is dedicated to all families who have relatives working at sea and fear that they will not return.
Skaftfellingur Maritime Museum
If you want to have a closer look at Vik's history and people, pay a visit to the Skaftfellingur Museum in the heart of the town. Walls covered in old photographs speak of the olden ways of Icelandic people while recreations of shipwrecks show the trouble they went through. The museum is open daily from 10 a.m. to 6 p.m. on weekdays and from 12 p.m. to 7 p.m. on the weekends.
Things to do in Vik in Iceland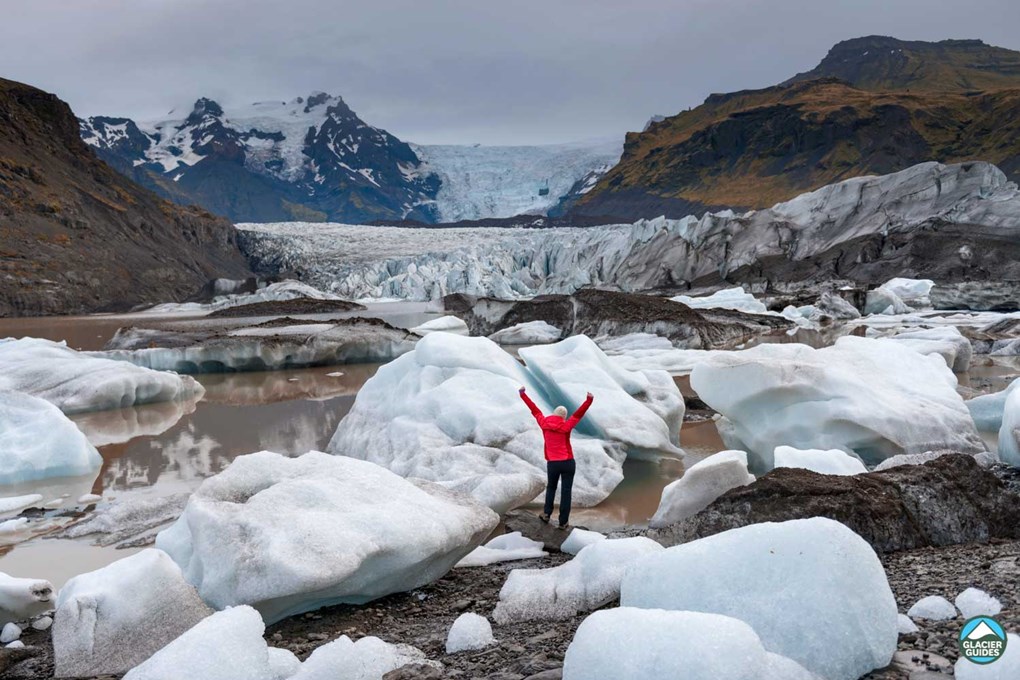 Mýrdalsjökull Glacier Hikes, Ice Caves & Katla
Mýrdalsjökull Glacier near Vik in Iceland is the fourth-largest ice cap in the country. It lies north of Vik i Myrdal and hides Katla Volcano under its icy depths. The glacier covers nearly 232 sq. mi (600 sq. km) and its highest peak is around 4921ft (1500 m) tall.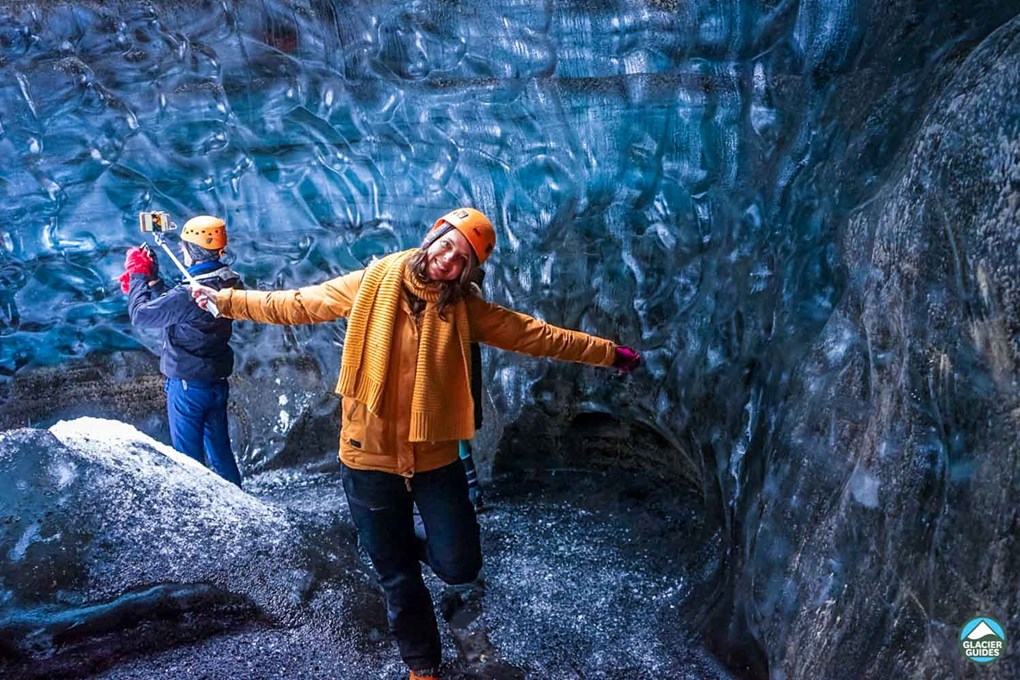 While it is not possible to climb to the top of the glacier by yourself, you can join a myriad of tours departing from Vik and Reykjavik. Tours include natural ice cave exploration beneath Mydalsjokull, Katla Ice Cave tour, hiking, and ice climbing on Myrdalsjokull outlet glacier Solheimajokull, zooming on a snowmobile across the glacier's vast expanse, and many other activities.
Jökulsárlón Glacier Lagoon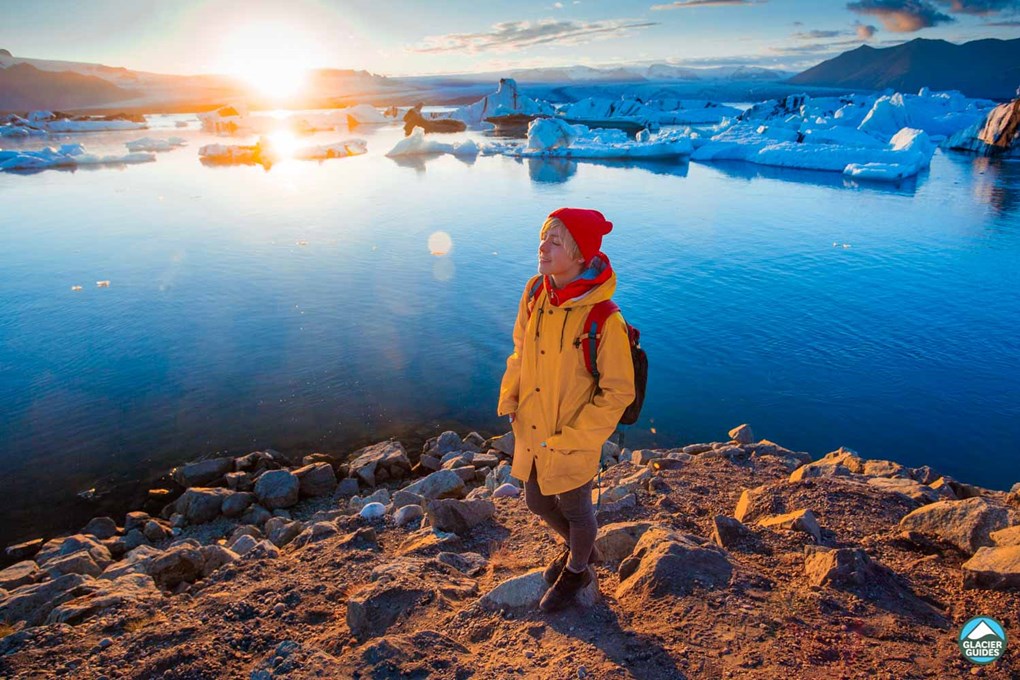 The famous Glacier Lagoon, located 120 mi (193 km) northeast of Vik, is one of Iceland's most popular attractions. Bordered by Vatnajokull National Park on its northern side, the lagoon is filled with meltwater from Vatnajokull Glacier. Icebergs break free from Vatnajokull and drift away towards the black sand beach. Varied in shapes and sizes, the icebergs glisten in the sun like diamonds, giving the beach its name — the Diamond Beach.
To get to the glacier lagoon from Vik, get back on Road 1 and continue driving east. After around 2 and a half hours, you'll find yourself on the Diamond Beach where the view of the lagoon opens up.   
Zip-lining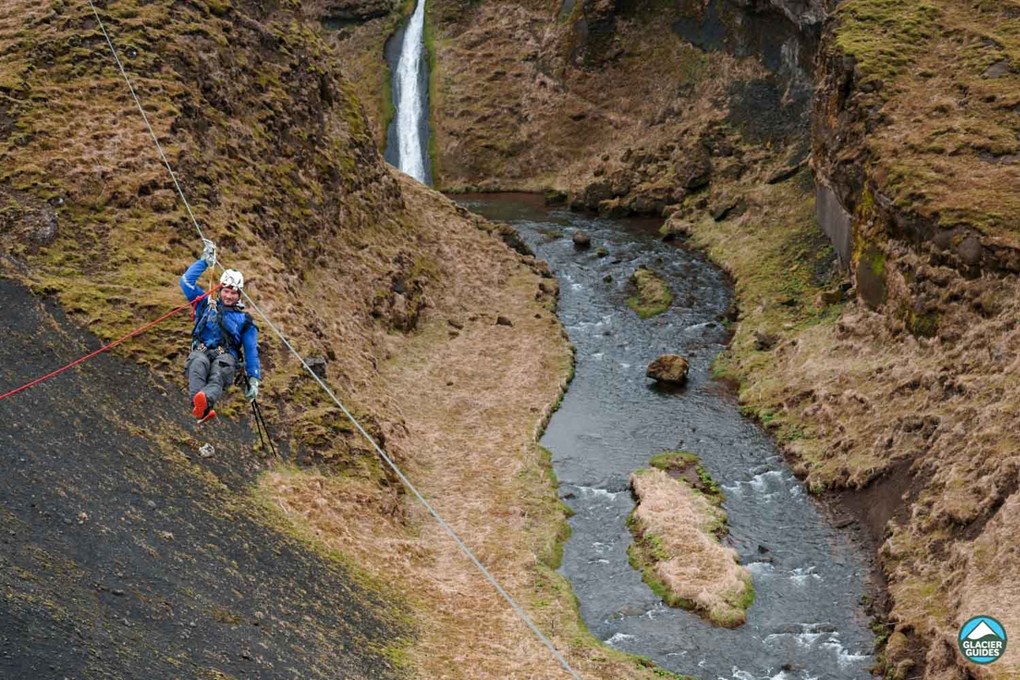 If you're looking for something exciting within the boundaries of Vik, a zip-line adventure is just for you! The zip-lining base just outside Vik will take you on the heart-pumping adventure of a lifetime. Four zip lines of different lengths help you soar over the most beautiful views of Vik and the surrounding areas. Zip over the stunning Grafargill Canyon and observe Hundafoss Waterfall from above. The adventure lasts about two hours.
Hiking near Vik
You can choose from many different hiking trails near Vik. For a short day hike, take the Reynisfjall Mountain hike. Accomplished in a few hours, the hike will reward you with stunning views of Vik and the black sand beach. You'll also have the chance to observe flocks of arctic terns and puffins in Vik, Iceland.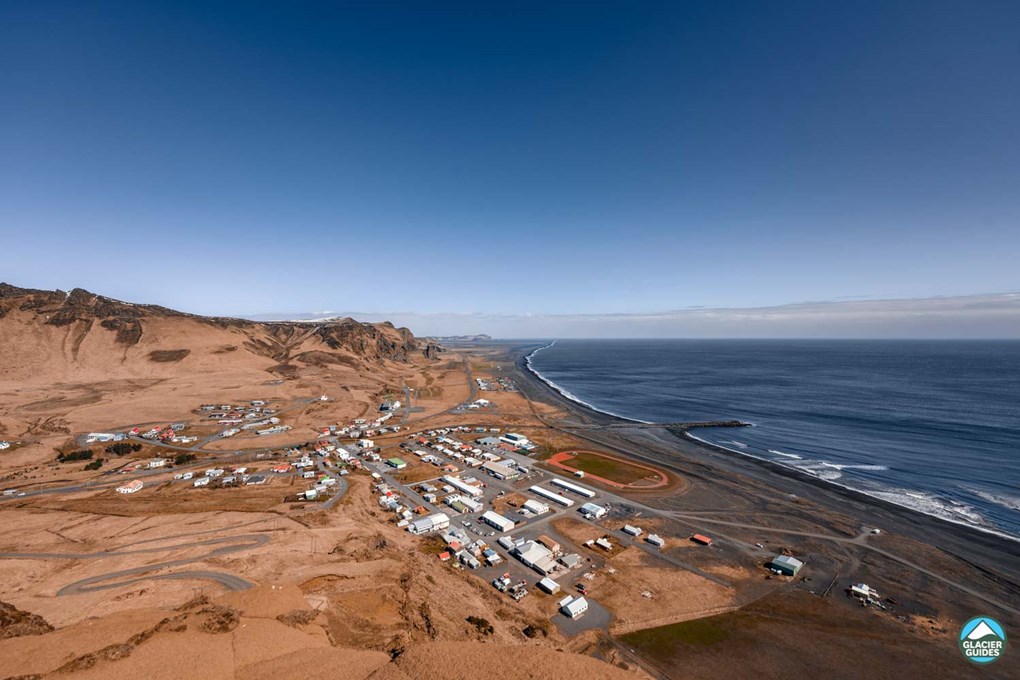 Another short day hike leads you up the Hatta Mountain just opposite of Reynisfjall Mountain. From the top of the mountain, see a panoramic view of Myrdalsjokull Glacier and Heiðarvatn Lake.
Just a short drive east from Vik takes you to Hjörleifshöfði Cape, where you'll find old ruins of a farm and a Viking burial ground. For more information about shorter or longer hikes, visit the Katla Information Center.
Icelandic Lava Show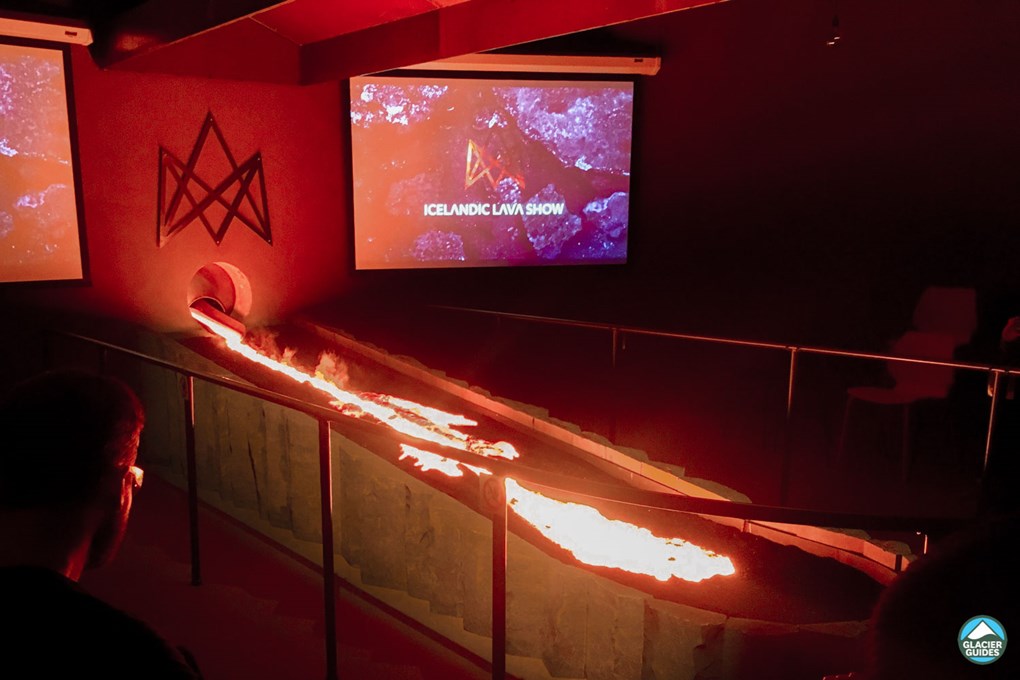 Icelandic Lava Show is the only place in the world where you can witness a volcano eruption up close. The eruption, just like those of Eyjafjallajökull and Katla Volcanoes, is recreated by pouring 2000°F (1100°C)  molten lava over glacier ice. Visitors can witness the two colliding elements safely, which would not be possible with a real eruption.
Places to stay in Vik in Iceland
As the metropolitan hub of southern Iceland, Vik offers plenty of accommodation options. Here are a few of the spots best loved by other adventurers:
Hotels in Vik
Icelandair Hotel Vík. 

Puffin Hotel Vík

Hotel Kría
Hostels
Camping in Vik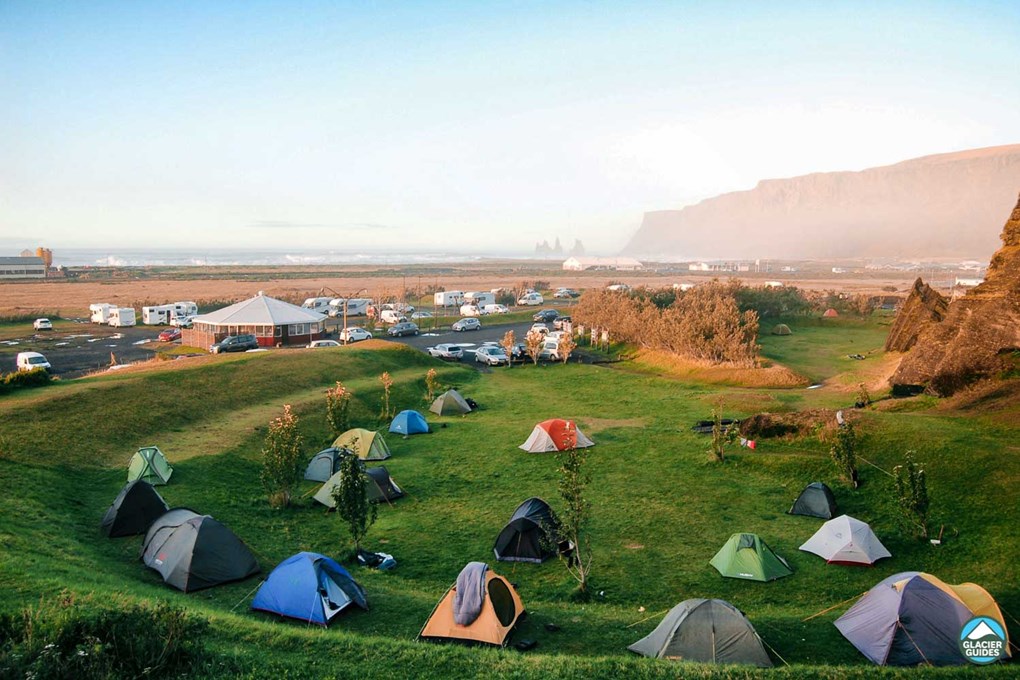 For those who are traveling to Vik in summer and wish to camp, there's a lovely and spacious campground right by the Kria Hotel. The facilities in the campground include showers with hot water, restrooms, WIFI, a dining area, washers and dryers, and a BBQ area. The campground is open from June 1 until Sept. 15.
Restaurants in Vik in Iceland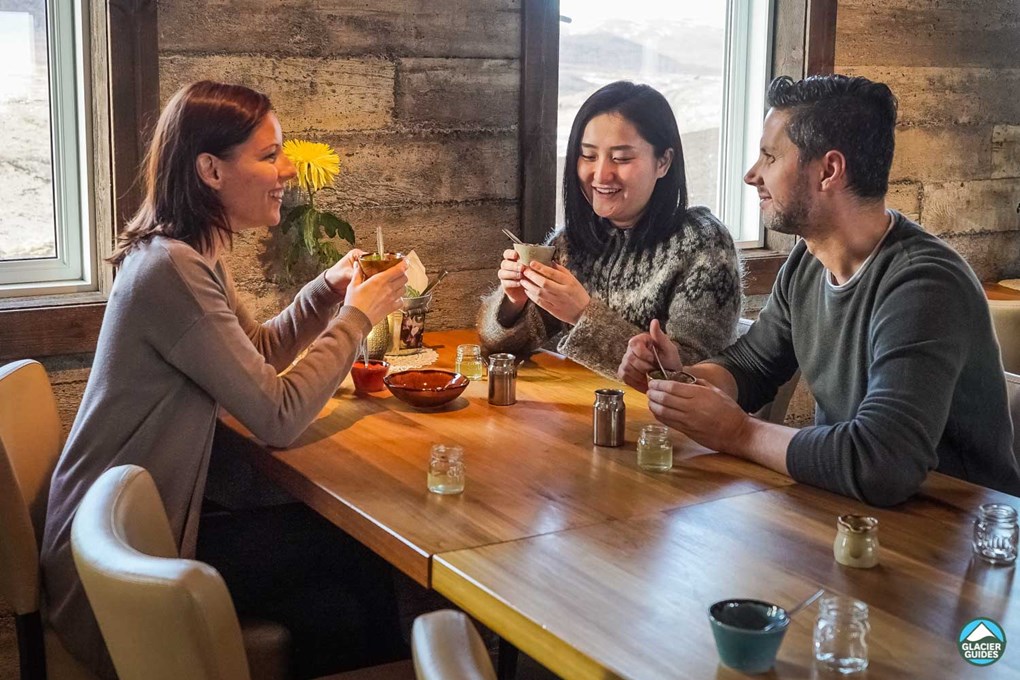 Sudur-Vik. Local cuisine combined with the best pizza in town. Open 12 p.m. to 10 p.m. every day.
Halldorskaffi.

Scandinavian cuisine and vegetarian-friendly. Open 12 p.m. to 9 p.m. every day.

Berg Restaurant.

Food made with locally-sourced produce and offering gluten-free options. Open from 6 p.m. to 10 p.m. every day from May 1 to Sept. 30.and 6 p.m. to 9 p.m. from Oct. 1 to April 30. 
Related Tours