Translating to "home of the sun" in English, Sólheimajökull is one of Iceland's most accessible glaciers. Only 2 hours from Reykjavik, it is conveniently situated just off the Ring Road near the coastal town of Vik.
About Sólheimajökull Glacier
Sólheimajökull Glacier is a glacial tongue and part of the mighty Myrdalsjokull Glacier. With icy crevasses, deep blue colors, and rugged scenery, Solheimajokull is a top South Iceland glacier attraction!
Although Solheimajokull's icy terrain is constantly changing, it's estimated to be roughly 8 km long and 1-2 km wide. Located on the South Coast of Iceland, Solheimajokull is a popular destination for beautiful glacier walks and epic ice climbing activities.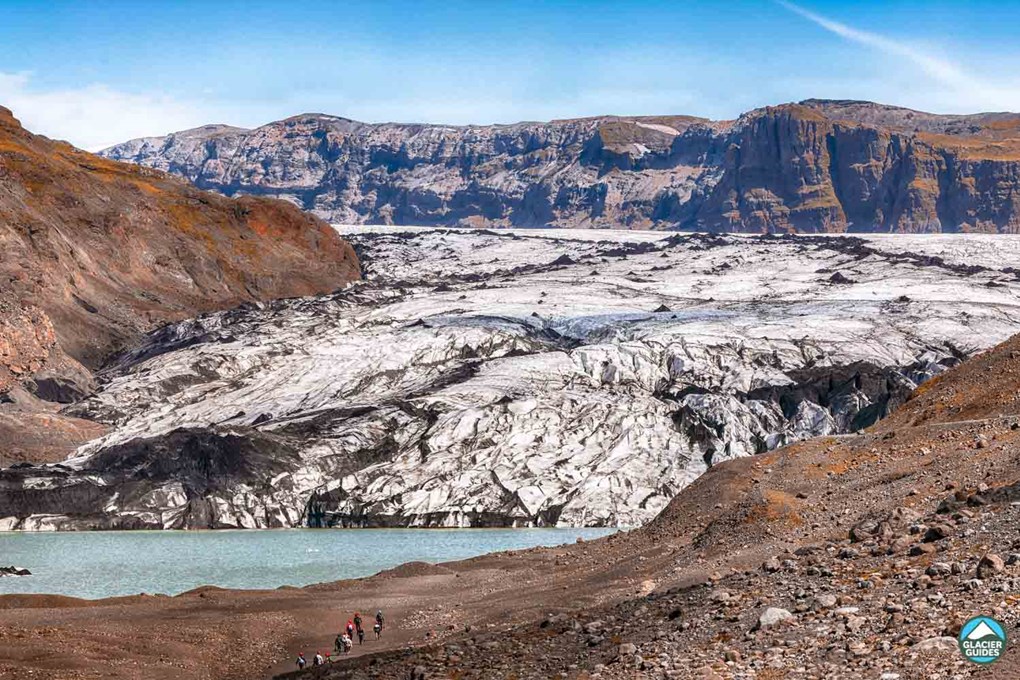 Quick Geography Facts
Solheimajokull is a Myrdalsjokull glacier outlet that spills down a steep valley along Iceland's South Coast. Check out these quick facts about Solheimajokull's geography:
The thick and jagged ice feeds into Solheimajokull Glacier Lagoon.

Jökulsá is Solheimajokull's glacier river. It drains into the Atlantic Ocean. 

Jokulsa water contains a lot of sulfur.
Solheimajokull Glacier Map
Where is Solheimajokull located?
Solheimajokull Glacier is located along the southern region of Iceland's famous Ring Road.  Sólheimajökull is a glacial tongue of Mýrdalsjökull glacier and a popular attraction because of its short distance from Reykjavik.
How to Get to Sólheimajökull Glacier from Reykjavik
The directions from Reykjavik to Sólheimajökull glacier are not too difficult: just head east along Route 1 (Ring Road) for roughly 2 hours. Turn left onto Route 221 and drive for 4 km until reaching Solheimajokull Glacier parking lot.
While traveling towards Solheimajokull, you'll pass by stunning Ring Road nature. Plan for stops along the way to capture highlights such as Gljufrabui and Seljalandsfoss Waterfalls.
Solheimajokull by Bus
While Iceland is mostly traveled by car, it's also possible to take public transit to some popular destinations. If you plan to travel to Solheimajokull Glacier from Reykjavik by bus, your best option is to take Straeto Bus 51 (Mjodd Bus Terminal to Vik).
The distance between Vik and the Solheimajokull parking area is around 30 km. Unfortunately, you'll have to find your own way to Solheimajokull once in Vik, as public transit isn't an option.
Don't want to deal with the hassle of public transit or car rentals? We recommend booking one of our glacier tours with easy pick-up in Reykjavik. Most tours are all-inclusive and depart daily.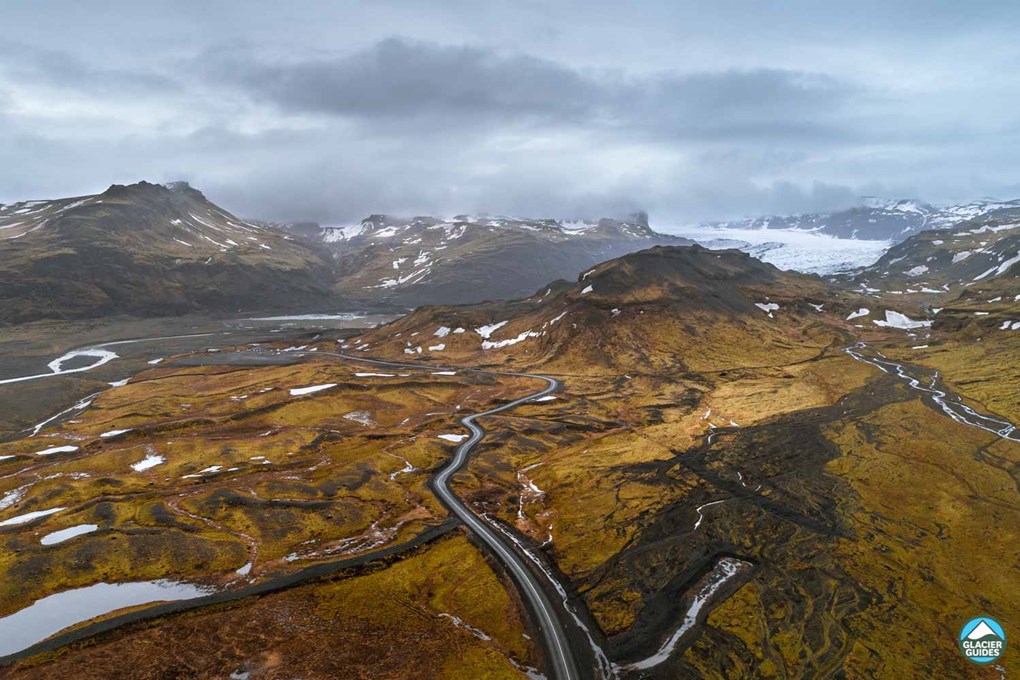 Sólheimajökull Glacier Weather
The weather on Solheimajokull Glacier is similar to that of most areas along Iceland's South Coast — unpredictable. It's possible to start your Solheimajokull adventure in the warm sun, only to face harsh winds and rain moments later.
If you're visiting Solheimajokull Glacier in summer, expect temperatures to fall between 5 to 15°C. During winter, temperatures range from -15 to -5°C. So don't let the name "home of the sun" fool you! Keep an eye out for the weather and road conditions to make sure you come well-prepared.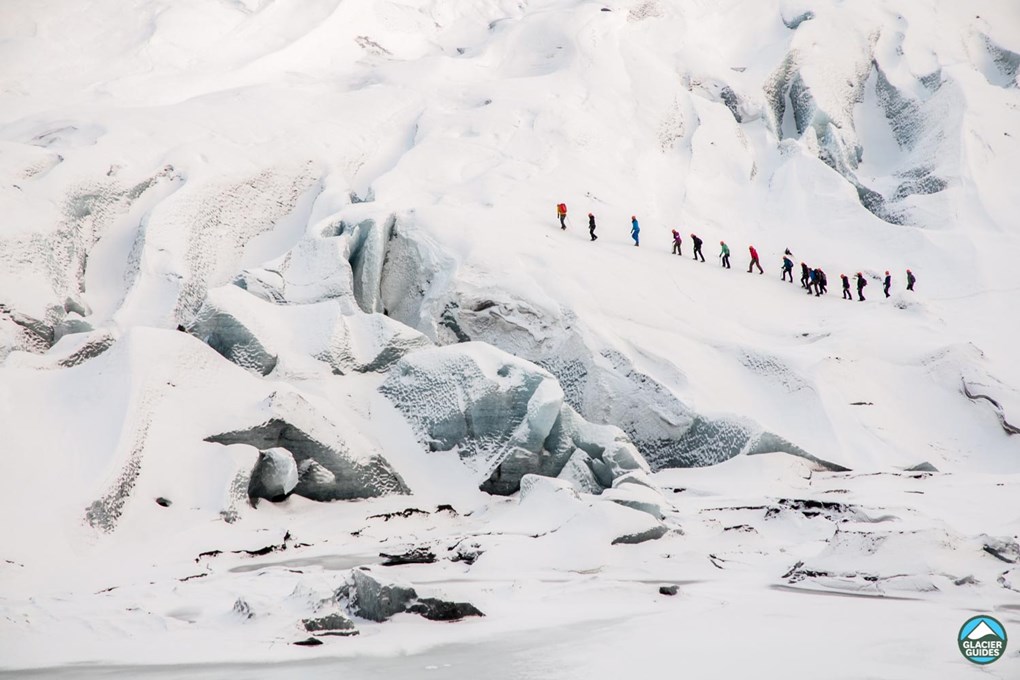 Climate Change and Sólheimajökull Glacier
Climate change has deeply affected Solheimajokull and surrounding areas. Rising global temperatures continue to cause its ice to melt at a very fast speed. It's predicted that Solheimajokull could completely disappear within decades, so make sure to plan your visit soon.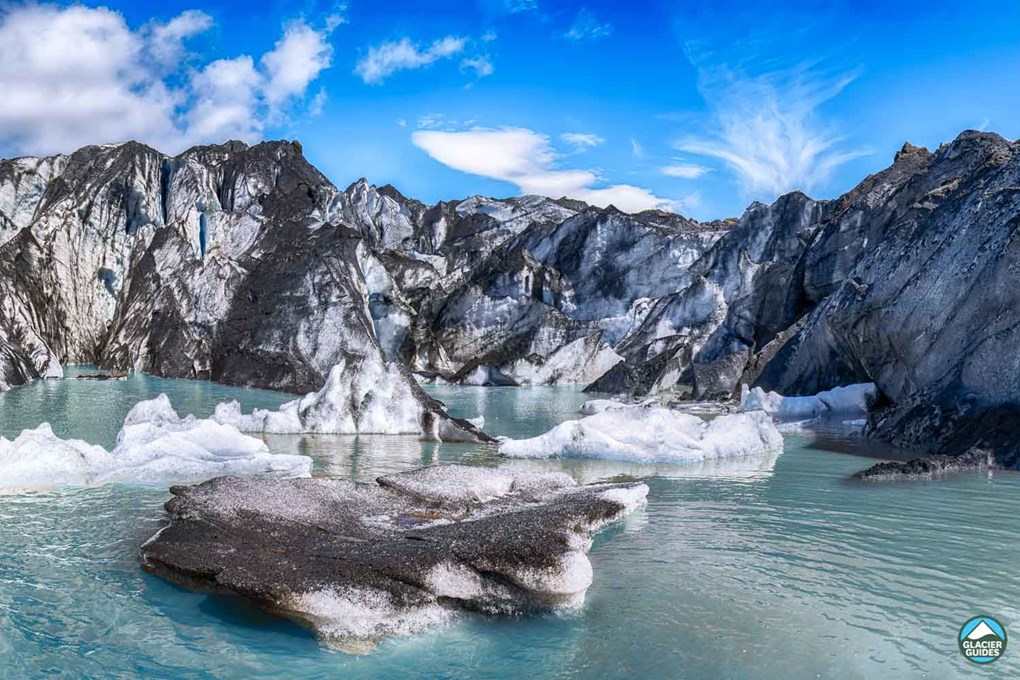 Top Things to Do at Solheimajokull
Solheimajokull Glacier's brilliant glacier terrain and easy access from Reykjavik create the perfect recipe for glacier adventures. To enjoy all that Solheimajokull has to offer, we suggest glacier hiking or ice climbing with an expert-guided Sólheimajökull tour.
Go on a Sólheimajökull Glacier Hike
Solheimajokull Glacier walks give adventurers everything that Icelandic glaciers are known for: crystal blue ice, deep crevasses, and dynamic textures. We advise hiking on this popular outlet with a top-rated Solheimajokull glacier walking tour!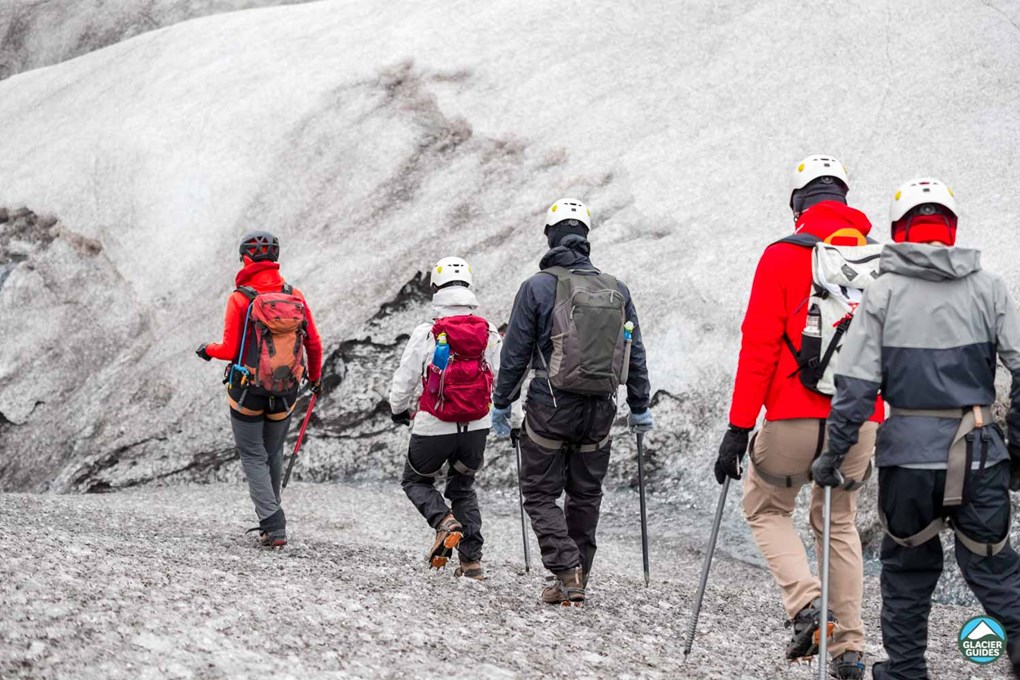 From short and easy walks to intensive excursions, there are many Sólheimajökull hikes to choose from! All tours include a certified glacier guide and necessary glacier equipment such as helmets and crampons.
Please note that going on a Sólheimajökull glacier self hike is very dangerous. No matter your experience, exploring Solheimajokull without a guide can lead to serious harm. Be sure to book a guided tour to stay safe and have fun!
Ice Climbing on Solheimajokull
Sólheimajökull ice climbing is another great way to soak in majestic glacier landscapes. Knowledgeable guides lead you along mind-blowing ice walls, giving adventurers the chance to observe unforgettable glacier viewpoints.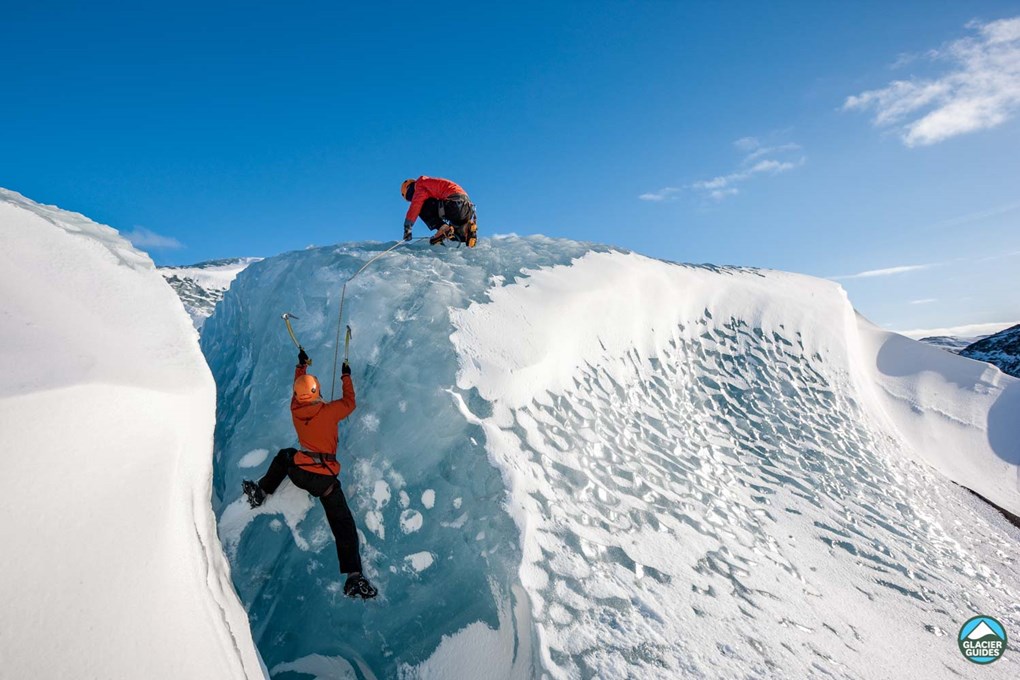 Book a guided Sólheimajökull Glacier walk and ice climbing tour to enjoy a small-group glacier experience with certified guides! Try out your ice climbing skills on a blue ice adventure tour with easy pick-up from Reykjavik or Solheimajokull.
Tours are available all year and include safety equipment, expert guides, and an introduction to ice climbing. Remember to pack warm layers and good quality hiking boots!
Where to Eat Near Solheimajokull
Looking for a meal near Solheimajokull? There are 30 km between Solheimajokull Glacier and Vik, Iceland, so why not grab a bite at the iconic fishing village!
Restaurants in Vik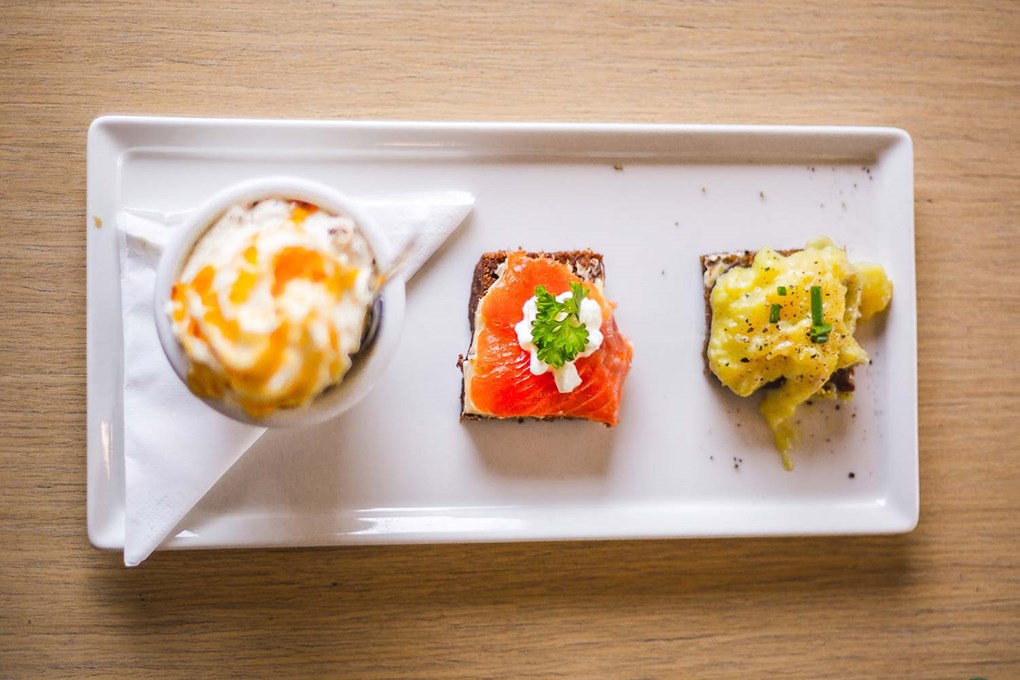 Halldorskaffi

is a vegetarian restaurant serving Scandinavian food. Open every day from 12 p.m.-9 p.m. 

Berg Restaurant

is a great choice for people looking for gluten-free and locally-sourced meals. Open every day from 6 p.m.-10 p.m.

Sudur-Vik

is a restaurant serving local cuisine and pizza. Open every day from 12 p.m.-10 p.m.
Where to Stay Near Solheimajokull Glacier
Solheimajokull Glacier has many convenient places to stay nearby. The area attracts a lot of tourists — especially during the summer months — so we strongly recommend booking your stay far in advance.
Check out these suggestions for the best-rated campground, guesthouse, and hotel accommodation between the Skogafoss and Vik areas of Solheimajokull.
Hotels & Guesthouses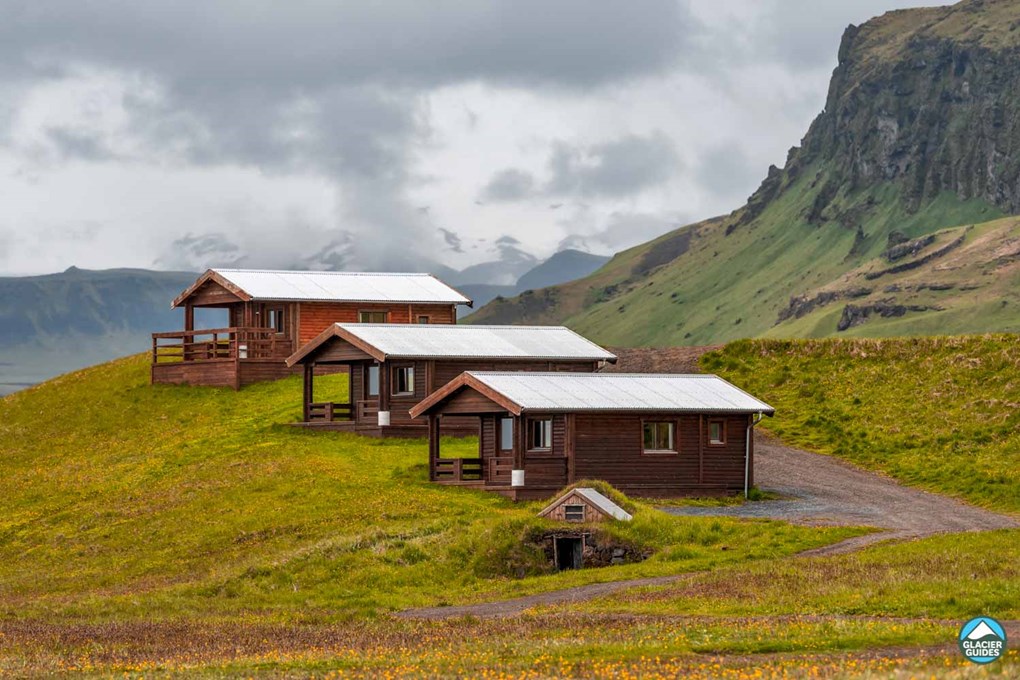 Sólheimahjáleiga Guesthouse

is a farm stay only 10 minutes from the Solheimajokull parking lot. It offers a communal kitchen, farm-style rooms, and a view of Solheimasandur Beach.

Guesthouse Vellir

is a guesthouse located 15 minutes from Solheimajokull Glacier. It features an in-house restaurant, a breakfast buffet, and panoramic mountain and ocean views. 

Hvoll Cottages

are comfortable cottages just a 20-minute drive from Solheimajokull. With wooden interiors, fully-equipped kitchens, and barbecue facilities, Hvoll Cottages are ideal for both summer and winter stays.  

Volcano Hotel

is a country-style hotel close to Vik, Skogafoss Waterfall, and Solheimajokull. It features an in-house restaurant, modern rooms, and is a best-selling stay for couples.

Hotel Skogafoss

is a bed and breakfast known for its cozy environment and picturesque location. Next to Skogafoss waterfall, the hotel offers comfortable rooms with mountainous landscapes. A great option for traveling families. 

Puffin Hostel Vik

is a high-end hostel located in the heart of Vík. It offers a variety of room options, shared bathroom facilities, and a communal kitchen.

Vik HI Hostel

is an affordable hostel located in Vik. The HI hostel features a warm atmosphere with comfortable rooms and beautiful views of Myrdalsjokull Glacier and the Atlantic Ocean.
Camping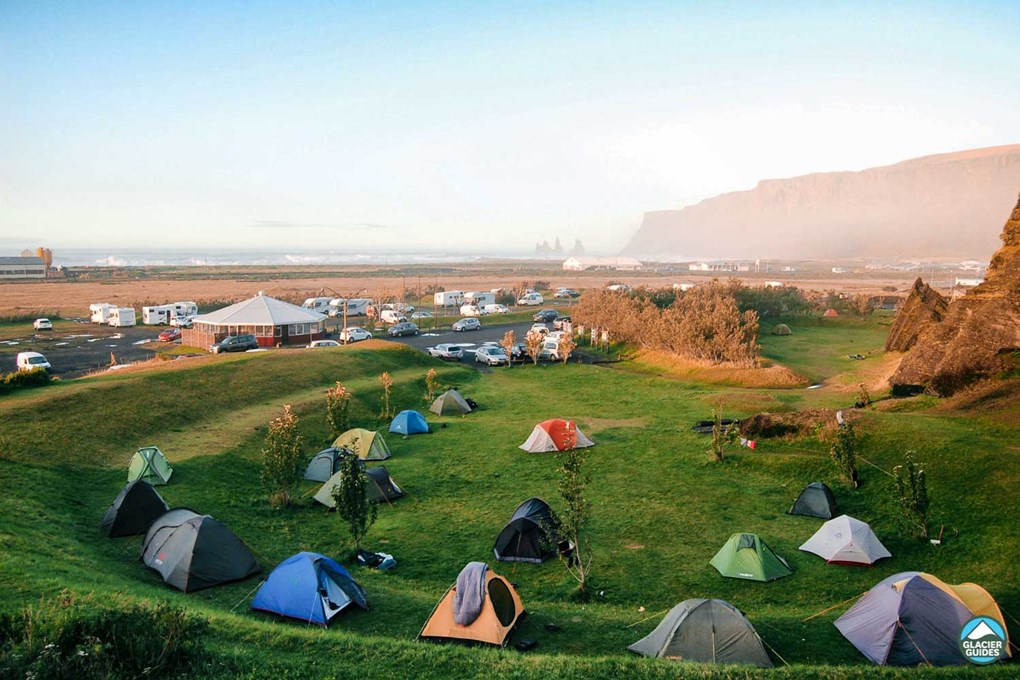 Skogar Campsite

is a small campground situated directly next to Skogafoss Waterfall. The site offers great waterfall views, shared bathroom facilities, and outdoor sinks.

Vik Camping

is a large campsite nearby downtown Vik. The site offers accommodation for up to 250 people and has bathroom and dining facilities.
Related Tours