About Mýrdalsjökull
Mýrdalsjökull is the fourth-largest glacier in Iceland and one of its most spectacular. The massive ice cap covers an area of about 595 sq km ( 230 sq mi), which is almost the size of Madrid city. Its highest peak stands 1,500 m (5,000 ft) tall.
Located in South Iceland, Mýrdalsjökull covers one of Iceland's largest volcanoes, Katla. Visitors can enter a photogenic ice cave under the volcano, which is open all year round.
Then, of course, there are winter adventures. The dramatic glacier offers glacier hiking, ice climbing, ice caving, you name it. Lace up your boots and let the adventure begin!
A Glimpse Below the Ice
Mýrdalsjökull is the southernmost glacier in the Land of Fire and Ice. It's also the easiest glacier to reach from Reykjavik. So, you won't need to go far to get close to its ancient ice.
The thickest parts of Mýrdalsjökull are up to 300 m (984 ft) deep. Imagine the length of three football fields stretched across the horizon. No wonder this gigantic mass of ice attracts thousands of adventurers year-round.
When it comes to Mýrdalsjökull's geology, scientists stand in silent awe. The impressive glacier covers Katla, the most powerful and active volcano in the country. The caldera of the volcano has a diameter of 10 km (6 mi) and has erupted a record 20 times since 930 AD.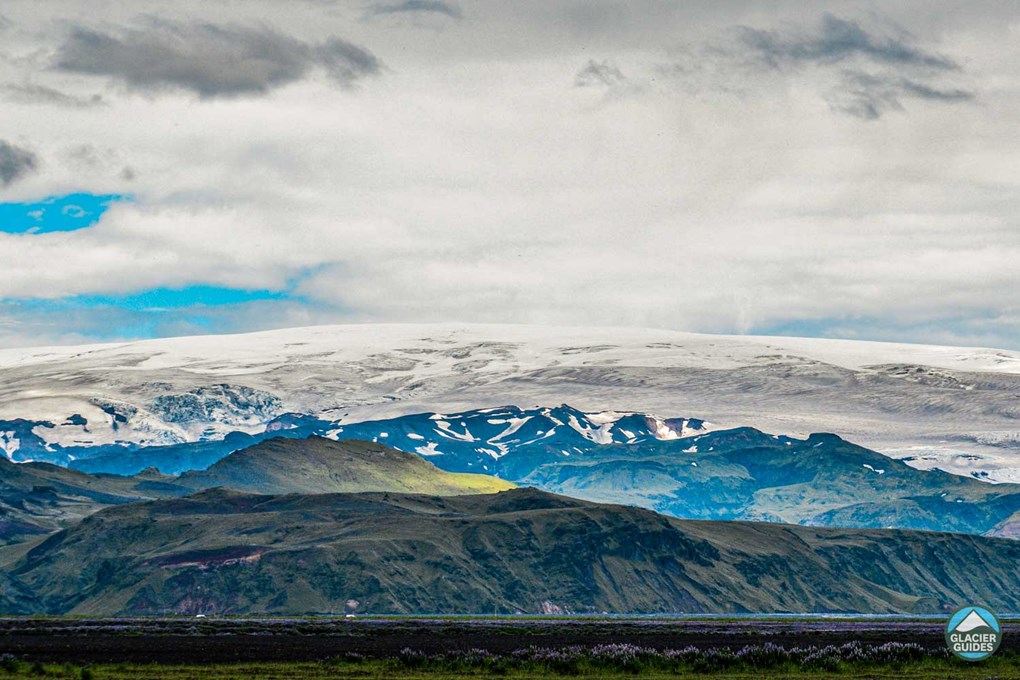 The most recent volcanic eruption occurred in 1918. Katla eruptions tend to cause massive glacier floods. These floods have the power to damage nearby villages and are considered some of the heaviest on Earth.
Interestingly, Katla is a very popular name for girls in Iceland. Apparently, Icelanders like to name their daughters after strong, explosive, and magnificent natural disasters.
Geologists closely monitor Katla, so visitors shouldn't worry about getting trapped in the volcano's path.
Myrdalsjokull Ice Caves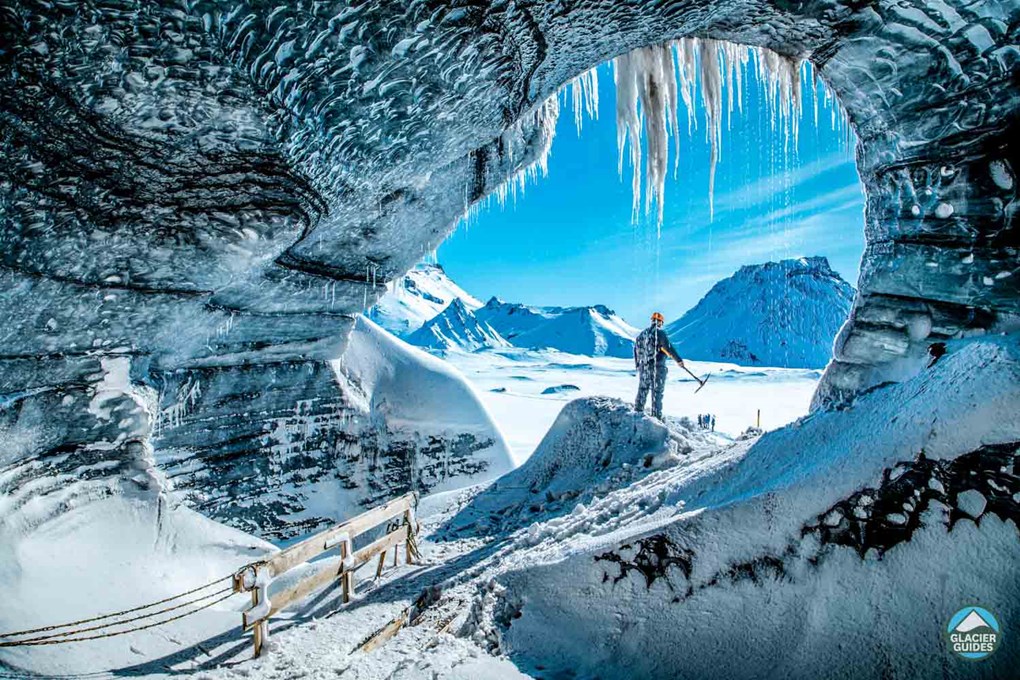 Mýrdalsjökull Glacier ice caves are remarkable natural wonders. They are formed when glacier meltwater carves an opening into the ice. Glaciers are living creatures that constantly move. Because of this, ice caves change all the time.
Sometimes new ice caves form. Other times, they change their appearance and occasionally disappear altogether. Intriguingly, glacier guides come across undiscovered ice caves every year. In fact, Mýrdalsjökull is dotted with secret ice caves we may not even know about.
Don't explore ice caves unguided. Only experienced guides can judge which ice caves are safe to enter.
Natural Ice Cave in Mýrdalsjökull Glacier by Katla Volcano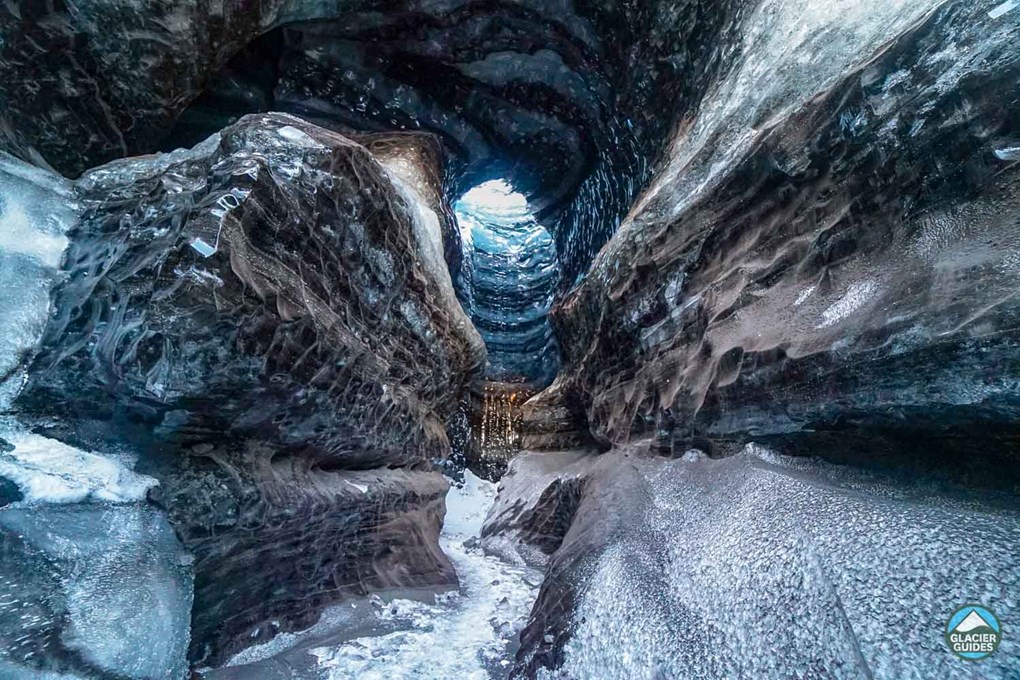 There are many beautiful ice caves in Myrdalsjokull, but the most famous one is Katla Ice Cave. This geological wonder is found in Kötlujökull, an icy outrunner of Mýrdalsjökull.
Named after Katla Volcano, the ice cave is celebrated for its dark and blue ice walls. Inside you'll find volcanic ash from Katla's eruptions trapped in the ice. To think that each core of ice holds ancient memories is truly inspiring.
While most ice caves can be accessed only in winter, Katla Ice Cave is open year-round. Explore this incredible ice cave with a certified guide on our Natural Ice Cave Tour From Reykjavik.
How to Get to Myrdalsjokull Glacier, Iceland
Myrdalsjökull is located to the north of Vik on the South Coast and to the east of the smaller Eyjafjallajokull Glacier. The distance from Reykjavik to the glacier is about 155 km (96 m). From Vik, the driving distance is just 19 mi (31 km).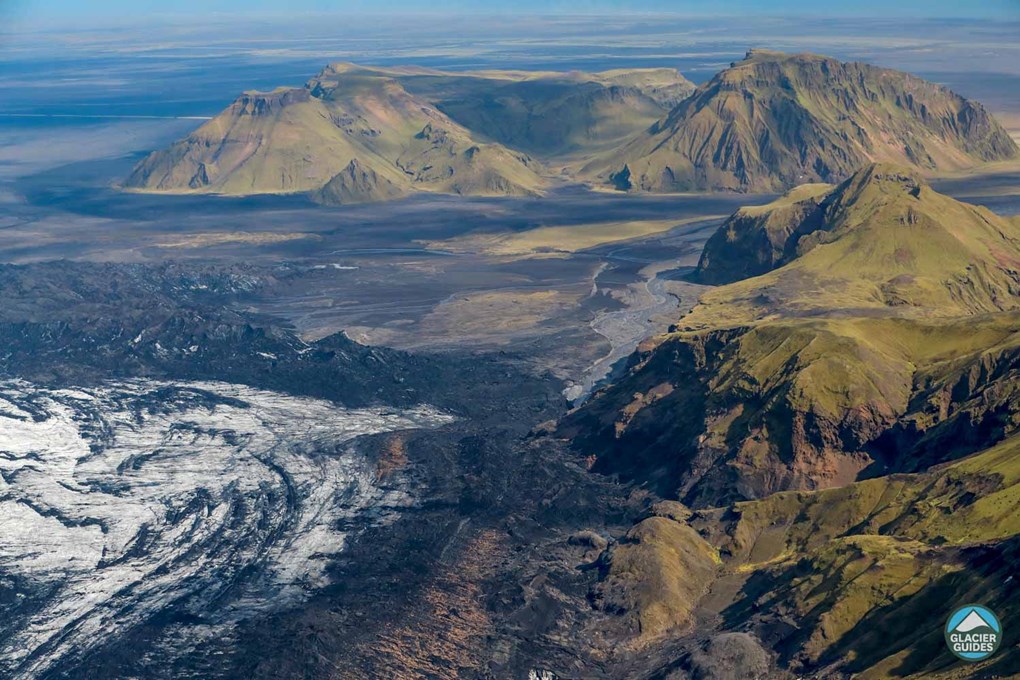 By car: To reach Myrdalsjokull Glacier from Reykjavik take Route 1 (the Ring Road) south until you reach the village of Skógar. Leave Skógar on your left and continue on Route 1. After about 6 km (3.7 mi), turn left off Route 1 to Route 221. Continue on Route 221 until you reach the parking lot at the glacier's edge.
The car park has a little cafe and WCs. From there, it's a 15-minute walk to the front of a glacier. Admire this white giant from a safe distance. Don't attempt to climb on the glacier unguided, many crevasses on the ice cap might be dangerous.
Join a tour: If you want to walk on a glacier, join a guided tour from Reykjavik or meet us at the parking lot by the glacier. Jump feet first into our excursions on Sólheimajökull, a glacial tongue of Mýrdalsjökull Glacier.
The Best Time to Visit Mýrdalsjökull
It might seem like winter is the best time to go on a glacier adventure. But that's not the case with Myrdalsjokull Glacier. The majority of activities on the mighty ice cap are available year-round.
Summer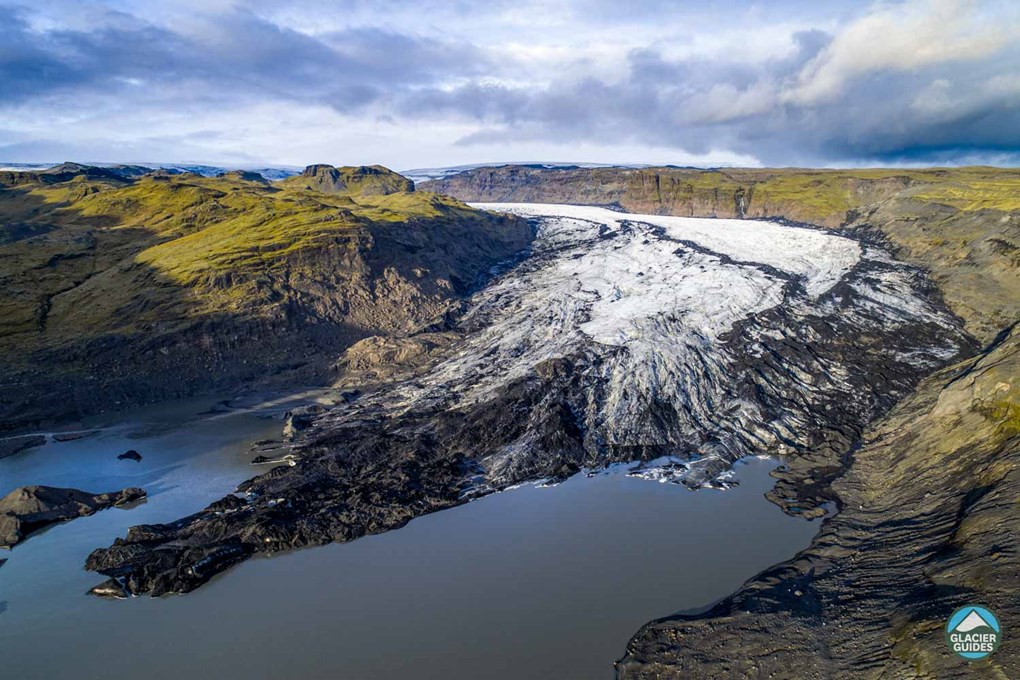 Myrdalsjokull Glacier in summer glitters in the sun and is a delight for photographers' cameras. At this time of year, the average temperature stays above 10°C (50°F). However, it gets colder as you get closer to the glacier.
The weather in Iceland is unpredictable and you can experience all four seasons in a day. We advise bringing warm outdoor clothing and waterproof layers. Here you can find detailed information on how to dress for a glacier hike in Iceland.
From May to July, Iceland becomes especially lively as it revels in the midnight sun. This is great if you're short on time and want to see as much as possible.
Winter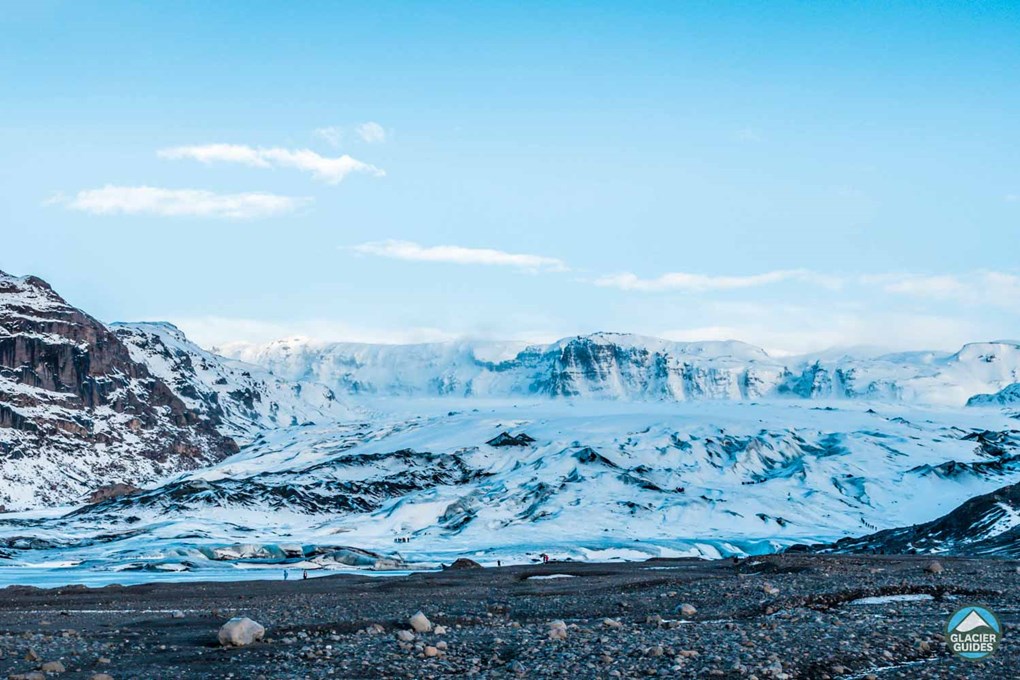 During winter months, Myrdalsjökull is equally spectacular. The land is covered by snow and the contrast between black ash and white slopes is sharper than ever.
And that's to say nothing of the Northern Lights. From September to April, the aurora paints Iceland's wintery sky in shades of green, yellow, and red.
Can't choose between trekking a glacier and seeing the Northern Lights? Accomplish both in just one day on our South Coast, Glacier Hike & Northern Lights tour.
Mýrdalsjökull Tours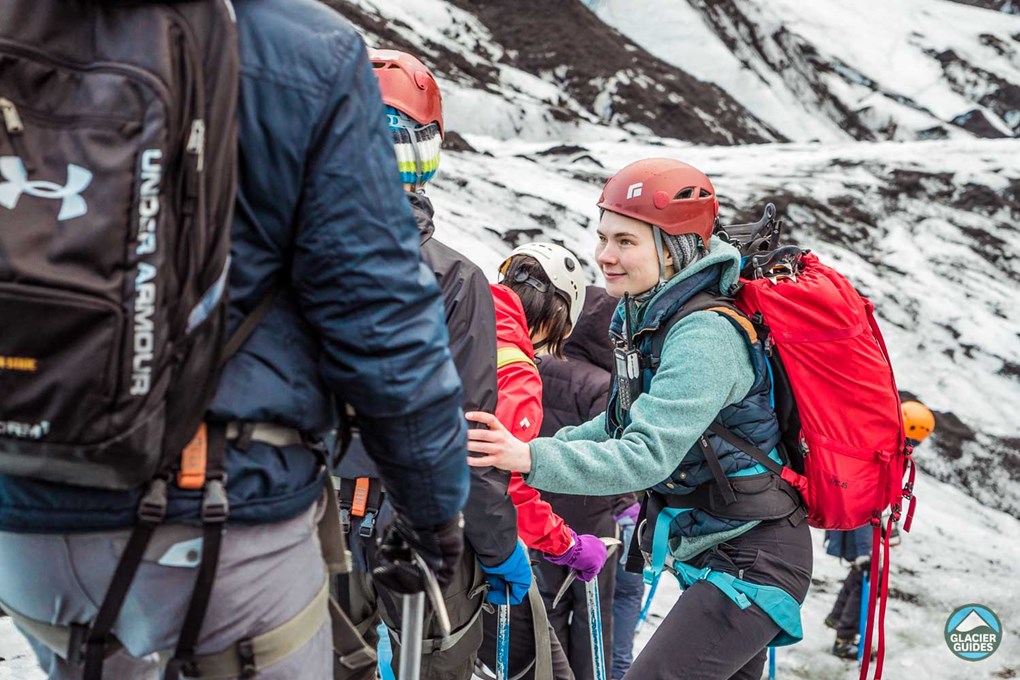 Travelers from every corner of the world head to Iceland to quench their thirst for ice adventures. Myrdalsjokull Glacier is just the spot for glacier hiking and ice climbing. Tours on this massive glacier run year-round.
There are options for all skill levels and glacier guides provide you with all the necessary gear that includes: crampons, helmets, and ice axes. All you have to do is show up!
Most Myrdalsjokull glacier tours take place on Sólheimajökull, an icy outrunner of Myrdalsjökull and Iceland's most accessible place to get up close to the ice. Other glacier tours operate from Skaftafell and will take you up on Vatnajökull Glacier, Europe's largest ice cap.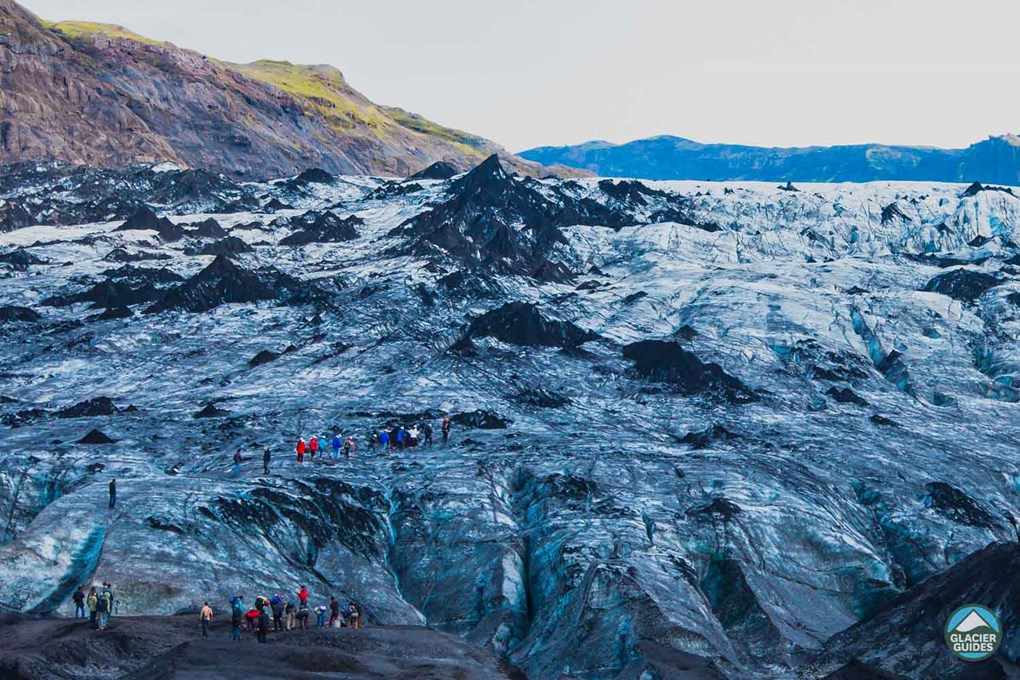 Glacier hiking is perhaps the most exciting experience that most of us can consider taking. But ice climbing could be an even more thrilling adventure. It might sound like an extreme sport, but that's not true in the Land of Fire and Ice.
With easily accessible glacier tongues and expert guides, ice climbing is a go-to for everyone with a sense of adventure. Hike a glacier and try your hand at ice climbing on our Blue Ice Day Tour from Reykjavik.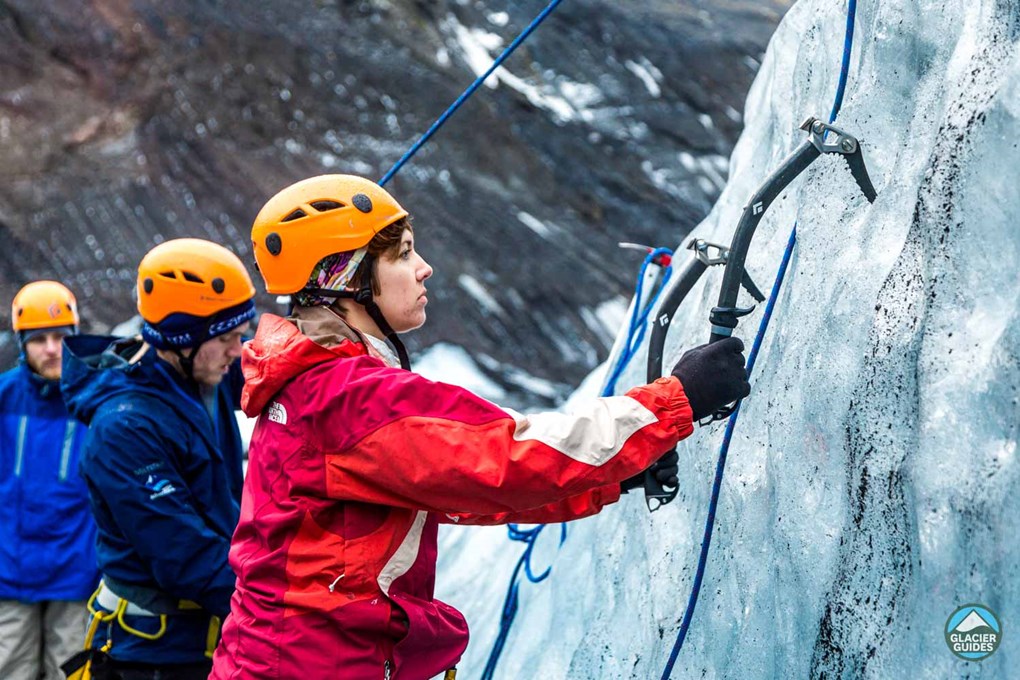 Finally, step into an ice cave burrowed into the glacier and become a glacier explorer for a day. Check out our ice caving tours, departing either from Reykjavik or Vik. Mýrdalsjökull ice cave tours run year-round. Don't forget your camera, ice sculptures will cry for your attention.
Interesting Sites Near Myrdalsjökull
One of the best things about Myrdalsjökull is that it's located on the South Coast of Iceland, close to some of the most stunning attractions in the country.
On your way to the glacier, discover the mighty waterfalls, Seljalandsfoss and Skogafoss, the world-famous Reynisfjara Black Sand Beach, and the smaller Eyjafjallajokull Glacier.
Want to avoid the hassle of travel planning? Explore the top highlights of South Iceland and walk on a glacier with our South Coast & Mýrdalsjökull Glacier Walk Day Tour from Reykjavik.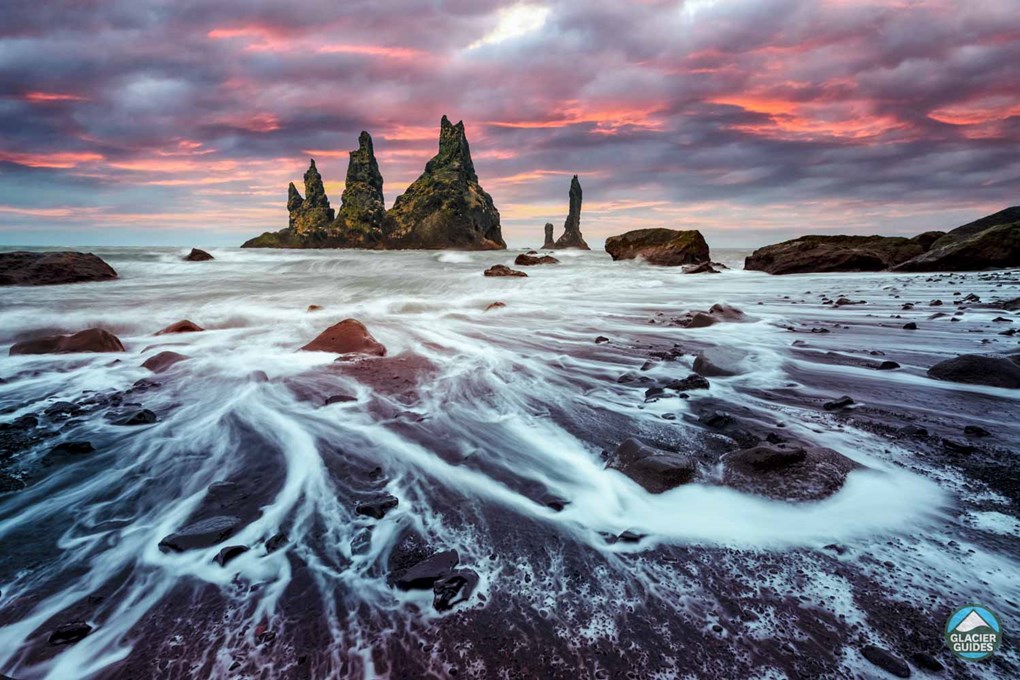 Another highlight is Sólheimasandur, a remote black sand beach where you can see the remains of a DC-3 plane that crash-landed in 1973. Miraculously, everyone survived. Enjoy the wild landscape around the mysterious wreckage.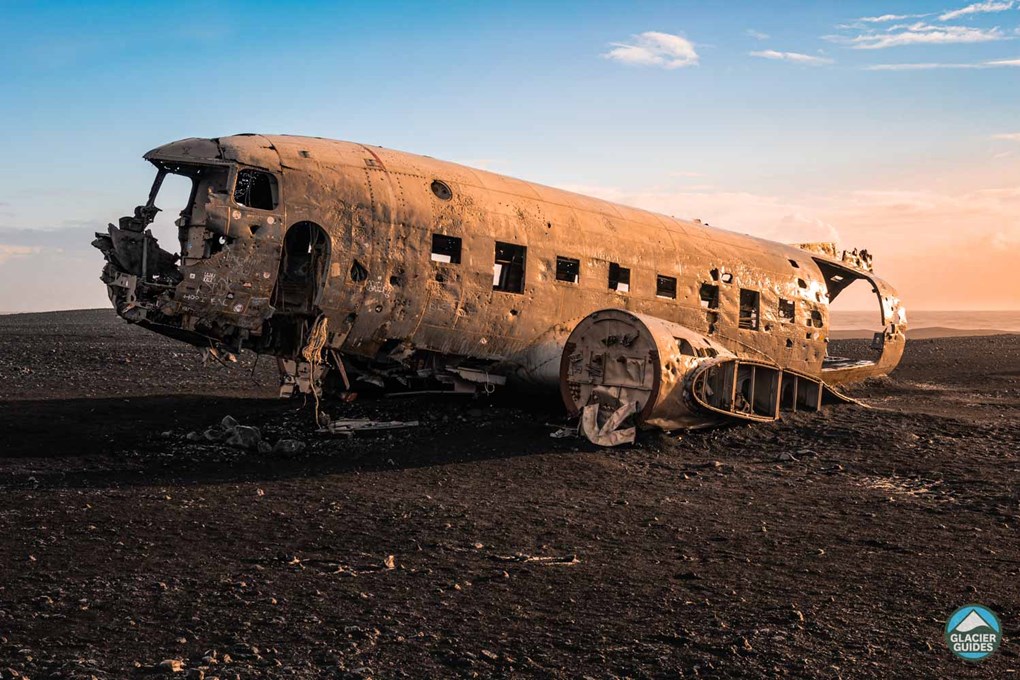 If you're into hiking, discover the popular Fimmvorduhals hiking trail, which lies in the shadow of Myrdalsjökull and Eyjafjallajokull glaciers.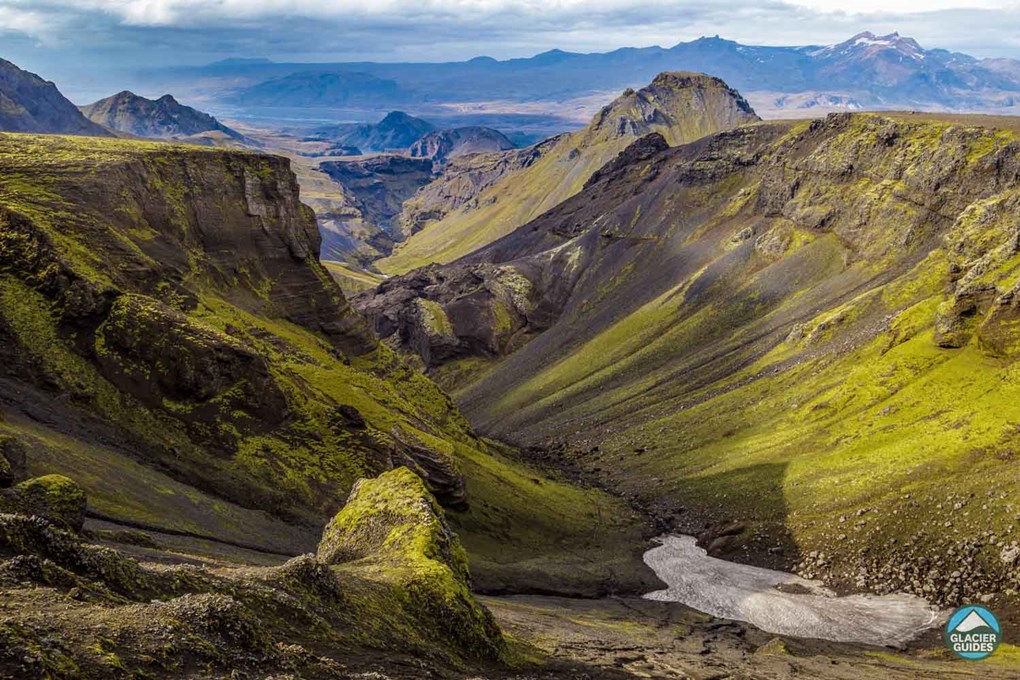 Places to Stay at Mýrdalsjökull
Hotel Skogar

, located in the village of Skogar, is the closest accommodation to Myrdalsjokull Glacier. It houses cozy rooms and an elegant restaurant. Guests can also enjoy an outdoor hot tub and sauna. The famous Skogafoss Waterfall is nearby.

Hótel Dyrhólaey

, located about 20 km (12 mi) from Myrdalsjökull, features wood-furnished rooms and a great in-door restaurant. Some of the rooms have breathtaking views of the shimmering ice cap. 

Icelandair Hotel Vík

, located in the town of Vik, is a modern hotel. It offers bright rooms with tea and coffee facilities. The hotel is about 30 km (18 mi) away from Myrdalsjökull.

Puffin Hotel Vík

is another great option in Vik. Rooms are rather simple but well-maintained. It's just a 10-minute walk from the beautiful Reynisfjara Beach.
Related Tours