About Vatnajökull Glacier
Vatnajökull Glacier is Iceland's largest ice cap located in the famous Vatnajökull National Park. With an area of 8,100 sq. km² (3,100 sq. mi), the glacier covers around 8% of Iceland and contains majestic glacial lagoons, mysterious ice caves, and deep river canyons.
The word Vatnajökull translates to "The Water Glacier", because of how much water is locked into the glacier's thick ice. In fact, Vatnajökull's ice is so thick that it covers several valleys and mountains below its surface!
Vatnajökull has 30 outlet glaciers that create a backdrop of brilliant glacier tongues. Its landscape runs along the southern part of Route 1 (the Ring Road) and flaunts lovely shades of icy blue.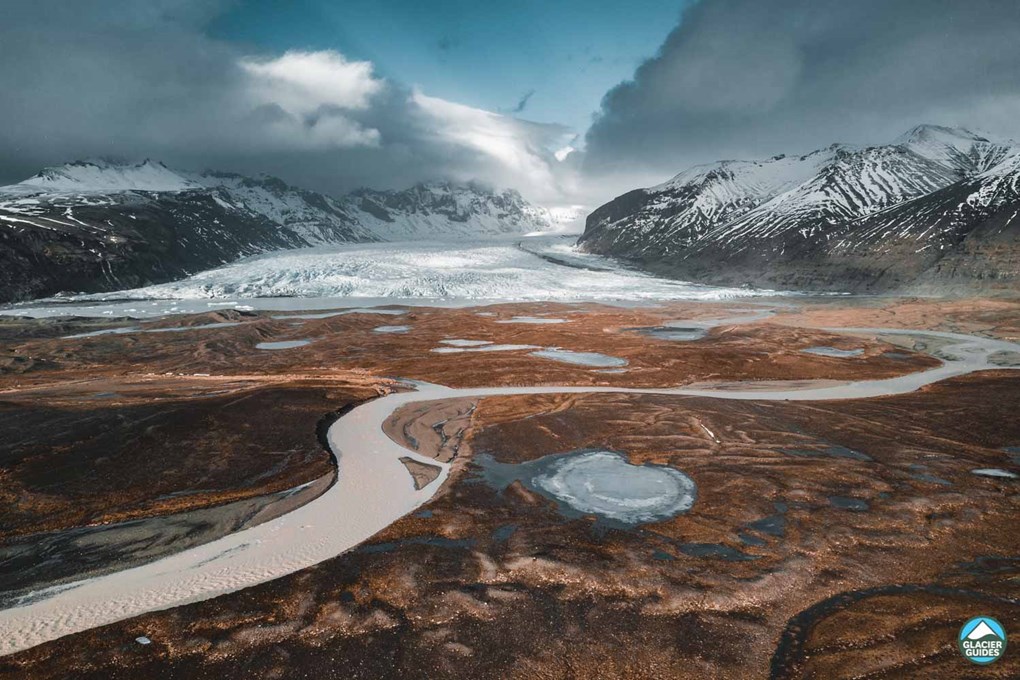 Geology
Vatnajökull Glacier can get to 1000 m (3281 ft) deep and its total ice volume is a whopping 3300 cubic kilometers. Wide plateaus with several valleys and mountains are concealed underneath its thick ice, making the glacier a true natural wonder.
The geology of Vatnajökull is vast in scope and decorated with everything from glacier lagoons to hidden volcanos. Some of these hidden volcanoes remain active, and include Bárðarbunga (2020 m), Öræfajökull (2110 m), and Grímsvötn (1,725 m).
Another central feature of Vatnajökull, Iceland geology is its magnificent outlet glaciers, including the famous Svínafellsjökull and Fallsjökull glaciers. These rugged outlets create dynamic landscapes that are a colorful feast for the eye no matter where you turn.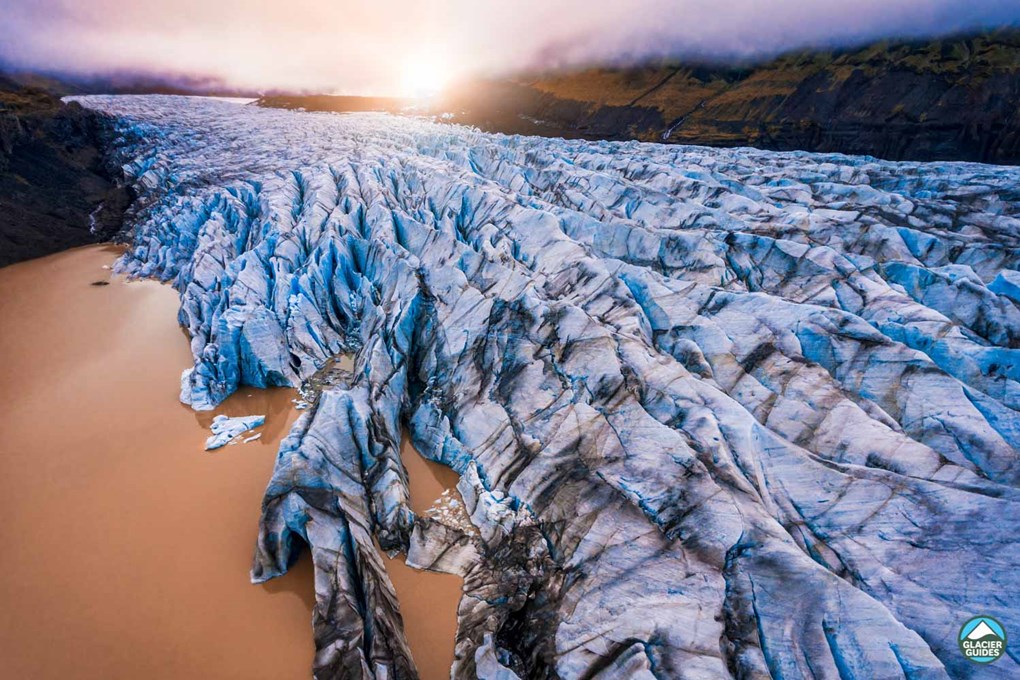 Vatnajökull Glacier Map
Where is Vatnajökull Glacier Located?
Vatnajökull is situated along some of the most beautiful natural landscapes in Iceland. From Lake Þórisvatn in the West to Fljótsdalshreppur in the East, its landmass reaches far and wide.
The glacier even stretches out to Iceland's southern coastline, giving drivers a panoramic icy backdrop along the famous Ring Road!
How to Get to Vatnajökull From Reykjavik
Driving from Reykjavik to Vatnajökull Glacier is a scenic trip filled with iconic Icelandic attractions and landmarks. Once leaving the city, the directions are clear. Simply head east along the Ring Road (Route 1) until you reach your final destination!
Before reaching Vatnajökull, you'll pass by sights such as the breathtaking Seljalandsfoss waterfall and alluring Reynisfjara Sand Beach. Once you reach the town of Kirkjubæjarklaustur, it's up to you to decide how to get to Vatnajökull. 
Depending on where you want to go, you have a few options to choose from. For most, Vatnajökull Glacier begins in Skaftafell Nature Reserve (4 hours from Reykjavik) or Jokulsarlon Glacier Lagoon (5 hours from Reykjavik).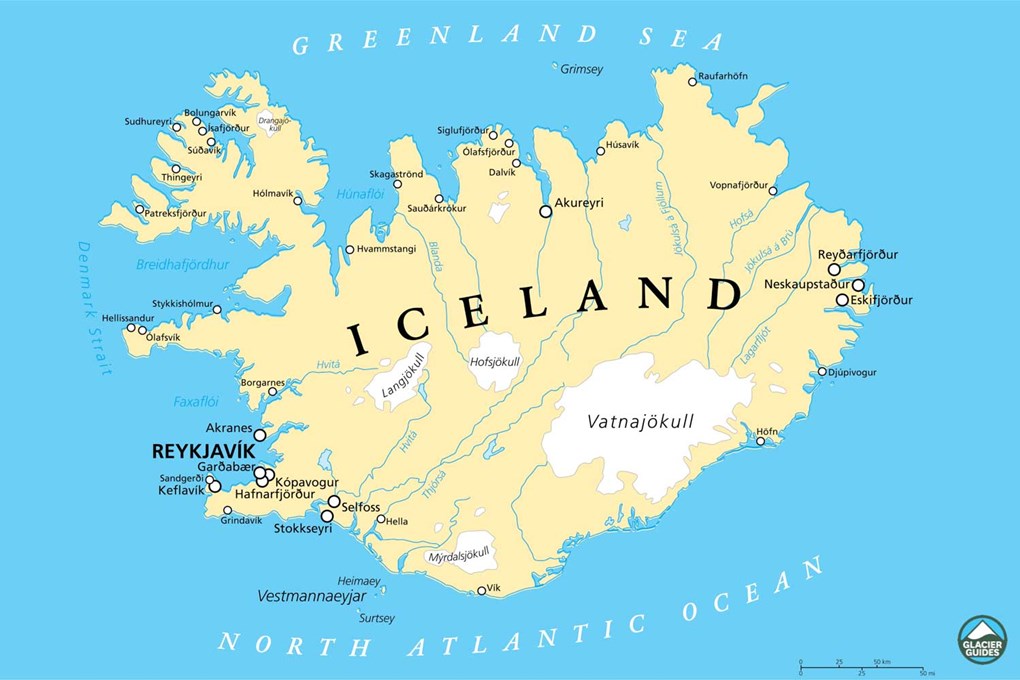 Weather on Vatnajökull Glacier
The weather at Vatnajökull is extremely varied and changes constantly. In elevated areas, Vatnajökull temperatures rarely go above 50°F. High elevation can cause snow and rain, and strong winds push very cold air down into lower lands.
Lower altitude temperatures are around 4–23°F in winter and 41–59°F in summer. Rain and harsh winds can happen out of the blue, so remember to pack warm clothes. Also, don't forget to check weather and road conditions before hitting the road!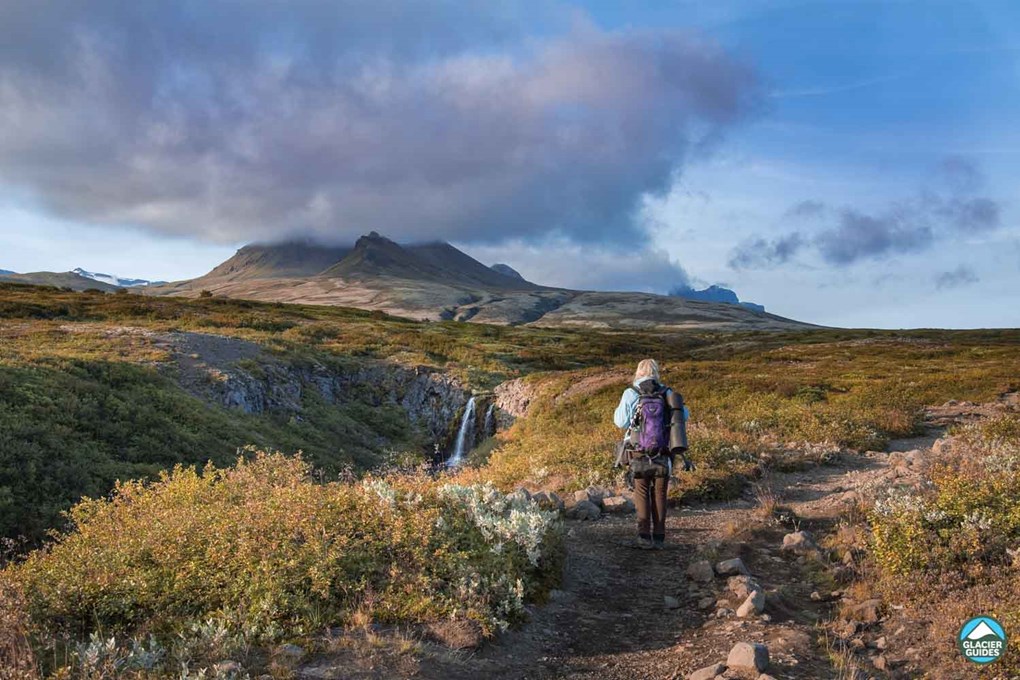 Climate Change and Vatnajökull Glacier
Like most places, warmer temperatures caused by climate change are speeding up the melting of Iceland's glaciers. Melting is happening so fast that many of Iceland's glaciers won't survive past the end of this century.
It is believed that up to one meter of Vatnajökull Glacier ice melts each year. Some predictions even show that it may lose up to 25%–35% of its core ice in half a century. One more reason to plan your Vatnajökull visit sooner rather than later!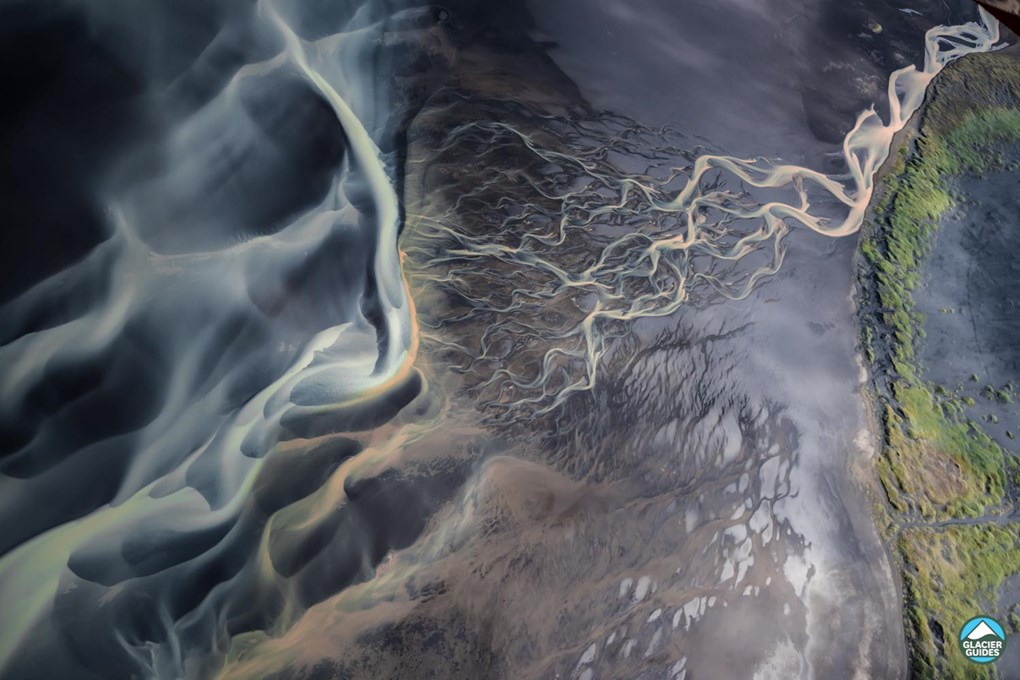 Things to Do on Vatnajökull Glacier
From glacier lagoon kayaking to thrilling snowmobiling tours, there's something for everyone at Vatnajökull Glacier. To experience the full magic of the park, we suggest trying out a glacier hiking or ice-caving tour! If you're looking for a challenge, try out the glacier hiking and ice climbing tour!
Walk Along a Glacier Tongue
Hiking in Vatnajökull Glacier is a must for adventurers looking to view majestic glacier landscapes. Walk along Falljokull glacier tongue with a guided three-hour or half-day Vatnajökull Glacier tour!
Falljokull Glacier is Vatnajökull's number one glacier tongue and one of Iceland's most beautiful hiking areas. For most tours, knowledgeable glacier guides will provide you with everything, including ice axes, crampons, and helmets.
It is possible to hike all year round and suitable for most levels.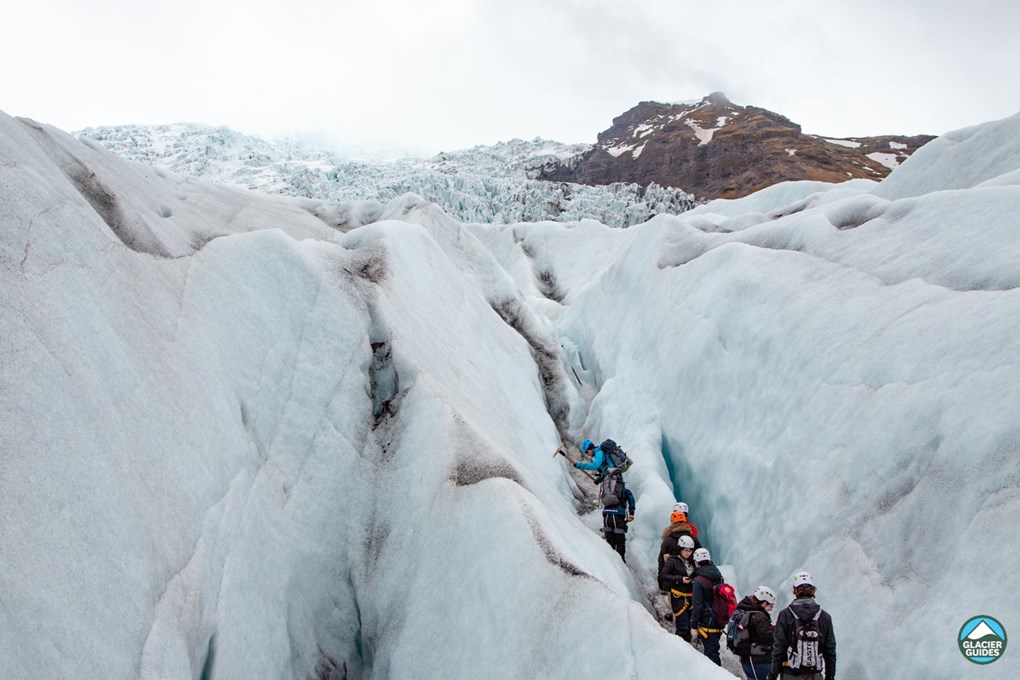 Adventure into Vatnajokull Ice Caves
Another excellent glacier activity is venturing into mystic Vatnajökull ice caves. Local adventure guides lead you to an icy crystal blue world and submerge you into the ultimate ice cave adventure.
Most of Vatnajökull's glacier cave tours last around 40 minutes and depart from Jokulsarlon Glacier Lagoon or Skaftafell. 
It is strongly advised not to enter a Vatnajökull ice cave without an experienced guide. Book one of our certified glacier guided Vatnajökull Glacier Blue Ice Cave tours​ with all required safety equipment included!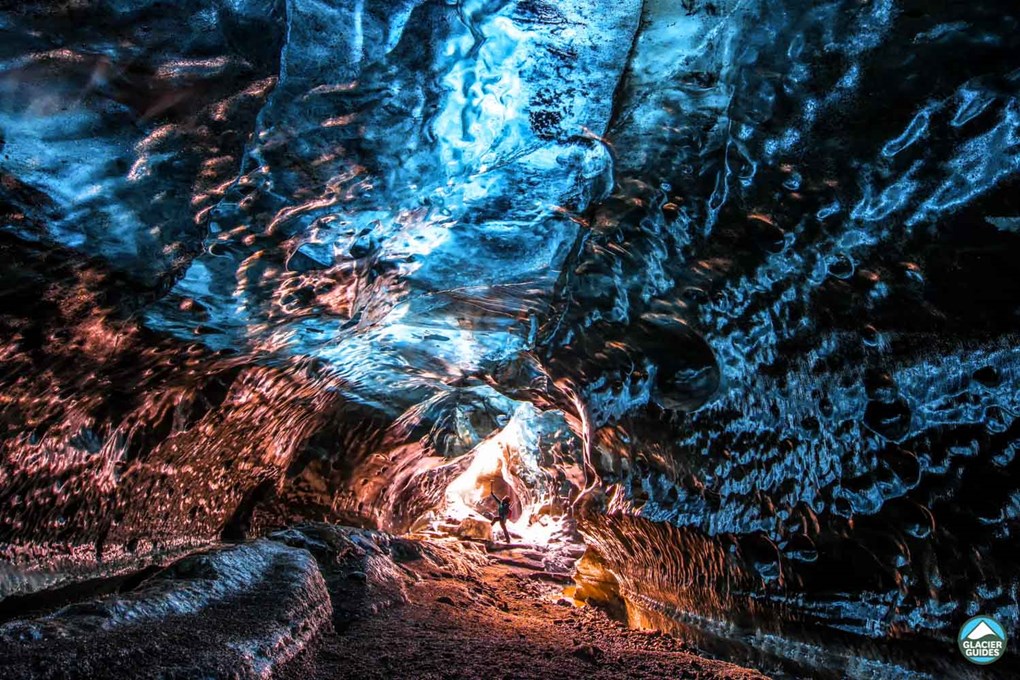 Campsites and Hotels Near Vatnajökull Glacier
There are many places to stay near Vatnajökull Glacier, especially considering how much land it covers! Keep in mind that Vatnajökull is a popular spot. Be sure to book your stay as far in advance as possible.
Here are a few campground, guesthouse, and hotel suggestions between Skaftafell and Höfn areas of Vatnajökull.
Hotels & Guesthouses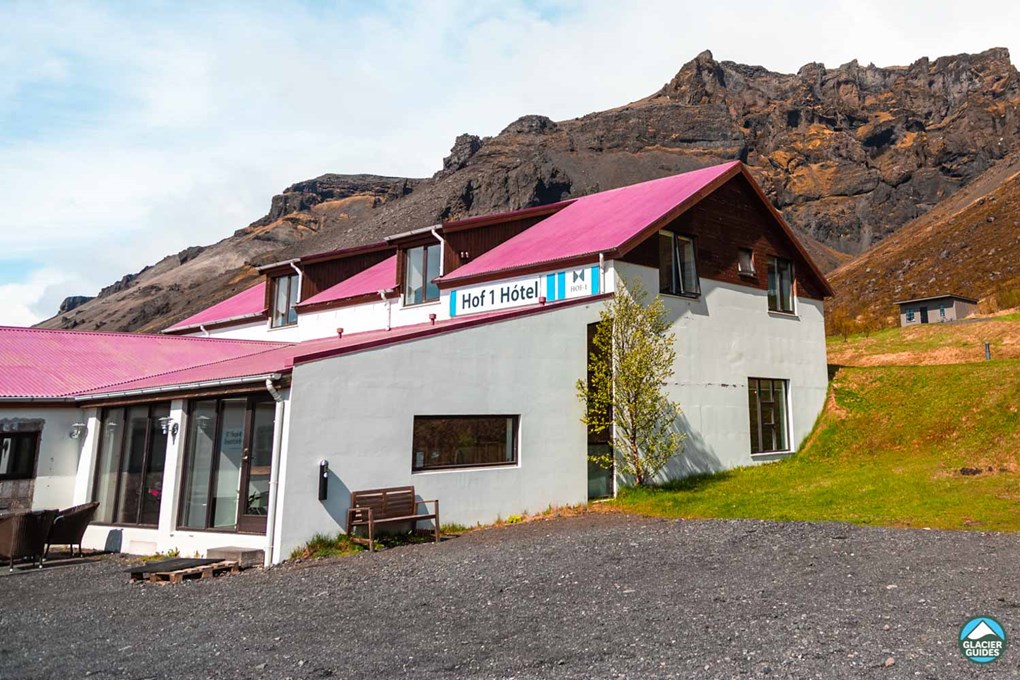 Hotel Skaftafell

is a popular 3-star hotel located minutes from Skaftafell Nature Reserve. It features a restaurant, private bathrooms and modern rooms overlooking the magnificent

Vatnajökull

Glacier. It also has a fuel station conveniently located across the street.   

Fosshotel Vatnajökull

is a boutique style hotel located 15 minutes from Hofn centre and just minutes from Hofn airport. It offers panoramic views of

Vatnajökull

, an in-house restaurant, and modern rooms. 

Hotel Smyrlabjorg

is a family-run farm hotel featuring bright rooms with views of

Vatnajökull

and the Atlantic Ocean. The beautiful Hoffell Hot Springs are located only 30 minutes away. 

 
Adventure Hotel Hof

is a family-friendly hotel located in Hof, Iceland. It offers bright and spacious rooms, an in-house restaurant, and a breakfast buffet.

The Potato Storage Guesthouse,

a top-rated guest house located in Svinafell, offers cozy motel rooms with beautiful mountain views. Skaftafell Visitor Centre is only a 5-minute drive away.

Guesthouse Skalafell

is an excellent budget option with stunning views of

Vatnajökull

National Park and an in-house restaurant. Skaftafell Glacier is 3 km away and it's ideal for traveling couples. 
Camping
Skaftafell Campground

is a campground in Skaftafell with space for over 400 tents and a section reserved for camping trailers. The site provides showers, a washing machine and dryer, and WIFI. No reservations can be made in advance.

Haukafell Campground

is a very affordable (only 7 EUR per person!) campsite with stunning views of

Vatnajökull

. It is not very busy and offers an excellent option for people looking for a more peaceful site.
Related Tours