About Diamond Beach
Diamond Beach is a stretch of black sand sitting on the South Coast of Iceland. Situated by Jökulsárlón Glacier Lagoon, it attracts hundreds of thousands of award-winning photographers and nature lovers year-round.
Here, icebergs from the nearby lagoon wash up on black sands and resemble diamonds. By the time they reach these sands, many ice boulders have been polished by wind and water. The contrast of crystal ice against the black sand beach is simply breathtaking.
Diamond Beach changes constantly and keeps visitors occupied for hours. Walk among huge chunks of ice and feel like you're entering a portal to another realm.
Behind the Name
The name "Diamond Beach" comes from icebergs that lie stranded on a dramatic black sand beach and glitter in the sun. But "Diamond Beach" is just a nickname. The real name of the beach is Breiðamerkursandur. It's named after sandur, meaning "sandy beach" in Icelandic, as well as Breiðamerkurjökull, the nearby glacier tongue.
Breiðamerkursandur is a difficult word for travelers to spell, let alone remember. So it's no surprise that the catchy nickname "Diamond Beach" quickly caught on! After all, the beach resembles a display of diamonds on black velvet.
The Nature of Black Diamond Beach Iceland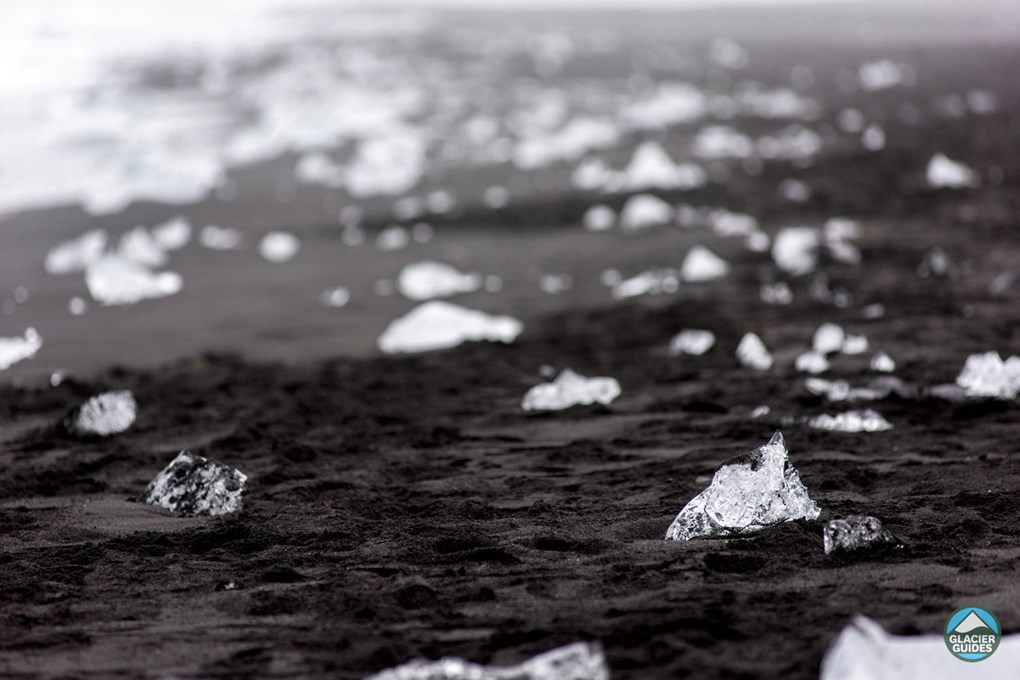 The Diamond Beach is a sight to behold. But how do ice diamonds end up on the shore? This question takes us to the equally famous Jökulsárlón Glacier Lagoon, located right across the street from the beach.
Jökulsárlón is a result of Breiðamerkurjökull Glacier, an outlet glacier of Vatnajökull, which drips into this beautiful pool of water. Chunks of ice calve from the glacier into the glacial lagoon, creating floating icebergs. At a depth of 248 m (814 ft), Jokulsarlon is the deepest natural lake in Iceland, so these icebergs can be quite large. 
From Jökulsárlón, chunks of ice start a slow and long journey via Jökulsá, Iceland's shortest river, to the Atlantic Ocean.
Along the way, some of them get washed ashore on the beach. These ice blocks are sculpted by waves and glitter in the sun. Diamond Beach is the final stop of the 1000-year-old ice's journey to the open sea.
How Black Sand is Formed?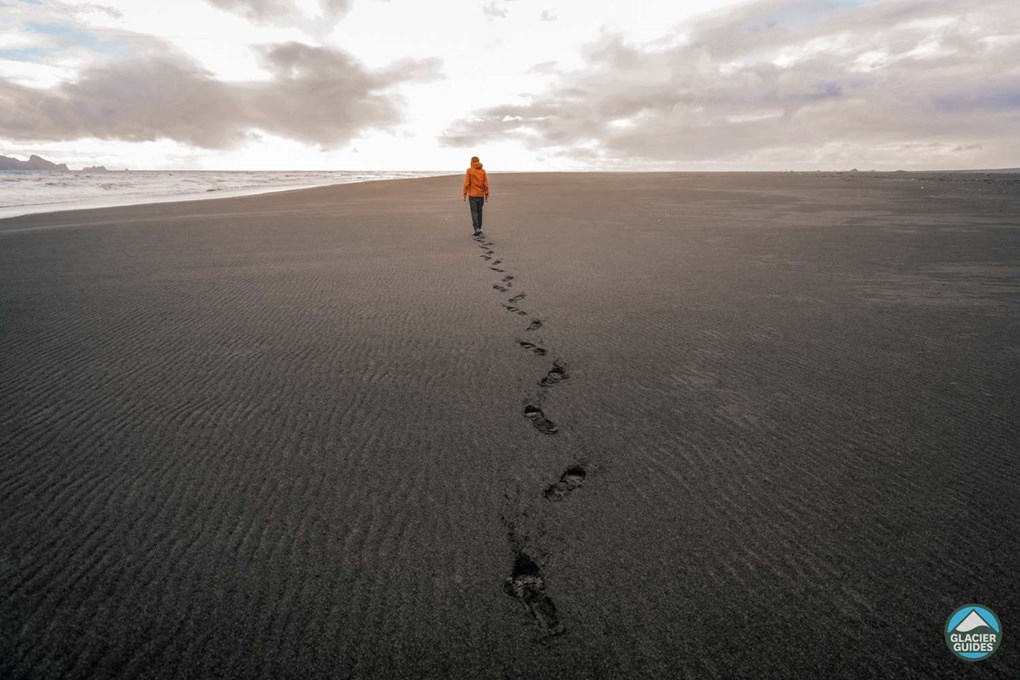 There are many black sand beaches in Iceland, but few are as beautiful as Diamond Beach. This is largely thanks to the stunning visuals of icebergs on jet black sand.
The sand on the crystal beach in Iceland consists of tiny pieces of basalt. Basalt is a volcanic rock created when iron-rich and magnesium-rich lava rapidly cools. As a lava flow hits the ocean, it cools and forms little bits of volcanic minerals.
The black sand is black because many of these minerals are dark-colored. Grab a handful of black sand grains and ponder the mystic powers of the earth!
Wildlife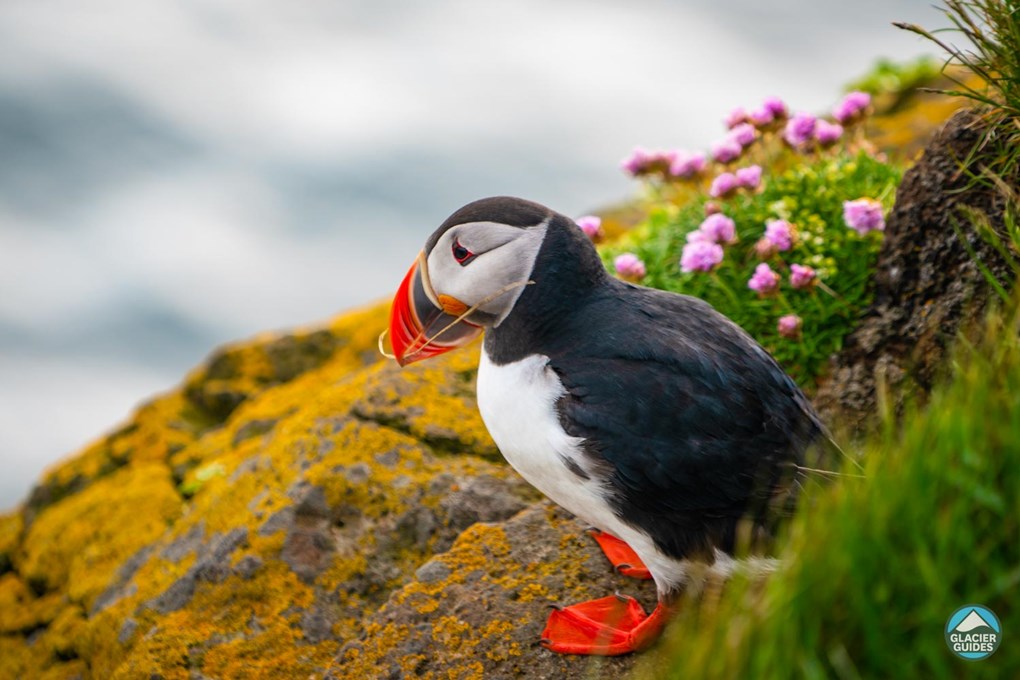 The beauty of Iceland's ice beach attracts not only humans but also chirping seabirds.
Seals also have been spotted swimming in the lagoon from time to time.
Interestingly, the cool black beach is also a great destination to spot orcas from the shore. Also known as killer whales, orcas are easily distinguished by black-and-white coloring.
Diamond Beach Map
How do I get to Diamond Beach?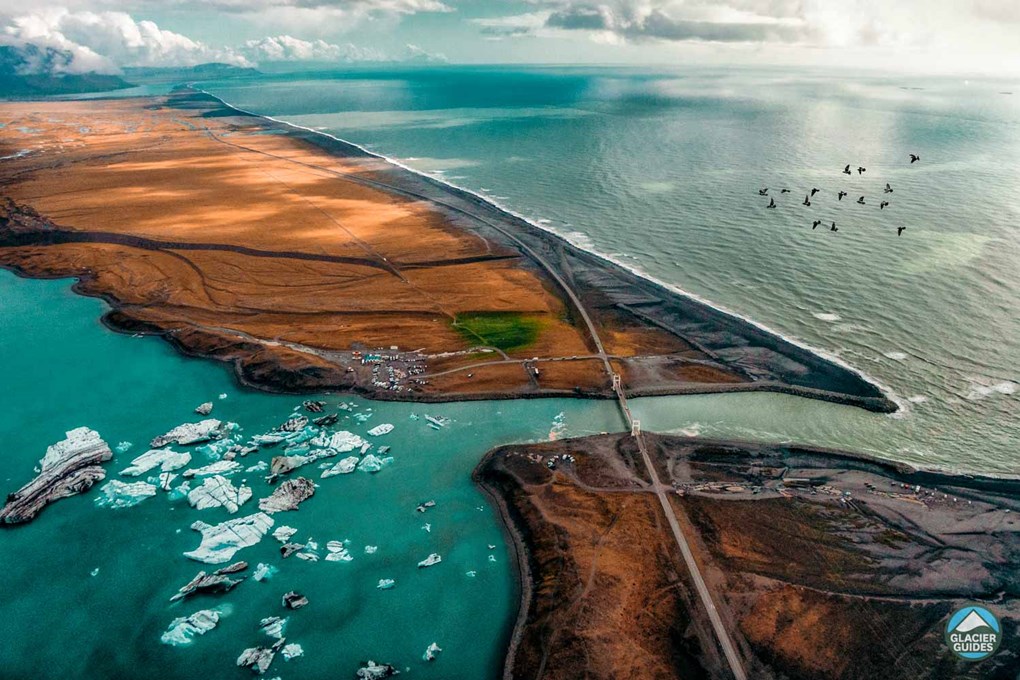 Diamond Beach is located just a 10-minute walk from Jökulsárlón Glacier Lagoon. It's about 370 km (230 mi) from Reykjavik and about 192 km (119) from Vik.
From Reykjavik, it takes about 5 hours in the car. If you're driving from Vik to Diamond Beach, it'll take you about 2 hours. The nearest town is Höfn, located about 50 mi (80 km) away.
If you want to truly enjoy the ride, we recommend spending at least 2 days on the South Coast, especially in winter when the days are short. You can spend the night in Höfn or Vik.
By Car
Directions to Diamond Beach are easy to follow. When driving to Diamond Beach Iceland from Reykjavik, you need to take Route 1 (the Ring Road) and continue on this road the whole trip.
The beach is located right off Route 1. Since there are clear signs, it's hard to miss it! There are parking lots on both sides of the river bridge.
A cafe is located next to Jökulsárlón Glacier Lagoon. The place is small but is a good stop for refreshments and information. The cafe is open all year round.
By Public Bus
Bus 51 between Reykjavik and Höfn stops at Jökulsárlón. Cross the road and walk down to the beach. You can check timetables at the Strætó website. Note that there will be far fewer buses in winter.
Join a Tour and Avoid the Hassle!
Want to avoid the hassle of planning a road trip? Opt for a guided day tour to Jökulsárlón Glacier Lagoon from Reykjavik and see all the main highlights of Iceland's South Coast. 
The Best Time to Visit
Diamond Beach is a fantastic destination for all seasons. Icebergs break off the glacier year-round — so expect to find chunks of centuries-old ice whenever you go.
Summer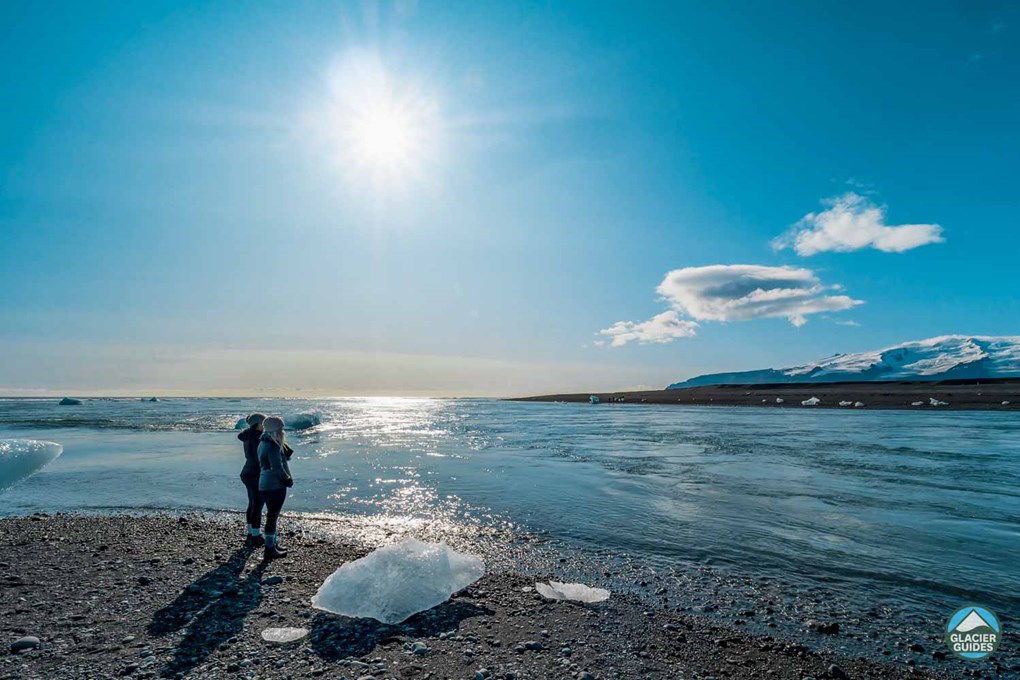 In summer, you'll have the best chance of seeing icebergs glinting in the sun. The beach gets quite crowded during the season but you can escape the crowds in the early morning or late evening.
Then there is, of course, the Midnight Sun. In June, the sun stays above the horizon for 24 hours. This can only mean one thing: you'll have all the time in the world to marvel at the beach and take photos for your travel album. 
Winter
In winter, expect thinner crowds and enormous ice sculptures. During winter months, some icebergs can be bigger than the average person. Bundle up and soak up the grand-scale landscapes!
On the other hand, colder weather might mean fewer icebergs on the beach. This is so because less ice breaks off from the glacier at low temperatures. And if it's cold for a long time, the beach can get a bit empty. But this happens rarely.
Diamond Beach is located far away from the city lights, which makes it one of the best places to see the Northern Lights in Iceland. If the skies are clear, keep your eyes up, the aurora might appear at any moment. Expect icebergs to pick up the lights' green and yellow glow.
Note that boat tours on the glacier lagoon don't run in winter.
Weather in Diamond Beach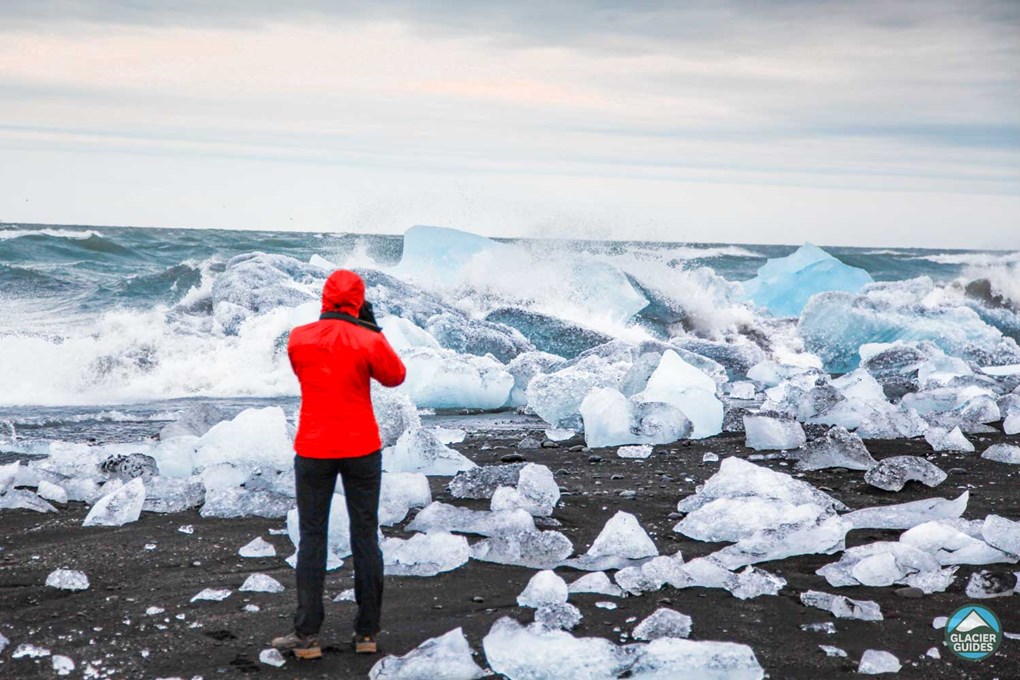 In summer, enjoy long days and pleasant weather. The warmest month is July with an average temperature of 15°C (59°F). However, being near the water is always a bit windier and colder. We recommend dressing in layers and a windproof jacket.
If you're not a big fan of rain, try to avoid October, which is the wettest month. But if you get caught out in the rain, no worries. The beach is just as stunning under the rain. Just don't forget to bring your waterproof hiking shoes!
In winter, the days are shorter and colder with an average temperature of -2°C (28°F).
What to Do at Diamond Beach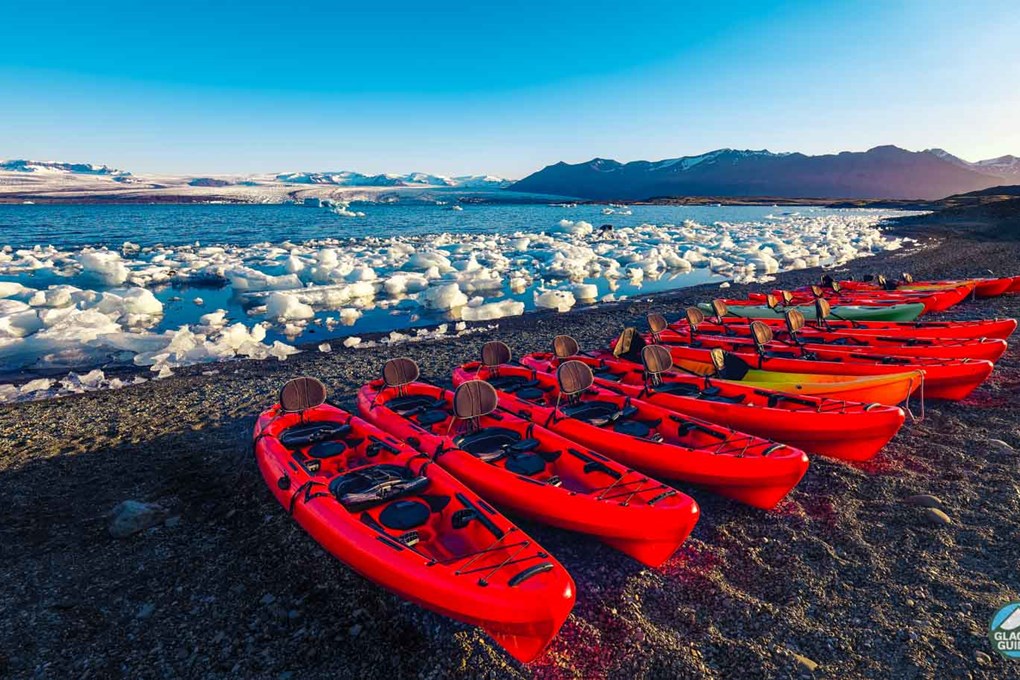 Iceland's crystal beach is all about nature. Visitors come here for landscapes seen nowhere else on the planet. From interacting with sparkling icebergs to seeing the Northern Lights, find all the awesome things to do at this glorious sight.
Walk Among Icebergs
Once you've arrived, take your first steps on black sands and marvel at ice boulders of fantastical shapes and colors. The beach is ever-changing and never looks the same. Sometimes icebergs are transparent, other times white or ultramarine, the most beautiful blue.
Sometimes the iceberg may have black stripes, which are old ash layers from volcanic eruptions trapped in the ice. 
Take a Boat Tour on the Glacier Lagoon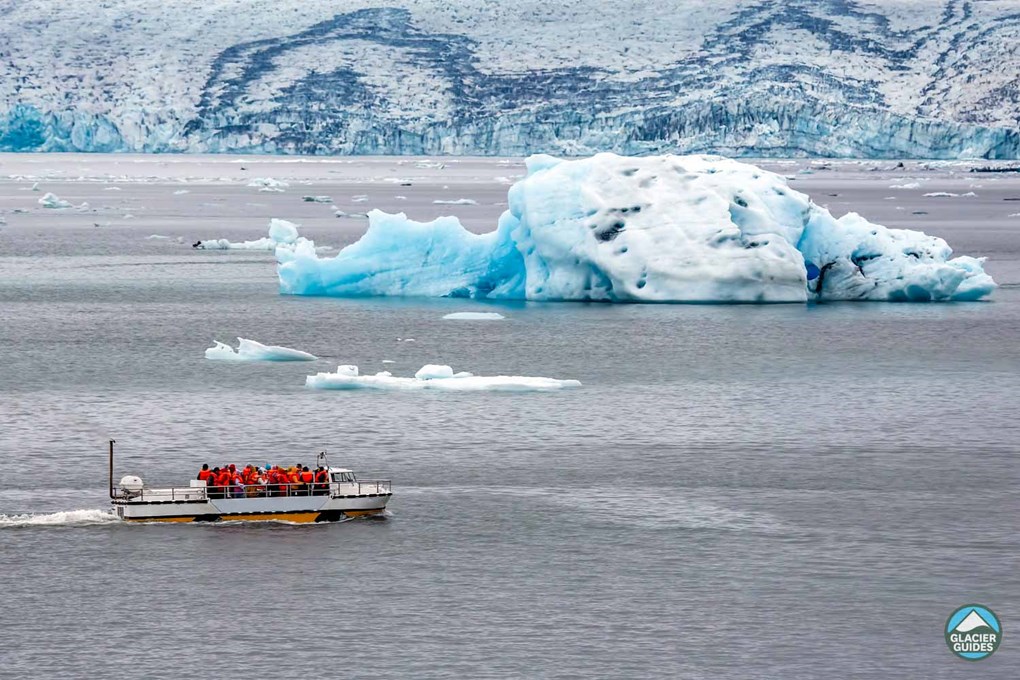 If you're visiting Iceland's glacier beach in summer, don't miss the opportunity to take a memorable boat tour on Jökulsárlón. Float among luminous-blue icebergs as they drift lazily in the clear waters. On board, you can even taste ancient ice. Choose from Jökulsárlón Zodiac Boat Tour or Amphibian Boat Adventure. We recommend booking ahead, as spaces tend to sell out!
For adventurers who love kayaking, try our Kayaking Tour on Jökulsárlón Glacier Lagoon.
Watch Sunrise or Sunset
Diamond Beach is one of the most awe-inspiring attractions in Iceland. And yet it's even more spectacular during sunrise. Morning light graces the crystal-clear icebergs and offers the best photo opportunities.
In the evening, expect equally stunning vistas. The sunset at Diamond Beach in Iceland is the most surreal experience in the Land of Fire and Ice.
Visit Crystal Ice Cave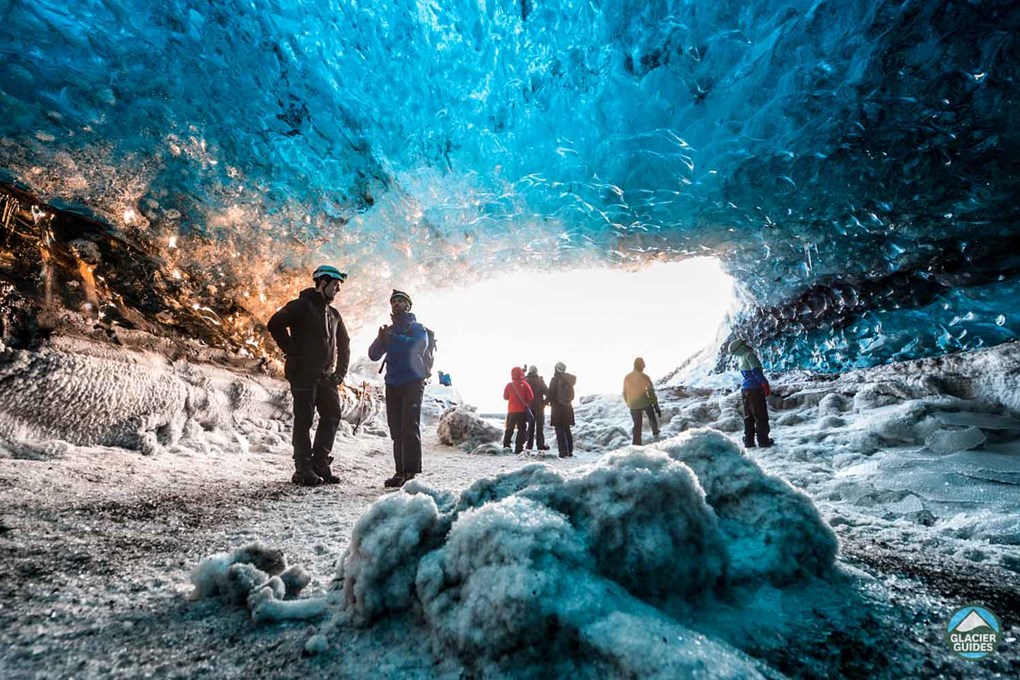 For even more adventure along the South Coast of Iceland, opt for our Crystal Ice Cave tour with a certified glacier guide. The tour lasts just a couple of hours but is an experience of a  lifetime.
Strap on some crampons and step out into a natural ice cave in Vatnajökull Glacier. Once inside, the brilliant blue colors and incredibly shaped ice walls will sweep you away. There are multiple departures from Jokulsarlon every day.
Spy the Northern Lights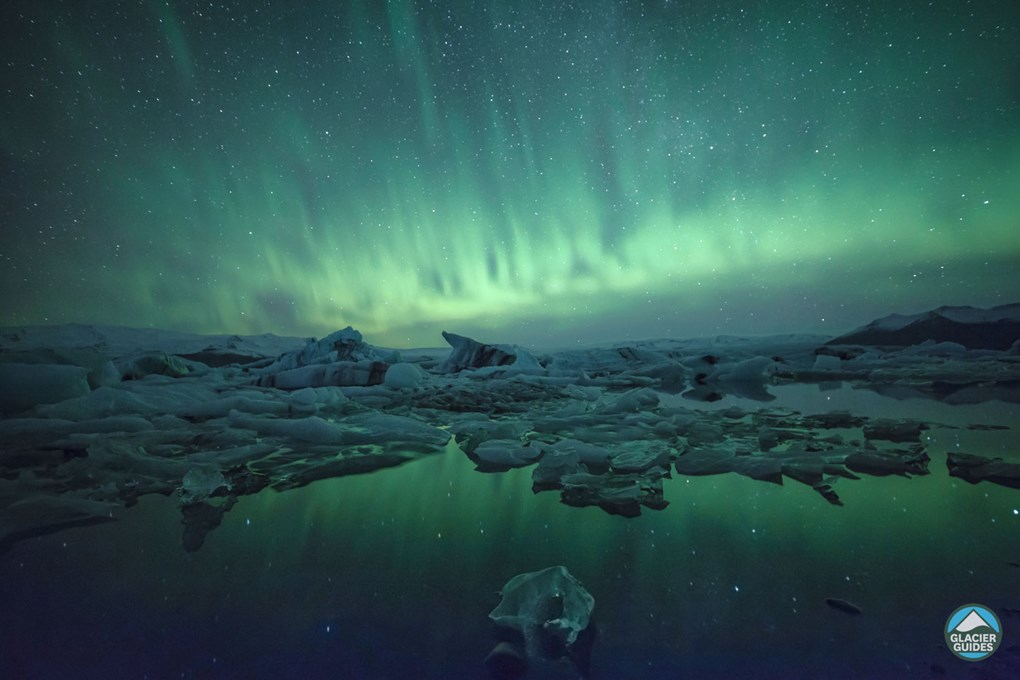 During the winter months, you have a surreal chance to see the Northern Lights from the desolate shore. Nothing quite prepares you for the spectacle of crystal-clear icebergs illuminated by the great aurora. Dress warmly, bring a thermos with hot tea and lose yourself in a blissful moment!
Safety
Your safety is the number one priority. When walking on the beach, try to keep a safe distance from the water. Sneaker waves come quickly and might sweep you, and your camera, out to sea.
You can walk among icebergs, just make sure not crawl upon them, you might get stuck and a sudden wave might carry you away into the sea.
Also, be careful not to trip over a half-hidden piece of ice. If you're visiting with children, keep them close.
Places to Stay Near Diamond Beach, Iceland
There is plenty of accommodation near Diamond Beach. We've picked the best-rated options. Keep in mind that booking ahead is highly recommended in summer.
Hotels Near Diamond Beach Iceland
Reynivellir

is the closest accommodation just 10 minutes away from Diamond Beach. It offers lodgings with fully equipped kitchens and a shared lounge area.  

Hali Country Hotel

is another hotel near the beach that's only 13 minutes away. It houses rooms with ocean or glacier views and an indoor restaurant. 

Fosshotel Glacier Lagoon

is a modern hotel located 20 minutes west of the beach. It features rooms with mountain views, a good restaurant, and a stylish bar.

Adventure Hotel Hof is a half-hour ride from Diamond Beach. It offers bright rooms with private bathrooms. Guests can enjoy a buffet breakfast and an inviting restaurant for evening meals.
Hotel Skaftafell

is a great option if you're planning to visit Skaftafell National Park on your way to Diamond Beach. Rooms are rather plain but guests can enjoy stunning views of snow-capped mountains. The hotel is 40 minutes away from the beach.
Guesthouses
Guesthouse Gerdi

, located 13 minutes east of Iceland's ice beach, features rooms with private bathrooms. There is a restaurant and a shared lounge.

Kálfafellsstadur Bed & Breakfast

is a 17-minute drive away from the black diamond beach. It offers cozy rooms with shared bathroom facilities.

Skyrhúsið Guesthouse

, located a 10-minute drive from the beach,

houses rooms with wooden floors and shared bathroom facilities.
Camping
Camping near Diamond Beach in Iceland might not seem like an option at first. Luckily for visitors, this is not the case. Find a lovely camping site at Skaftafell National Park. Surrounded by the wee forest, it offers all the necessary camping facilities that include: electricity, shower, washing machine, and tumble dryer.
Skaftafell campground is open year-round.
Related Tours