About Jökulsárlón
Jokulsarlon Glacier Lagoon is a large glacier lake best known for its magnificent icebergs and crystal blue ice. Translated to "glacial river lagoon" in English, Jokulsarlon is truly one of the greatest natural wonders of the world.
The lagoon is the deepest lake in Iceland and covers around 18 km2 (6.9 sq mi) of land. It also borders the mighty Vatnajokull Glacier and is a great spot to view majestic arctic wildlife.
Jokulsarlon lagoon is located on Iceland's southern coastline between the towns of Kirkjubæjarklaustur and Höfn. A popular Ring Road stop, its ice-sprinkled waters push it to the top of travel bucket lists.
Geography of Jokulsarlon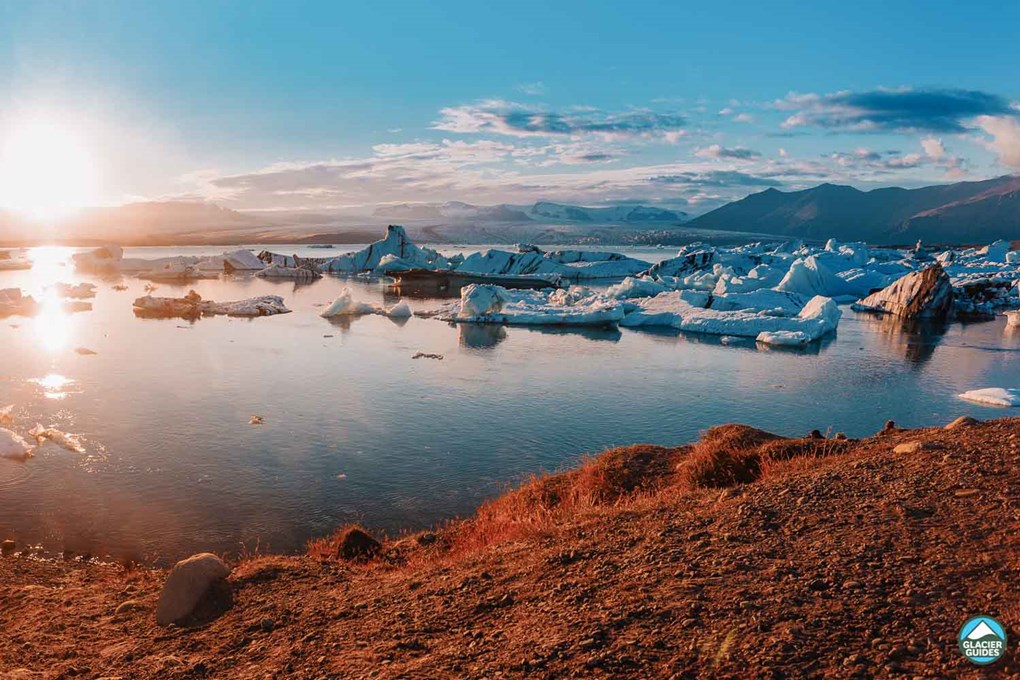 In 1935, Jökulsárlón, Iceland was formed when the ice melt from Breiðamerkurjökull glacier reached sea level. Year by year, the receding glacier left behind a large hole. The hole then filled up with meltwater, creating what is now known as Jokulsarlon Glacier Lagoon.
The melting of Breiðamerkurjökull glacier tongue has also formed the lagoon's signature icebergs and diamond-like ice bits. With a glowing backdrop of crystal blue and arctic white, it's no surprise that Jökulsárlón is such a beautiful wonder.
Another feature of Jokulsarlon geography is that it's next to Iceland's highest and lowest points. 
At 200 m (669 ft) below sea level, the bottom of the lagoon is considered the lowest point in Iceland. And on a clear day, the epic Hvannadalshnjúkur mountain (Iceland's highest peak) can be seen standing tall in the distance.
Home to Arctic Wildlife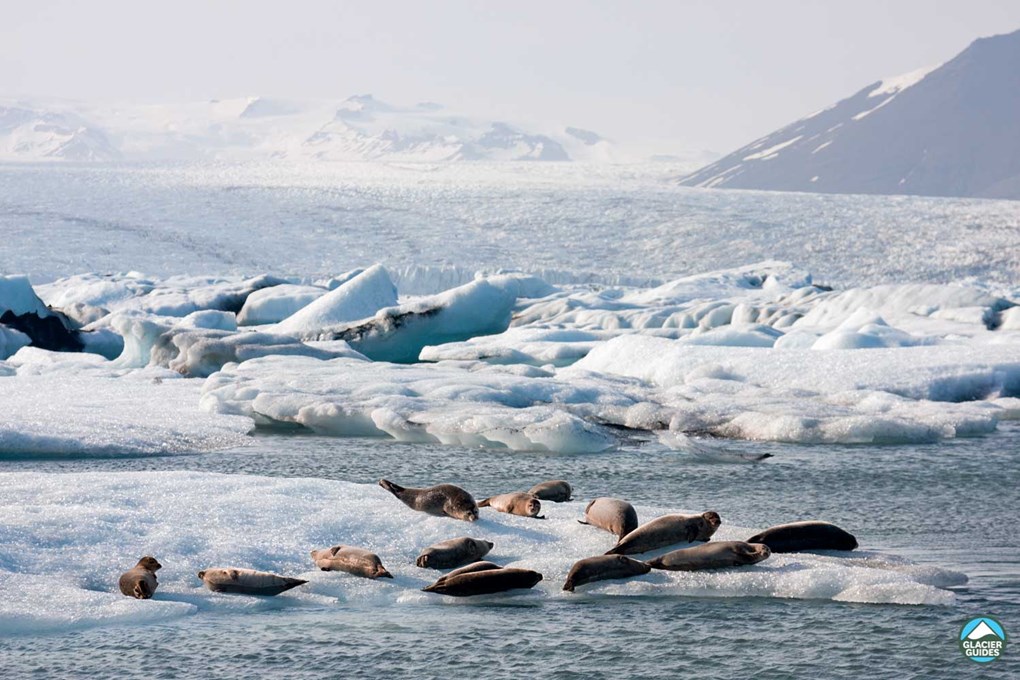 Jokulsarlon glacial waters support a wide variety of interesting wildlife. Large groups of Atlantic fish travel into the lake and bring some fish-loving creatures with them. Everything from Atlantic Salmon to brown trout, these fish definitely make tasty snacks for other wildlife!
Hungry bird colonies such as lively seagulls and arctic tern can be found pigging out at Jokulsarlon. Also, keep an eye out for Great Skua seabirds–they often bully and steal food from smaller birds.
And don't miss out on your chance to go seal watching! These cute and curious mammals love catching fish and iceberg lounging at the lake.
Map of Jokulsarlon
Where is Jokulsarlon Glacier Lagoon?
Jokulsarlon is located right beside the Ring Road between Skaftafell Nature Reserve and the small town of Hofn. Just minutes from the Atlantic Ocean, the lagoon sits on the southeastern edge of Vatnajokull National Park.
How to Get to Jokulsarlon from Reykjavik?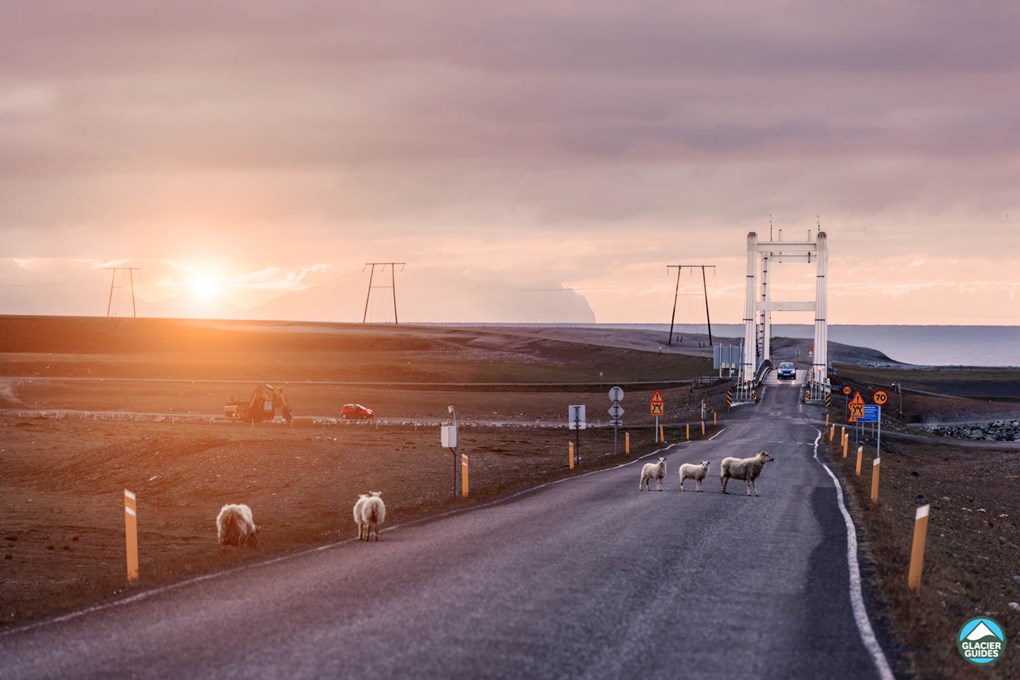 Traveling to Jokulsarlon Glacier Lagoon from Reykjavik is a beautiful drive with stunning natural highlights along the way. If you don't make any stops, the trip from Reykjavik to Jokulsarlon takes roughly 5 hours.
The directions are fairly simple: once leaving Reykjavik, head east along the Ring Road until you reach Jokulsarlon Glacier Lagoon. You'll pass iconic landmarks such as Seljalandsfoss waterfall and Reynisfjara Sand Beach, so make sure to keep your camera close by!
The directions from Vik to Jokulsarlon are similarly straightforward. Just head east along the Ring Road for around 2h30 minutes until you reach your final destination. The lagoon is a big tourist destination with lots of traffic in the summer, so it's hard to miss!
Jokulsarlon Weather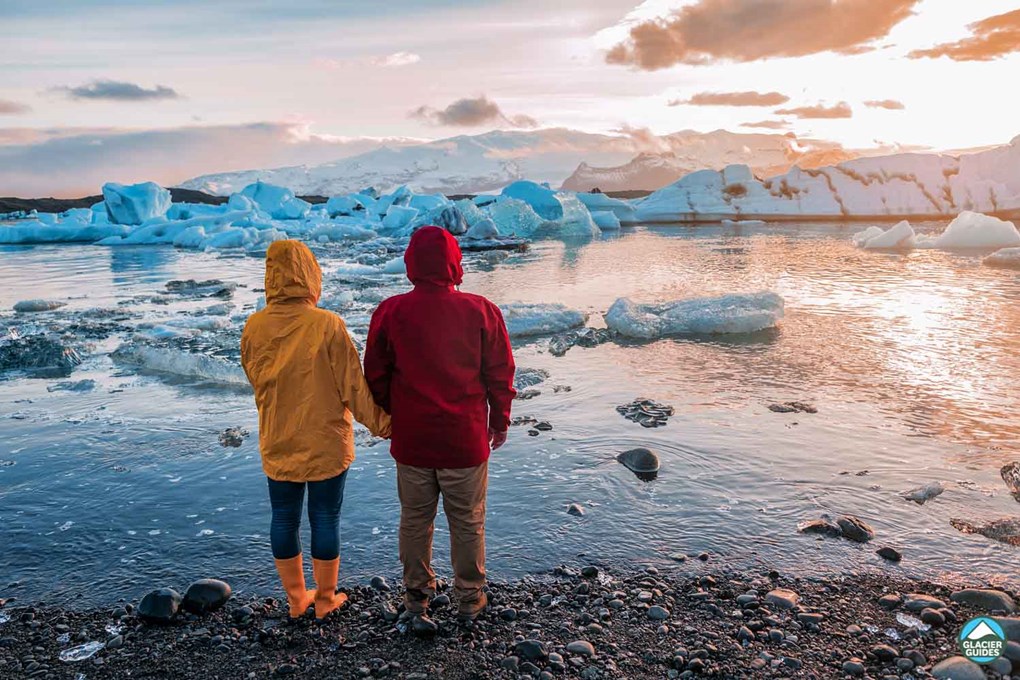 Jokulsarlon area often bears harsh winds blowing forcefully from high altitudes and the breezy coastline. It frequently snows in the winter months, and regularly rains in autumn, spring, and summer.
The temperatures vary between 4–23°F (-16 to -5°C) in winter and 41–59°F (5 to 15°C) in summer. No matter what time of year, be prepared to face cold and sudden winds. Even the summer climate can be brisk, so check the weather and road conditions before you start your trip!
Top Things to Do in Jökulsárlón
There are many activities to help you discover the glistening world of Jökulsárlón. With many Jokulsarlon Glacier Lagoon tours available, one can easily spend a full day of fun at the lagoon.
We suggest taking one of our expert-guided Jokulsarlon tours to ensure that you have the best and safest adventure possible!
Go on a Jokulsarlon Glacier Lagoon Boat Tour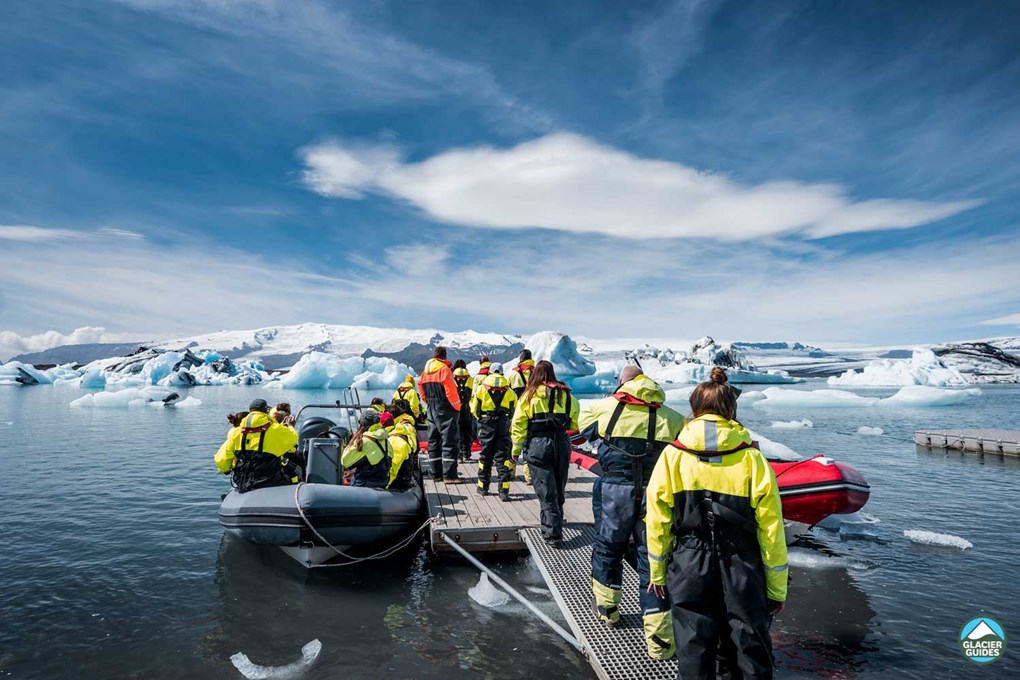 What better way to get up close to Jokulsarlon icebergs than by boat?
Hop right into glacier waters with one of the area's best Jokulsarlon boat tours! Drift between the ice with an amphibian tour or cruise past cool blue icebergs on a Zodiac. Tours last around 1 hour and are only available during the summer months (May to September). 
If large boats aren't your thing, how about gliding along Jokulsarlon's calm waters in a kayak? Book one of our guided glacier kayaking tours to paddle your way between the lake's glittering ice.
Tours are only provided during the summer months and last between 1.5 hours to 6-hour tours. Suitable for all levels!
Take a Jokulsarlon Ice Cave Tour Inside Vatnajokull Glacier
Want to add ice caving to your glacier lagoon visit? Explore the icy insides of Vatnajokull Glacier with our popular Crystal Ice Cave tour!
Multiple tours depart from Jokulsarlon Glacier Lagoon every day and last around 3 hours. Keep in mind that tours are only available during the winter months (October to March)!
Please note: it is strongly recommended not to enter ice caves without a knowledgeable guide. Head towards the icy blue world of Vatnajokull Glacier with one of our certified glacier guides. All necessary equipment such as crampons and a helmet is provided.
Walk Along Diamond Beach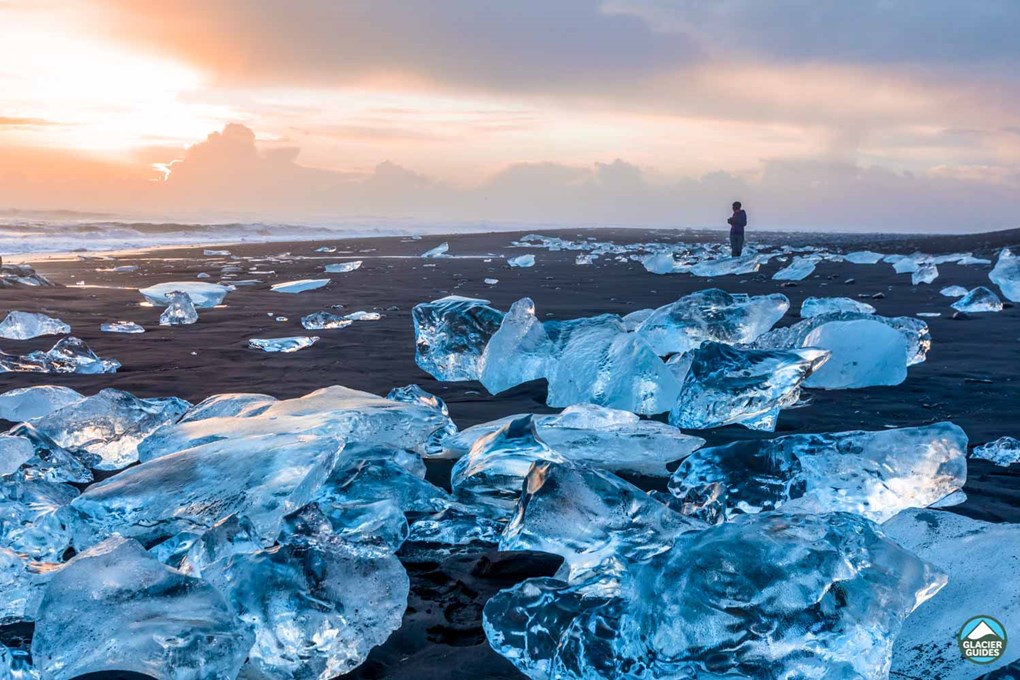 Once you're in Jokulsarlon, be sure to take a stroll between the sparkling ice of Diamond Beach! The famous beach is right across the street from Jokulsarlon, making it an easy addition your Jokulsarlon Glacier Lagoon adventure.
Marvel at black sand speckled with diamond-shaped ice with our top Diamond Beach & Jokulsarlon Glacier Lagoon combo tour. The tour includes everything from the iconic Skógafoss Waterfall to the quaint town of Vík.
Please note that tours are only available in summer (May to October) and include a pick-up in Reykjavik.
Campsites and Hotels near Jokulsarlon Glacier Lagoon
When finding a place to stay near Jokulsarlon, there are plenty of options to choose from. And most campsites and hotels are conveniently located right beside or just minutes from the Ring Road. Don't forget to book ahead!
Here are a few suggestions for campsites, guesthouses, and hotels near the lagoon area. 
Hotels & Guesthouses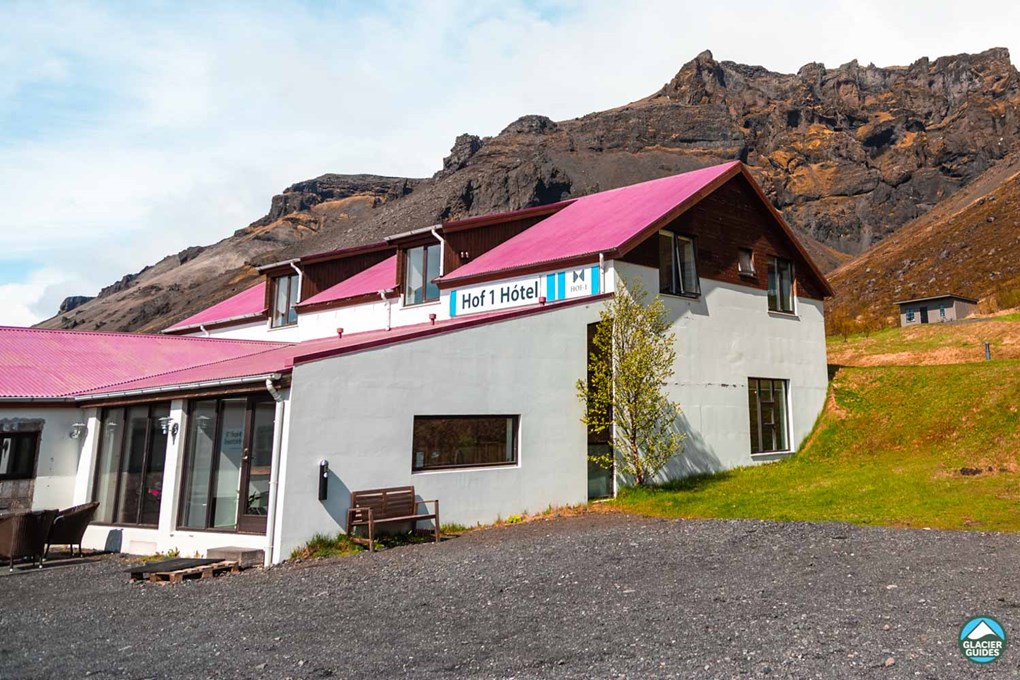 Adventure Hotel Hof

is a boutique style hotel located 37 km away from Jokulsarlon. Only a 15-minute drive away from Skaftafell, the hotel is a perfect stay for glacier adventurers.

Hotel Skaftafell is one of the most popular Jokulsarlon hotels. The 3-star hotel is a 45-minute drive and features private bathrooms and modern rooms overlooking

Vatnajökull

Glacier. 

Fosshotel Glacier Lagoon

is a nature hotel just 25 minutes away from Jokulsarlon. It offers modern rooms with both mountain and ocean views.

Guesthouse Gerði offers a comfortable stay only 13 kilometers from the lagoon. This small guesthouse in Jokulsarlon area has private bathrooms and beautiful views. Icelandic horses and sheep can be seen grazing on-site. 
The Potato Storage Guesthouse

is a popular guesthouse located 45 minutes west of Jokulsarlon. It offers motel-style rooms with mountain views. Some rooms include a private kitchenette. 

Vagnsstaðir HI Hostel is a popular hostel near Jokulsarlon that's only 25 minutes away. It offers a self-catering kitchen, family rooms, and cycle storage. 
Camping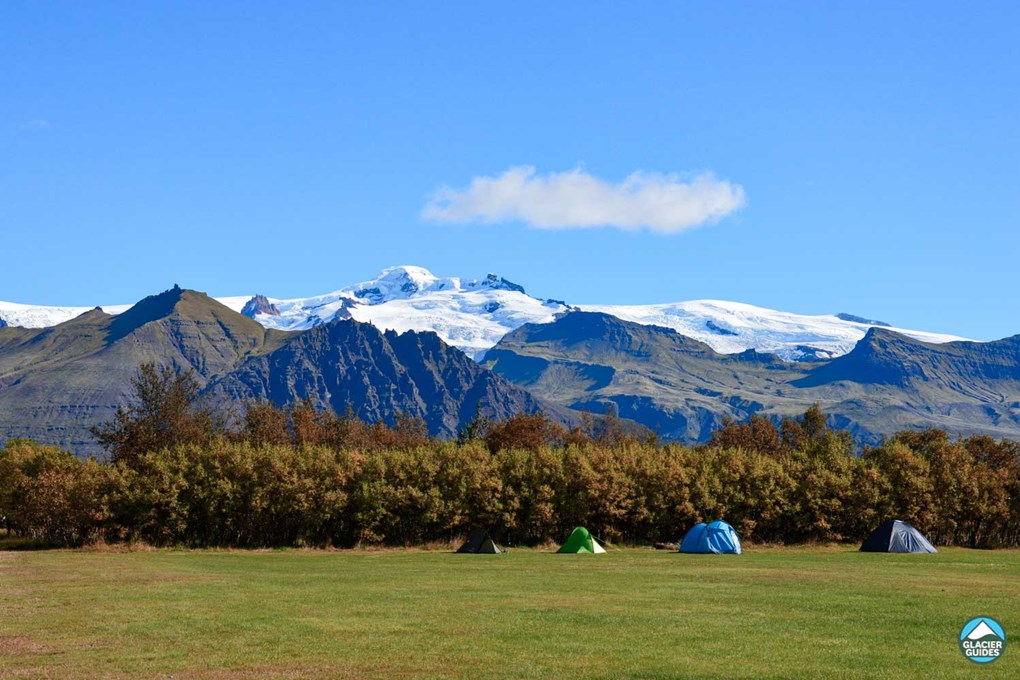 Skaftafell Campground

is a 50-minute drive from Jökulsárlón with space for tents and camping trailers. The campground includes showers and free WiFi. No reservations are possible in advance.

Haukafell Campground

is a budget campsite with panoramic mountain views. It only costs 7 EUR per person and is a great option for those seeking a more peaceful campground. The site is a 50-minute drive from the lagoon.

Svínafell Campground

is 40 minutes away from Jokulsarlon. It is only open during the summer months (May to September) and offers cooking stations and showers.
Staying Safe at Jökulsárlón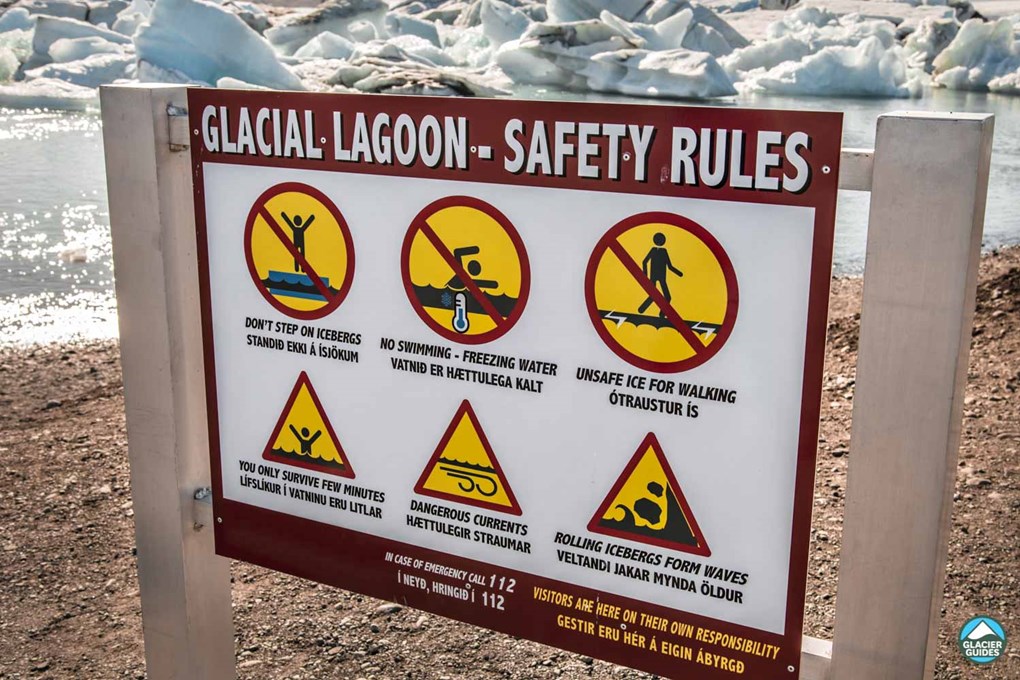 The sparkling ice of Jokulsarlon Glacier Lagoon can appear very inviting to the curious visitor. In fact, the floating ice can be so inviting that it lures people to step on it!
While it may appear safe, it is dangerous to walk or jump on top of Jokulsarlon's floating ice. And though winter waters freeze, the ice easily breaks and constantly moves underneath.
It is also strongly advised not to jump onto the larger icebergs. They may look firm but can flip very easily and without warning.
Related Tours