While many caves are famous for their vivid blue color and transparent walls, not all ice caves are the sapphire glacier ice caves you've seen in photos.
As diverse as Iceland's landscapes, ice caves can be blue, white, black or even be made from volcanic rock. With all these options, there's no shortage of caves for adventurers to choose from.
Ice caves form through a seasonal melt/freeze process and geothermal activity. Each year, these icy shapeshifters move beneath the glaciers and reappear in new spots.
For this reason, winter is the best time to visit the ice caves in Iceland. The cold weather keeps the icy walls secure and safe to explore. Never visit the caves without a trusted tour operator.
Before you pack your winter gear and head to Iceland, take a look at the following list of the best ice caves to see in Iceland.
Mýrdalsjökull Ice Cave
Location: Mýrdalsjökull Glacier

Availability: All-year  

Age Limit: 6 years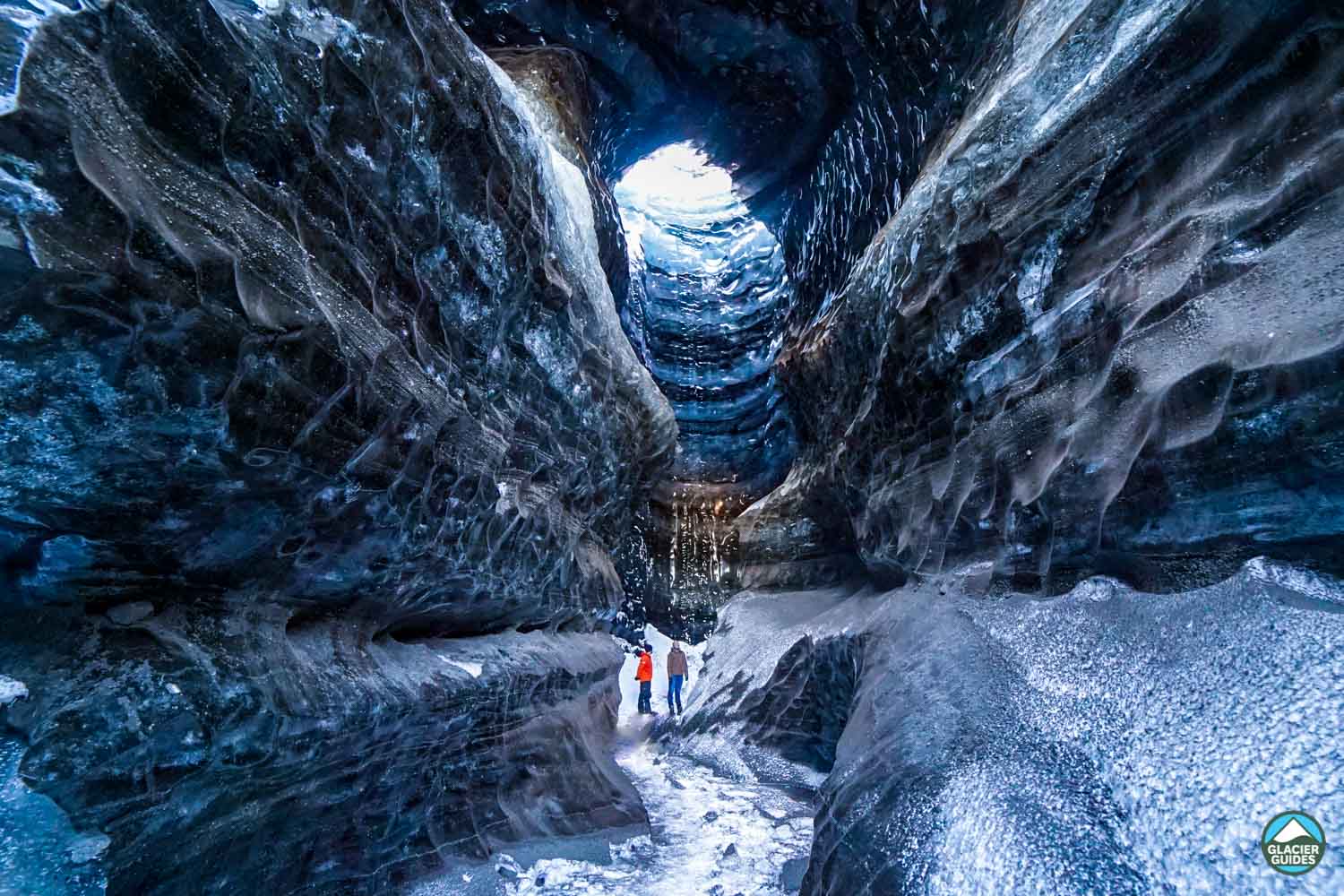 Mýrdalsjökull Ice Cave is a geological natural wonder born from fire and ice. Covered by Mýrdalsjökull Glacier, this multicolored cave is next to the infamous Katla Volcano.
Katla is the most active volcano in Iceland. This fiery mountain has erupted every 50 years on average, the last time being in 1918. You can still see traces of these eruptions in the walls of the ice cave. Look for the streaks of black from the ash.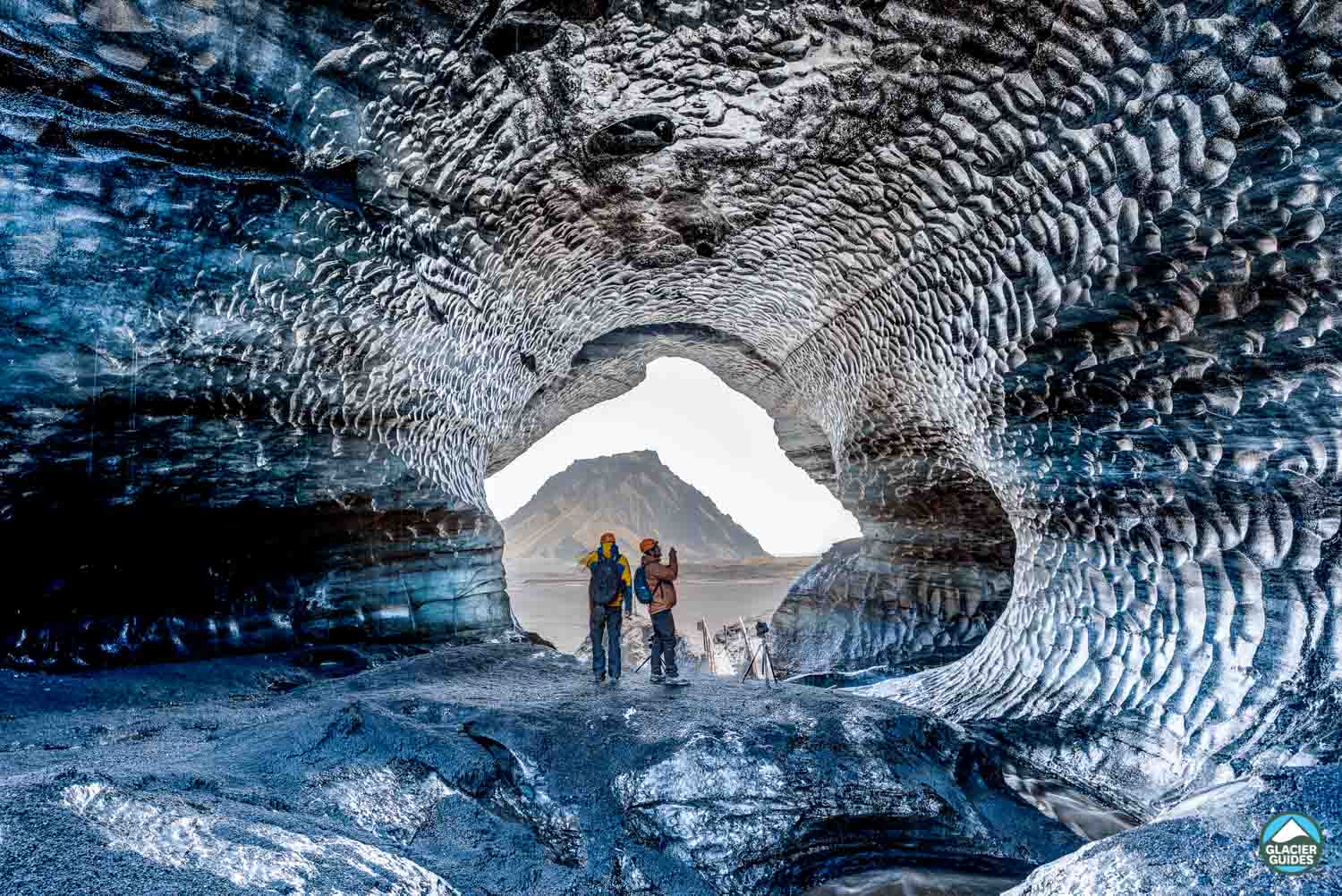 Different than most of Iceland's clear blue ice caves, Mýrdalsjökull Ice Cave has unique blue and black ice walls spotted with bubbles. Visitors of the cave will not
Ascend into the cave and marvel at the giant dome interior. Mýrdalsjökull is an overwhelming cave that looks like the set of a fantasy film.
You can visit this otherworldly scenery on our Natural Ice Cave in Myrdalsjokull Glacier by Katla Volcano tour. Tours are available from Reykjavik and from Vik. 
While most ice caves are only available during the winter, the geology of Myrdalsjokull allows you to visit all year long.
ice uneven perpendicular layers of ice on the ground, shifted by tectonic stress.
Crystal Ice Cave
Location: Breiðamerkurjökull Glacier

Availability: October - March

Age Limit: 6 years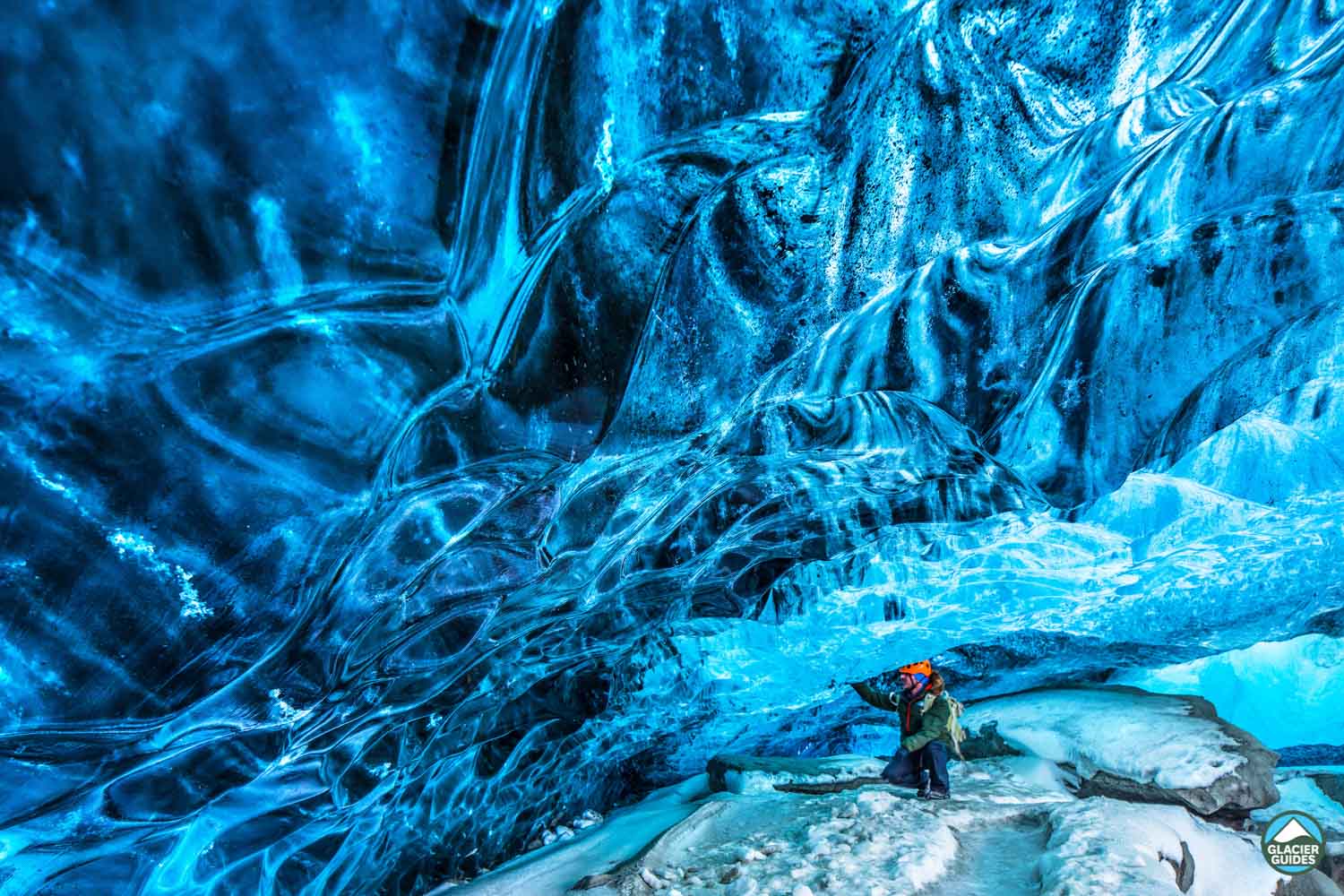 A visit to the photogenic Crystal Ice Cave is a bucket-list experience. Nestled below Breiðamerkurjökull Glacier, this is the largest ice cave in Vatnajökull National Park. The name 'Crystal Cave' comes from the translucent blue and white ice interior.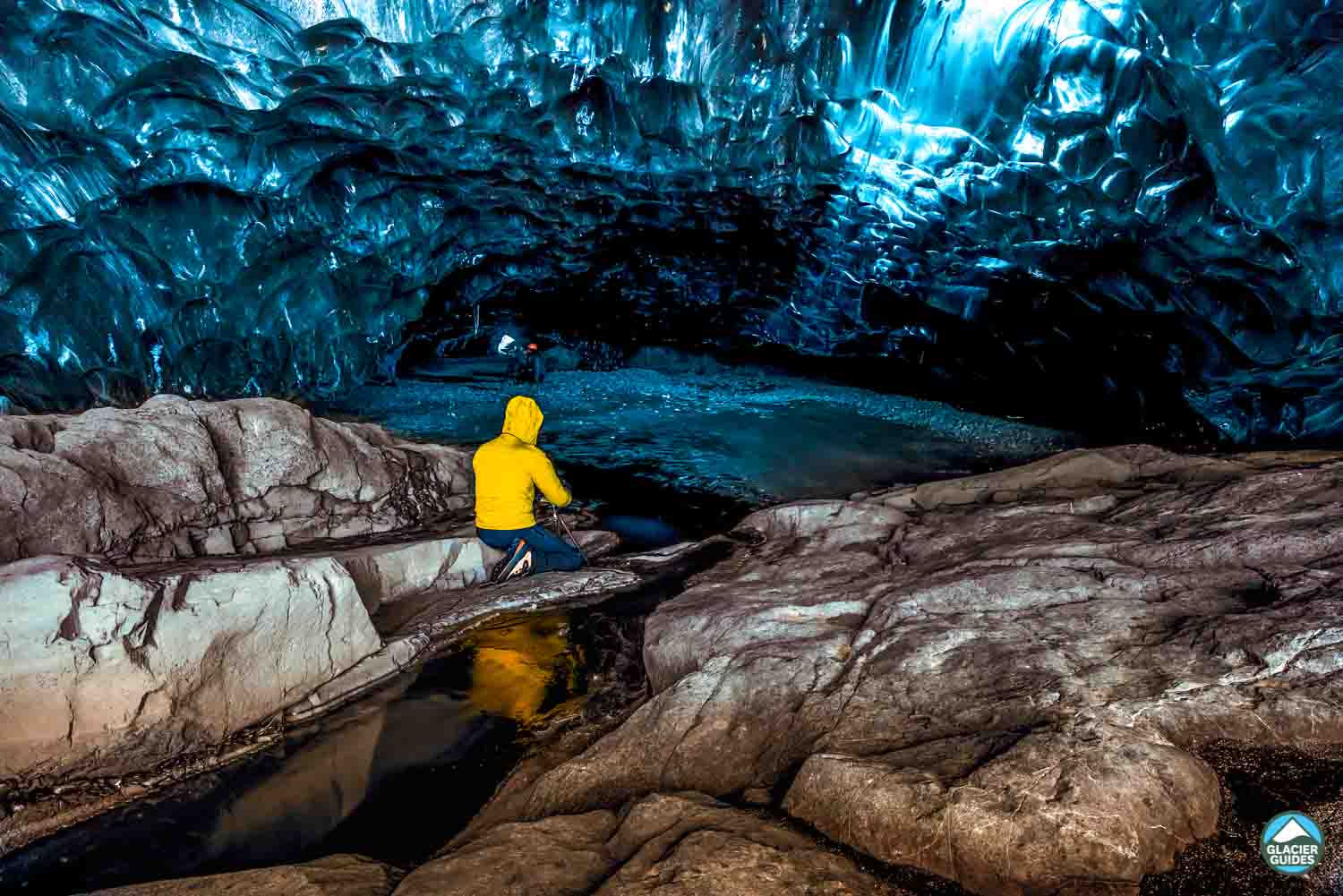 The vivid blue colors occur as the snow compresses on itself, turning into sheets of ice. Oxygen is squeezed from the ice and gives the ice a clear glassy look. 
Older glaciers are more usually more transparent because the ice gets more time to compress. 
Breidamerkurjökull Glacier contains some ancient ice that dates back around 1200 years. That's how we get the crystal-clear walls of the Crystal Cave.
One of the most dazzling ice caves in Iceland, the sparkly dome is a favorite for photographers.
The water and ice provide a natural filter for light, so in winter when the sun is strong, the walls appear green and light blue.
To visit this gorgeous ice cave, take our Crystal Ice Cave tour from Jökulsárlón Glacier Lagoon.
For travelers who want to explore other South Coast sites along with the ice cave, try a multi-day tour. Travel the popular Golden Circle on our 3 Days Golden Circle, South Coast, Jökulsárlón & Crystal Ice Cave tour.
Skaftafell Ice Caves
Location: Falljökull glacier

Availability: October - March

Age Limit: 8 years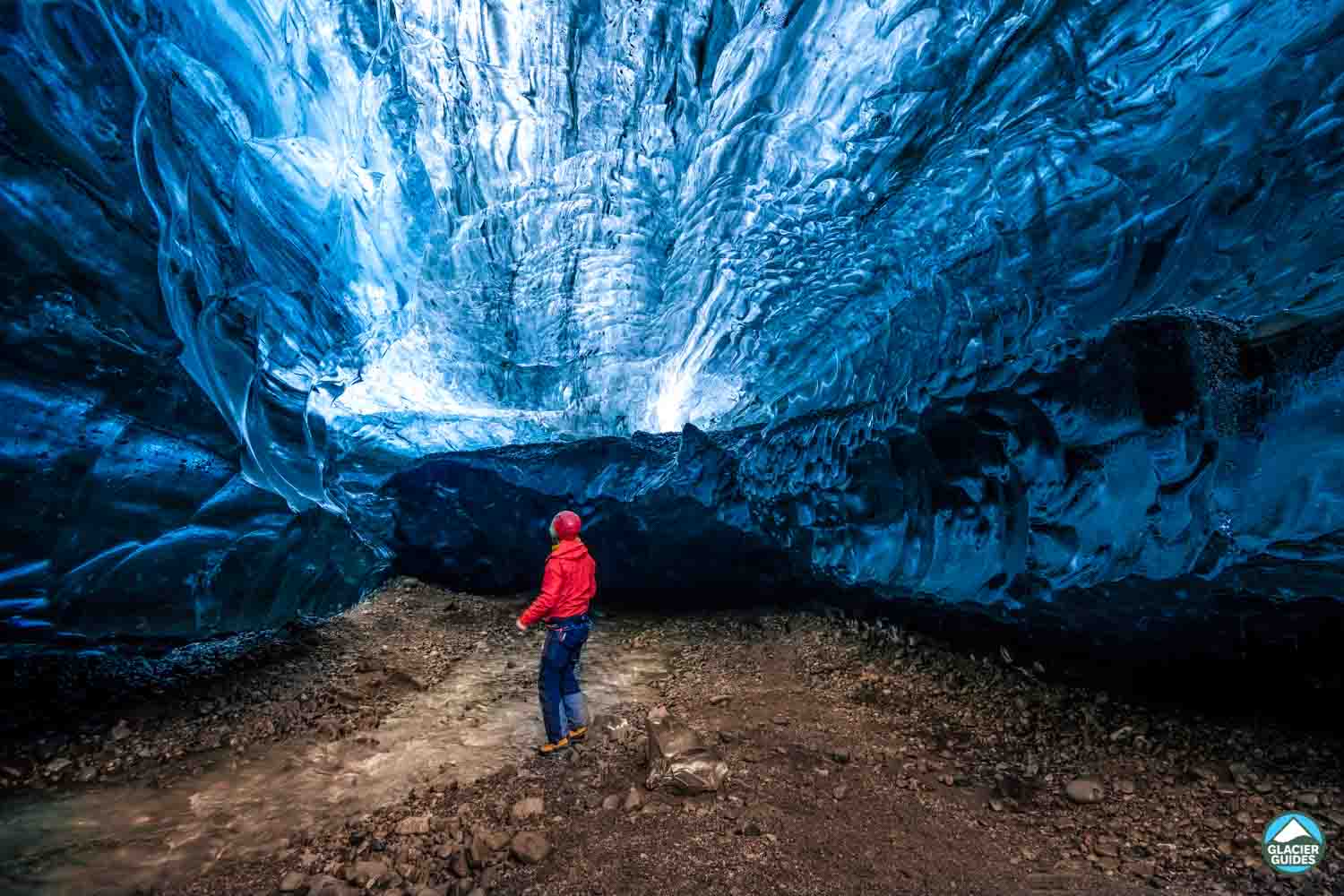 The magical Skaftafell Ice Caves are hidden below the glaciers at Skaftafell National Park, an outlet of Vatnajökull.
Skaftafell Nature Reserve became a part of Vatnajökull National Park in 2008. This protected area is now one of the largest national parks in Europe and a UNESCO World Heritage Site.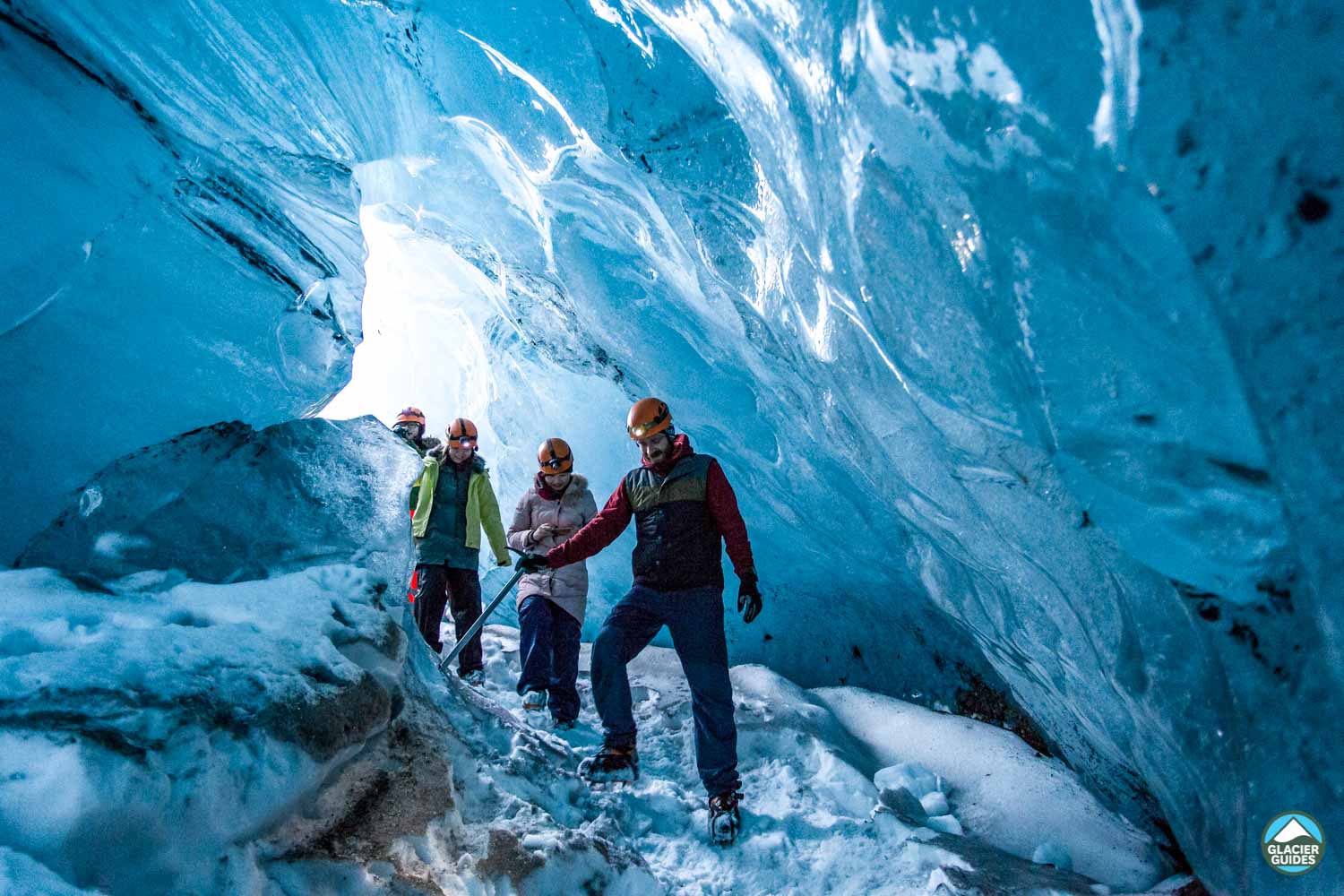 Falljokull Glacier is one of the most famous glacier tongues in the area. Its glacial ice houses beautiful, clear-walled caves called 'crystal ice caves'.
These caves fall under the category of glacier caves. Each summer they are formed by a glacial river that runs through the glacier.
For this reason, tours to the caves only run winter when the water is frozen. Weather affects the safety of the caves, so adventurers should always visit with a tour group. 
Each year, our guides uncover new caves all around the park. Explore the ever-changing Skaftafell caves more than once, you'll have a new experience every time you go.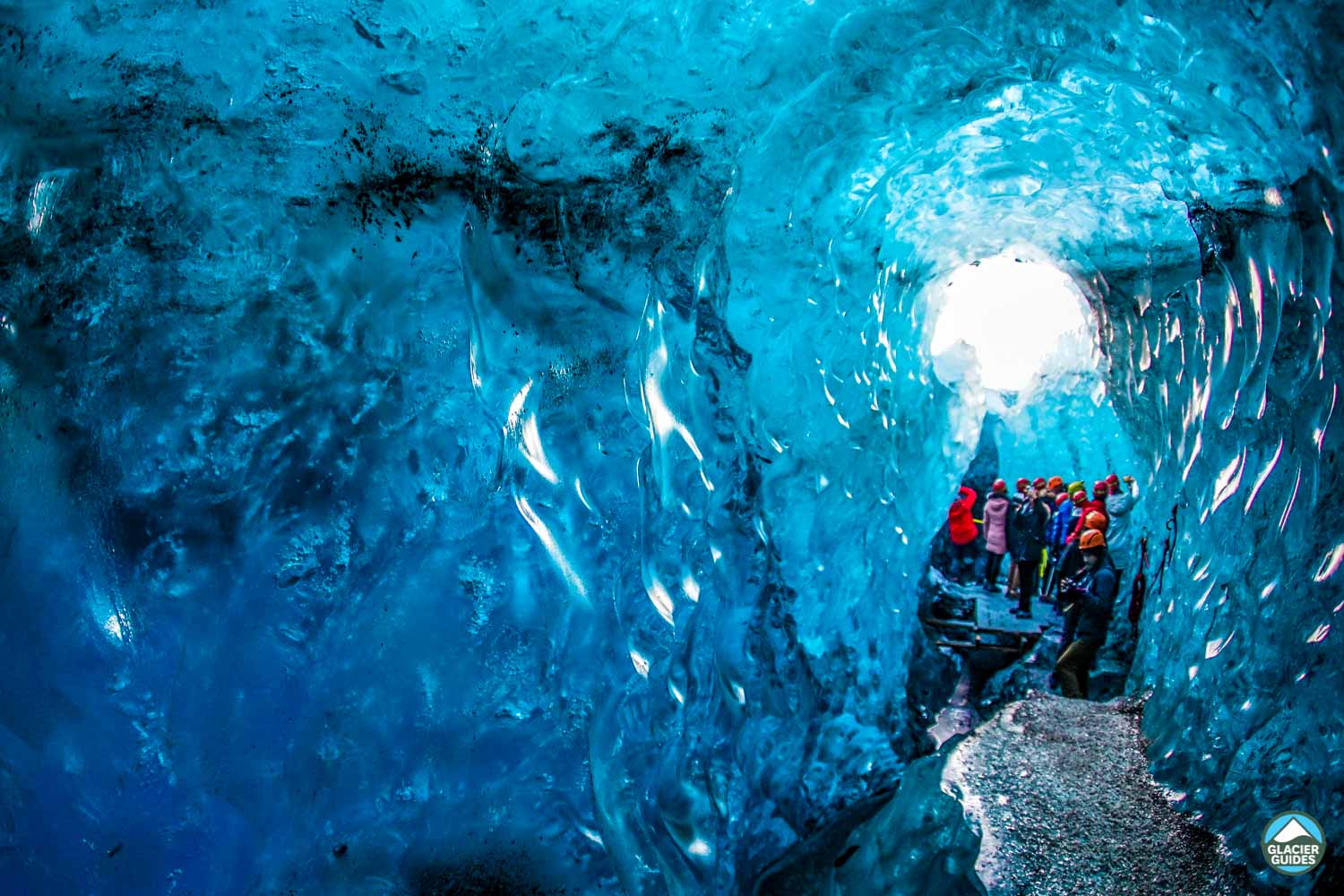 Skaftafell's grand landscapes were carved out by powerful eruptions and earthquakes over thousands of years.
As a result, today you'll find a diverse terrain of glaciers, lakes, valleys, and forests popular with hikers.
Experience the beauty of this nature reserve and the natural ice caves of Falljökull glacier on our Into the Glacier tour from Skaftafell.
Langjokull Ice Cave
Location: Langjökull Glacier

Season: October - June

Age Limit: 8 years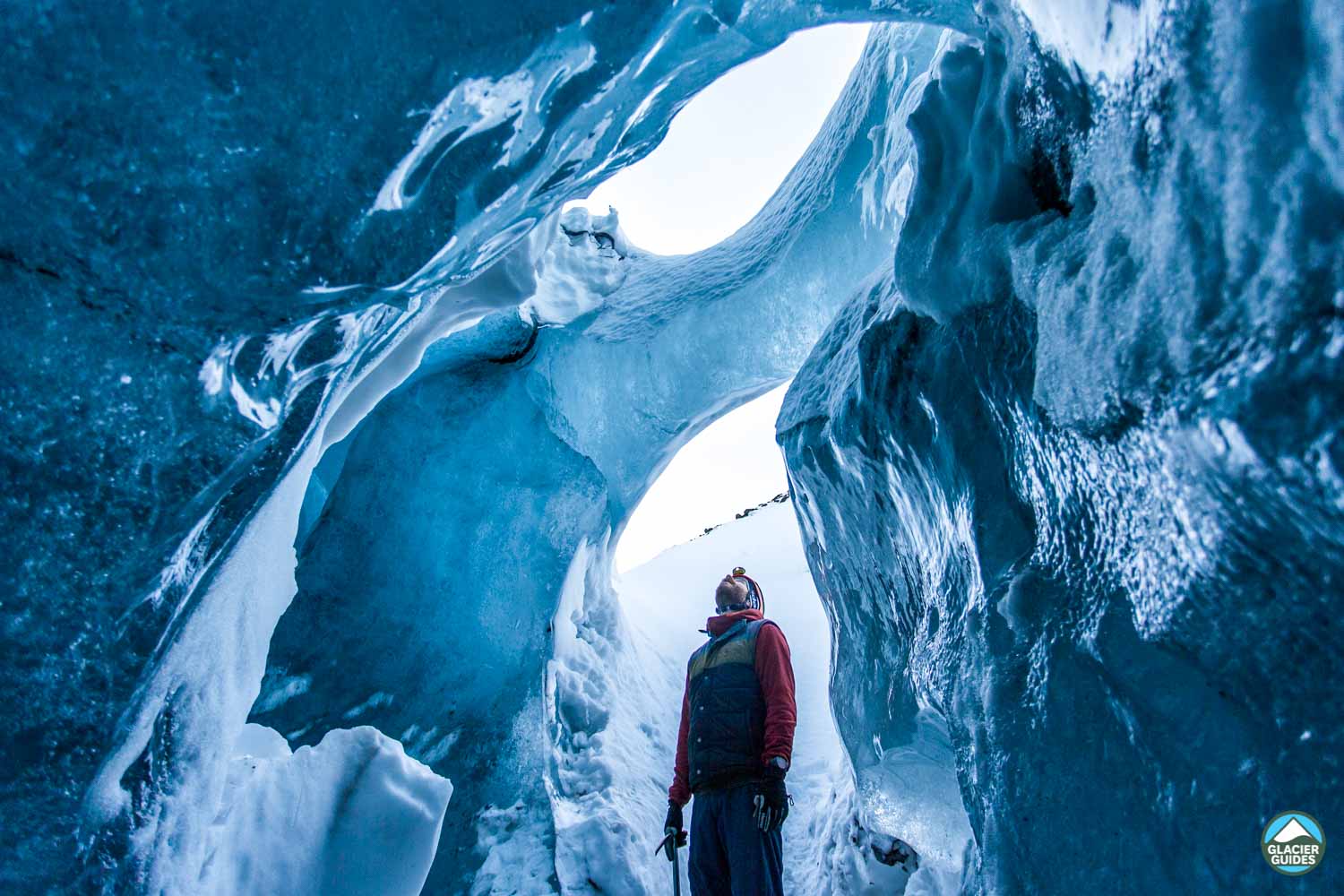 Langjökull Ice Cave is a brilliantly colored natural cave under Langjökull Glacier. Zebra stripes line the walls of this layered ice formation while neon blue covers the ceiling.
Discovered in the winter of 2016, people were struck by the unique interior. Truly a one-of-a-kind cave, in 2017 glacier experts found a frozen river and a frozen waterfall in this cave!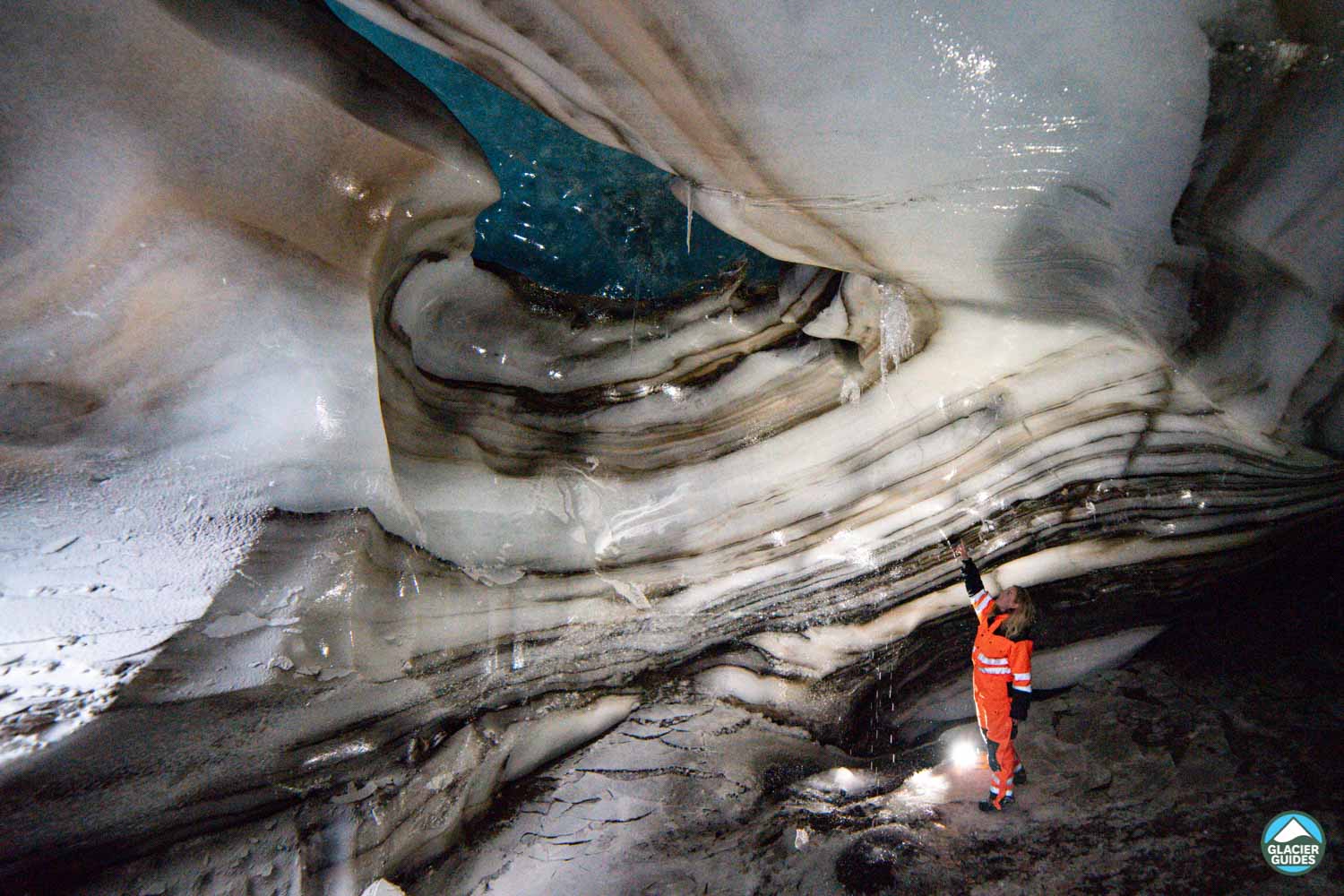 Descend into Langjökull Ice Cave and your eyes will be met with otherworldly colors and curious ice formations. This distinct ice cave has changed a lot since its discovery and is closely monitored by guides.
The ice cave is not the only impressive part of its home glacier. Langjökull Glacier, which translates to 'Long Glacier,'  is the second largest glacier in Iceland behind Vatnajokull Glacier. 
Langjökull covers an area of 935 square kilometers (361 sq mi) and is a popular site for super jeep tours and snowmobile excursions. These adventures are some of the ways to reach the ice cave in the glacier. 
Rip across this massive glacier on our Snowmobile and Ice Cave Tour from Reykjavik and visit the ice cave.